This is our road trip itinerary for two weeks in Serbia, Bosnia and Montenegro, where we immersed in mountains in July 2023.
We rented a car in Belgrade, and after short stops in Serbia continued south to the mountain eldorado of Montenegro. Beautiful mountain landscapes surrounded us where ever we went, and we hiked in Durmitor and Prokletije national parks. Rafting is popular on the Tara and Drina rivers on the border with Bosnia-Herzegovinia, and we had a good day on the water, before we returned to Belgrade.
The Balkan region is underrated as a travel destination. The mountains, canyons and rivers are diverse in character and easy to acces, but with much less tourists than other places in Europe. The areas we visited are also less developed than the more popular European destinations. That means less options for accommodation and restaurants, but also gives a more rugged experience, which we liked.
Using the map: Use the mouse to zoom and pan. Click the button in the top-left corner to open a navigation menu. There you can select or de-select specific types of content we have added to the map.
Recovery from Myalgic Encephalomyelitis
This trip was the first time we travelled all four, after T's recovery from Myalgic Encephalomyelitis (ME). We were grateful and each day truly happy that he was able to do so, mixed with the uncertainty of fall-backs.
The recovery rate from Myalgic Encephalomyelitis (ME) is only 5%, and during his period of illness, it was very unlikely that he would ever by able to travel again. CDC estimates that between 1 and 2.5 million Americans suffer from ME. We wish that more ME patients get their life back and the opportunity to explore the world!
There is no medical cure to ME, but early diagnosis is assumed to be a key reason behind T's unusual recovery. Awareness is essential for diagnosis.
Please take action by reading about ME. You may be able to spot symptoms of ME among relatives or friends, and help prevent severe ME. If you engage in discussions, you contribute to collectively increased awareness of ME in the population, which will lead to better conditions for patients through recognition of their condition.
Itinerary
Our itinerary for two weeks in Serbia, Bosnia-Herzegovinia and Montenegro had us immersed in mountains, with the exception of three nights near Kotor on the coast.
Day 1-2: Arrival, pool time, Gruza lake. We stayed at MySoul resort
Day 3: Kayaking at Uvac canyon. We stayed at Drveni raj Uvac
Day 4-6: To Prokletije National Park in Montenegro. We hiked the Karanfili loop and stayed at Bungalows Katun Maja Karanfil
Day 7-9: To the Kotor bay area with boat tour and visit to Kotor. We stayed at Casa Montenegro
Day 10-12: To Durmitor national park. Durmitor ring and a hike to Bobotov Kuk (highest mountain in Montenegro). We stayed in Zabljak at Wolforest
Day 13-14: To Bosnia-Harxegovinia with rafting on the Tara and Drina rivers, and a jeep tour in Sutjeska national park. We stayed at the rafting camp Outdoor resort TaraSport
Day 15: To Serbia with a day at MySoul Resort (again) before flying home from Belgrade
Day 1 to 2
We stayed at MySoul Resort, which has a remote location on the Gruza lake, an hour south of Belgrade. It was a convenient stop after an afternoon arrival to Belgrade airport. It has an outdoor restaurant, and the staff is friendly and helpful.
MySoul Resort also has a nice pool area. We were there on a weekend, where it is also open for day guests from the local towns, so the pool area was busy with lounge music. It was cozy, but we had hoped for a quiet get-away, and that is not what we found.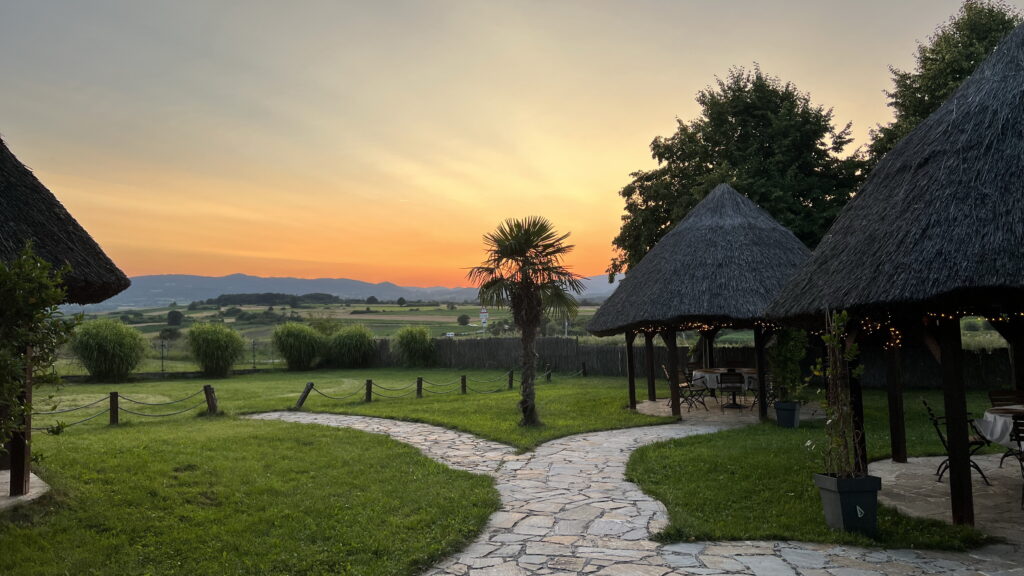 Day 3
Uvac canyon is a popular tour destination in Serbia. River Uvac menders through a green valley, and it really is very pretty and picturesque. We rented kayaks and spent some hours paddling. It was not very easy to research kayak rental options from home, but the friendly hosts at Drveni raj Uvac helped organise it for us. We rented the kayaks with the owners at the somewhat shabby camping Markova Ravan camping close to the pedestrian bridge across the canyon. For those with more time than we had, there is also an ice cave to explore in the canyon.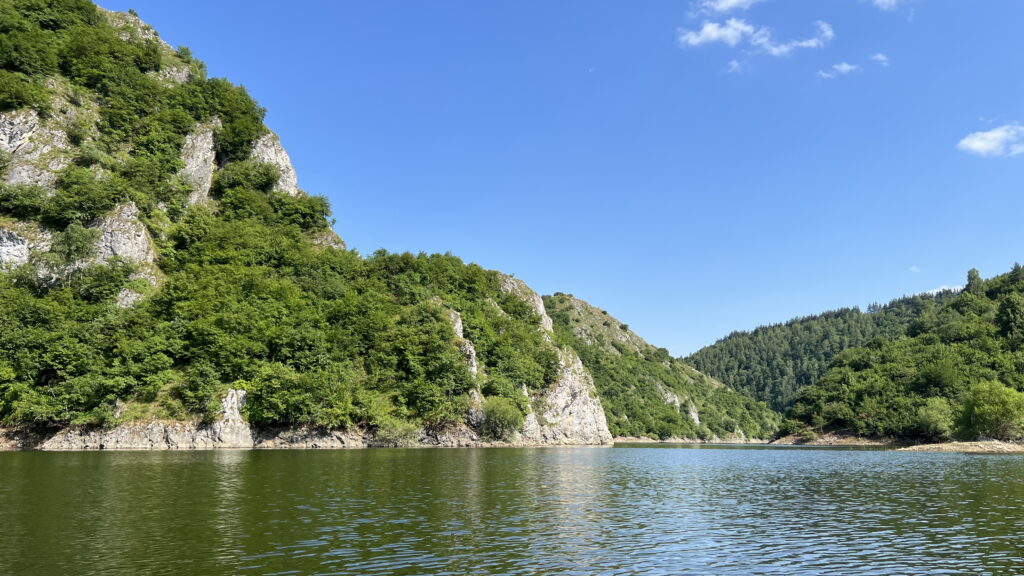 There is a viewpoint on the north side of the canyon that is very easy to reach by car. You simply follow the road as far as you can until you reach this parking lot. From there it is a short walk of 200-300 metres to the viewpoint.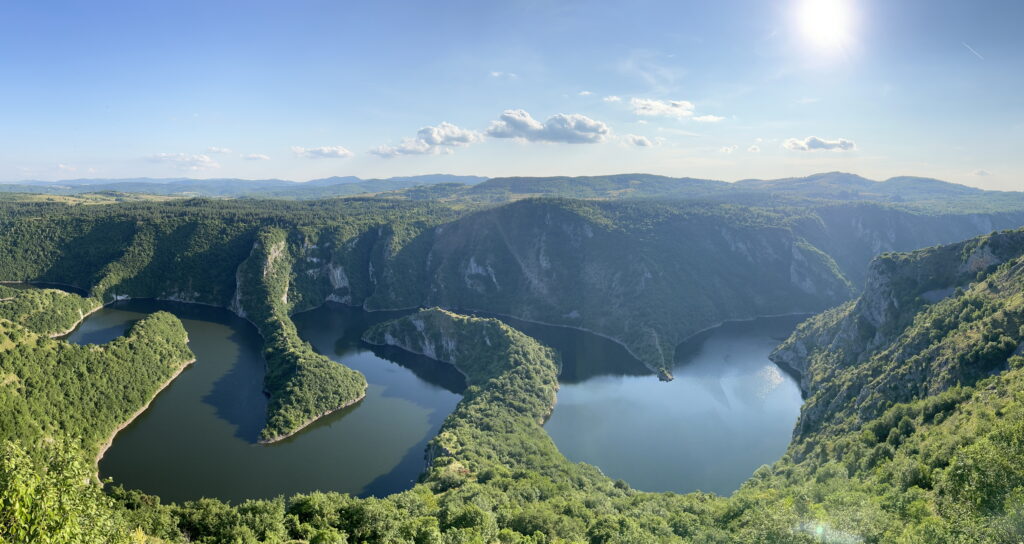 Drveni raj Uvac was a surprisingly nice place to stay. The small bungalows are really well equipped and has two separate bedrooms. The owners were very friendly and helpful.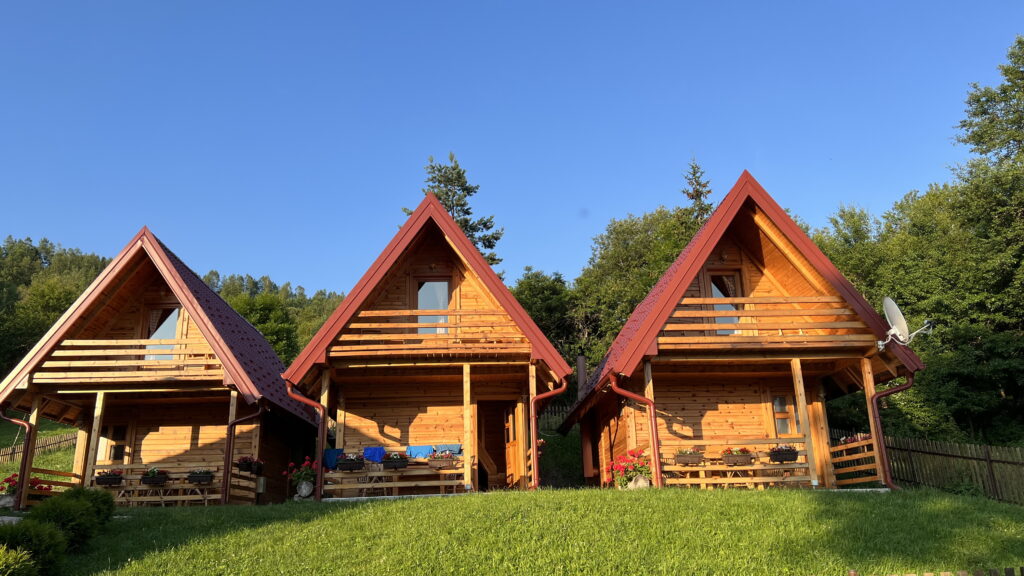 Day 4
We used the day to drive to our next destination in Montenegro. But that wasn't the initial plan, it was more a consequence of poor research. We simply used Google Maps to navigate towards Gusinje in Montenegro. That took us through beautiful mountain landscapes, on roads that were increasingly empty. As we neared the border, we were puzzled that we saw almost no other cars. Well, it turned out that the border by the Monestary Kumanica is only for villagers. We had a long dialogue with the border guard using Google Translate, and a lot got lost in translation. The dialogue opened the possibility of providing euros for a coffee in exchange of crossing the border, but without being properly stamped out of Serbia. Maybe we got some details wrong. We decided not to try our luck, turned the car around, and did a three our detour to the border crossing at Jabuka granični prelaz.
We spent nine hours in the car, it was tiring on the narrow mountain roads.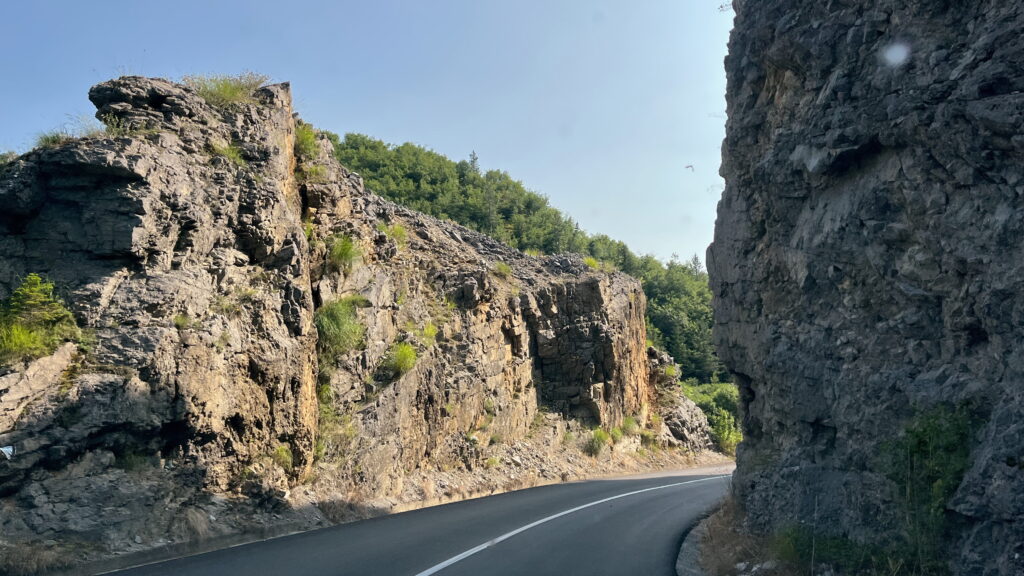 Day 5
Short tours to Ali Pashas spring and the "eye" lake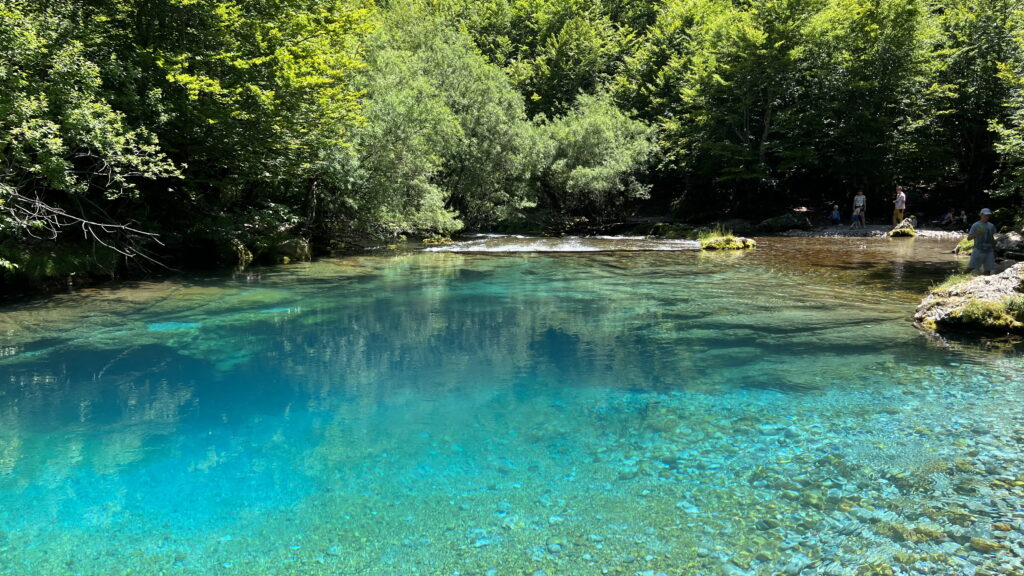 Day 6
We had looked forward to exploring the mountains in Prokletije national park, and in particular wanted to hike to Volusnica loop, which across 10 km takes you on the ridge that defines the border to Albania and offers panoramic views of the picturesque Karanfili range.
See the trail map and find photos and a story about our hike here.
We loved the hike, as the trail followed the ridge lines between three peaks, offering generous views of the rugged mountains.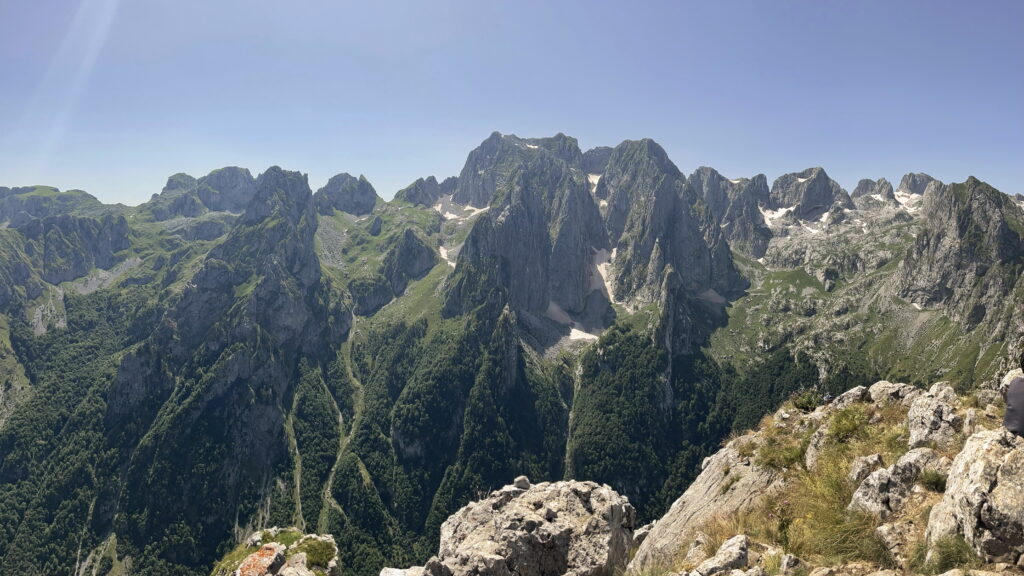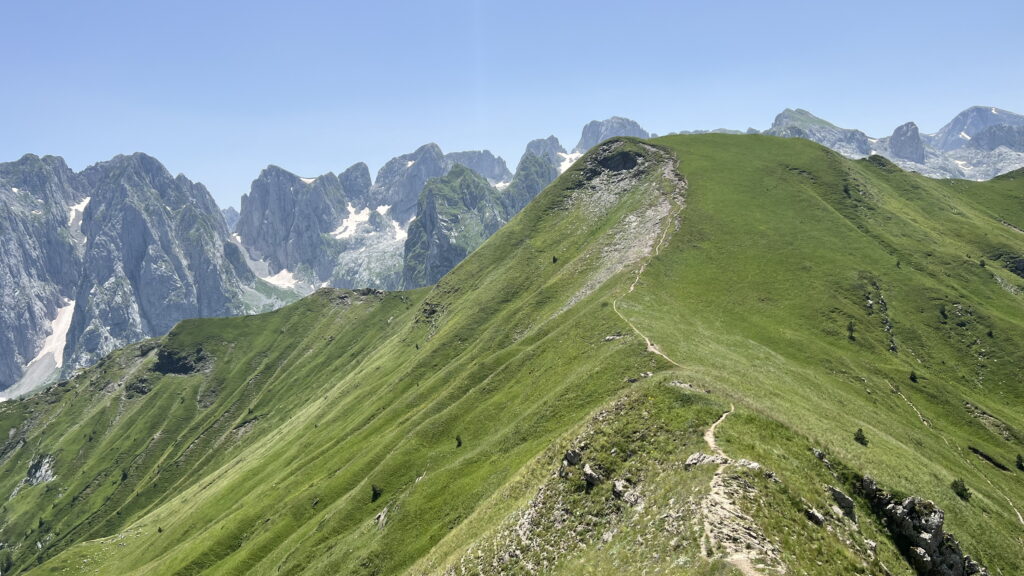 Day 7 to 9
After Prokletije, we drove towards the coast to also see that side of Montenegro. We passed Skadar lake, before arriving at Casa Montenegro in the hills above Tivat bay.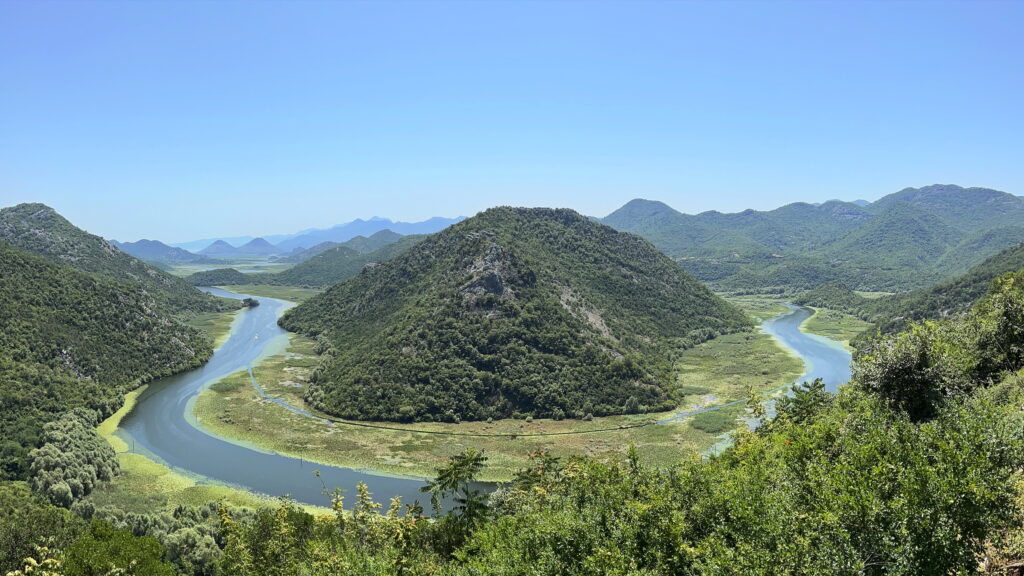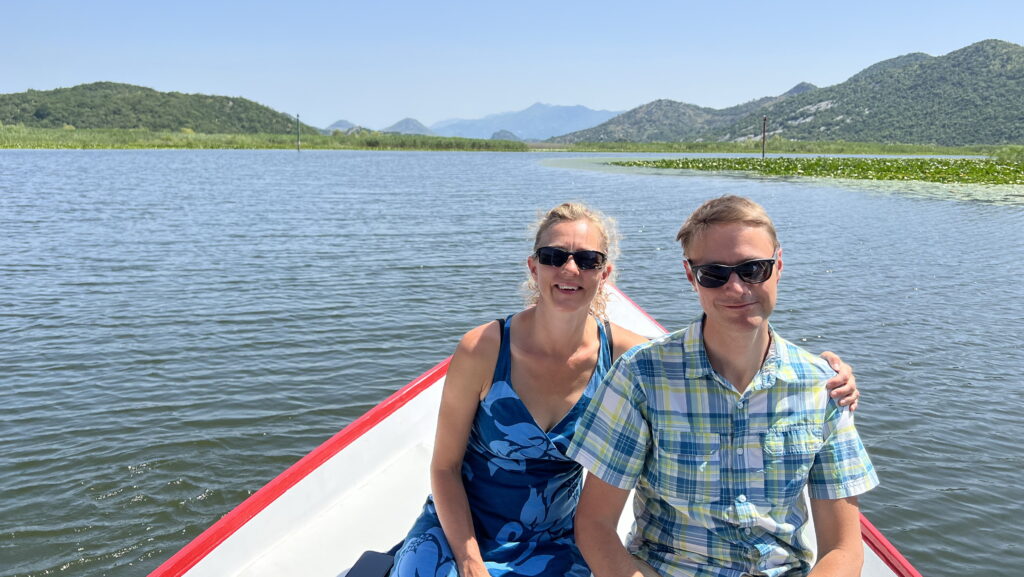 Kotor old city is a very pretty and neatly restored Medieval town surrounded by city walls. It is an abundance of restaurants, hotels, souvenir shop and everything else to meet the hearts desire of visitors. Kotor is frequented by cruise ships that seem very large in the narrow bay, and bring many groups of day visitors. Boat tours and many other activities are available.
We were happy to stay at Casa Montenegro, since it is a bit outside the Kotor epicentre.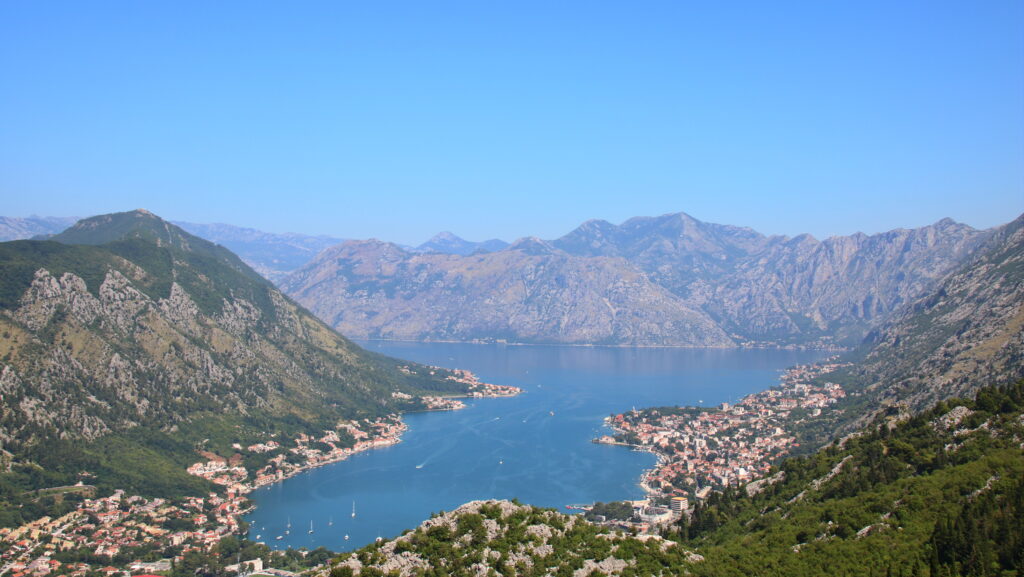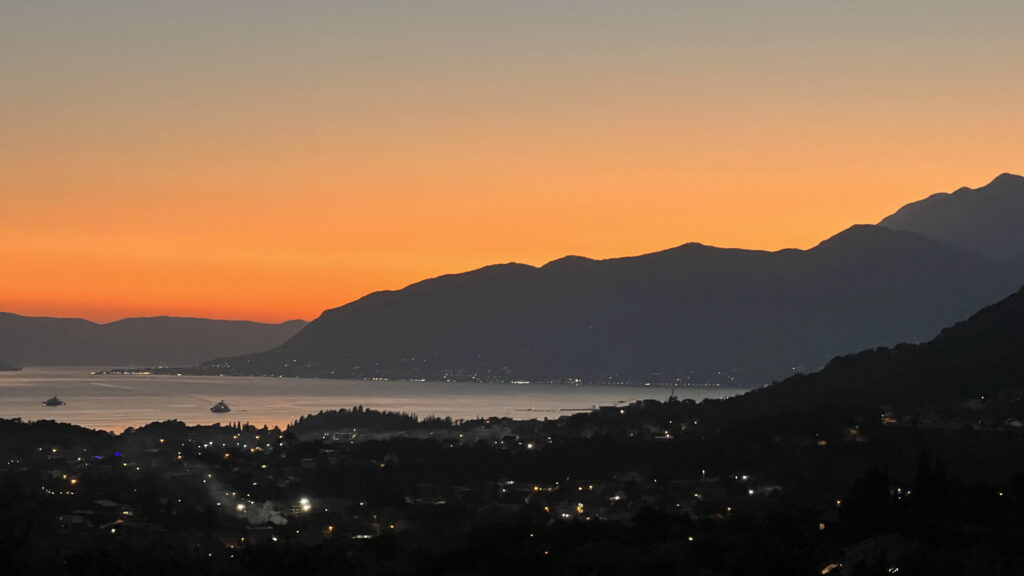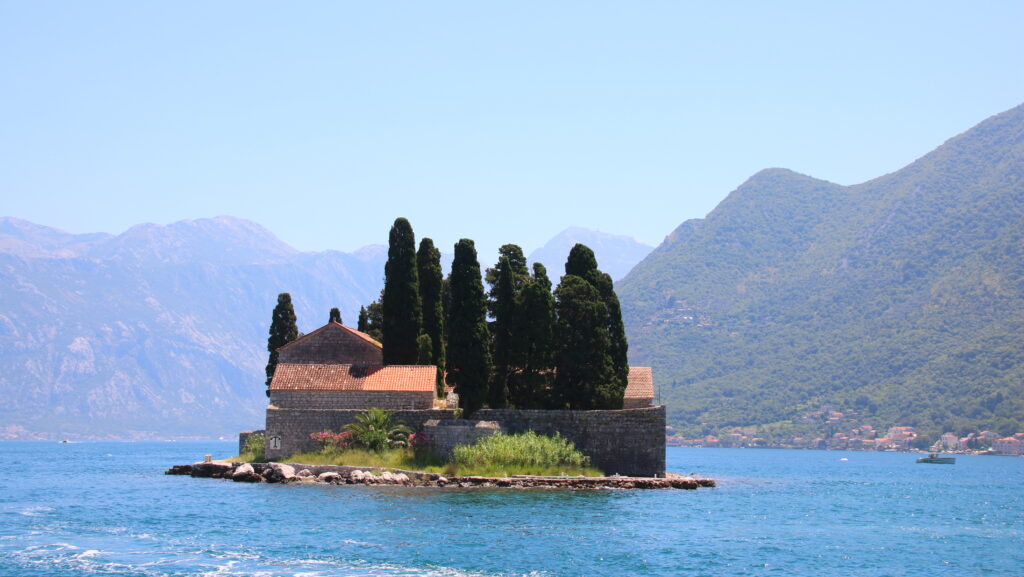 Day 10
After some days in the very busy area around Kotor bay, we drove north towards the Durmitor national park. Again we experienced that the absence of large highways in Montenegro meant that we were driving scenic routes all the time. Mountains, rivers, lakes and valleys unfold as the kilometers pass by.
As we approached Durmitor national park, the mountains we saw were taller and more alpine. We arrived in the mountain mecca of Zabljak, and stocked up on groceries before heading towards one of the favorite spots in the national park.
The black lake in Durmitor national park is a pristine alpine lake set with views to some of the tallest peaks. It is very accessible and a popular day tour destination, with a restaurant close to the trail from the parking. There is a pleasant 5 km trail around the lake with good views.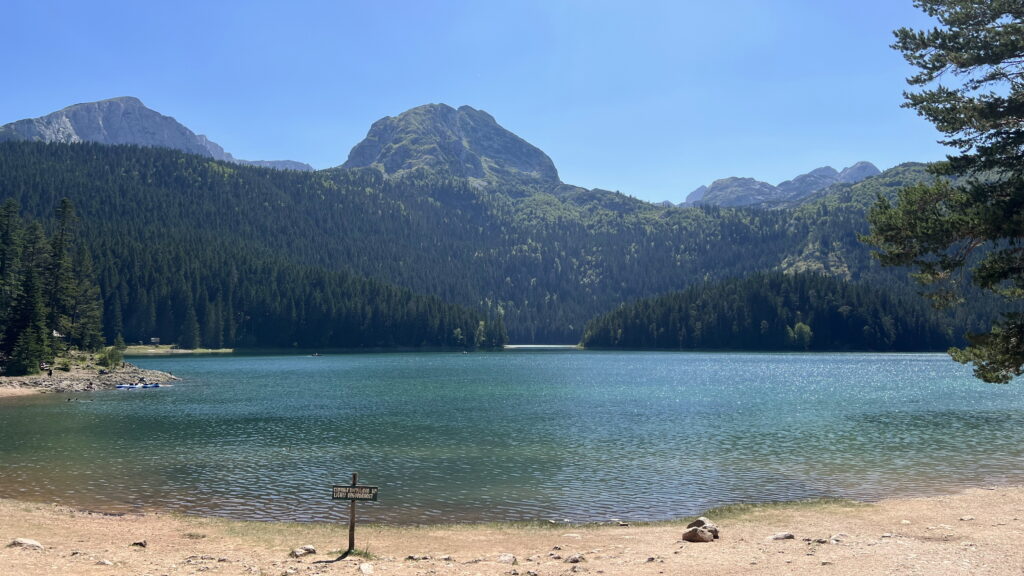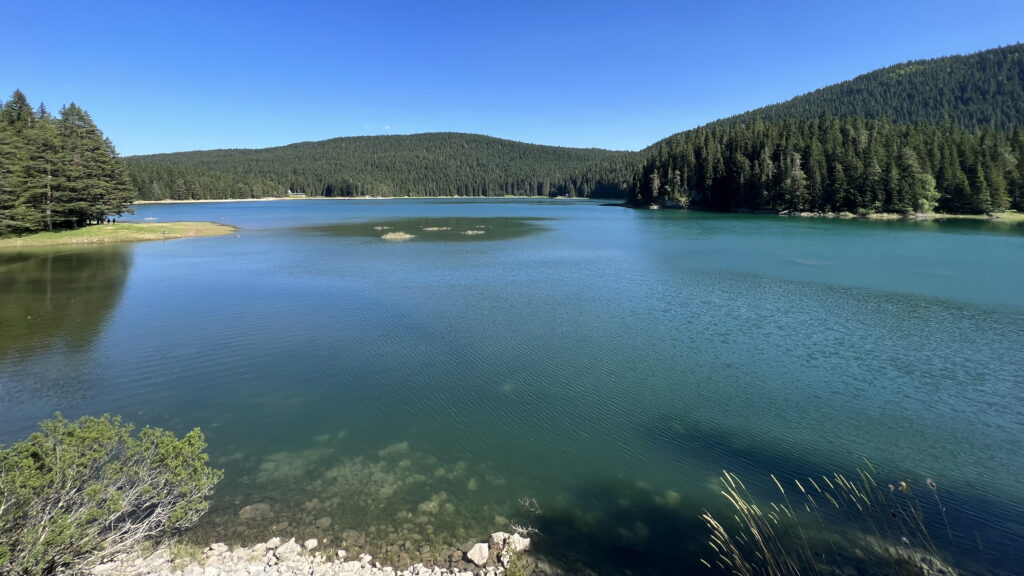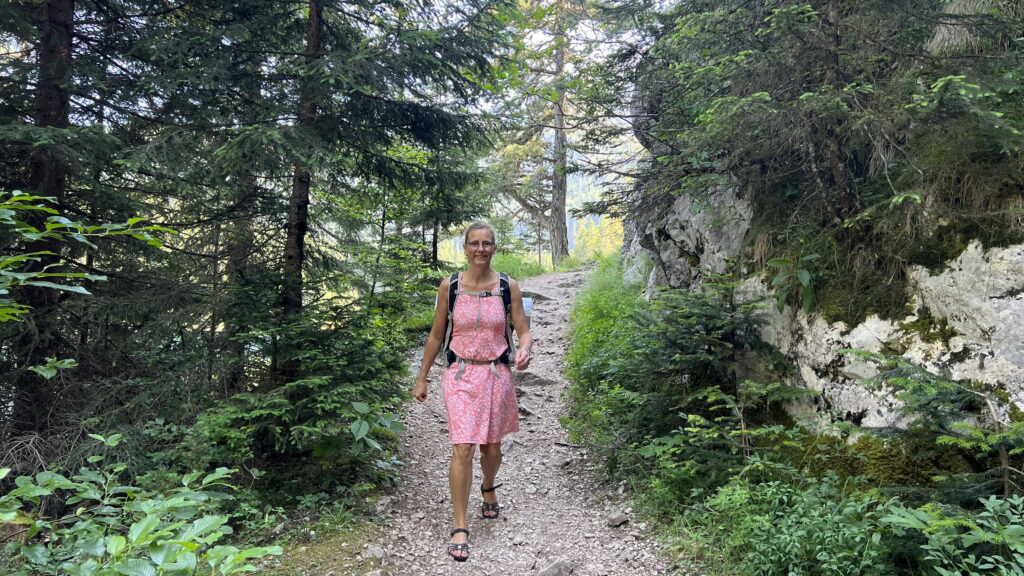 Durmitor national park can be circumvented on the "Durmitor ring" road. It is 80 km of road, that is reasonably signposted. There are maps online, and the road is easy to follow with Google maps navigation. The southern section has better roads and goes through higher altitude with panoramic vistas galore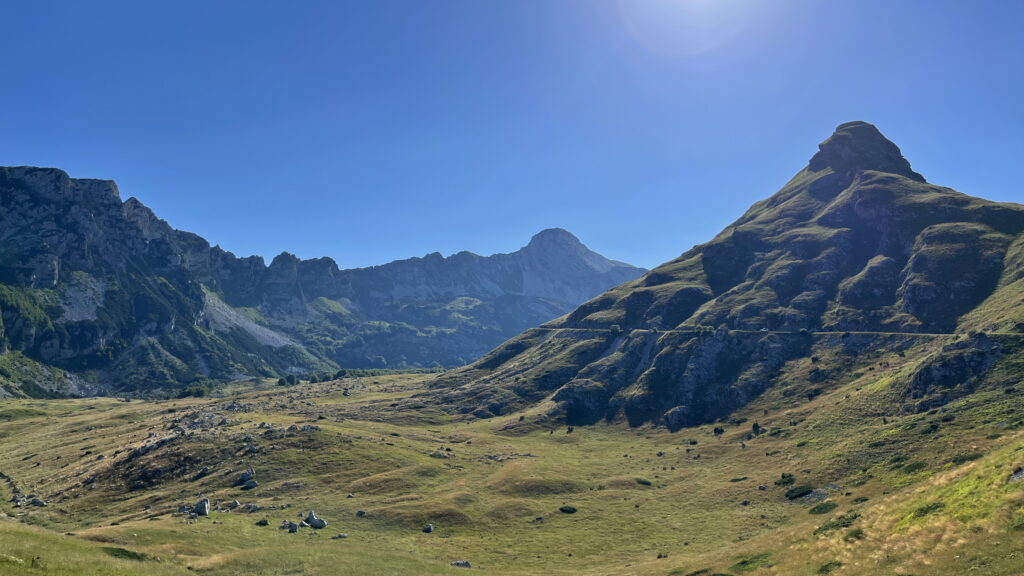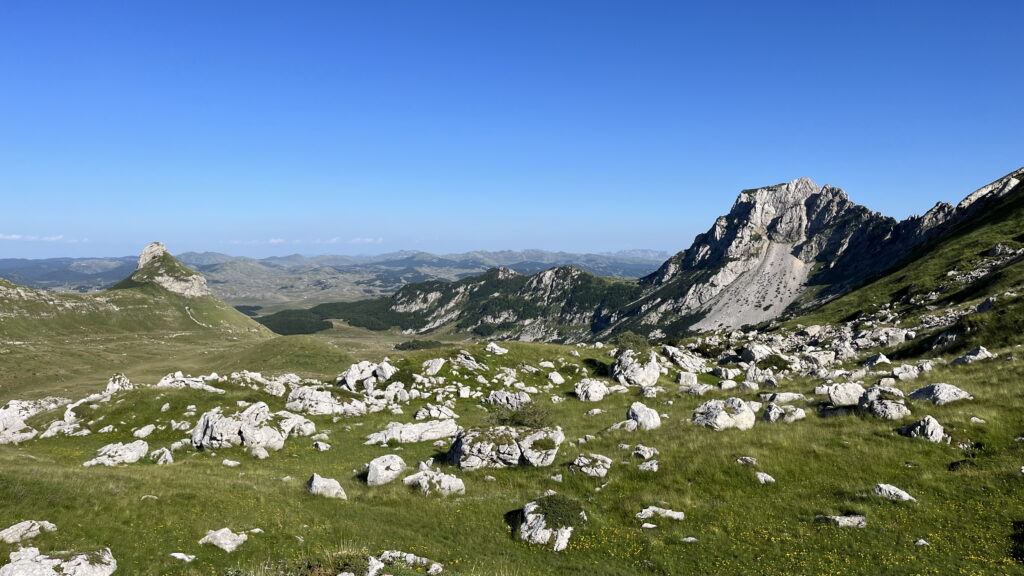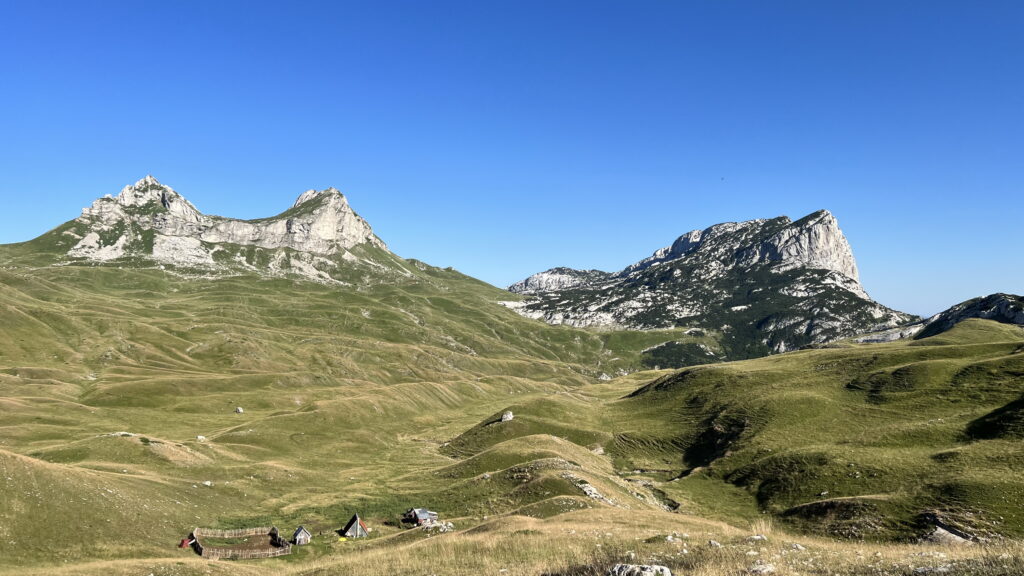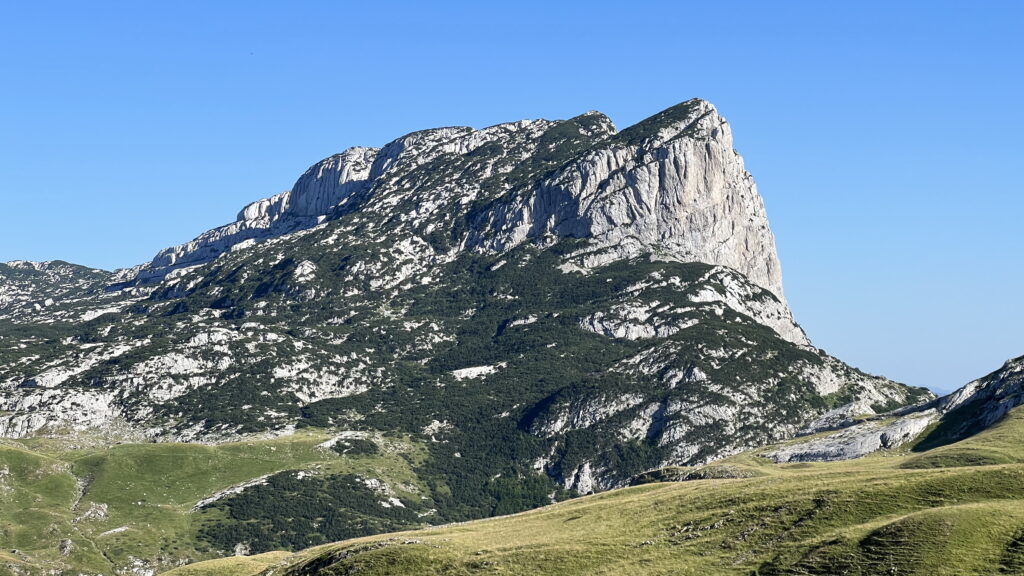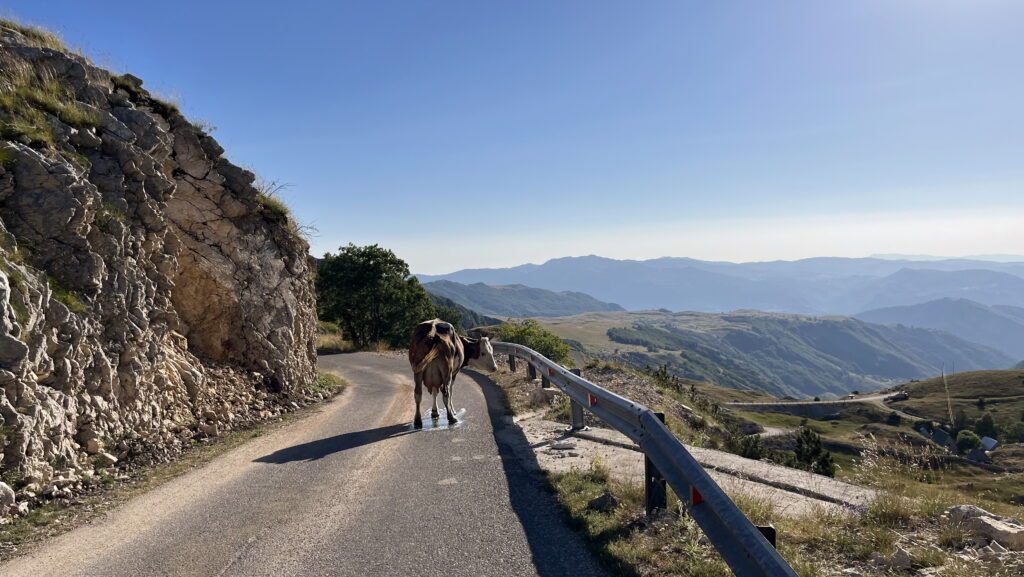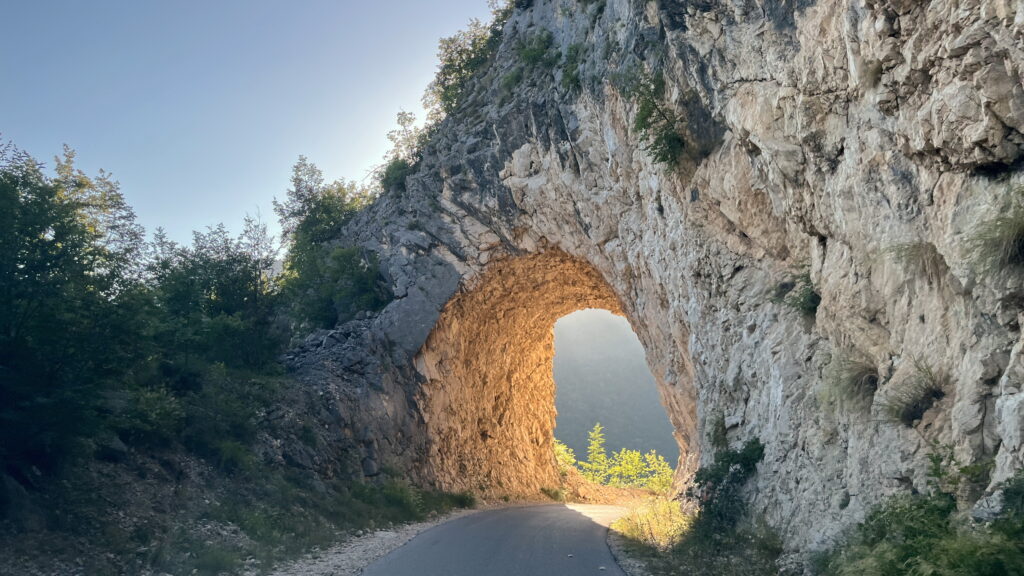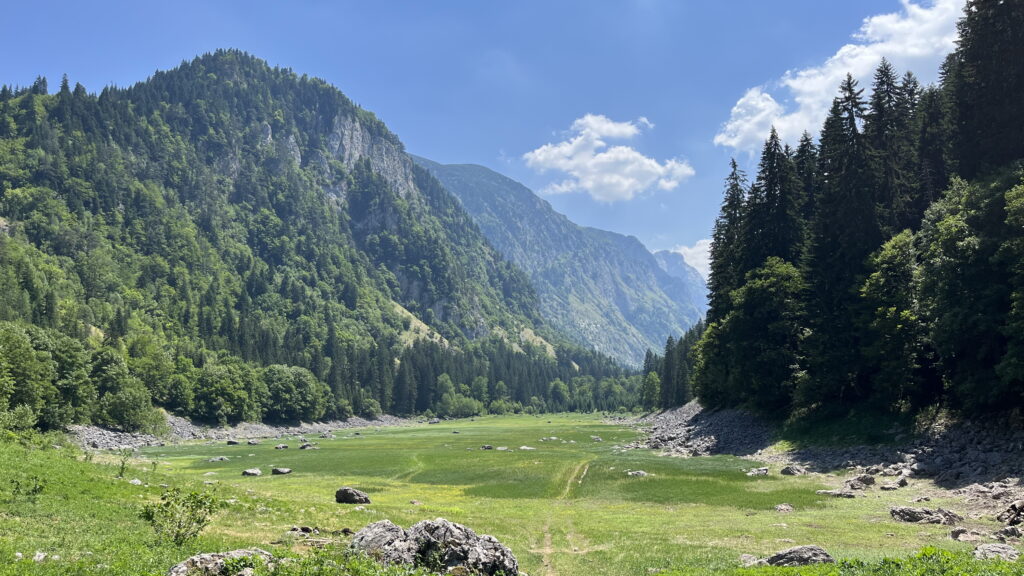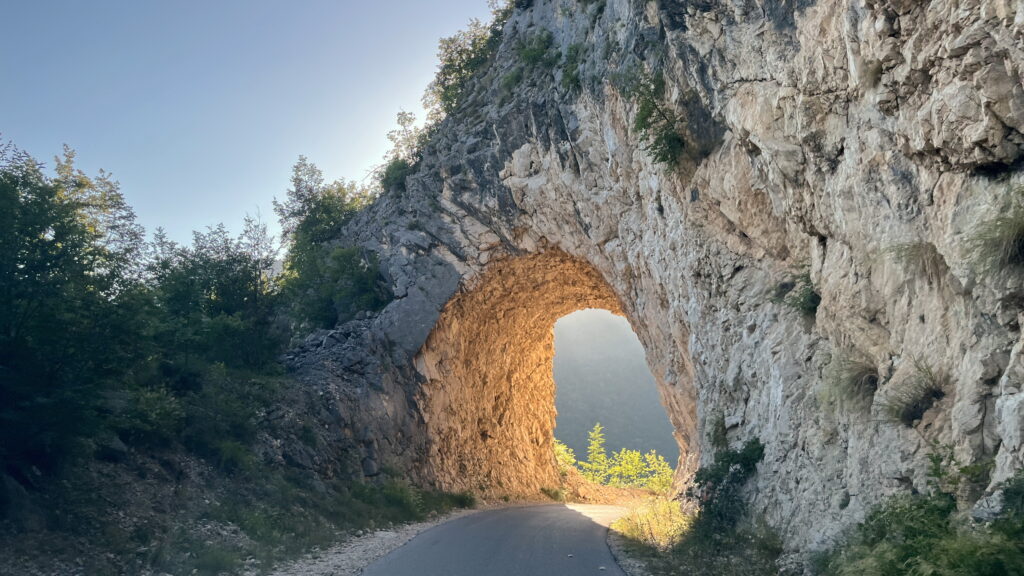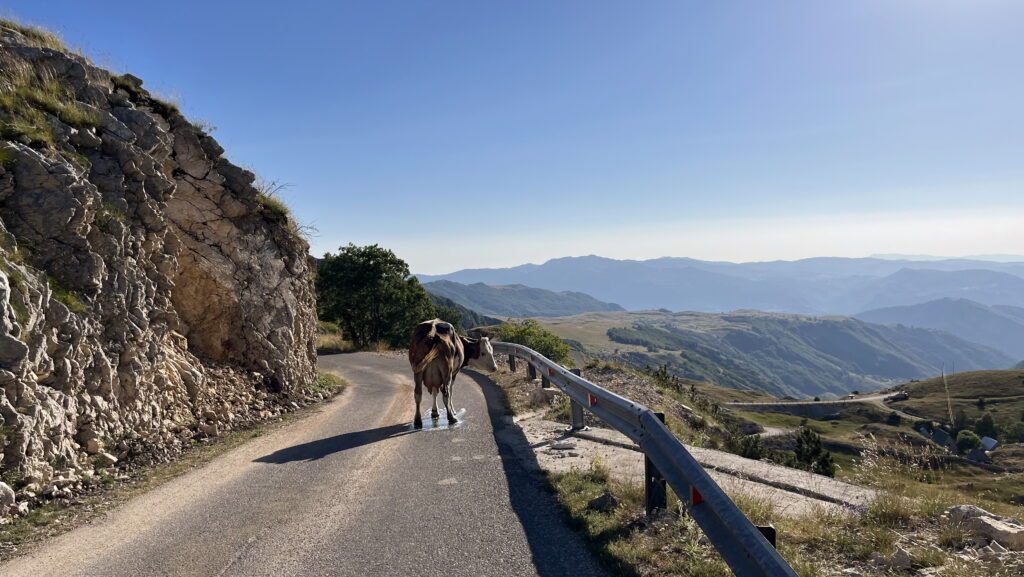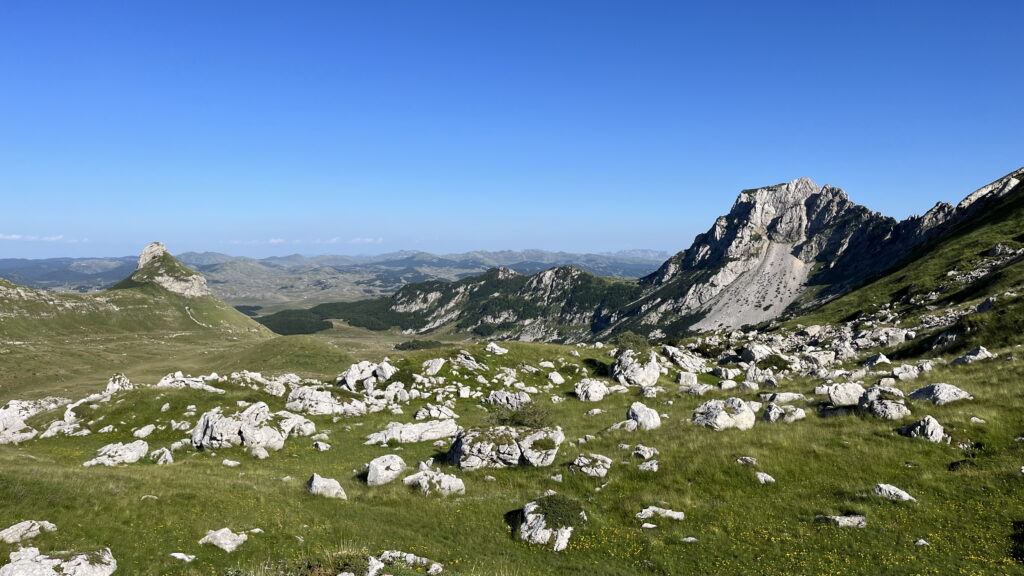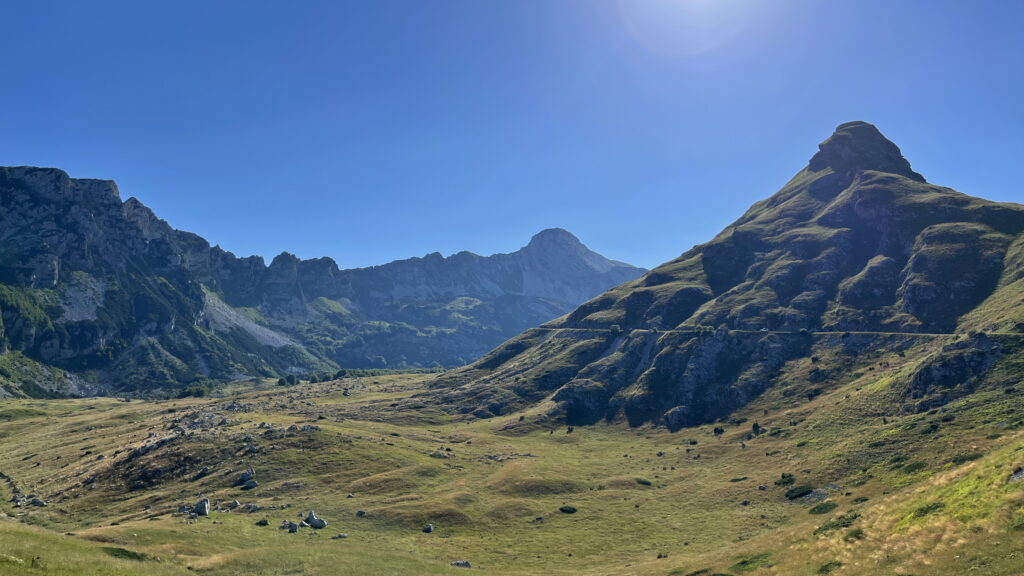 Our destination for the day was a rafting camp on the Montenegrin side, that had been recommended. The name is Camp Grab ethno village, the first rafting camp on the Montenegrin side. It is very nicely located by the river. The camp has a handful of double rooms for rent, and a large site for tents. The restaurant has a set menu and specific time slots for eating. The boys didn't have food they could eat, and we realised that it was not the type of camp we were looking for. We stayed a night, and in the next morning drove back towards Zabljak in Durmitor national park.
Day 11
We drove the north section of the Durmitor ring road. The north section has smaller roads and mainly goes through forests. There are fewer panoramic views.
We stayed at newly constructed and very nice bungalows Wolforest in Zabljak.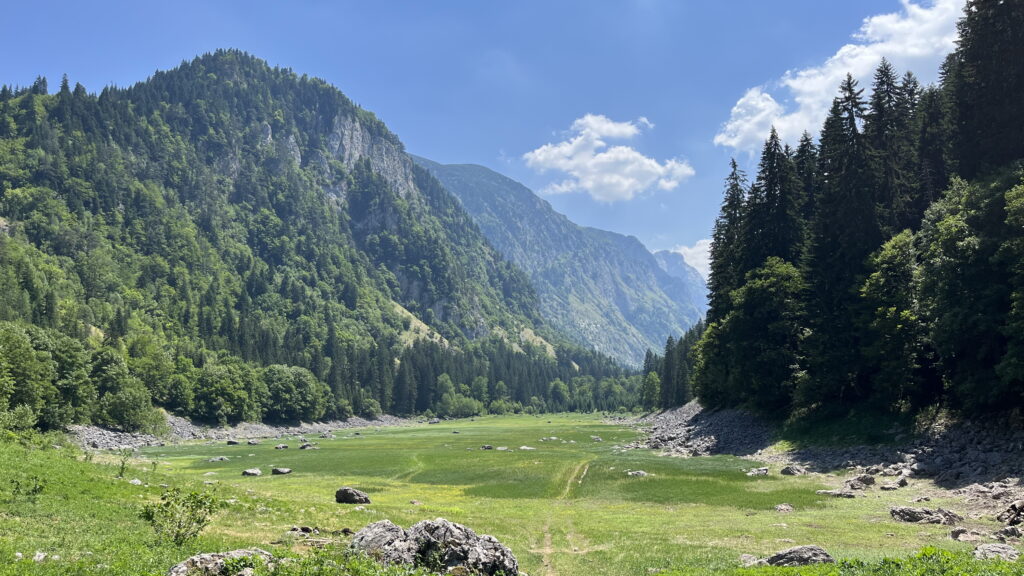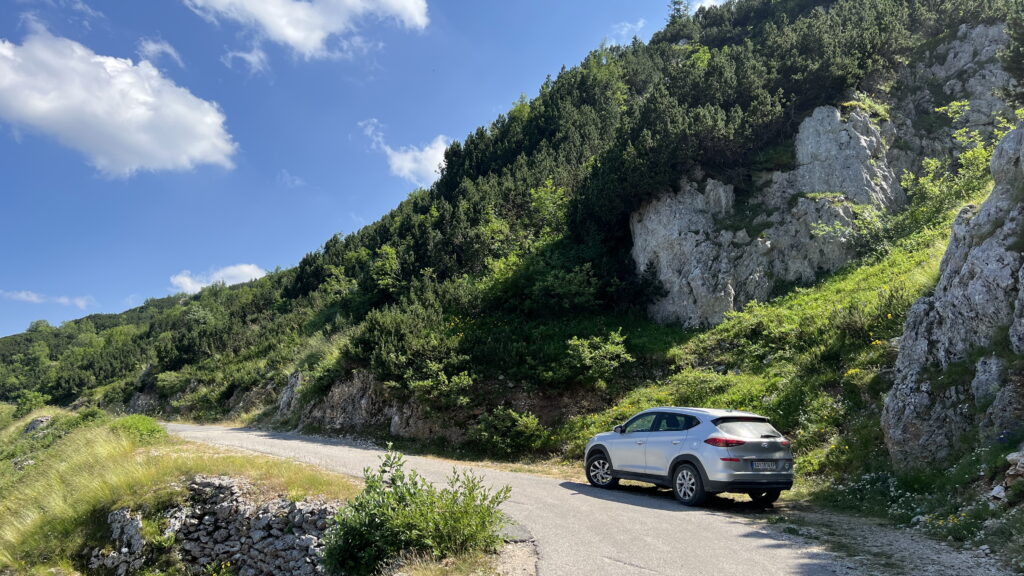 Day 12
Helle and Peter used the afternoon to hike towards Bobotov Kuk, the highest peak of Montenegro. The trail crosses some of the most alpine terrain in Durmitor, and the views are very good. Some sections are steep, and cables are bolted to the cliff side for support. It is not difficult or technical. We used a GPX file to follow the trail, but it is well signed.
See the trail map and find photos and a story about our hike here.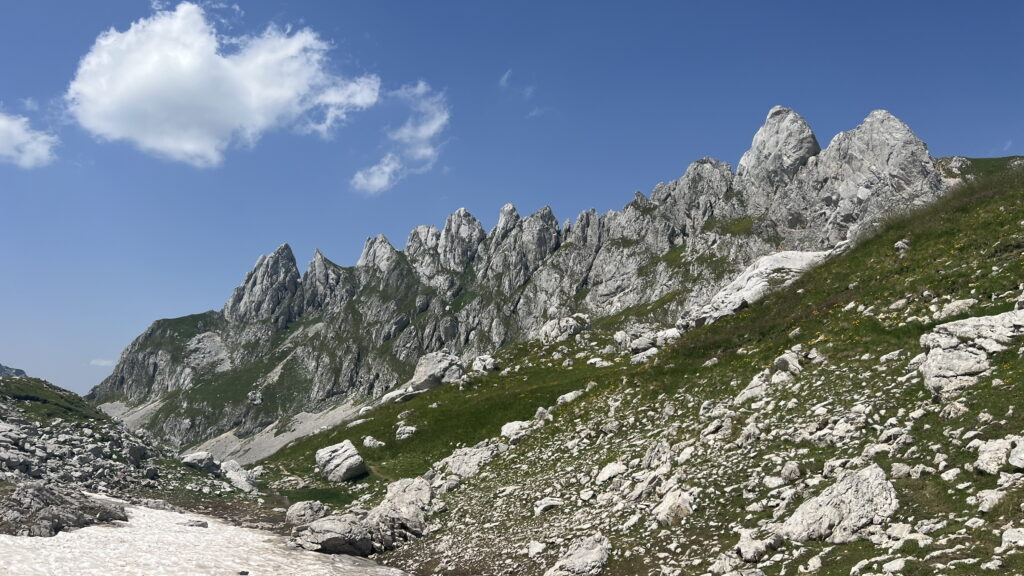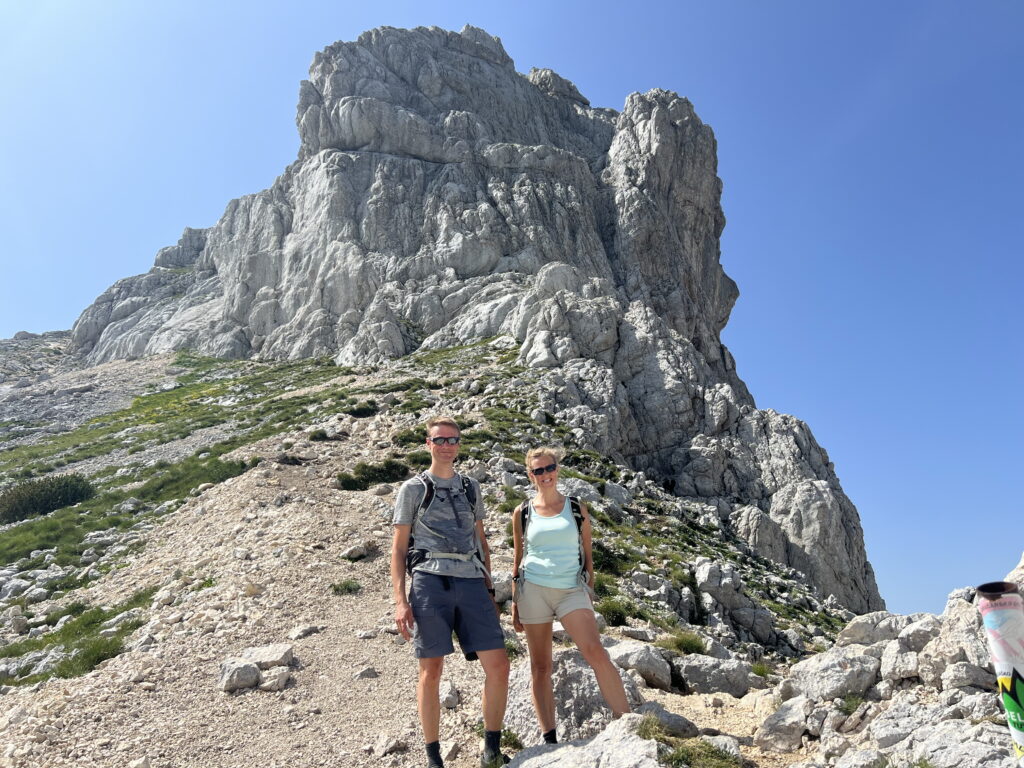 Day 13
We booked a Tara rafting tour with Outdoor resort Tarasport on the Bosnian side, where we stayed for two nights. Tara is a popular rafting destination, and is claimed to be some of the best rafting you can find in Europe.
The river names can be confusing. Tara runs on the border between the two countries, before it joins with Piva and becomes Drina as it flows into Bosnia-Herzegovina.
The rafting tour went through canyons with steep limestone cliffs, sometimes covered with dense, green vegetation. The river water was deep bluish green and very clear. We could swim and jump into the fresh river water.
The rafting itself was good, with many small rapids. We rafted in July, where the rivers are calmer than in the spring. The boys enjoyed it, but had hoped for more thrills. It is an easy paddle.
There are almost 50 rafting camps along the two rivers, on both the Bosnian and Montenegrin side. When researching, they all seemed to offer similar types of accommodation, food options and tours. We were looking for a camp where we could stay in separate bungalows, with individual choice of food, and with quiet evenings without parties or music. We were there for the nature experience.
On the days we were with Outdoor resort Tarasport, this worked reasonably well. But they told us that on the day we arrived, a large group of teens had just departed, and that the camp had been busy and buzzling while the group was there.
Outdoor Resort Tarasport have a fixed menu, but after some meals we could see that other guest could order alternative dishes. We also tried to do that, and we had a delicious fish while the boys could choose to their liking.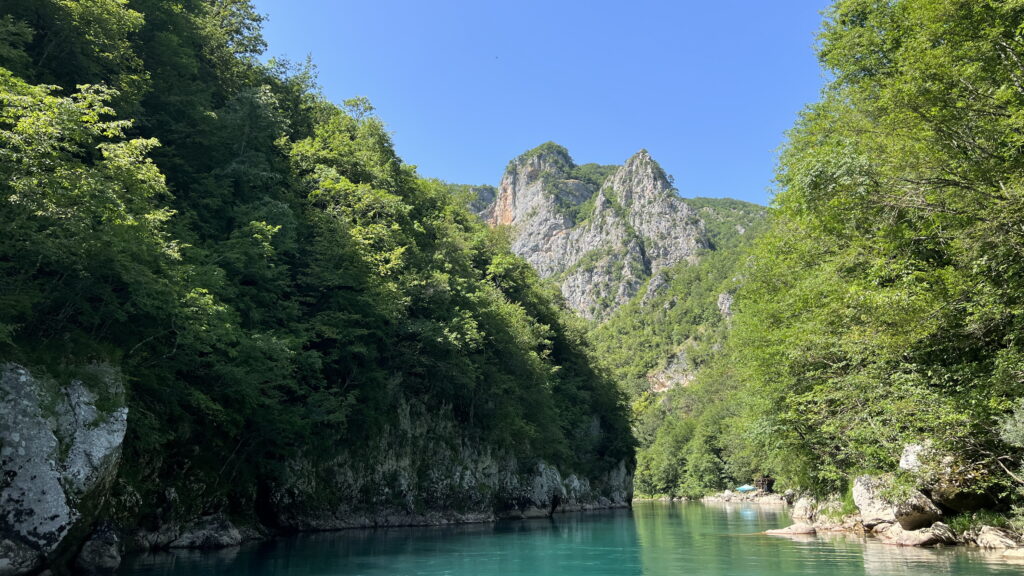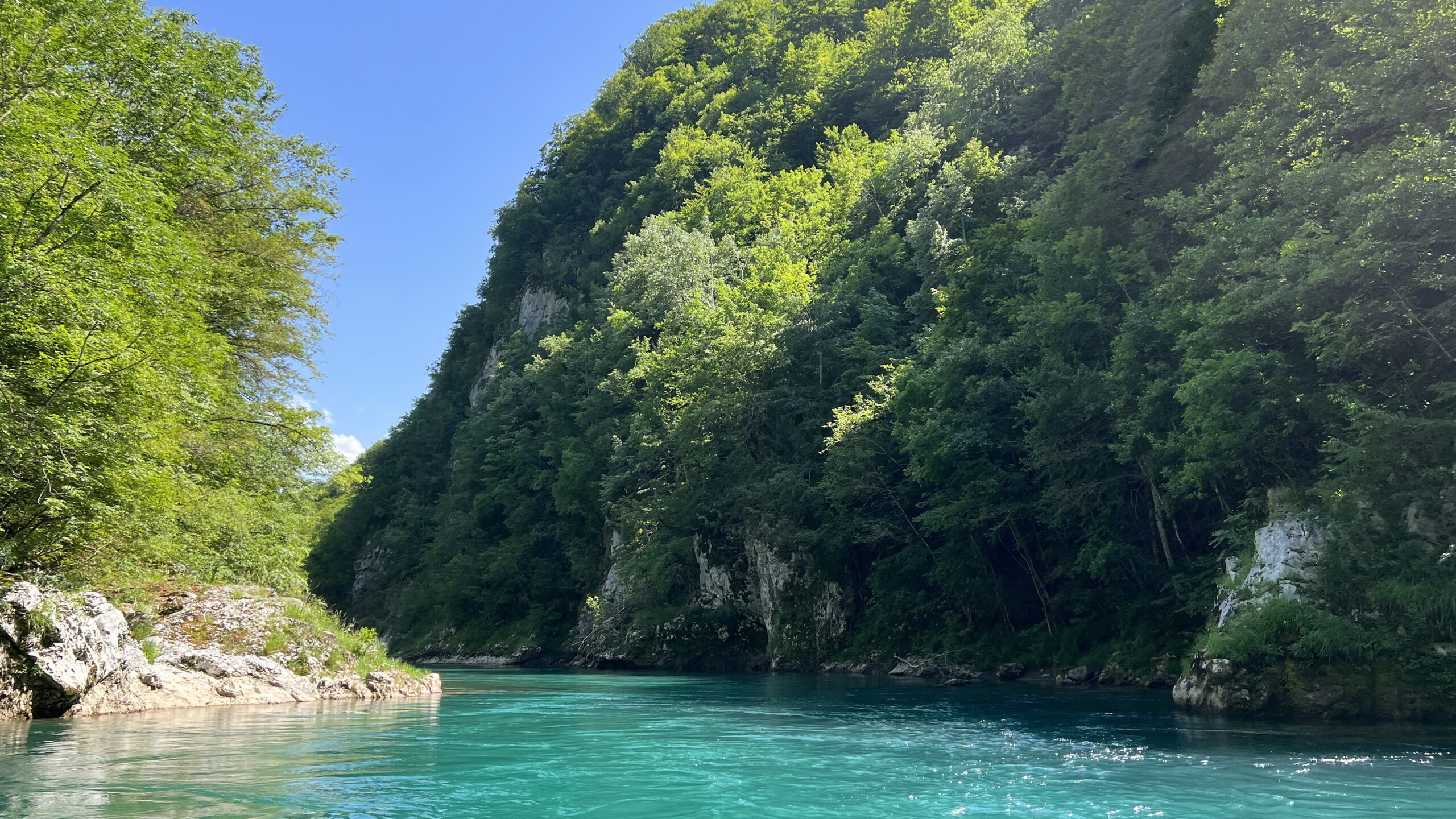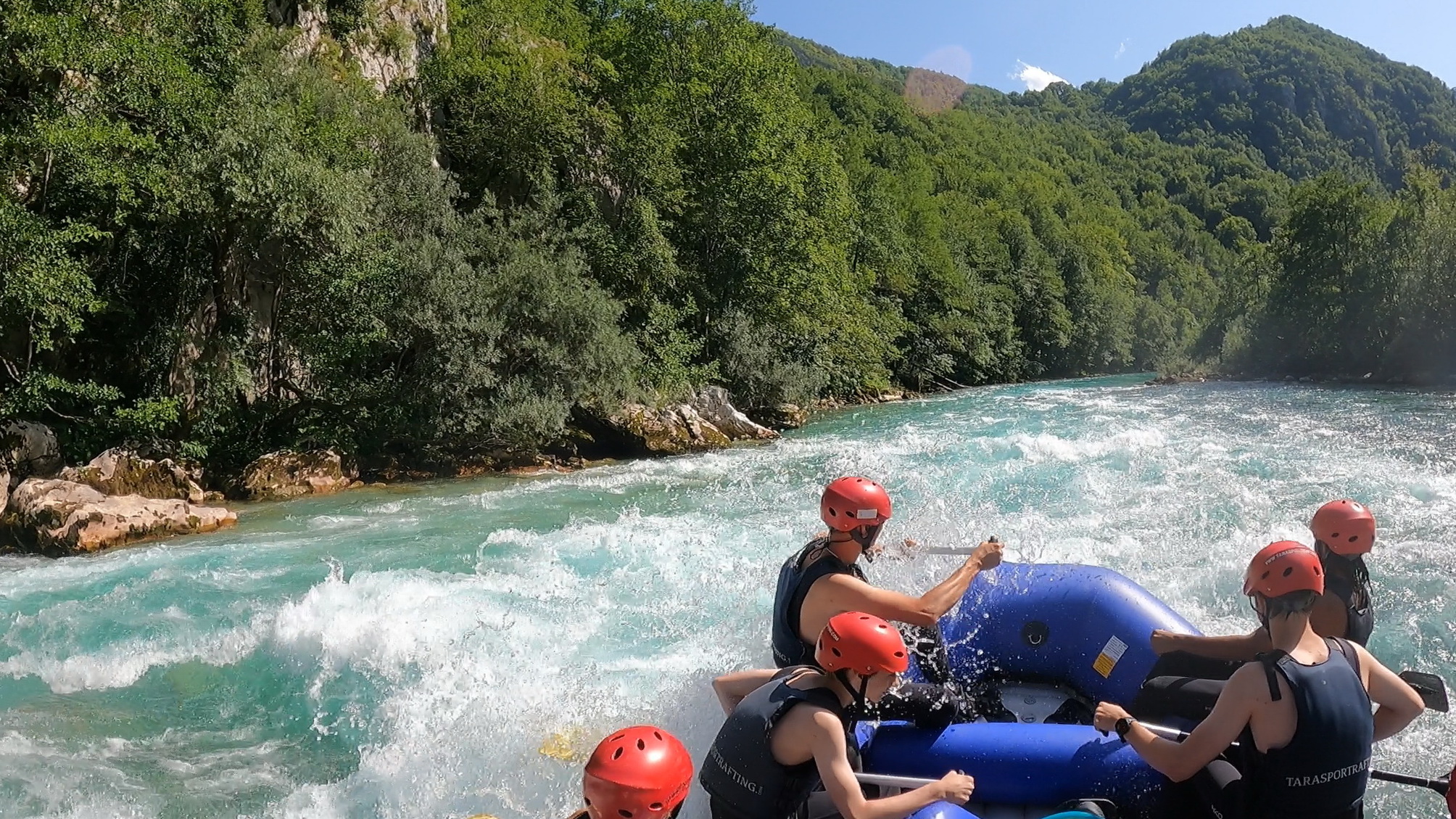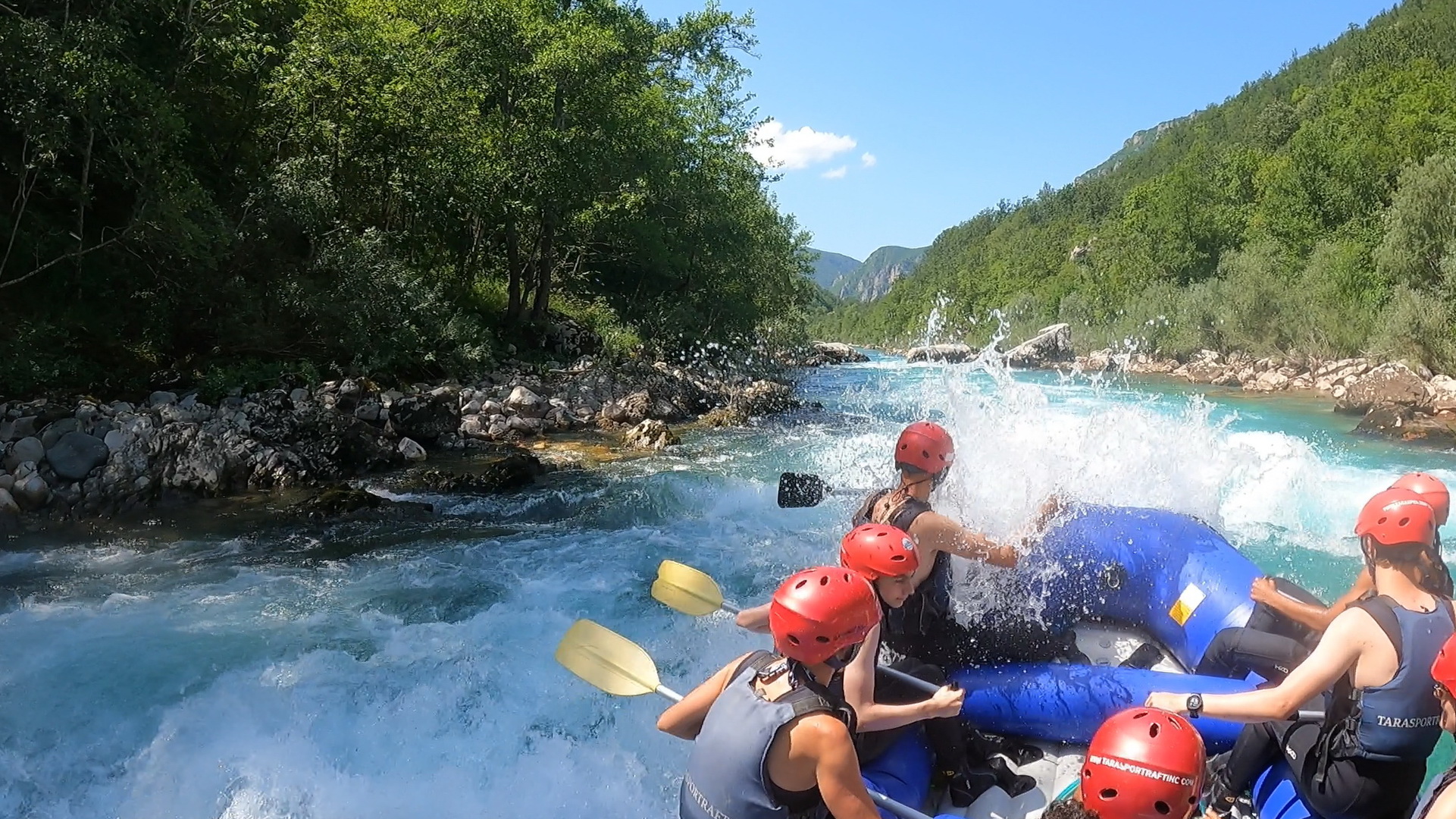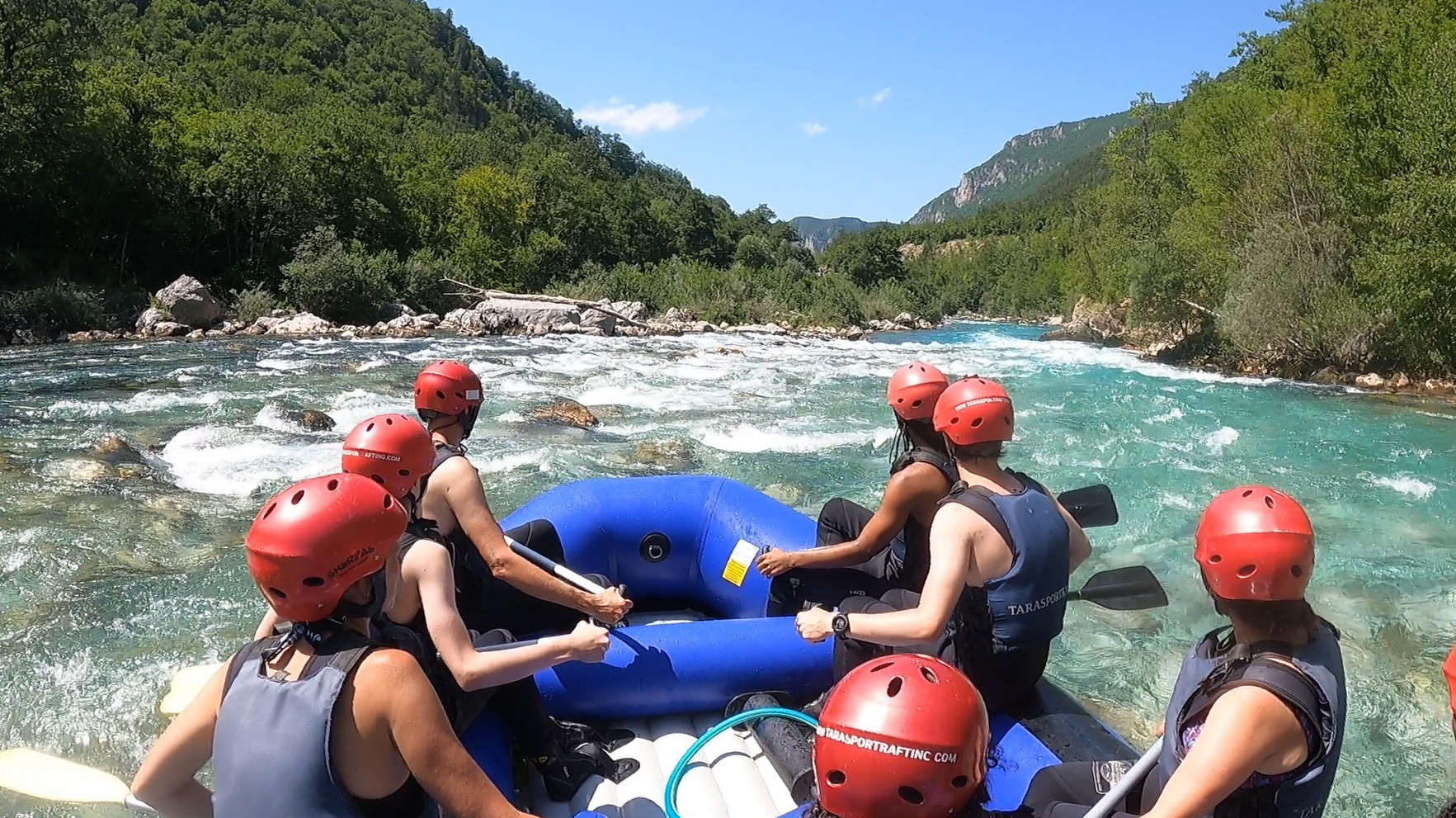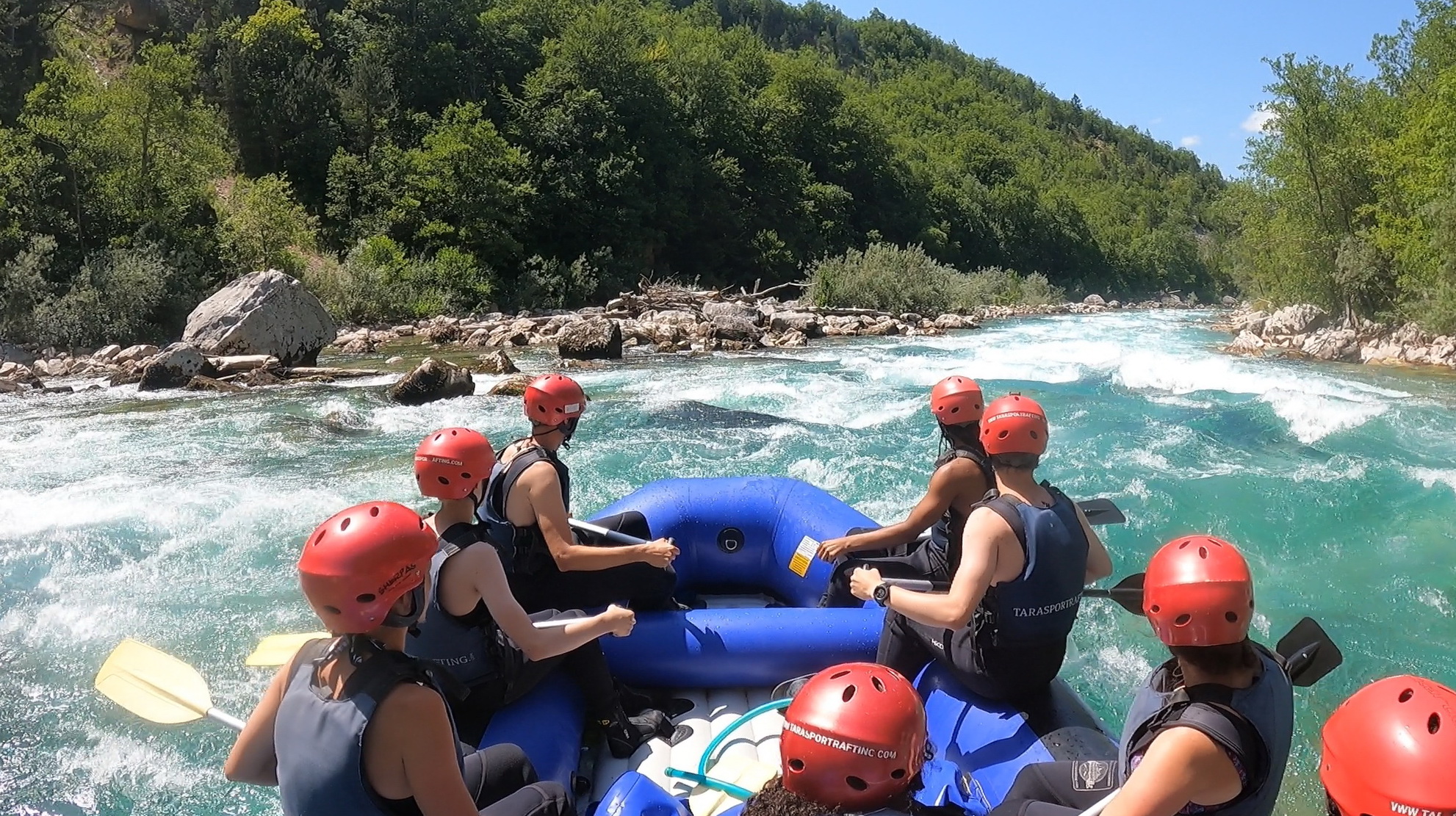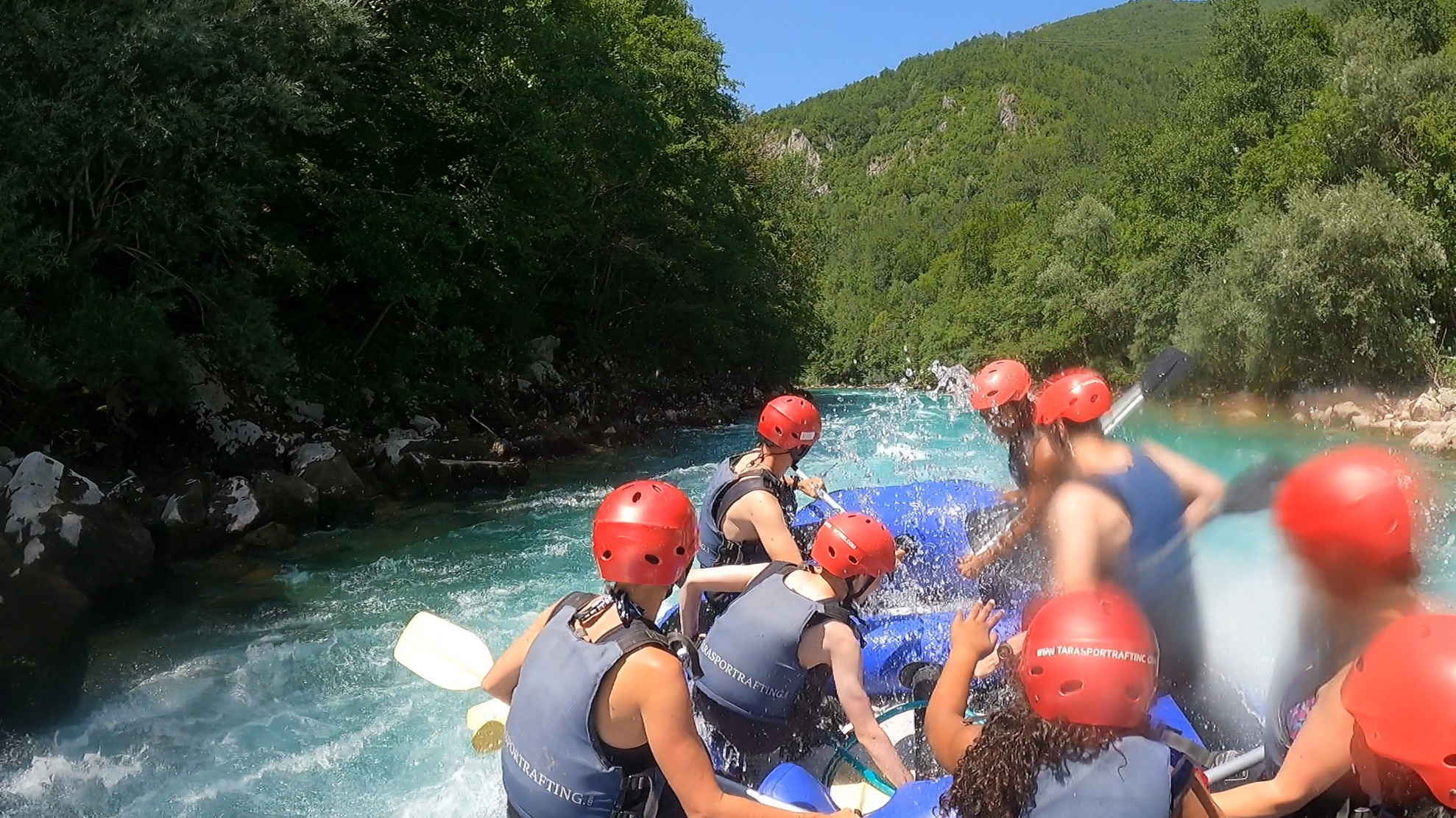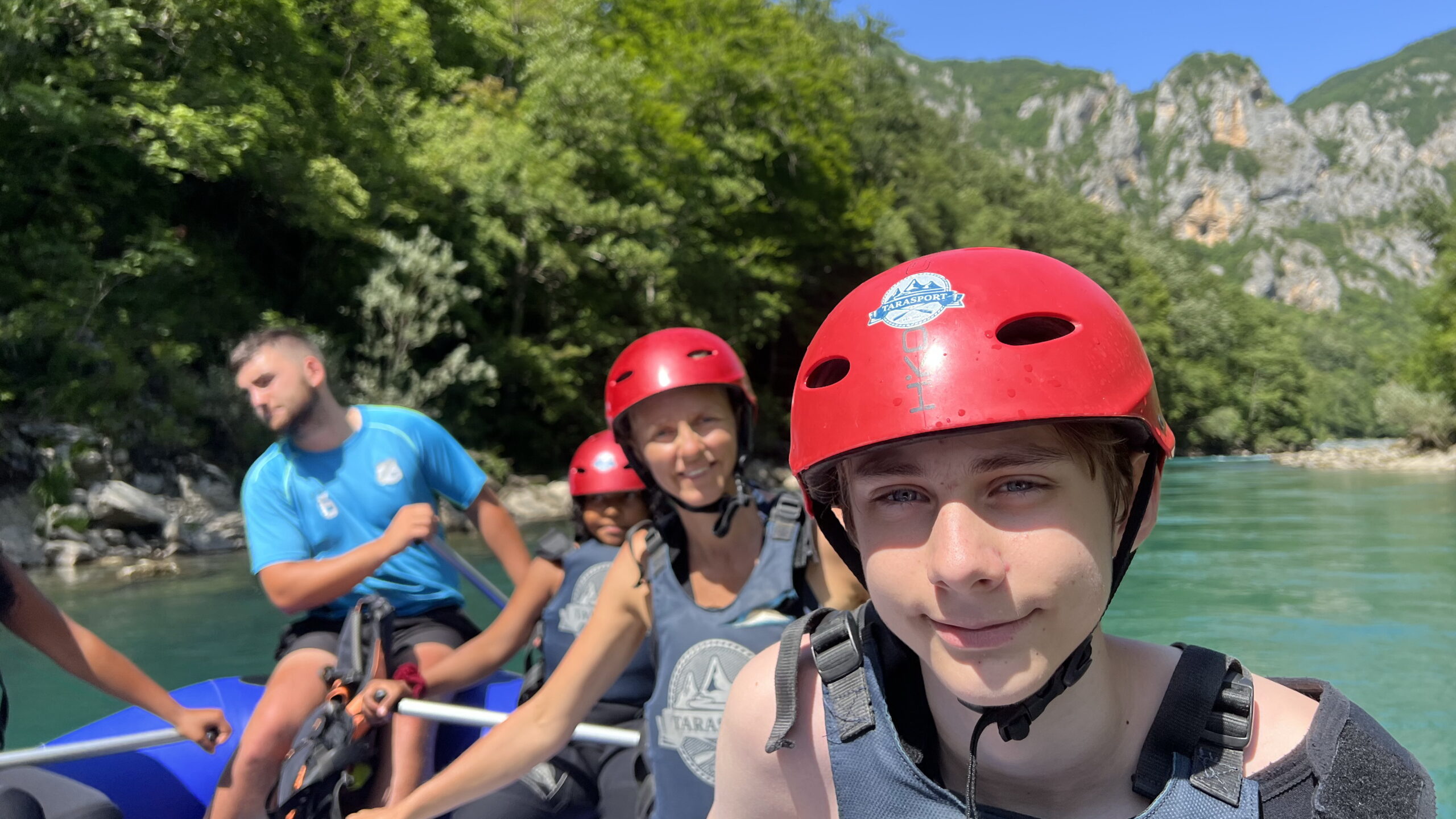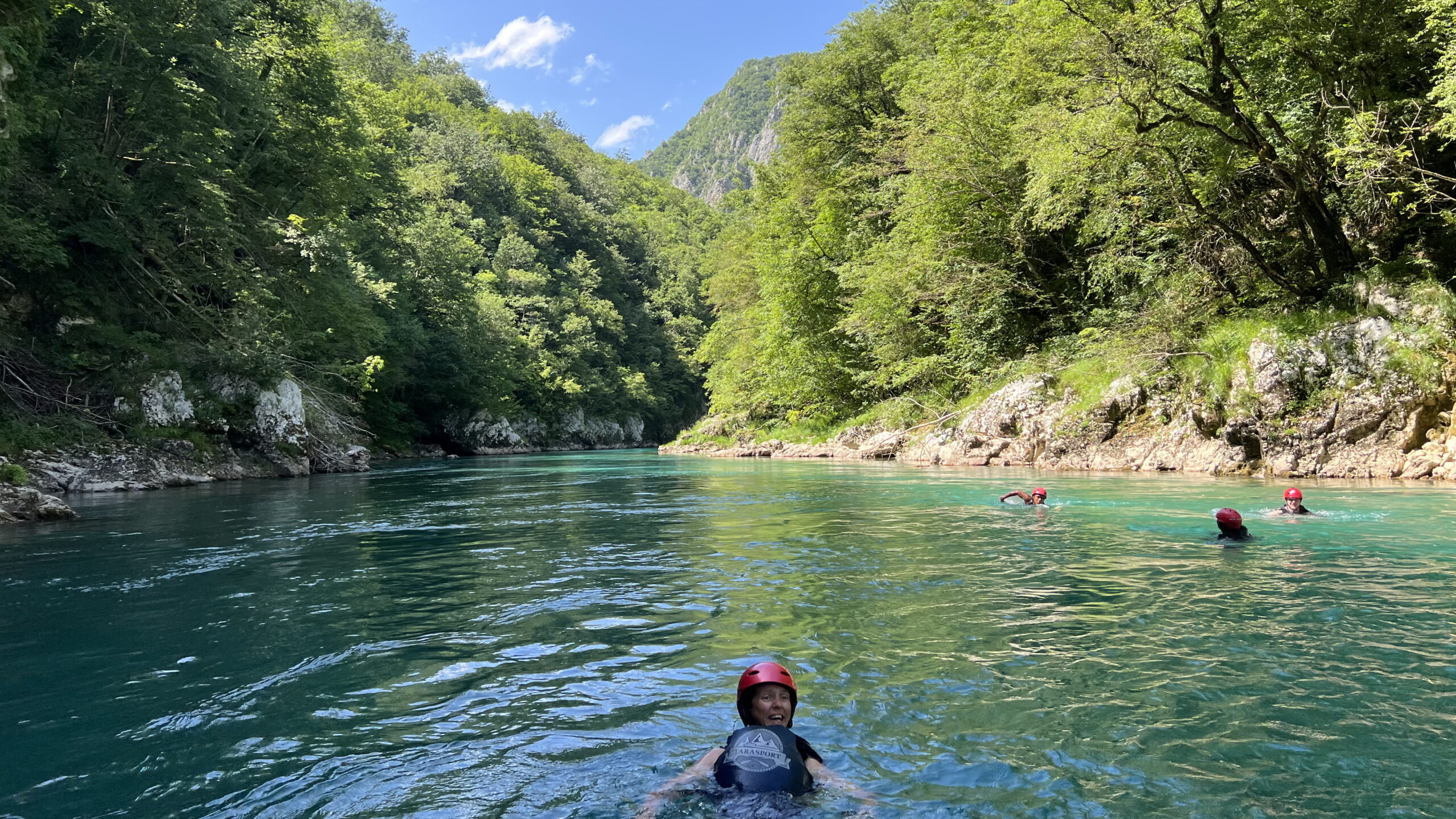 Day 14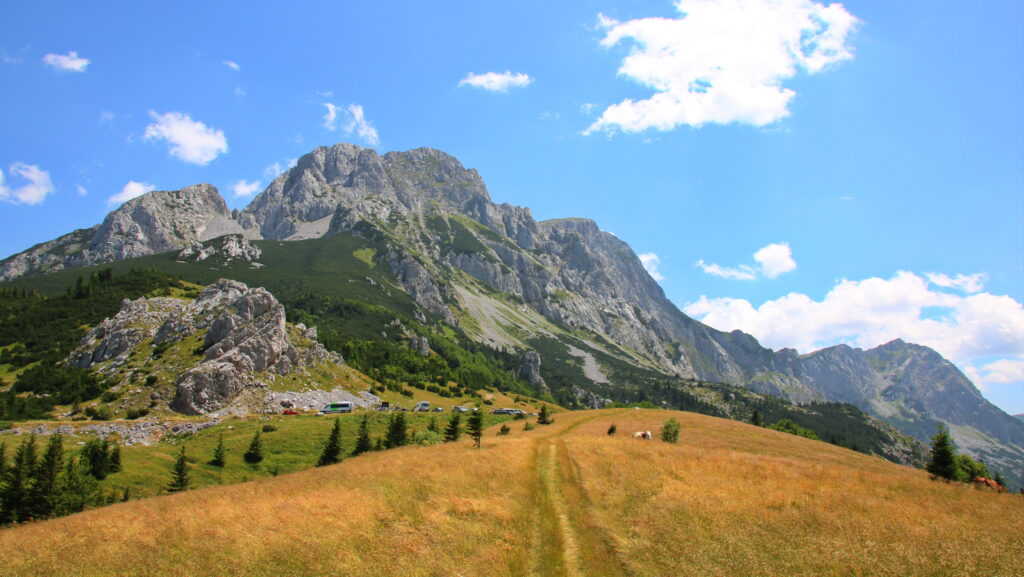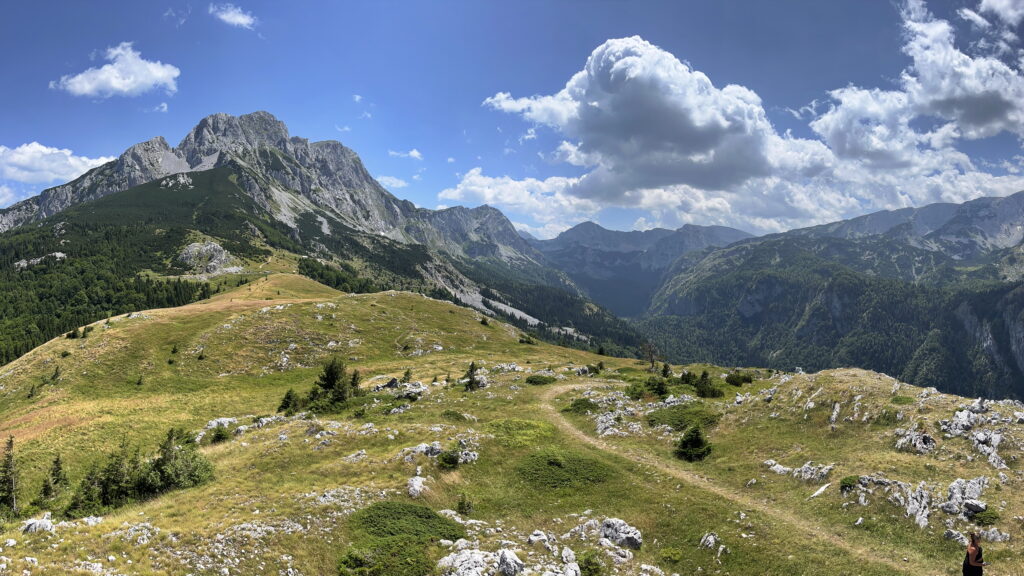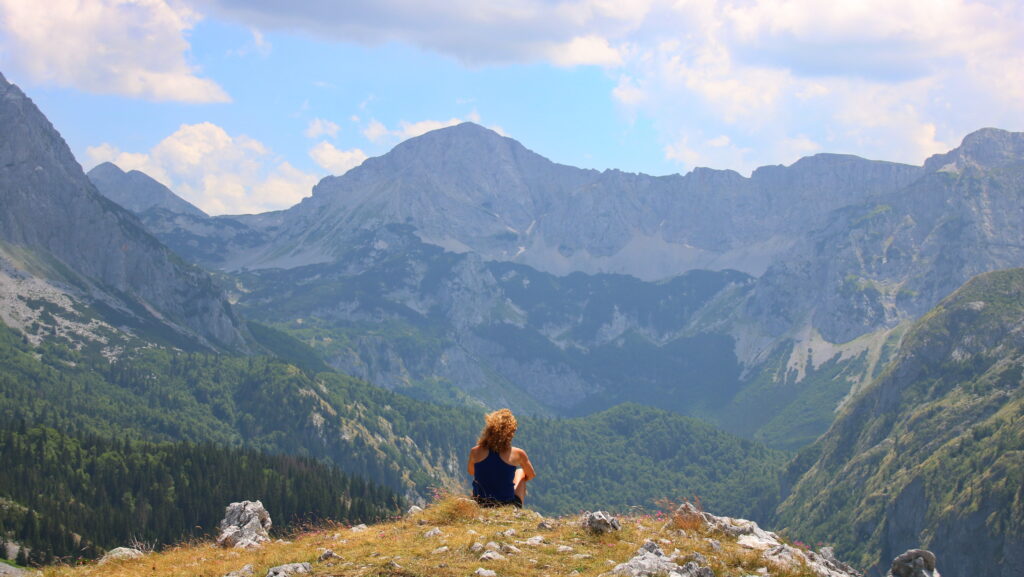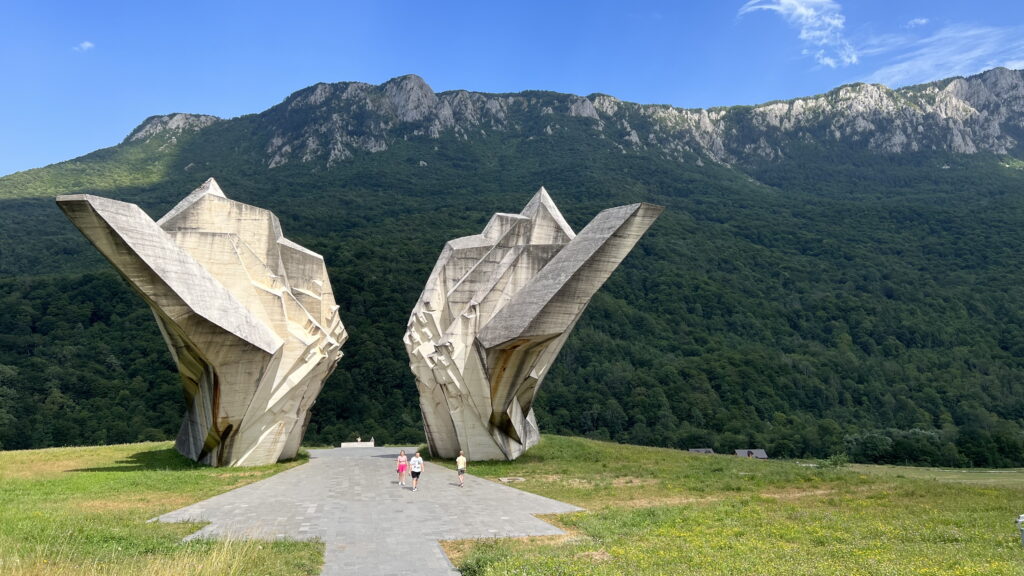 Day 15
We headed back towards Belgrade via Visegrad. The bridge across the Drina river in Visegrad was built by Ottomans in the 1500's. It was made famous by Nobel prize laureate Ivo Andric in his novel that used the bridge as the centre of his story