Renting a car and driving in Montenegro, Serbia, and Bosnia-Herzegovinia is straight-forward. We travelled on a road trip in 2023, and you can find our itinerary here.
We rented a Hyundai Tucson with manual gearbox directly from Avis, to avoid the car rental portals.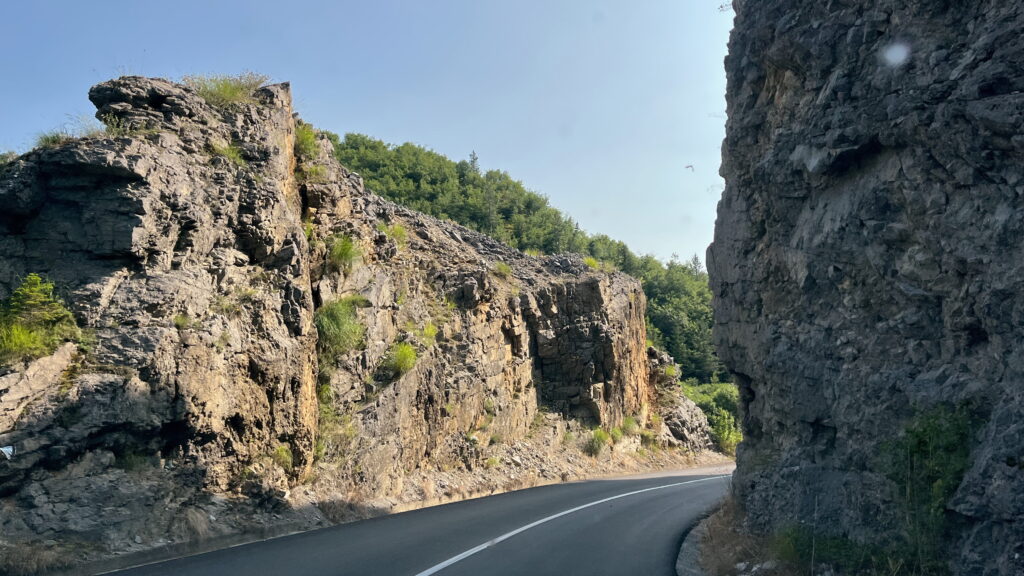 Avis' service at pick-up did not impress
It was quick to clear the procedures at Belgrade airport, but outside the airport, the path towards the car rental offices is not well signposted. With help from Google maps we found the parking garage with the offices. The Avis representative was not very helpful, and wanted us to take a saloon instead of the car we had rented.
Then we needed to take the car outside Serbia. We had talked with Avis in advance, and were told that cross-border paperwork can not be requested when booking the car, it is simply added when picking up the car. We did so and we took the grumbles as a confirmation.
When we arrived at fourth floor of the garage, there were no Avis representatives around. We re-checked the rental agreement, and realised it was in Serbian. We had signed three copies at the office, one was in English, but that was not the one we now had in front of us. We could have checked it at the office, but were tired after traveling, and missed it.
After five minutes of waiting, one came, but only to tell us that our car had not yet arrived. A car of the model we had ordered arrived five minutes later. We were then given the choice to wait for cleaning, or to take it as it was. It was late in the day, and the car was not very dirty. So we took it in the condition it was. Altogether not a lot of hassle, but we had hoped for better service.
Roads are in good condition, but narrow
The roads in all three countries are generally in good condition. What we had not prepared for, was that many of the roads in Montenegro are narrow mountain roads, where two cars can only pass each other, when both cars drive onto the shoulder of the road. As a consequence, you need to be ready when a car approaches to slow down, which is less relaxing driving compared to roads with separated lanes.
As we left Belgrade, we went south on a recently built highway. But there are few highways in the three countries, which means the average speed for long stretches can be 50-60 km/h. It is small countries, but getting from A to B takes time.
We had a car with manual gearbox. Automatic would have been worth the extra cost, due to the many mountain roads.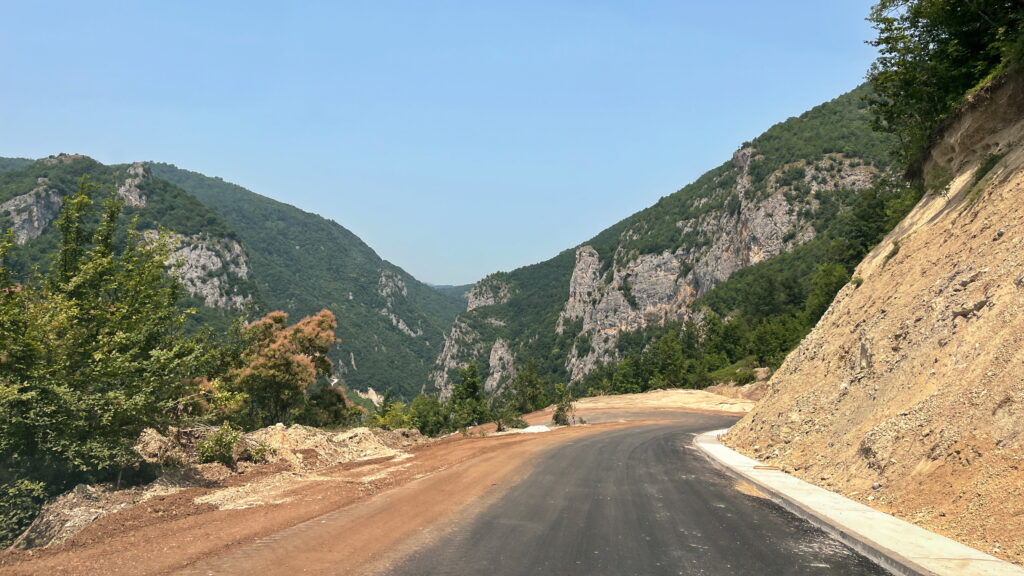 Not all borders are for tourists
We were in Uvac canyon on the day we left Serbia. In the morning we simply used Google maps to find a route to Gusinje in Montenegro, where we would spend the night. That took us through beautiful mountain landscapes, on roads that were increasingly empty. As we neared the border, we were puzzled that we saw almost no other cars. Well, it turned out that the border by the Monestary Kumanica is only for villagers. We had a long dialogue with the border guard using Google Translate, and a lot got lost in translation. The dialogue opened the possibility of providing euros for a coffee in exchange of crossing the border, but without being properly stamped out of Serbia. Maybe we got some details wrong. We decided not to try our luck, turned the car around, and did a three our detour to the border crossing at Jabuka granični prelaz.
None of the three countries are part of Schengen. We waited approximately half an hour when crossing into Montenegro from Serbia, and the same when crossing back into Serbia from Bosnia-Herzegovina. There was no waiting time at the small border crossing between Montenegro and Bosnia-Herzegovina, but we were told that two hours later, there was a long line of cars waiting.
Scenic routes everywhere
As in many other countries, particularly scenic routes are signposted. But in Montenegro, almost every road we drove was scenic by our standards. The driving may be slow, but the vistas are great.
Renting a car and driving in Montenegro, Serbia, and Bosnia-Herzegovinia is a great way to experience the region.