This post is our itinerary for a one-week road trip in Southern Morocco, in January 2020. From Marrakech, we drove to Essaouria and Taroudant, before returning to Marrakech across the high Atlas with a stop in the village Asni near Imlil.
Itinerary
Using the map: Use the mouse to zoom and pan. Click the button in the top-left corner to open a navigation menu. There you can select or de-select specific types of content we have added to the map.
At our first trip to Morocco in 2016 we had seen other tourists driving rental cars, so this time we decided to rent a car and make a southern Morocco road trip. This is our itinerary:
We booked accomodation in Essaoria and Taroudant. This is not our normal style, we prefer to stay a little further outside cities. But there are very few places to stay in smaller villages or open land in Morocco.
We wanted to soak in as much sun as possible, and hoped for weather that was warm enough for short sleeves. In January, northern and central Morocco around Meknes and Fes can be wet. The city of Taroudant south of the Atlas Mountains is supposed to be the warmest and sunniest place in Morocco, so we decided to go there!
Day 1 – learning about Moroccan traffic police the hard way
Marrakech Menara airport to Essaouria Lodge: 3 hours drive time
Arriving in Marrakech Menara airport was a breeze. We arrived mid-day, and the airport is nicely daylit, spacious and not crowded. Receiving luggage and going through immigration was very fast. In the arrival hall is the Tele Maroc office, where we bought a 4 GB SIM card at 150 dirham (15 euro). With Tele Maroc we had good coverage everywhere we went.
Then we went to Hertz to pick up the rental car. Again, a good experience. There was no line, and the agent was professional and could go through the details with us in English (important, our French is very poor). The Dacia Duster SUV we had booked was in good conditions.
Soon we were on the road. Marrakech Menara airport is on the southern outskirts of the city. It took us 15 minutes to leave the airport and reach the main road. We simply followed Google maps and took some quite small roads with lots of slow traffic and people crossing the road. It was not really difficult, but I was focused and alert.
The drive from Marrakech to Essaouria is through dry, open country. The views are nice, but not the most stunning to be found in Morocco. We were lucky to see goats climbing argan trees for nuts, a classic Morocco-moment.
On the main roads, traffic was sparse and driving easy. But we were pulled over and fined twice by traffic police, once for speeding and once for not making a full stop at a check point. The first time was probably ok, the second time felt more like a "naïve tourist bribe". After that I didn't relax while driving towards the hotel, and we were upset when we got there.
Looking back, there were some "ground rules" of driving in Morocco we didn't follow, and after the first day we weren't pulled over again during the one-week Southern Morocco road trip.
See this article on driving in Morocco
Three hours after leaving Marrakech Menara Airport, we arrived at Essaouria Lodge, where we had booked 3 nights in advance. There are many nice riads and hotels in central Essaouria, but we chosen the lodge 10 km from town to have a quiet and spacious place to start the trip. The pool at the lodge was heated, but it was not very warm!
We had a well-maintained two bed-room apartment on the ground floor, so it was quite dark, and without a terrace or balcony to go out and enjoy the beautiful sunrises and sunsets. The upper floor apartments have better views and more daylight.
Day 2 & 3 – Essaouria
We went to Essaouria in the mornings on both days, and spend the afternoons by the pool. Essaouria lodge has a free shuttle to town which we used, to free ourselves from driving and parking our own car. The police experience was still fresh! But there is plenty of parking space by the old city (the parking by Place Bab Marrakech is very convenient) and the traffic to get there is quiet, so it would be easy.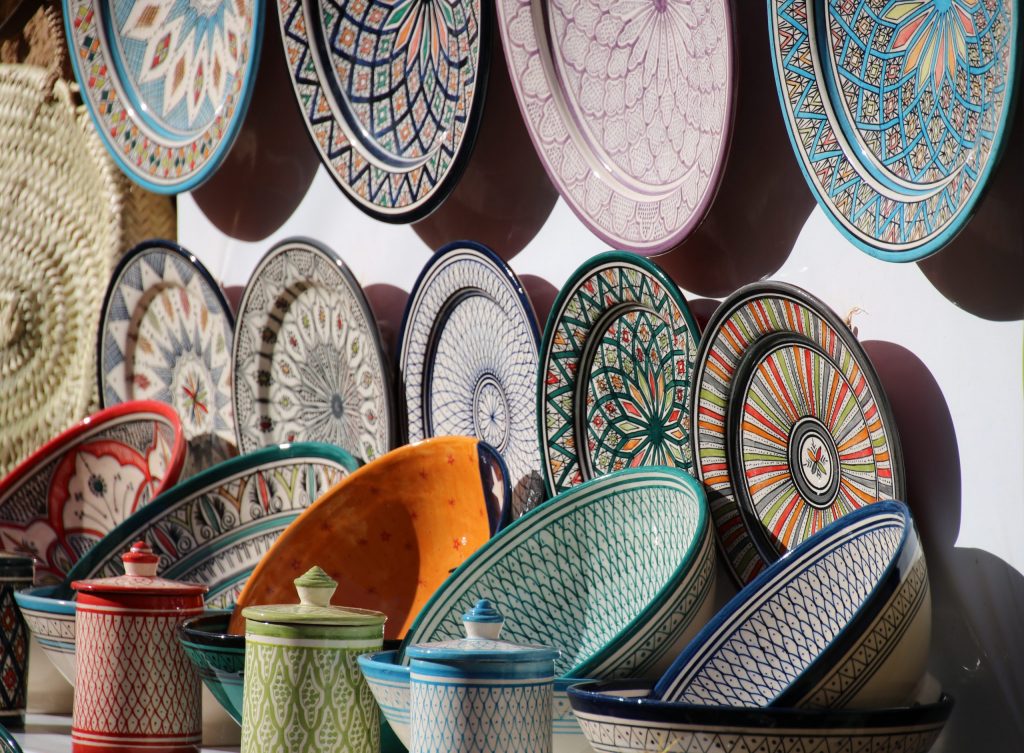 We liked walking the pedestrian streets in the old city of Essaouria with its Moroccan atmosphere combined with artisan shops and restaurants for tourists. The city walls give a connection to the city's history and the bustling fishing harbor gives a glimpse of business life today.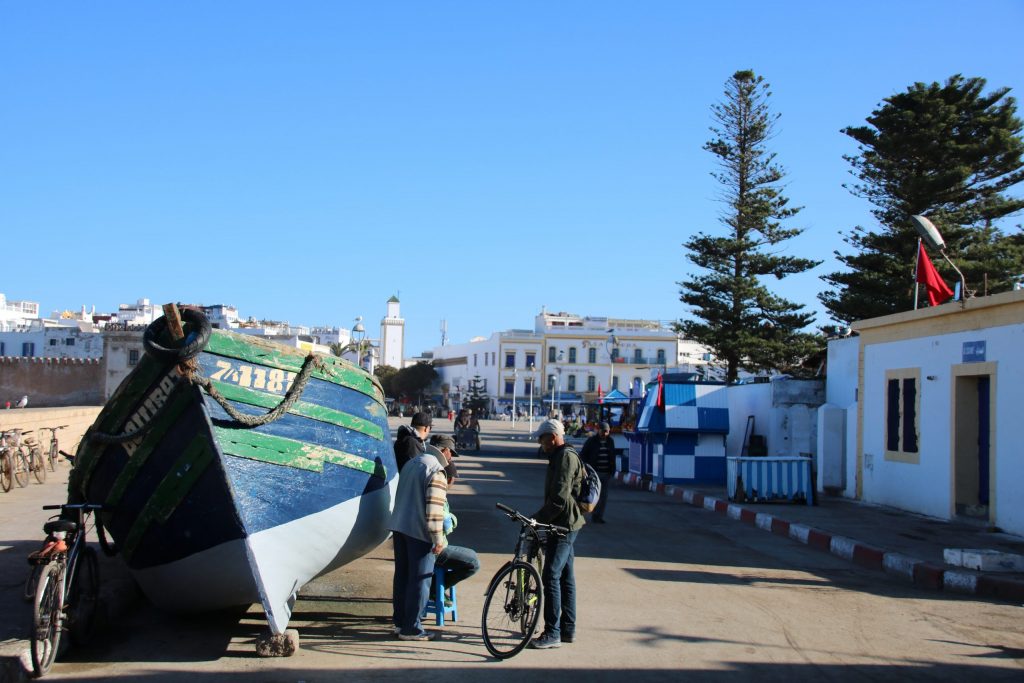 Wood carving is a specialty of Essaouria, and the boys liked exploring the details of carved animal figures, wooden boxes and 3D wooden puzzles. We liked the trays and artsy figures made with the roots of thuya trees, which have a beautiful golden teint with dark patches.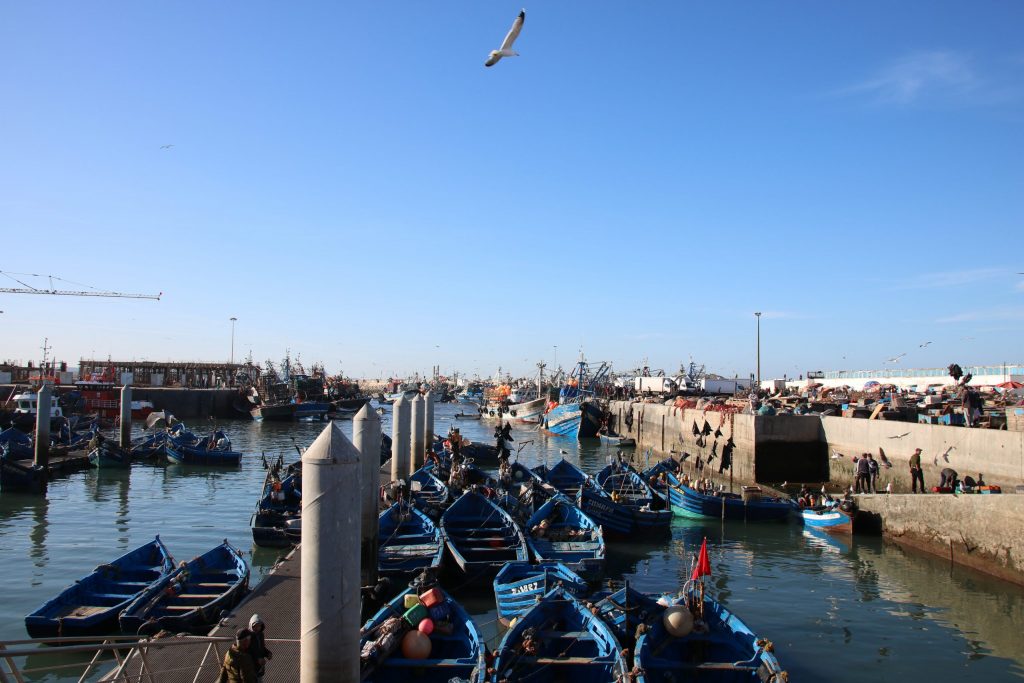 We spent two days in the area of Essaouria. It worked well for us to have plenty of time with the kids in the pool area of Essaouria Lodge in the afternoons. But if you are in a hurry, one day is enough time to explore Essaouria.
Day 4 – The beautiful coast road to Agadir and the lush Paradise Valley
Essaouria to Taroudant with stop in Paradise valley: 5½ hours drive time
This was a day we had looked forward to, and a highliht of our one-week Southern Morocco road trip. It did not disappoint. We could have spent much more time in this beautiful part of the country, enjoying landscapes and nature between the cities.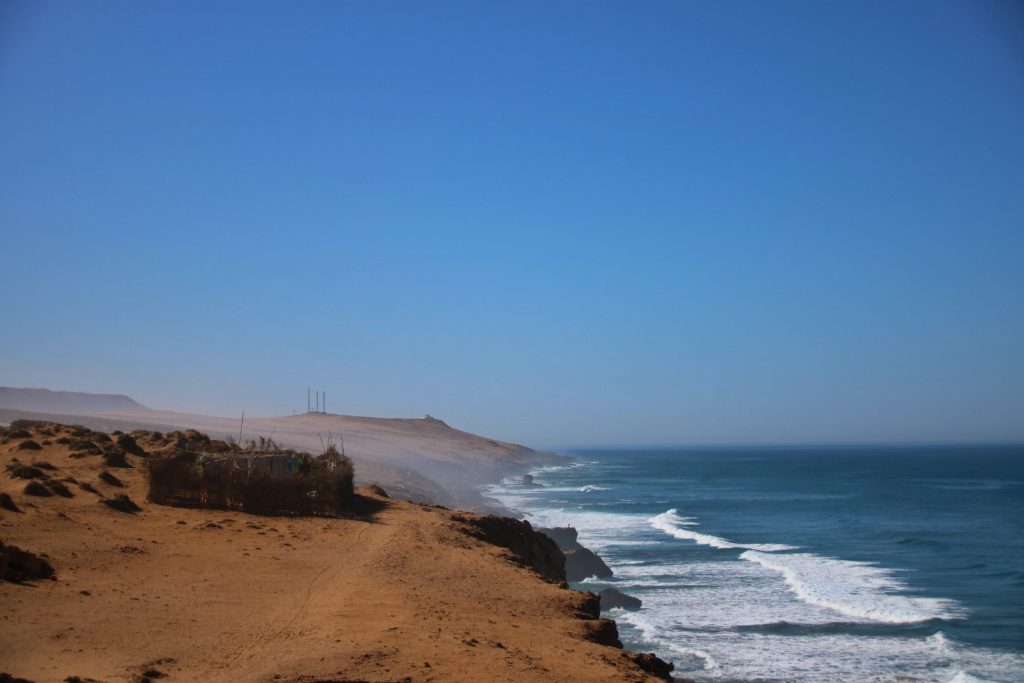 We chose the coastal road N1 instead of the larger pay-per-use highway C8, for the landscapes on the N1 route. The first part is inland between low hills and fields. It is dry country with many stunning vistas between villages. We also saw the famous goats that climb argan trees to eat the argan nuts.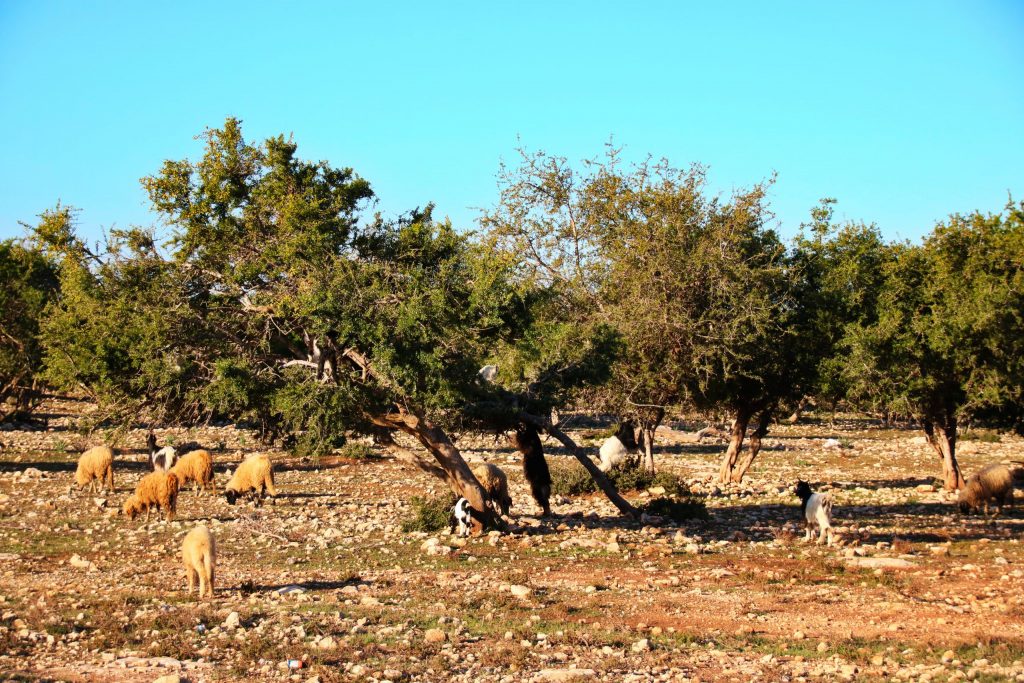 Later the road reaches the rocky and rugged coast. It is windy and rough near Essaouria. Near Agadir there are small surfer-towns and resorts.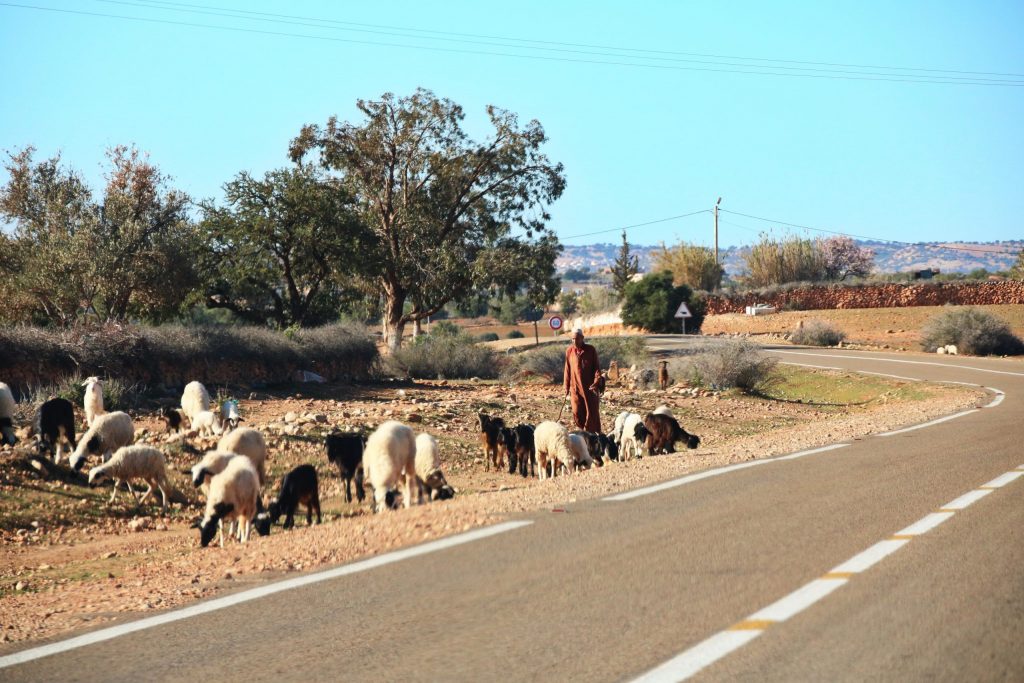 Just north of Agadir we made a detour to "Paradise valley" (it can be found on Google maps), which is a small lush valley with palm trees on the sides of a small stream. The drive to the valley is spectacular as the road winds through narrow gorges. We found it just as beautiful as the better-known Todra gorge.
You need to park the car and do an easy walk for 15 minutes to get into the valley itself. We had decided to wait to have lunch in the valley. There are several restaurants on the road to the valley, but none at the parking where the walk starts. Not knowing the area, we decided to turn the car and go back to the closest restaurant.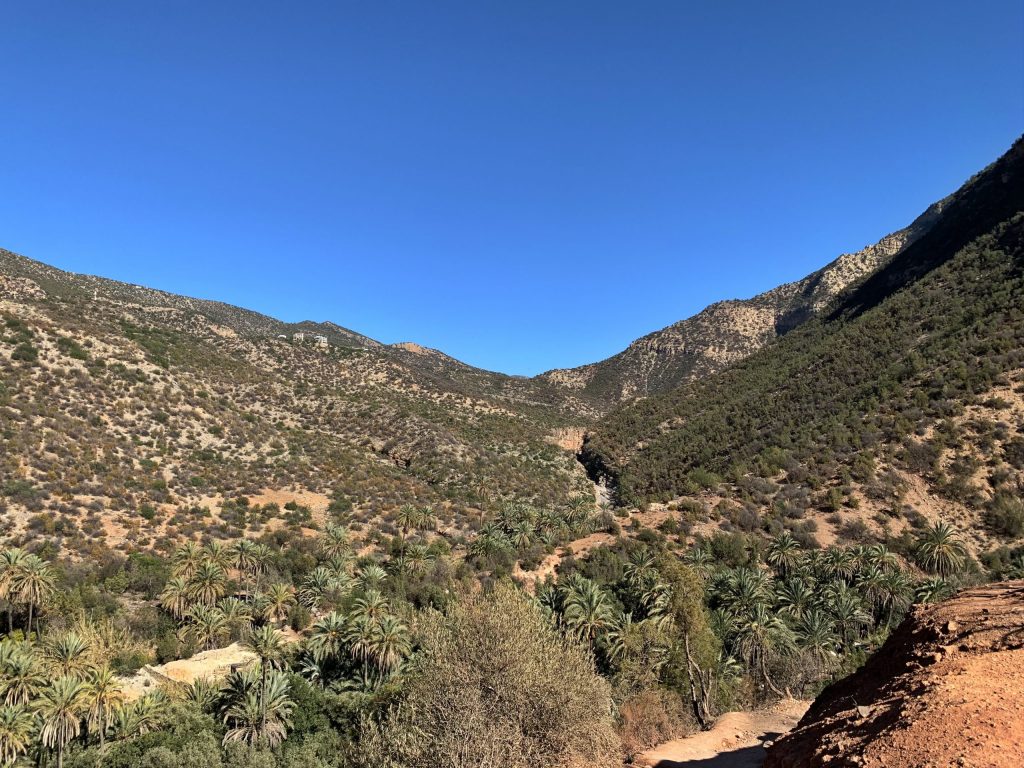 As the walk is short, you quickly reach the valley. It turned out that there are many restaurants in the valley itself, so we should just have walked down there for lunch. It seems that the main idea is that people go there to use the restaurants, there are no spots of undisturbed nature. We still found it worth going, both for the drive into the valley, and the small hike with the valley itself.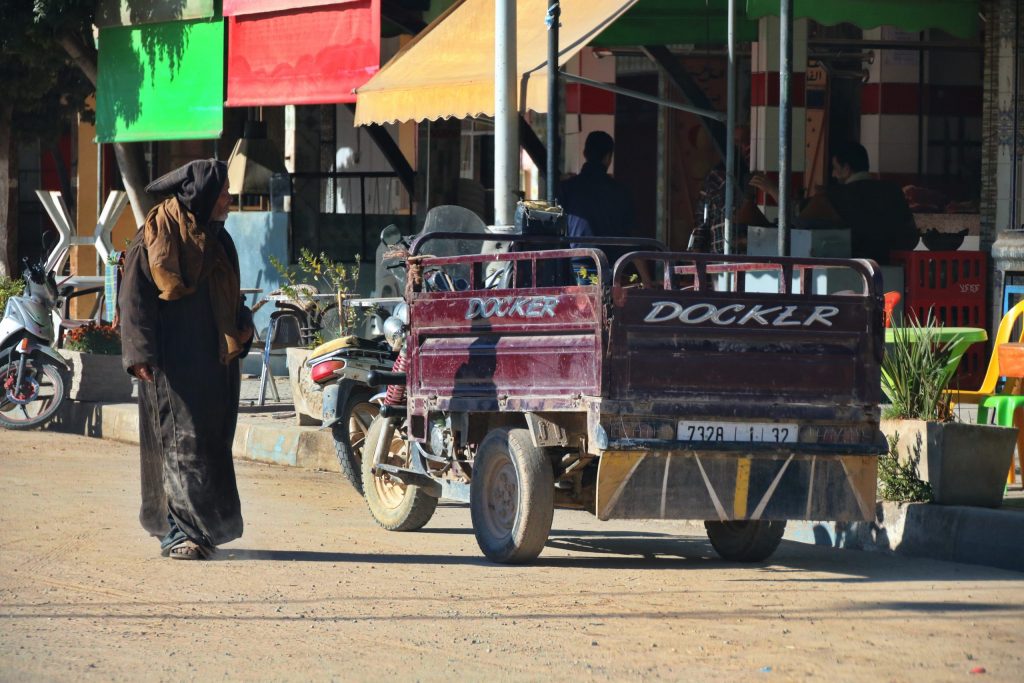 We left Paradise valley at 16:30, which left us just the time we needed to reach Taroudant before sunset, and we didn't want to drive after dark. Traffic got dense around Agadir, but not difficult or hectic.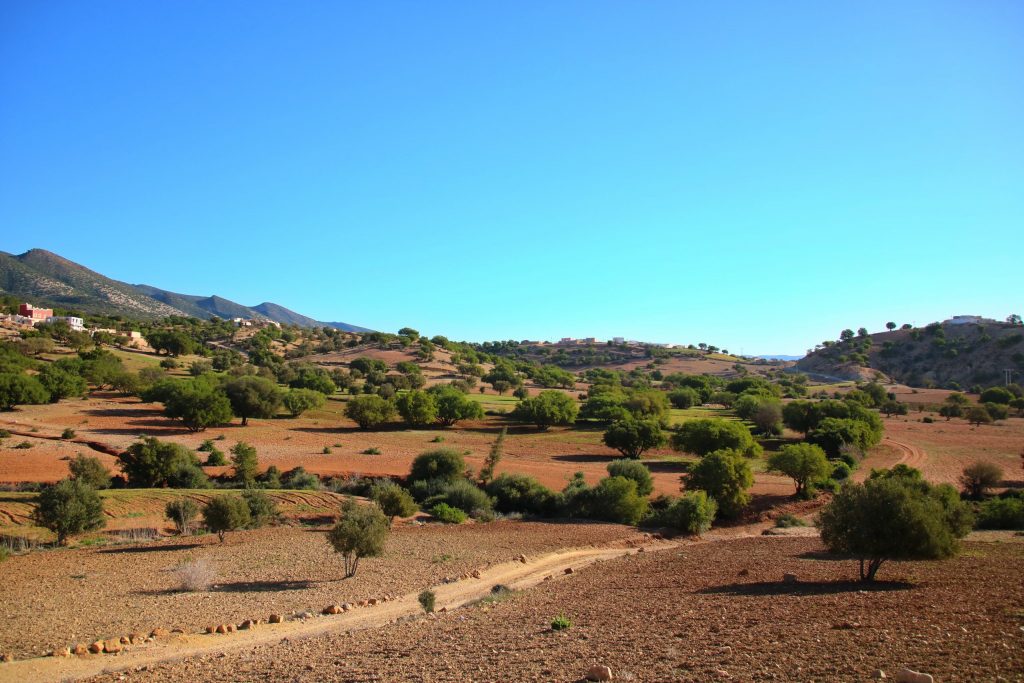 There are large city walls around central Taroudant. We had booked a riad in the centre, so to get there we drove through the narrow streets at rush hour around 18:00, which was a bit hectic but essentially trouble-free. We left the car at a guarded area and checked in to Riad Tafilag. The staff was super friendly and it is easy to feel at home. There is a very small pool (nobody used it while we were there) and the family room was also quite small for the four of us.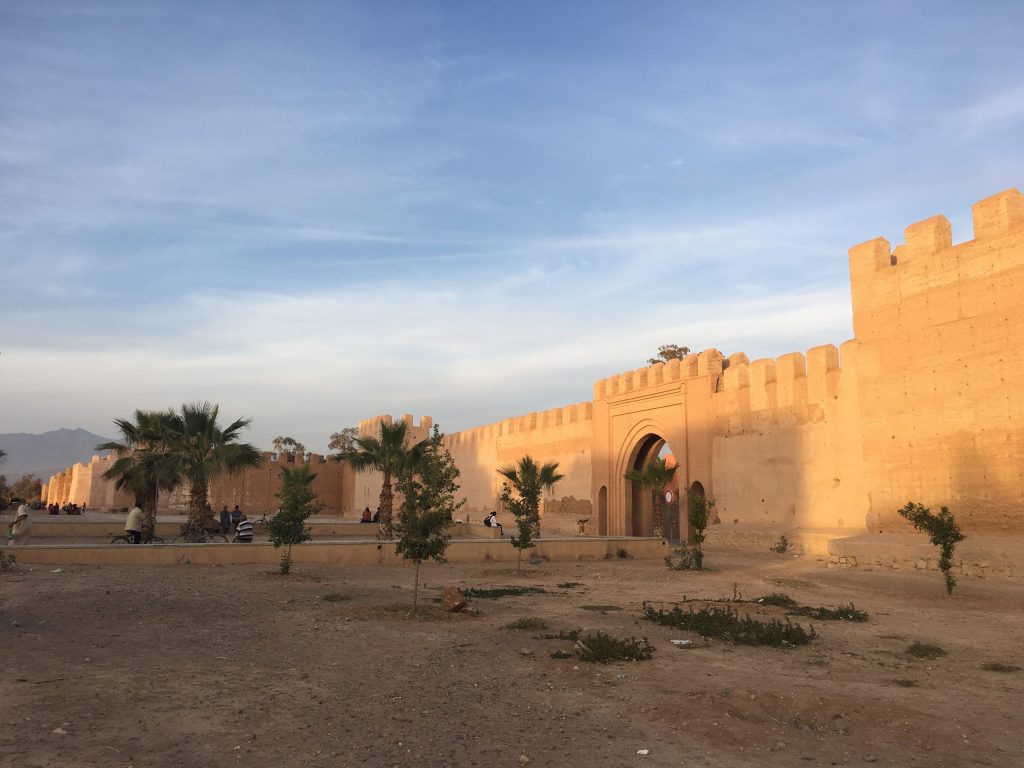 We had late dinner at the small restaurant Nada. The chef went out of his way to make gluten free fried potatoes for Tobias even though this was not on the menu. Great service, thanks!
Want to know more about travelling gluten free in Morocco? See this post
Day 5 – Taroudant
We started the day evaluating the situation. Nikolaj felt the bustling city was intimidating in combination with the compact Riad Tafilag. We decided to change accommodation and checked in to Dar Tourkia instead. Dar Tourkia is in a quieter part of the city and is a larger complex with big rooms around a large pool and a very nice garden. We opted in for a spacious suite on the upper floor overlooking the pool and garden, and the boys were happy.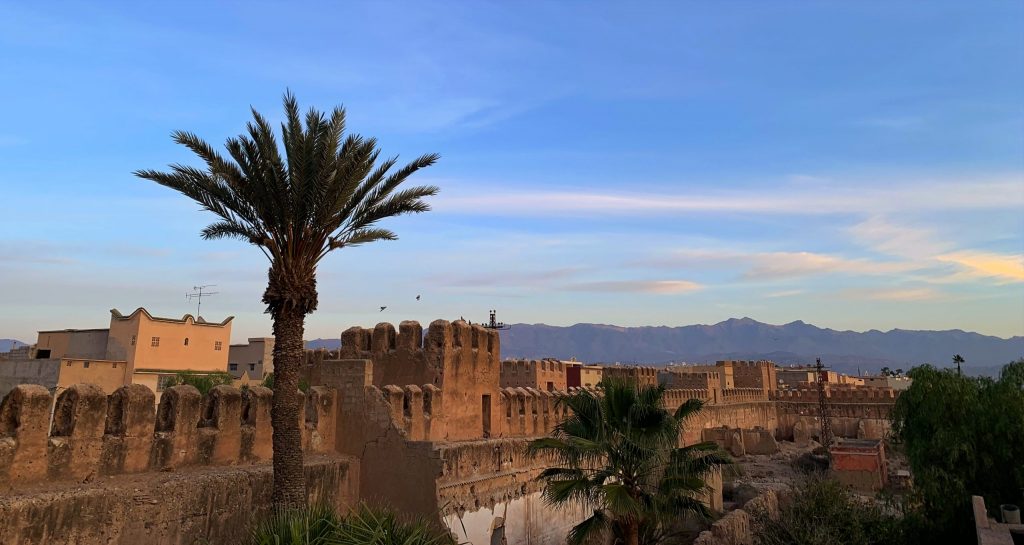 Taroudant is also known as "little Marrakech" for its souk. But it is really very different from Marrakech, much less touristic in every way. There is motorized traffic everywhere except the souk, and only a few restaurants and shops for tourists. It shows the real Morocco, but its less picturesque and cozy as Marrakech.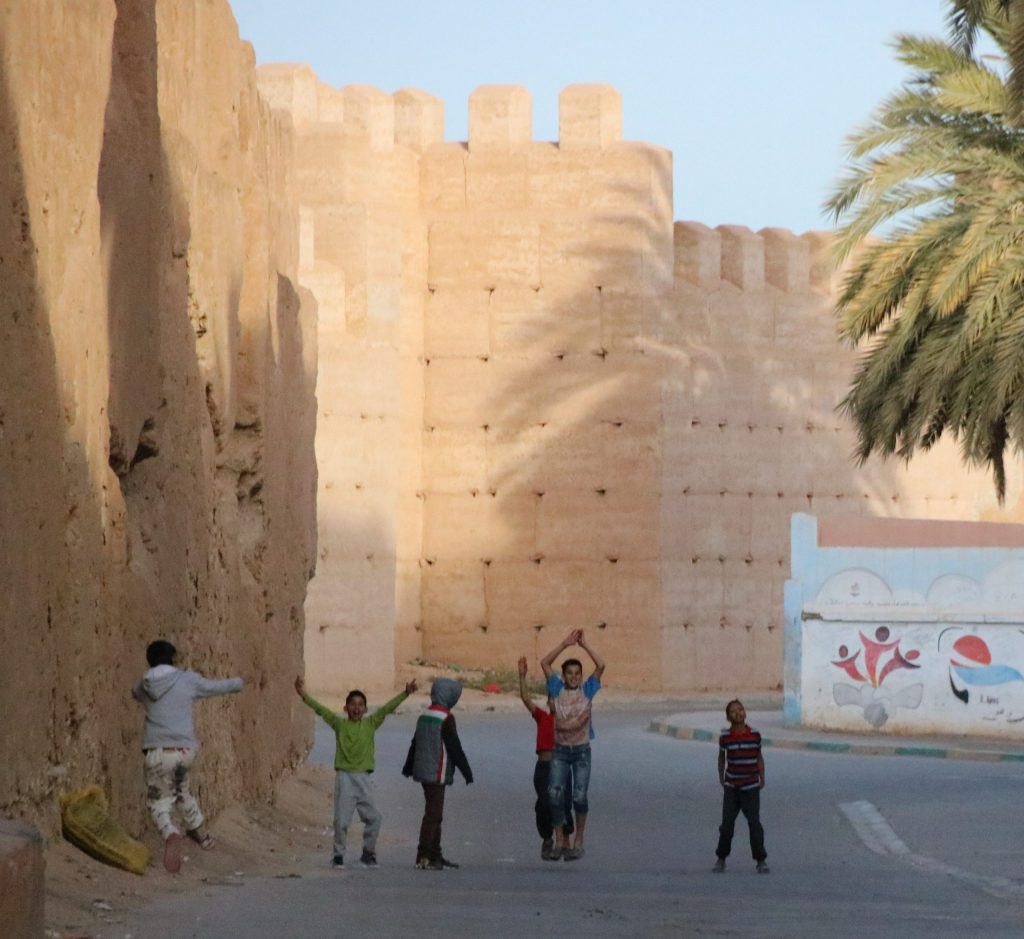 We asked the Dar Tourkia staff to arrange a horse carriage to take us around the city by the city walls before dinner. The driver Rashid made an effort to explain what we saw, and made stops at the best stops for sunset photos. There were many beautiful small spots that you wouldn't find without a local guide. He also took us to the tanneries where they produce leather products from animal hides. We walked out of the shop with a shoulder bag and two classic Moroccan pouf's.
Tip: buy the pouf empty to fit into your luggage and fill it at home. Use old towels or clothes to fill it.
We had dinner at restaurant Les Arcades, a nice place at the central square. There are not many other restaurants in Taroudant.
Day 6 – Getting lost in Anti-Atlas
We had looked forward to driving south of Taroudant into the Anti-Atlas mountains. We knew from our research that there are gorges, lush valleys, citrus tree groves, kasbahs, beautiful vistas and more that we love.
The driving at the foot hills of Anti-Atlas is simply stunning and a highligt of our one-week Southern Morocco road trip.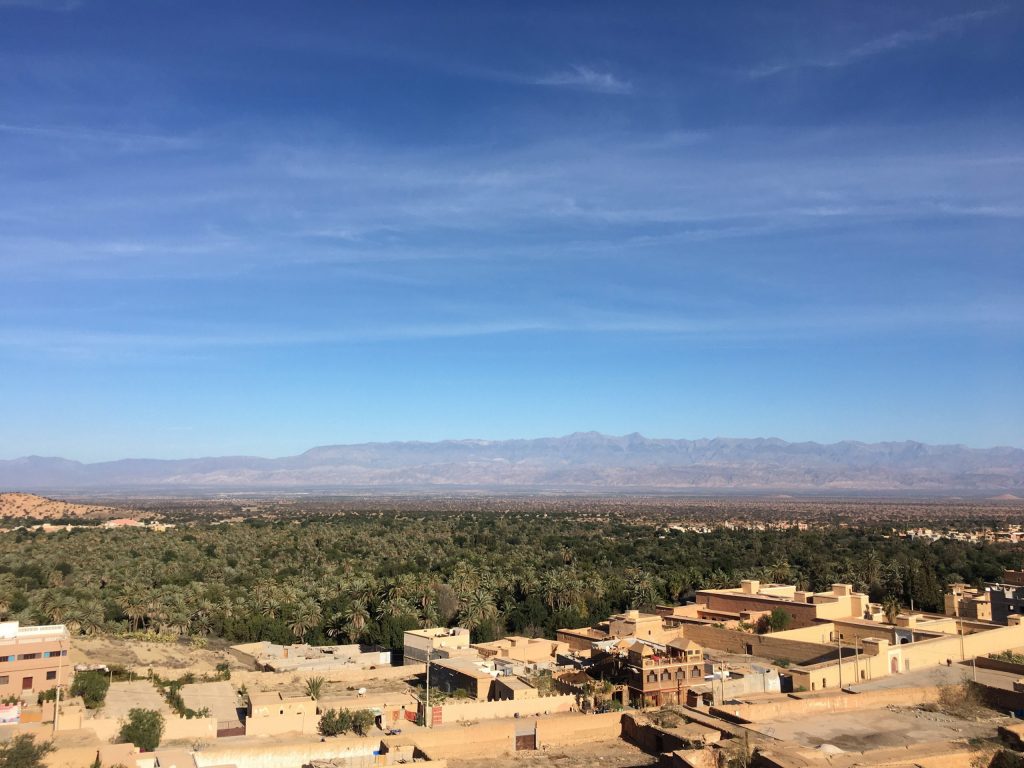 We found Tiout on Google maps and drove there. Tiout is a small village at a valley with a plam grove by a hill with the ruins of a large kasbah. We easily found the kasbah, parked the car, and walked down to the valley. There were palm trees and small paths towards the river bed. The river itself was dry, perhaps because this part of Morocco had had almost no rain for two years, very unusual we were told.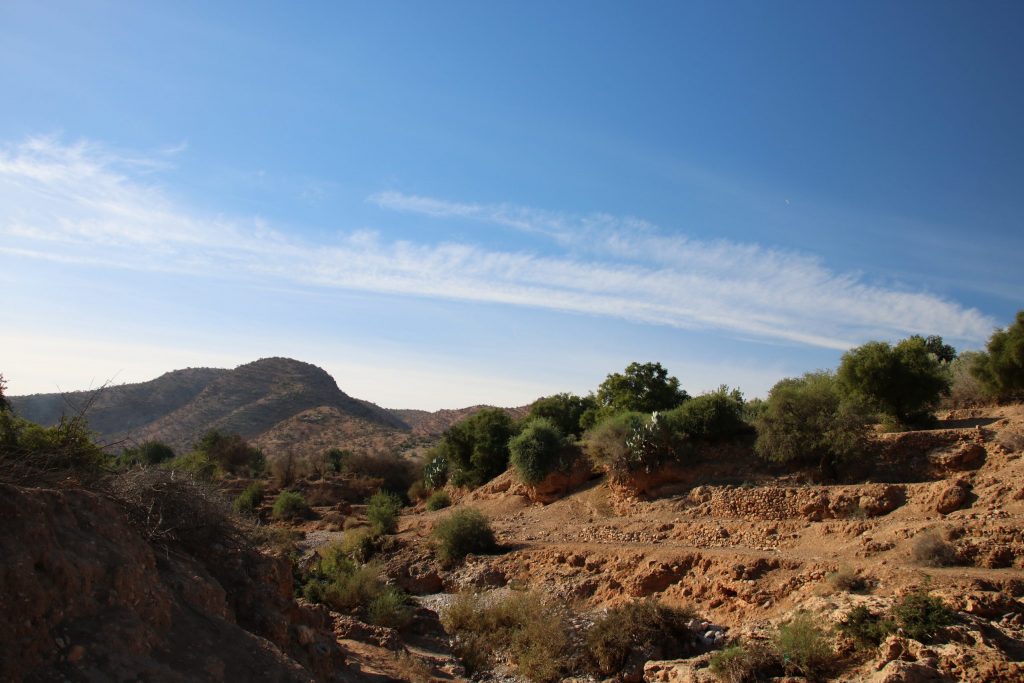 It was a nice walk, but we were not sure if we really found "it" or if we just walked random paths. We may have had better luck if we had brought a guide with local knowledge or if we spoke French or Arabic. We could also have tried our luck with one of the donkey drivers that are waiting for tourists near the palmeria, but after the car ride we wanted to move the legs a bit.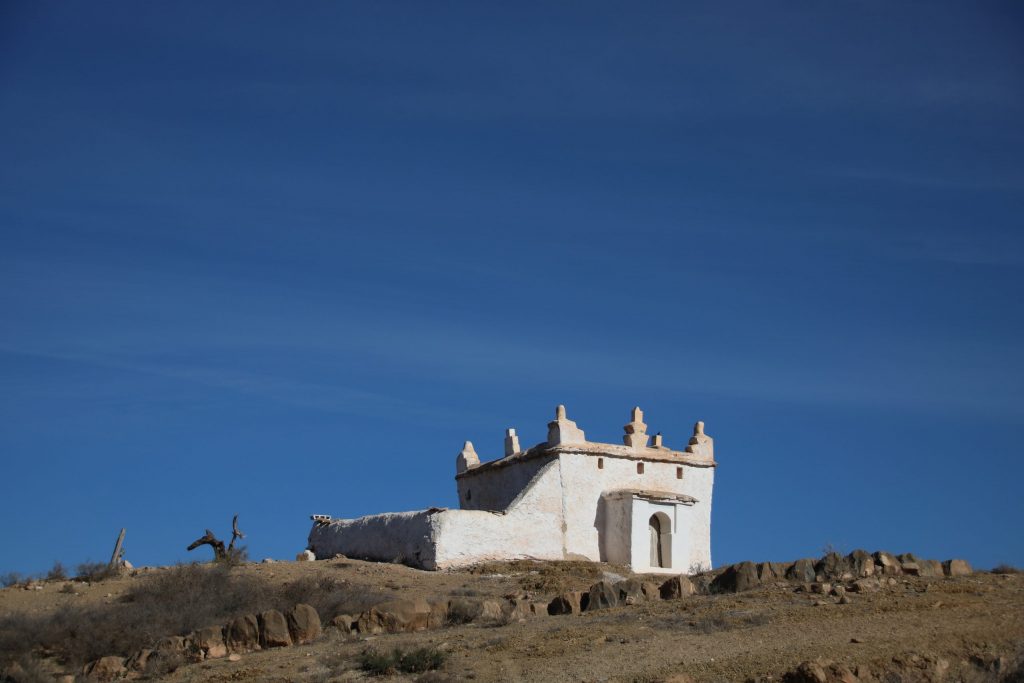 Next stop was the gorge of Imi Nifri Amagour. We plotted it into Google maps, and ended navigating very narrow streets in a little village. We had no idea if or where the gorge might be, and there were no signs or indications. We met some helpful locals, but we couldn't communicate with them in Arabic and were unable to explain where we were trying to go. They seemed to think we were just lost, and in a way we were. The kids were getting bored and hungry, so eventually we turned around and left the village.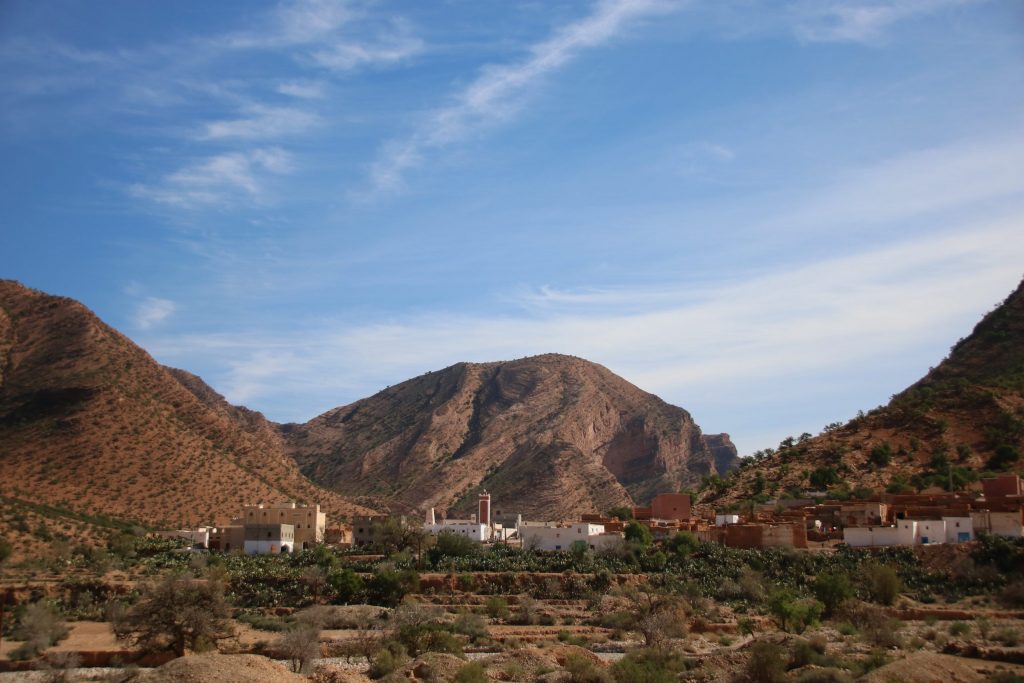 Though the scenery was as beautiful as we had hoped, the trip felt unfulfilled. We drove around randomly, and came across the village of Assads, which we passed to enter a wide valley. The tarred road became a dirt road, which gradually narrowed as we drove along the river bed. This was the most spectacular landscapes we had seen so far, and we drove as far as we could and made an improvised picnic stop by the river bed.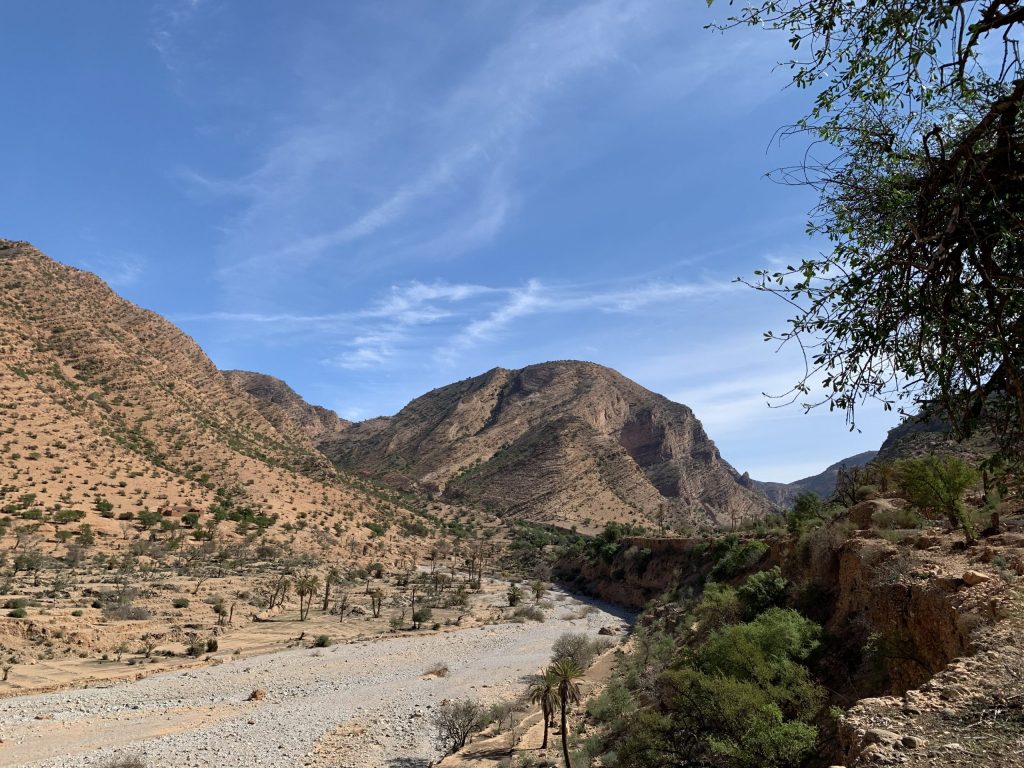 It would have been better to hire a local guide in Taroudant to take us around the valleys, gorges and palm groves of the Anti-Atlas.
We drove back to Taroudant, and stopped at the nice local restaurant Assaraya for a late lunch on the way.
As an alternative to staying within the walled city of Taroudant, there are a few riads south of the city that look great. From there it is easy to do day trips into the city.
Staying within the city walls has a lot of charm, and we really liked staying at Dar Tourkia.
Day 7 – Taroudant across High Atlas via Tizi n Test to Asni
When we researched the trip, we planned two routes from Taroudant to Marrakech. If weather allows, you can cross the high Atlas via Tizi n Test pass, a very scenic route. In case of bad weather, you can go on A7 around the mountains. Weather was great in Taroudant, so we took the high Atlas route.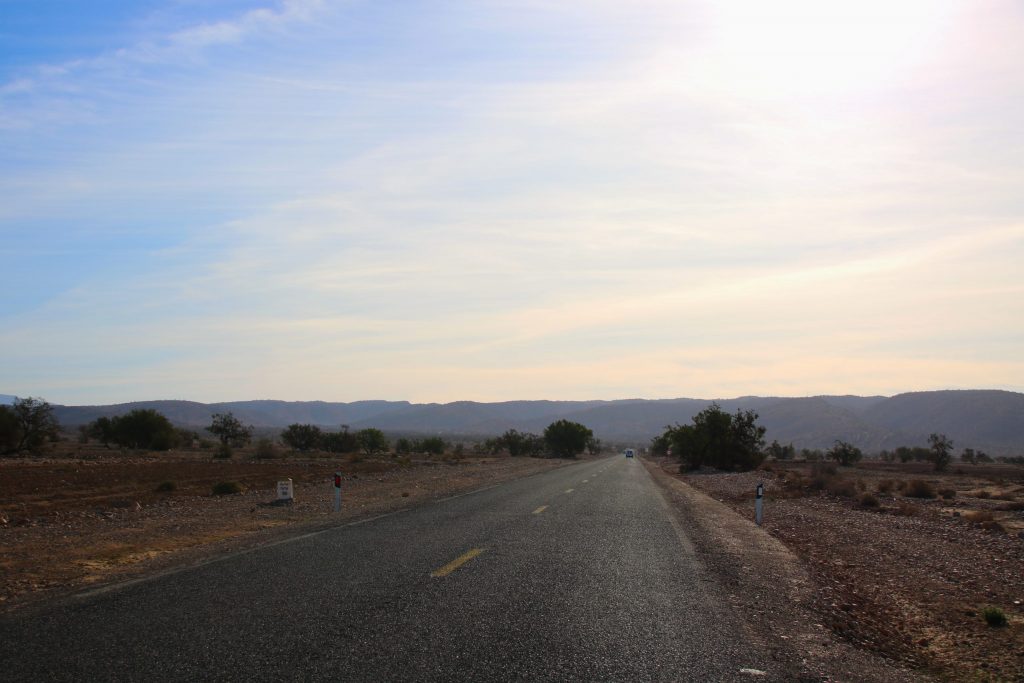 And what a ride! The road is in great condition, though narrow at the pass. We had it almost to ourselves, we met no trucks and only a few other cars. Temperatures were almost 20 degrees, and there was no wind. Whenever we stopped (we made many stops!), the silence and the spectacular views left us breathless. One beautiful view followed the next.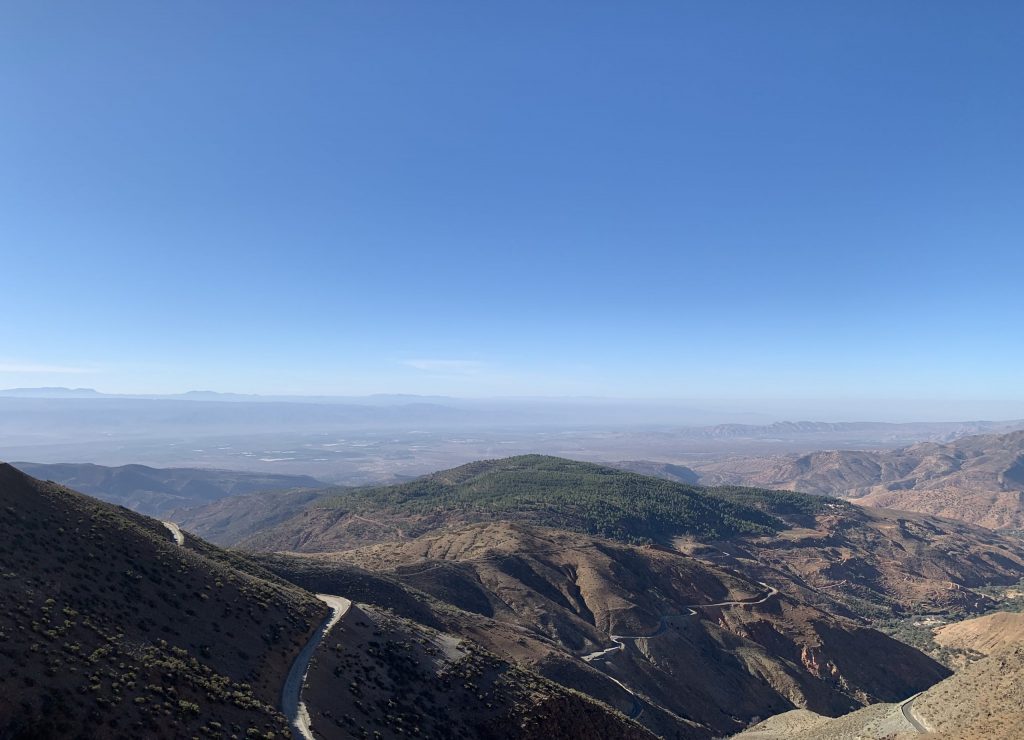 There is a nice restaurant at the pass with great views. The temperature was 17 degrees, and we couldn't believe our luck as we had coffee and home-made cookies. The restaurant owner had a different perspective as he explained how two years without rain or snow has caused the rivers to run dry, with dire consequences for the animals, plants and people who are dependent on water from the mountains.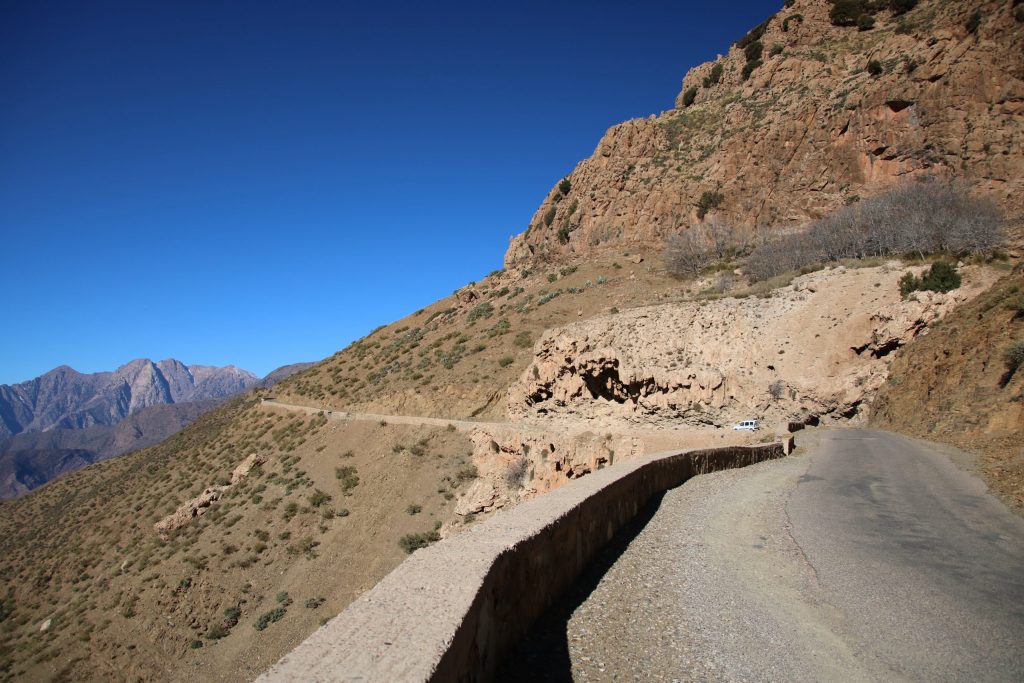 The road down from the pass on the north side is flatter, but not less spectacular.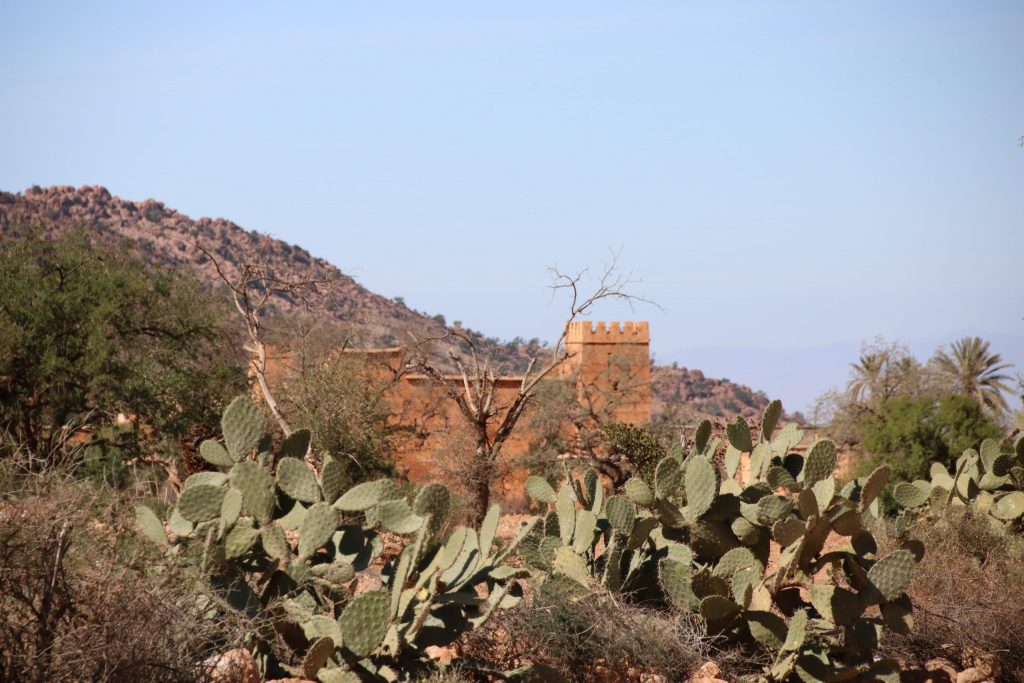 We had booked a night at Riad Vallee Verte Asni, because the village Asni was in the mountains, but close enough to Marrakech to reach the airport the day after.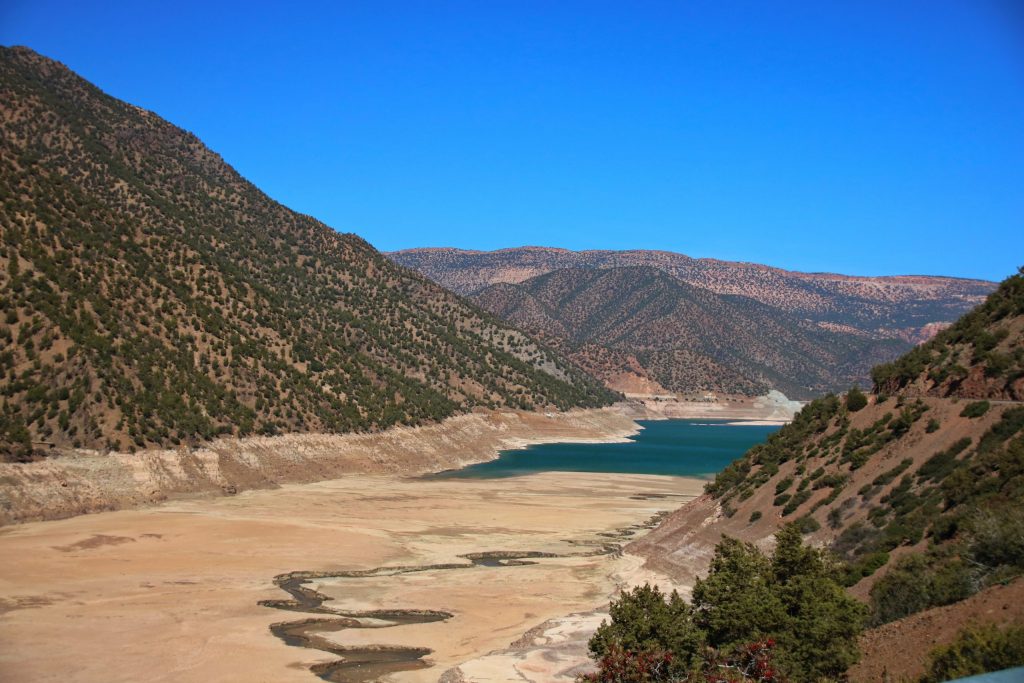 Asni is a small village 20 km from Imlil, Imlil is the main town for outdoor activities in the Atlas, and most people choose to stay in Imlil. Riad Verte Vallee Asni has basic accommodation, very friendly staff and good food. And gorgeous views of the Toubkal massif!
We had time for a short walk, and were recommended a short walk up the road to see kasbah Taroudot, an old kasbah turned luxury hotel by Richard Branson from Virgin. We saw an old kasbah on a hilltop and headed there. It was in ruins, and we walked around it, debating if this really could be Richard Branson's Atlas getaway. A man came out, it was clear we were somewhat lost. We ended up being invited in to have tea and bread with the family living in the kasbah. They seemed to find this as fun as we did, while we tried to make ourselves understood in basic French. Clearly we had picked the wrong kasbah! But we had a very memorable afternoon.
Day 8 – return to Marrakech and fly to Denmark
We made a short visit to the local Saturday market of Asni. It is not a tourist market, and our hosts at the hotel recommended us to visit, but not to buy anything. Anything that a household in the Atlas can use is for sale at the market. Groceries, hardware, clothes.. The kids felt it was overwhelming with all the people, animals, sounds and smells. We felt safe. The market people didn't pay much attention to us. We are not potential customers.
It was an easy drive back to Marrakech. We returned the car and went through the airport. And similar to our experience at arriving, it was a smooth experience, and a good way to end our one-week Southern Morocco road trip
---
Things we learned from our one-week Southern Morocco road trip
We felt safe everywhere, also walking the cities after dark (we weren't out later than 21:00)
Everyone we met were friendly
It is very difficult to find places in Anti-Atlas without a local guide – google maps was not enough
No need to book accommodation in advance when travelling out of season