In this post we share our experiences on how to travel gluten free in Morocco with T who has celiac disease. We travelled to Morocco in 2016 and 2020, when T was 13. Read more about celiac disease and how it affects T here.
Click here to see our itineraries from our trips in 2016 and 2020 and more stories from Morocco.
Planning before you go
There is not much information online on specific restaurants or supermarkets that provide gluten free meals or products, so it is difficult to create lists of places to go from your sofa before departure.
We booked accommodation via booking.com, and asked each place if the breakfast was gluten free. All the places we stayed were quick to come back with a friendly and positive reply.
Many dishes are naturally gluten free
Morocco is not a difficult country to travel gluten free. Some of the restaurants we went to knew about celiac disease, but it was not the majority. But this is not a big problem, as most restaurants prepare dishes from simple, basic ingredients. Vegetables, meat, spices. We didn't see processed food or additives. So despite limited knowledge of gluten, all worked out well mainly because gluten is unusual in Moroccan cuisine.
Understanding French is a huge advantage. We speak only a few words of French, but managed in English and broken French. We avoided French fries, as they could be the frozen, industrialised type that sometimes is treated with wheat.
T of course also had to avoid all the delicious bread, pancakes and specialty breads and pastry. He took it stoically.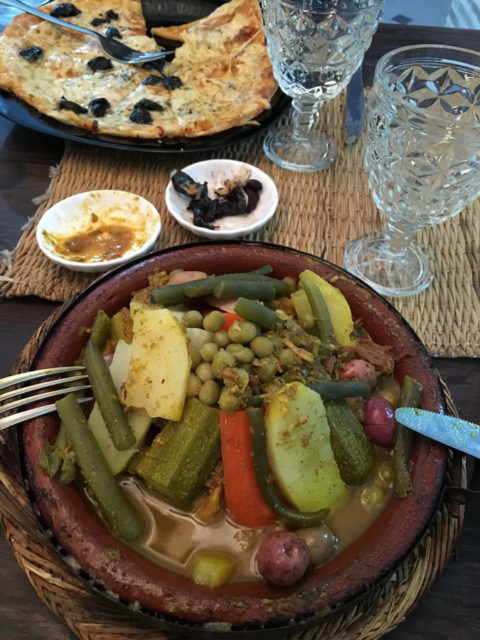 ---
Breakfast, lunch and dinner
For breakfast most of the buffets at the places we stayed were based on bread. There were usually also scrambled eggs, so Tobias had lots of eggs.
For lunch and dinner he ate a lot of targines. He also had some omelets, rice and fried potatoes.
We had brought some packages of gluten free bread. He ate this for breakfast and sometimes lunch, and we would definitely leave without several packages.
Snacks are important, and we brought a selection of muesli bars and biscuits to save the day.
We didn't see shops with gluten free products, so it's a good idea to bring a basic supply from home.
We didn't eat at food stalls or street food, only at restaurants that gave us the impression that they had a decent level of kitchen hygiene. They could not always give us a confirmation about gluten, but gluten is not used in targines, omelettes, etcetera, so we had no problems.
We had some very positive experiences, where restaurants were very helpful to provide a gluten free meal. Especially restaurant Nada in Taroudant was great. The day we ate there Tobias didn't want targine. So they made fried potatoes for him even though it was not on the menu. None of the staff spoke English, so they found another guest who could translate and explain to us how they approached it. Thank you!