In this post we share our experiences on how to travel gluten free in Montenegro with T who has celiac disease. We travelled to Montenegro in 2023, when T was 17. Our trip was a two-week road trip, where we also had days in Serbia and Bosnia-Herzegovinia, but most of our time was in Montenegro. Here you find the itinerary and places we stayed.
Read more about celiac disease and how it affects T here.
Planning and preparation
We booked accommodation via booking.com, and stayed at a combination of hotels and self-catering bungalows and apartments. When booking hotels, we always ask to make sure they have gluten free options. All the hotels we stayed at were quick to come back with a friendly and positive reply.
We combined hotels and self-catering to make it as simple as possible to create gluten free meals. The self-catering places must have a kitchen with an oven that can be used to bake gluten free bread with a bread mix we brought from home. We stayed the first two nights at a hotel, before checking in at Drveni raj Uvac which had an oven.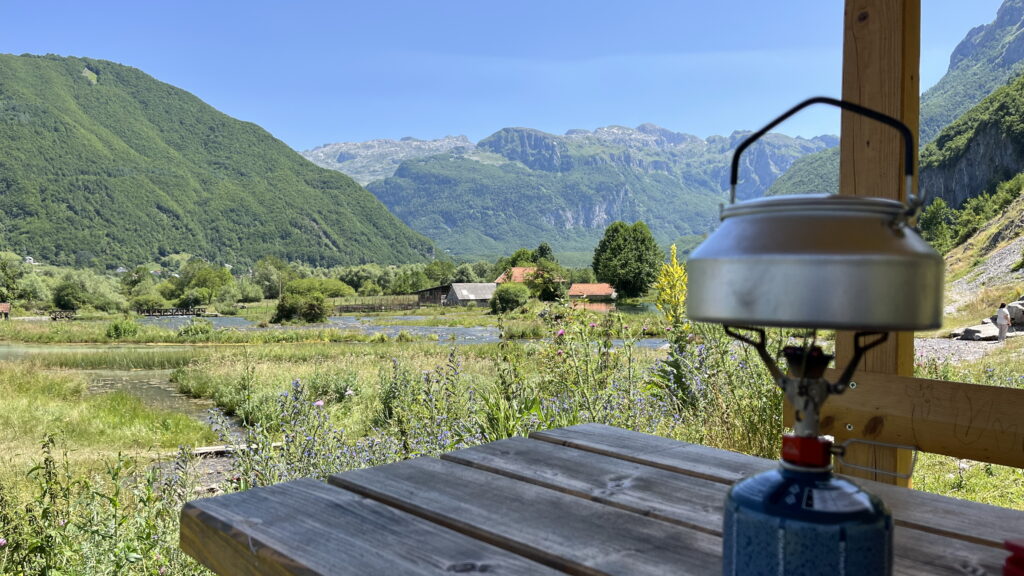 There is not much information online on specific restaurants or supermarkets that provide gluten free meals or products, so we brought the essentials from home.
We brought:
A baking form for baking bread
Homemade bread mix for three of T's favorite nut-based bread
Vacuum-packed gluten free bread from Dr Schär. It is not very filling, but we use it in situations with no better options
Gluten free pasta
Freeze dried meals of the type used for backpacking. We use it for lunch or dinner, when we cannot find other options. Real Turmat make tasty and gluten free meals.
To have boiled water for freeze-dried meals, we brought a MSR Pocket Rocket.
A kettle and thermos to boil and store hot water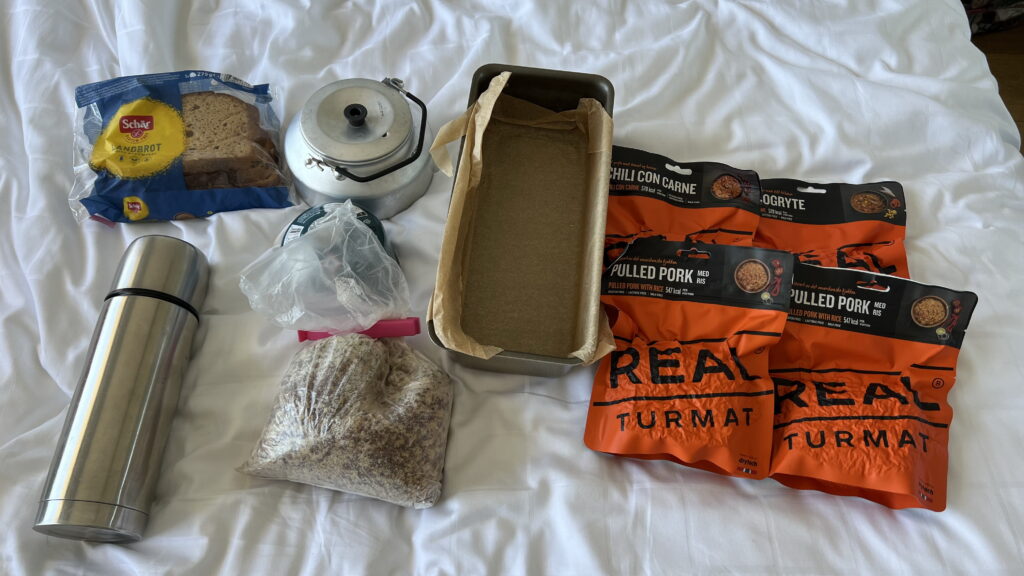 Buying gluten free products
During the trip, we brought a range of products for breakfasts, lunches, dinners and snacks. The Roda supermarkets are large, and have a good selection of gluten free products. The Aroma supermarket in Kotor had a dedicated shelf with a small selection of gluten free products.
We bought:
Gas canister for Pocket Rocket, which we found in the sports store Decathlon in Belgrade
Gluten free pasta
Rice
Bouillon cubes
Cheese
Marmelade and Nutella
Potato chips
Biscuits and cookies
Toblerone was the only gluten free chocolate we found
When buying regular bouillon cubes, marmelades, chocolates, the key is to be able to read the labels with ingredients. They were often in very small print and in Serbian. The camera function of Google Translate worked really well and allowed us to identify gluten free products.
Menus and communication at restaurants
The level of spoken English varied between the places we ate, but at all the places, there was knowledge and understanding of celiac disease, and we generally felt in safe hands. We did not look for restaurants that specialised in celiac disease.
Often menus were in local language only, but with the camera function of Google Translate, it is very easy to capture the essentials.
On the trip, T ate a lot of boiled and fried potatoes, omelets and scrambled eggs in addition to steaks and meat. These are dishes that are naturally gluten free.
Hospitality
All three countries have a high level of hospitality and helpfulness towards guests and tourist. That makes it a a lot easier to travel gluten free in Montenegro, Serbia and Bosnia-Herzegovinia.
An example was at Casa Montenegro, where we had planned to be partially self-catering for two days. We had planned to buy groceries on the way, but we arrived on a Thursday, which was a public holiday, and all supermarkets were closed. The Turkish manager brought eggs, rice and salt from her home to make sure T had something to eat.
The staff at rafting camp Outdoor resort TaraSport had a selection of gluten free breakfast options, including oat-based muffins. T had some of the them. Later in the day he got sick and vomited, as he does when he has eaten gluten. We talked to another guest who was gluten intolerant, and he suspected that the muffins were made with oat that was not certified as gluten free. The staff were really sorry, and went through their camera surveillance of their kitchen to identify possible causes of contamination. They also regularly checked on T, and brought him boiled potatoes until he got better.