We went on a one-week safari tour in Kenya in June 2023. We went to Amboseli, Masai Mara, Lake Naivasha and Hells Gate National Parks. On the last day, we also pressed in a visit to the Karen Blixen museum in Nairobi.
Helle, Peter and N traveled, while T stayed home during his recovery from severe Myalgic Encephalomyelitis (ME).
Planning
We arranged the trip only two months in advance, and as we travelled in high season, accommodation options were limited. To complete the planning in short time, we decided to use our local travel agency Dan Explore to arrange the tour. Dan Explore used the Kenya-based agency Somak Luxury Travel. We were only able to travel for one week, so we packed as much as we could into the days.
With a tour agency responsible for the entire trip, everything was taken care of for us – transportation, accommodation, game drives and meals. We simply had to be ready at the agreed time for activities, and to keep the camera batteries charged.
Our priority was to visit the popular national parks Amboseli, Masai Mara and Hells Gate. We hoped to stay at nice lodges within the parks, but as prices are stiff, we made some compromises.
If we had had more time to prepare, we could have used SafariBookings.com to compare local tour offers, or perhaps traveled in a rented vehicle on our own.
Being on an organsied tour felt very much like traveling in our own bubble, and we had less interaction with the country than we would have liked.
The advantage of an organised tour is that we spent as much time in the national parks as possible.
During the last years we have moved away from using our DSLR camera when traveling, and using smartphone cameras instead. But for photographing wildlife on a safari, the smartphone comes short. We brought our Canon 760 D with a 70 – 300 mm lense. In addition, we borrowed a very nice Canon 6D with a 100 – 400 mm L lense.
Day 1 to 2 – Arrival and Amboseli National Park
We were met at Nairobi airport by a Somak travel representative. We withdrew cash (for tipping) and bought a Kenyan SIM card, before walking to the parking lot where George, our driver and guide for the entire trip, was waiting.
We arrived on a night flight, so the first stop was the Eka airport hotel for a breakfast. Peters luggage had not arrived on the flight, so we asked George to stop at a shop to buy essentials. The shop of choice was a local supermarket with a very modest product range, which Peter left with a new tooth brush, a pair of flip flops and a pair of very slim-fit tights to be used instead of dedicated swim wear. Now we were ready for a safari!
It took five hours to drive to Amboseli national park, where we checked in, and had lunch at the Ol' Tukai Lodge. We had arrived in style! Ol' Tukai lodge is located in the park, with a view towards Kilimanjaro. A small fence separates the dining area from the park, and herds of elephants, wildebeest and giraffes moved across the savannah while we enjoyed the lunch.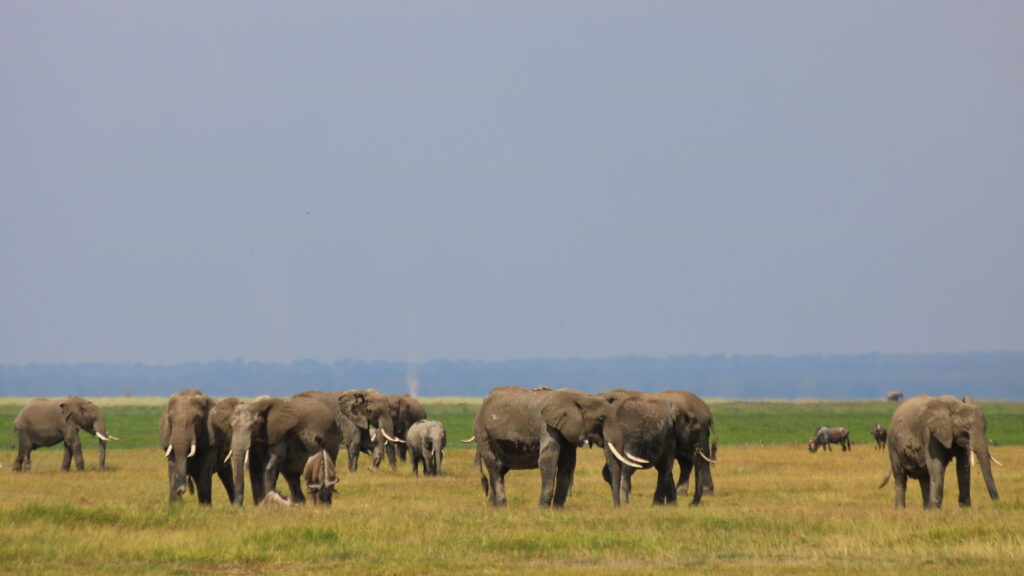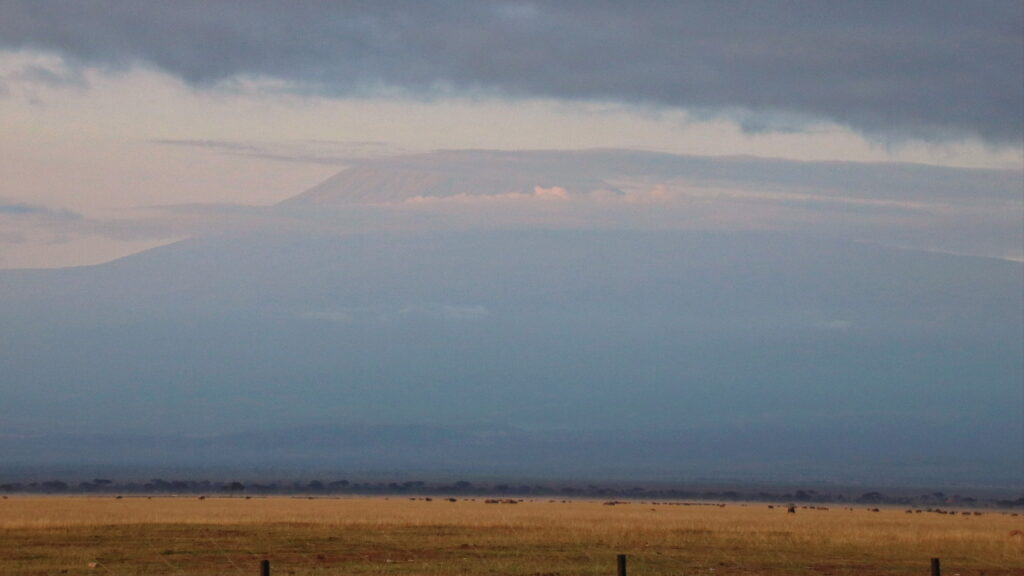 Then started the safari tour routine. We had afternoon game drives at 16:00 – 18:00 and at 7:30 to 12:00.
Amboseli is especially known for elephants, and we saw many, in addition to wildebeest, giraffe, lion, hippo, flamingo, gazelle and warthog, in addition to many birds and other animals less well known by us.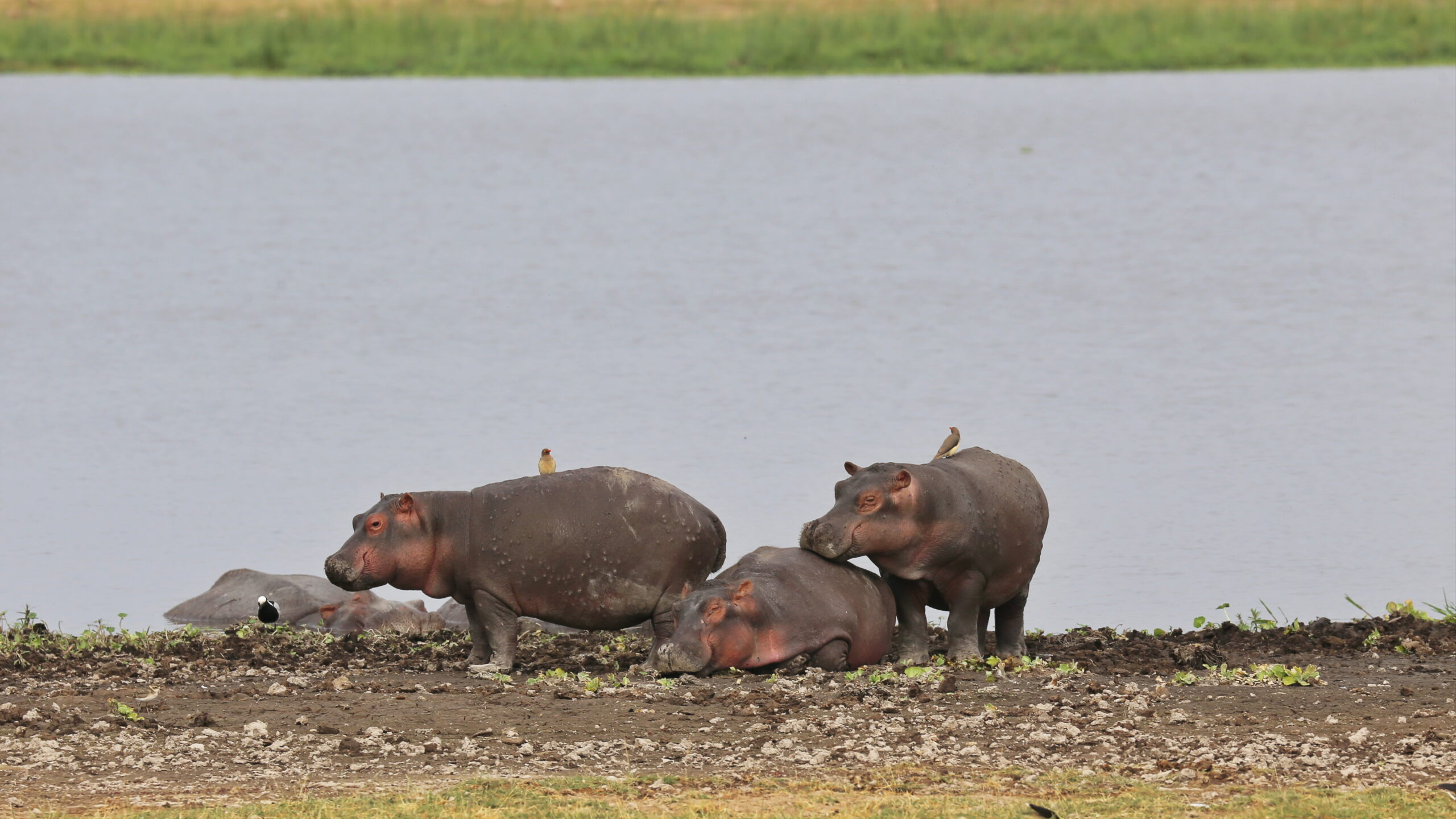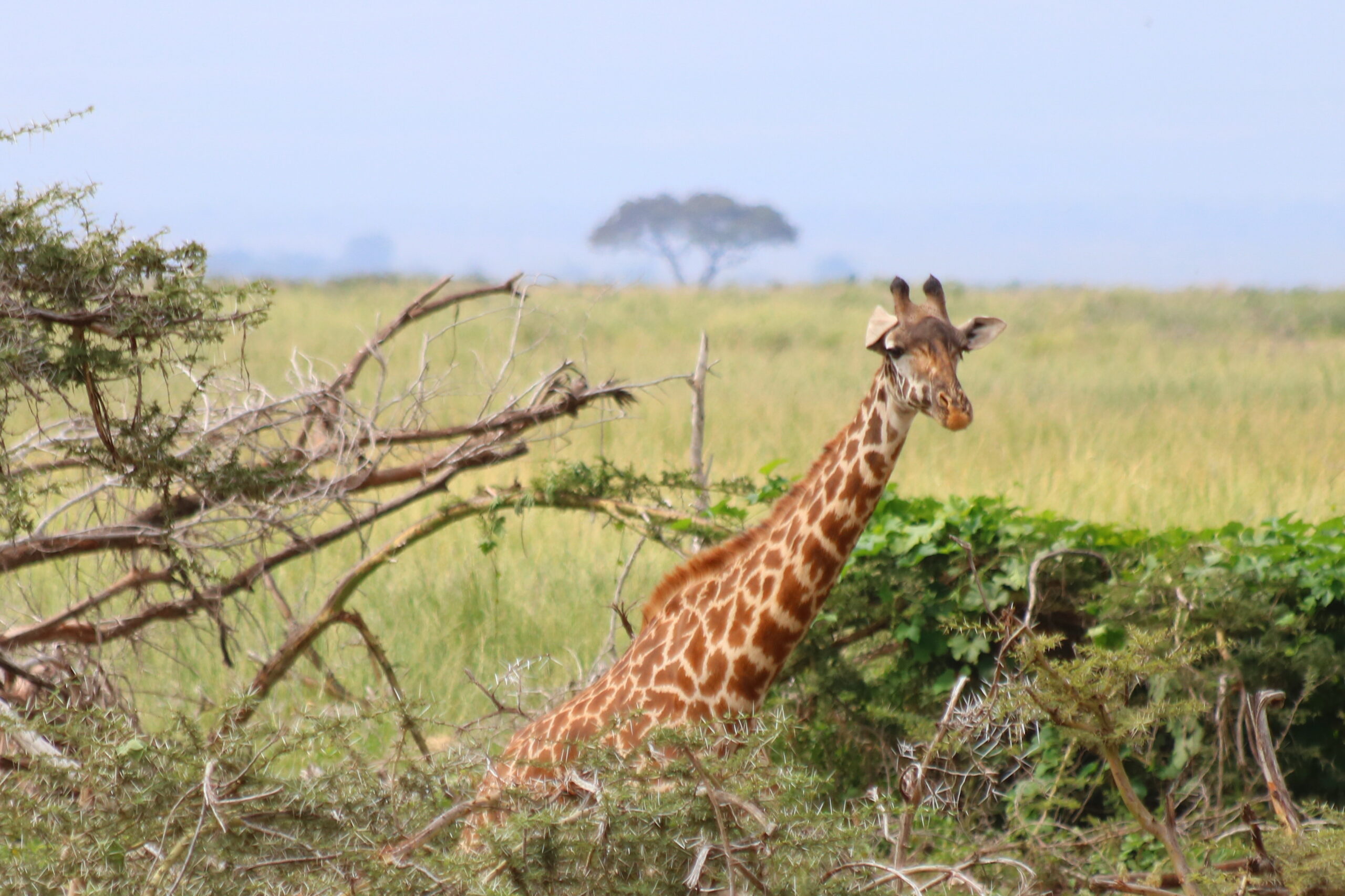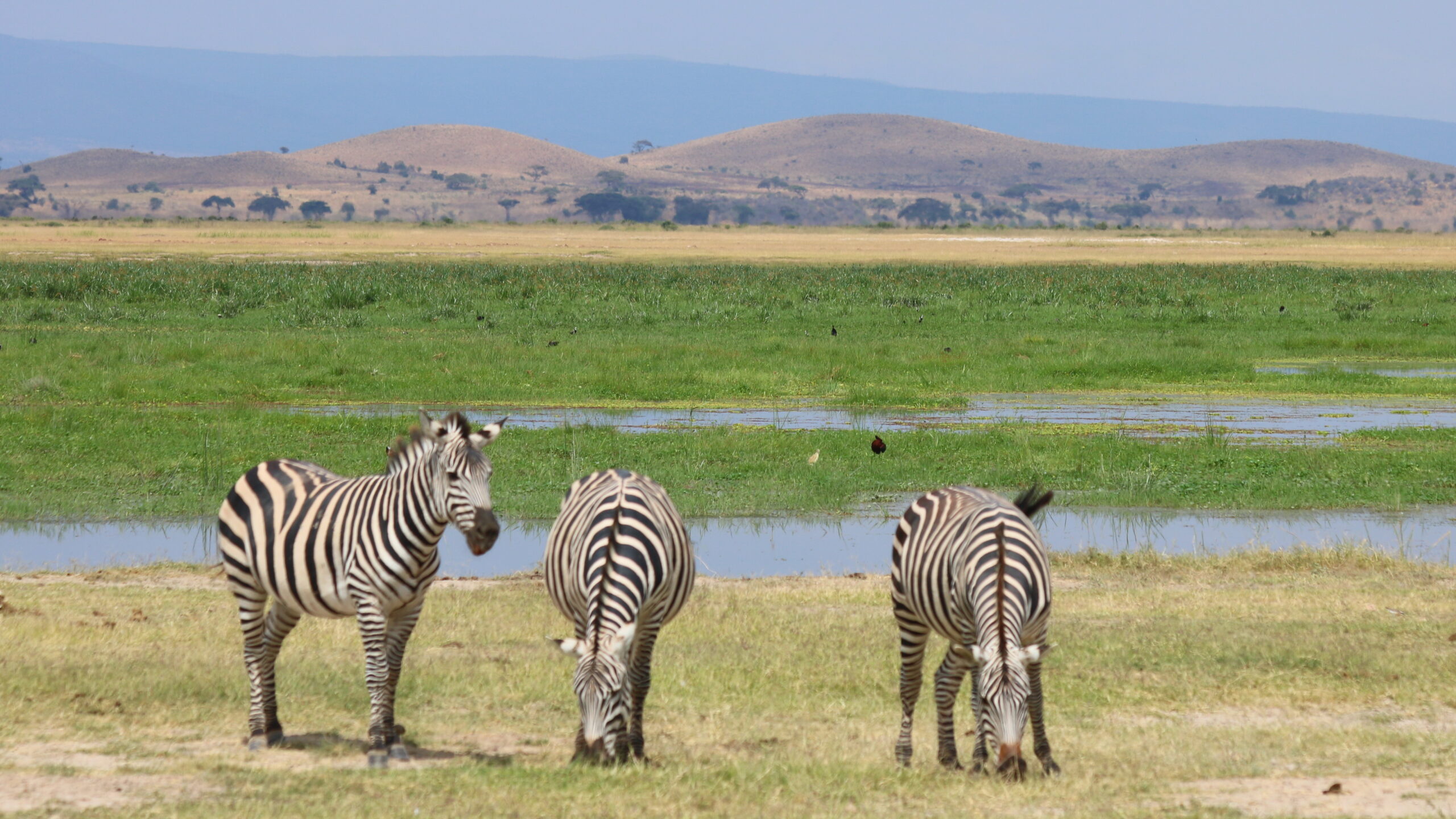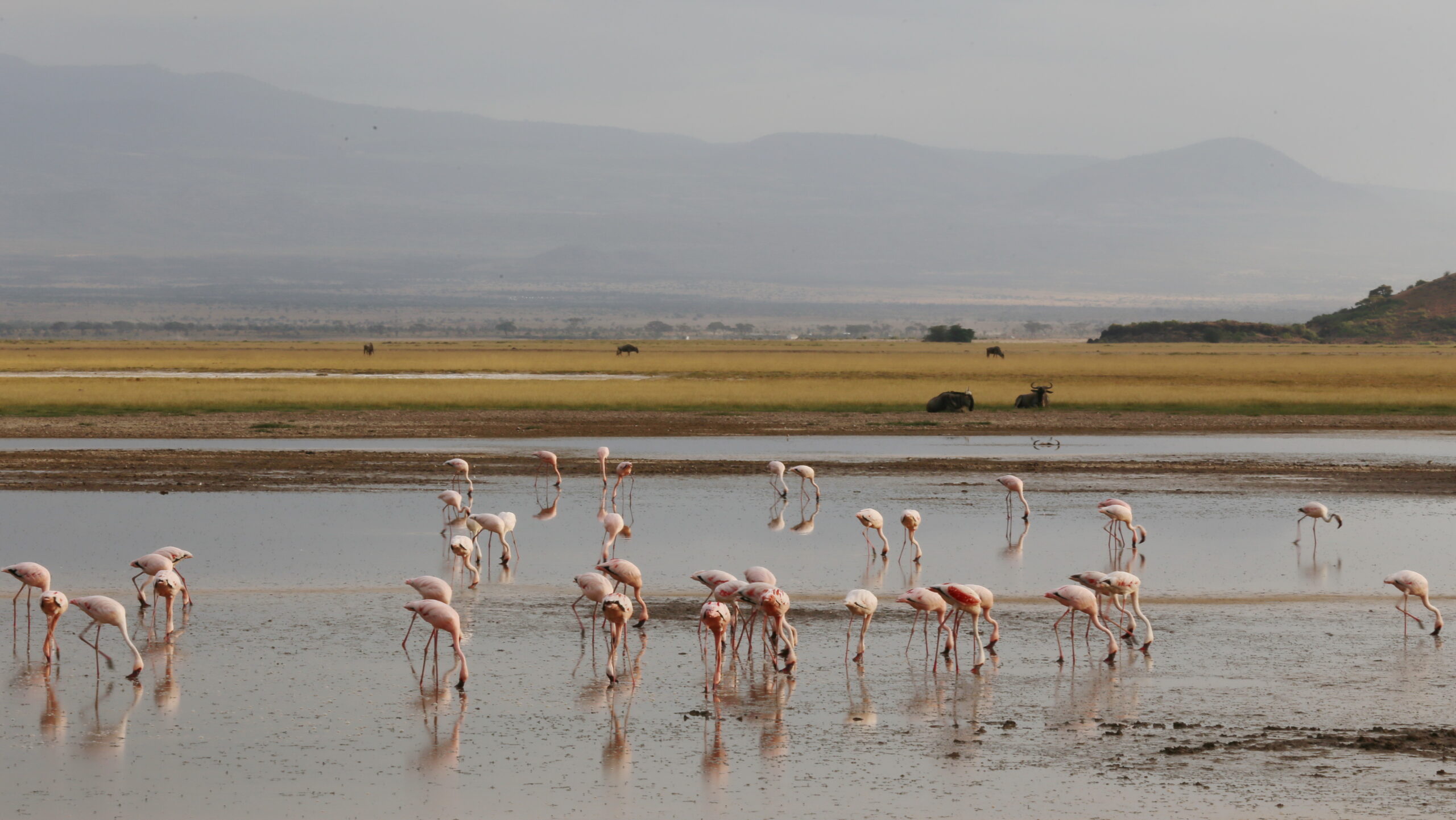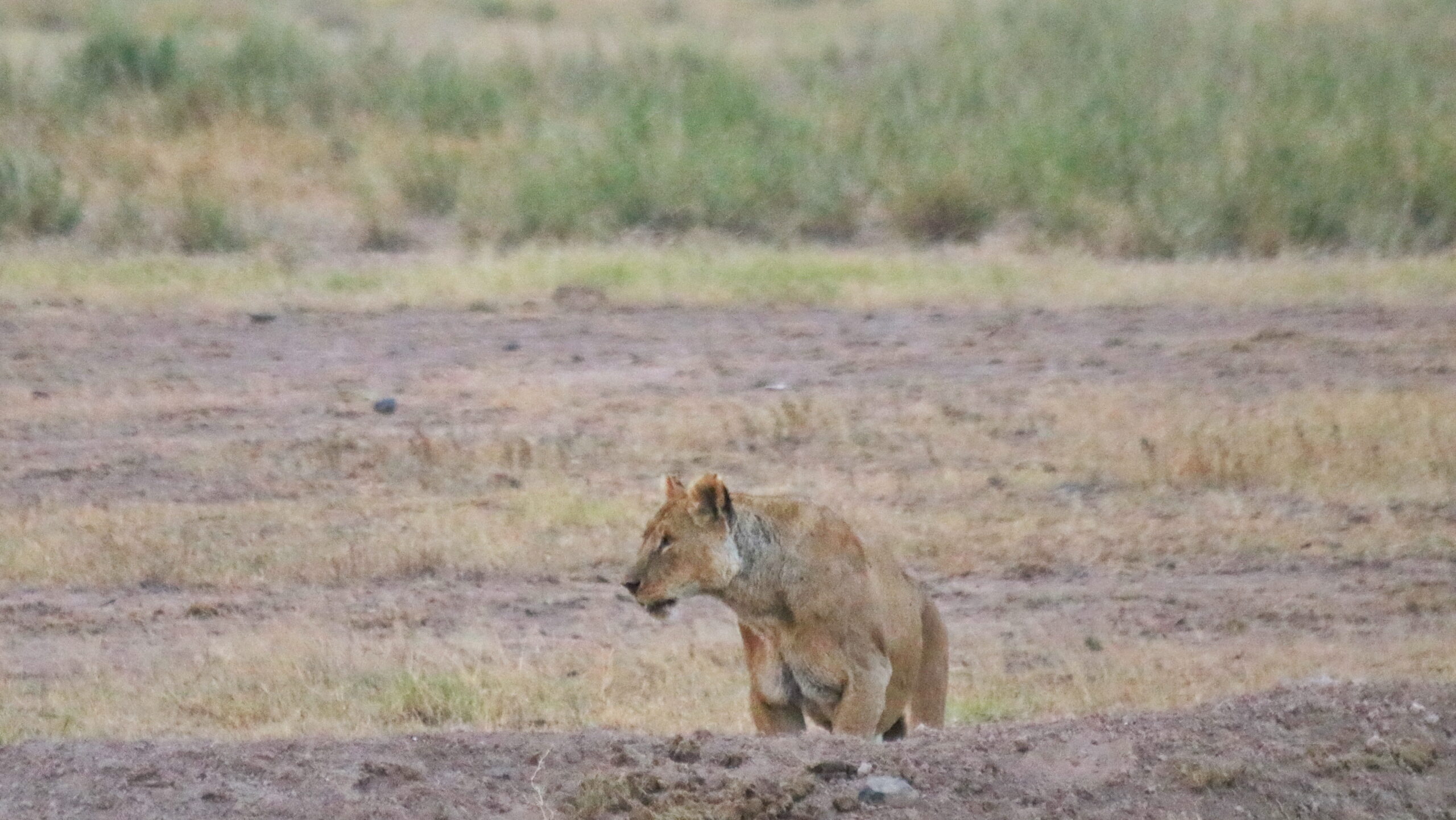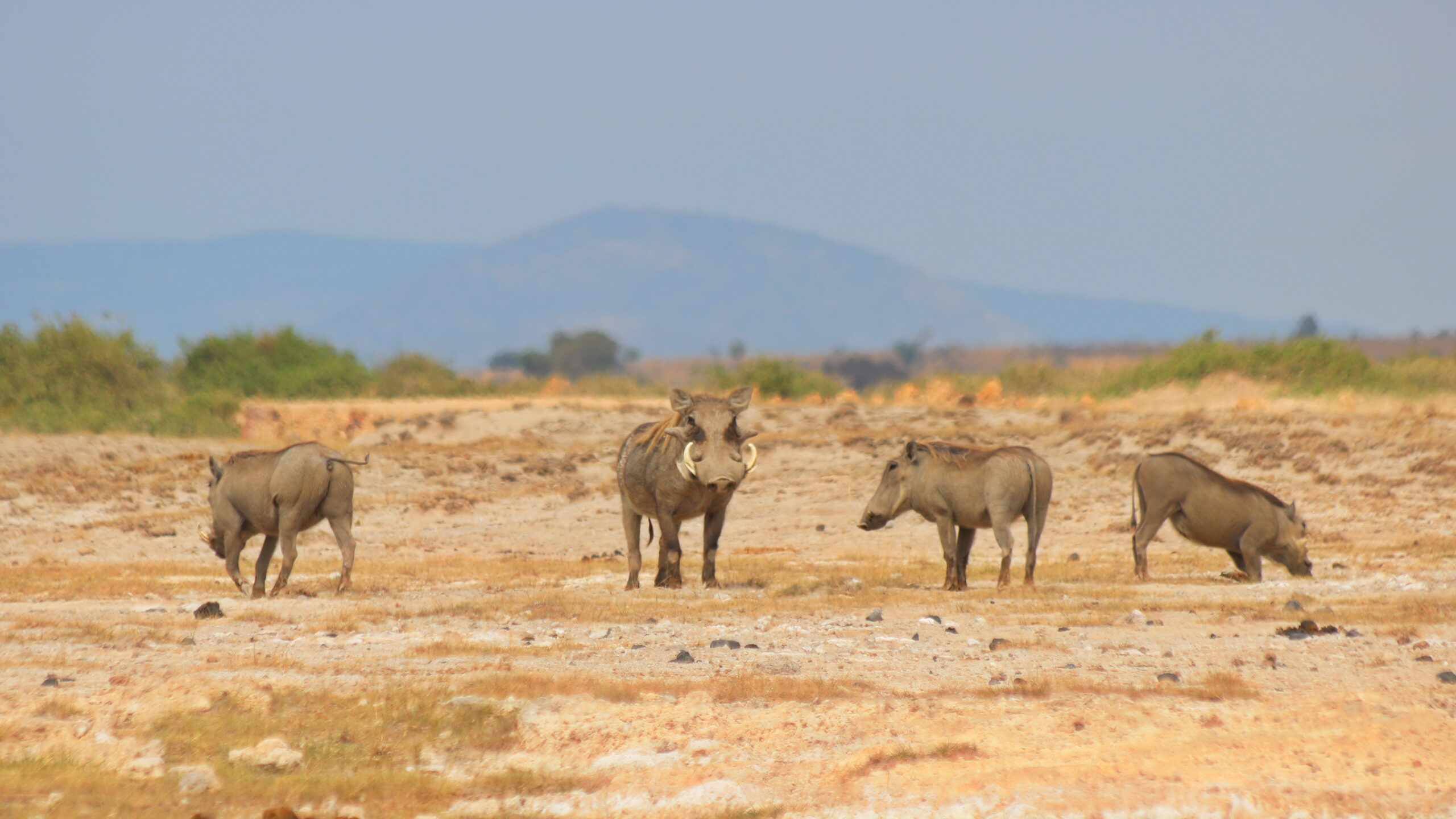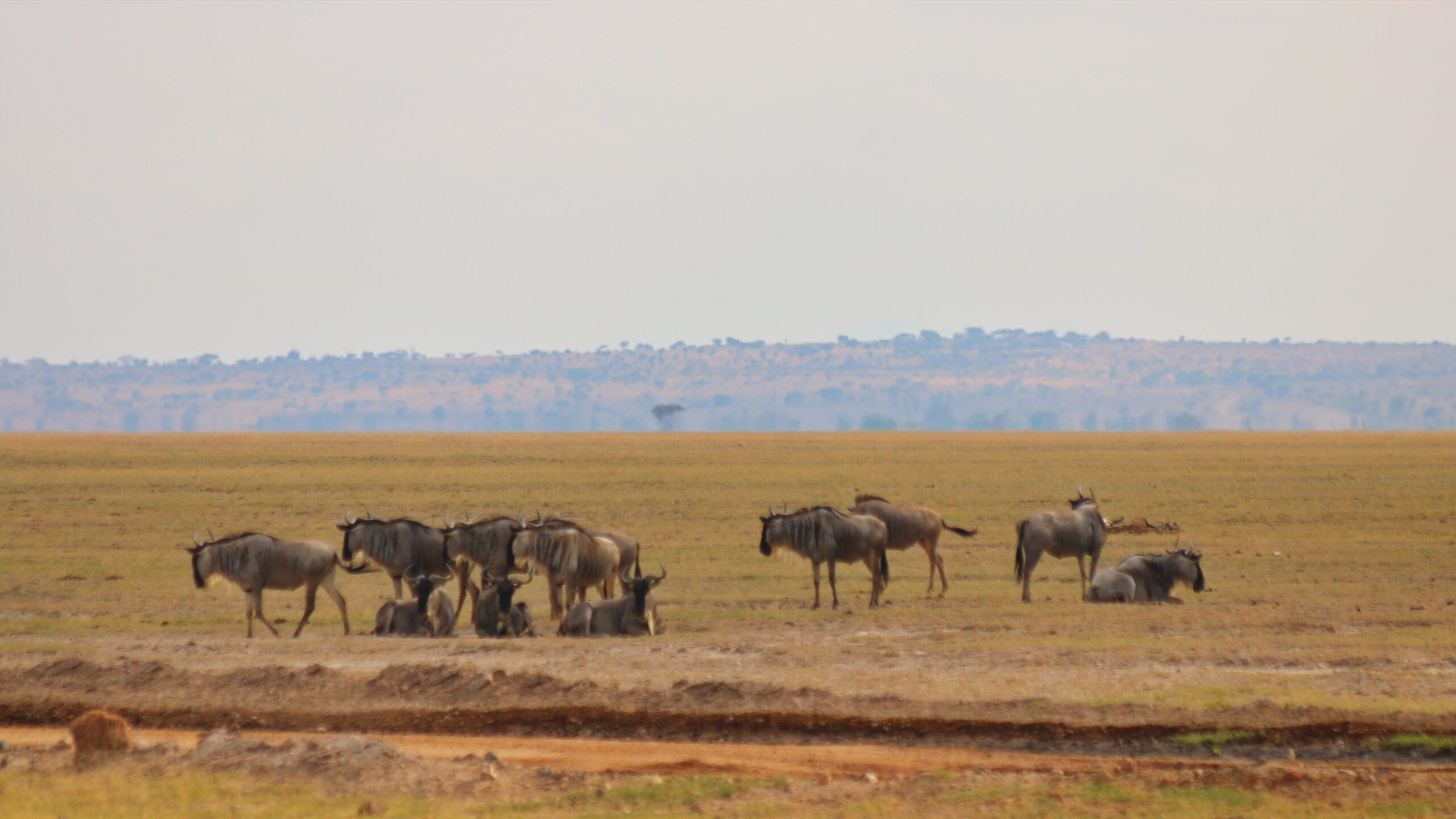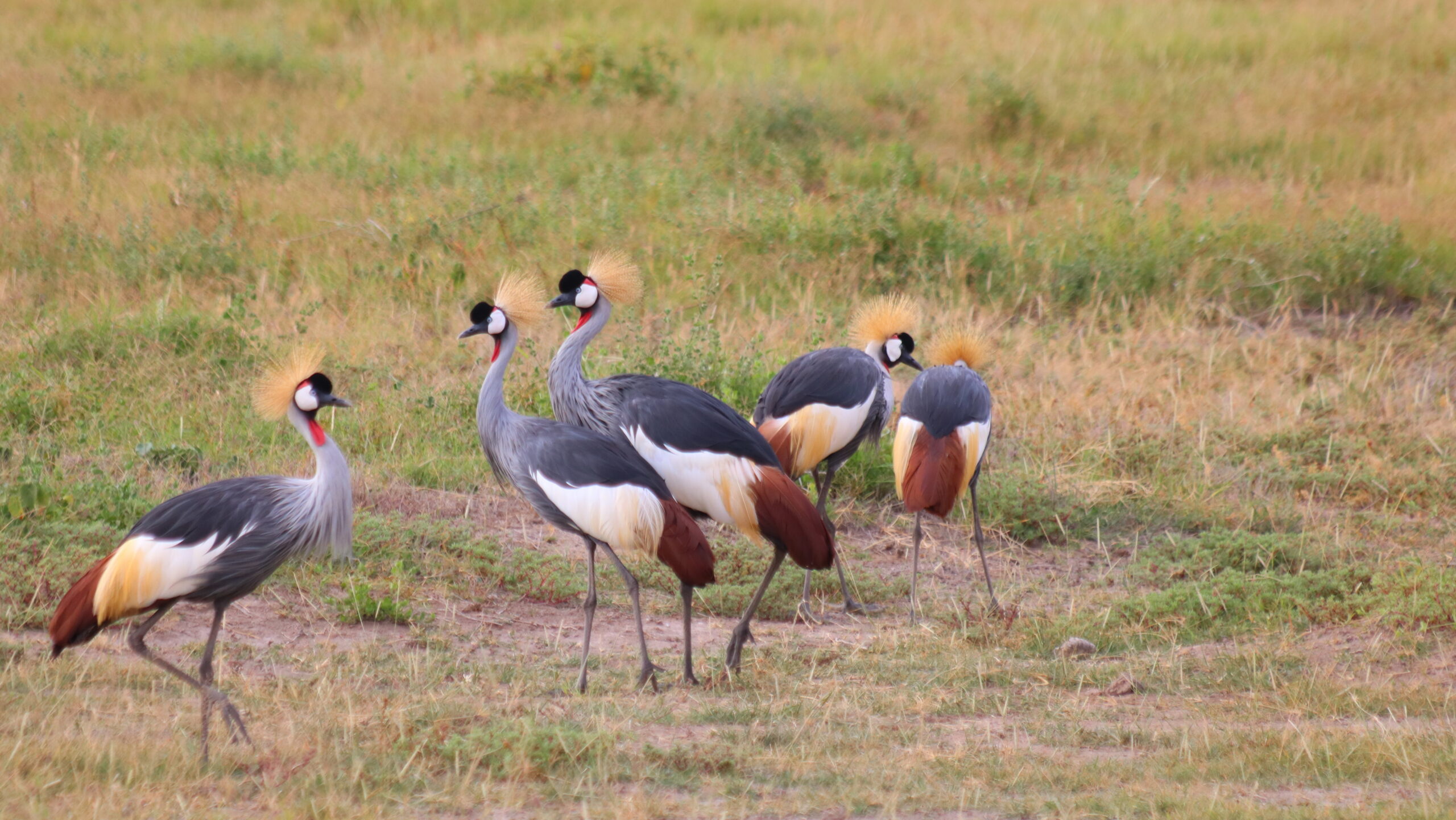 Amboseli has changes in recent years. With climate change, the snow on Kilimanjaro is melting, and that has caused the water level in Amboseli to rise. There is less forest than there used to be, and also much less animals.
Day 3 – Lake Naivasha
We left Ol' Tukai Lodge at 6:30, with the aim to reach Hells Gate national Park in time for an afternoon hike.
Driving quickly became slow, as we turned onto the Nairobi – Mumbasa highway. The road is good quality, but it is only two lanes, and lots of trucks use it. Many trucks can only go 20 – 30 km/h on the uphills.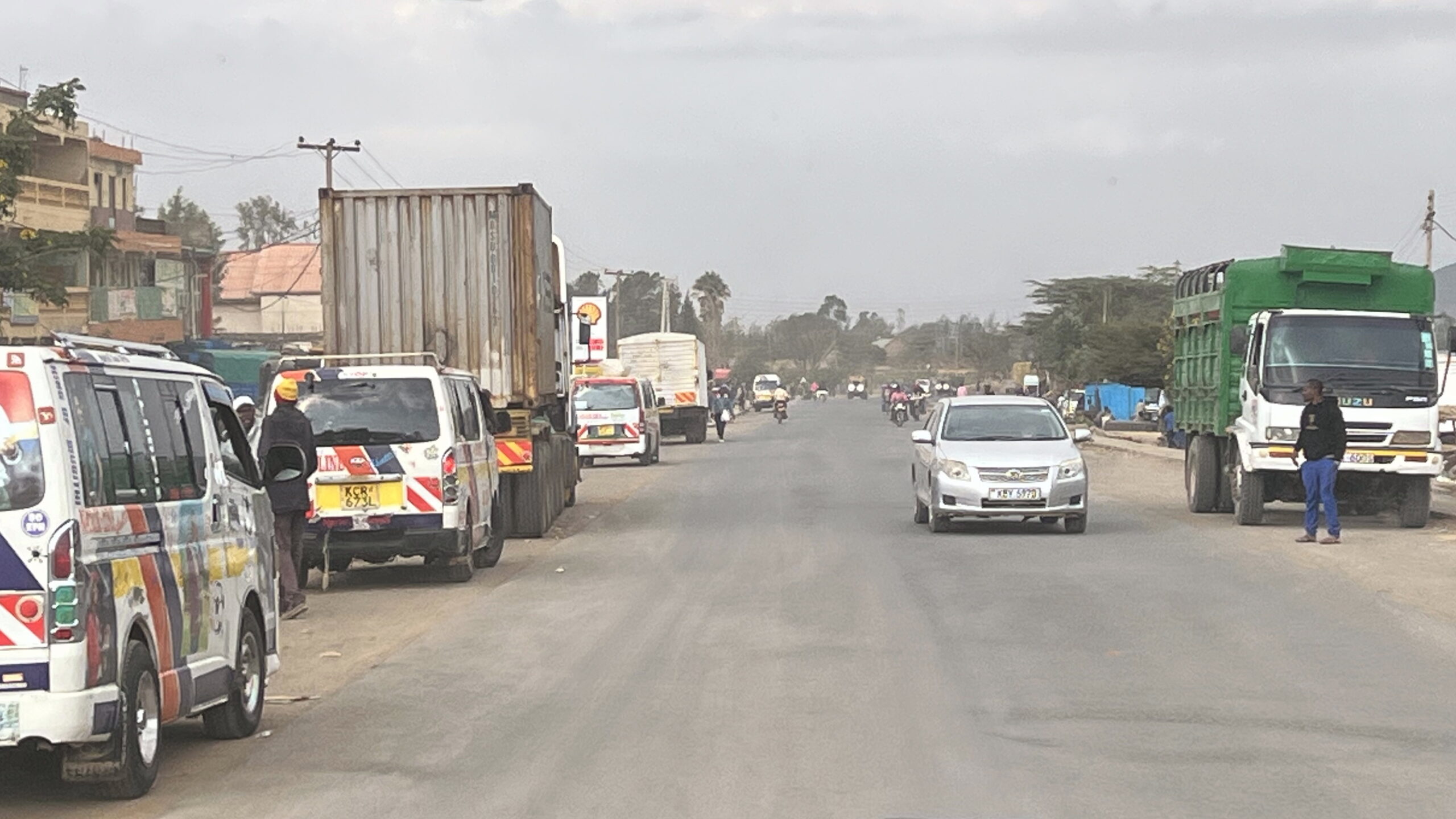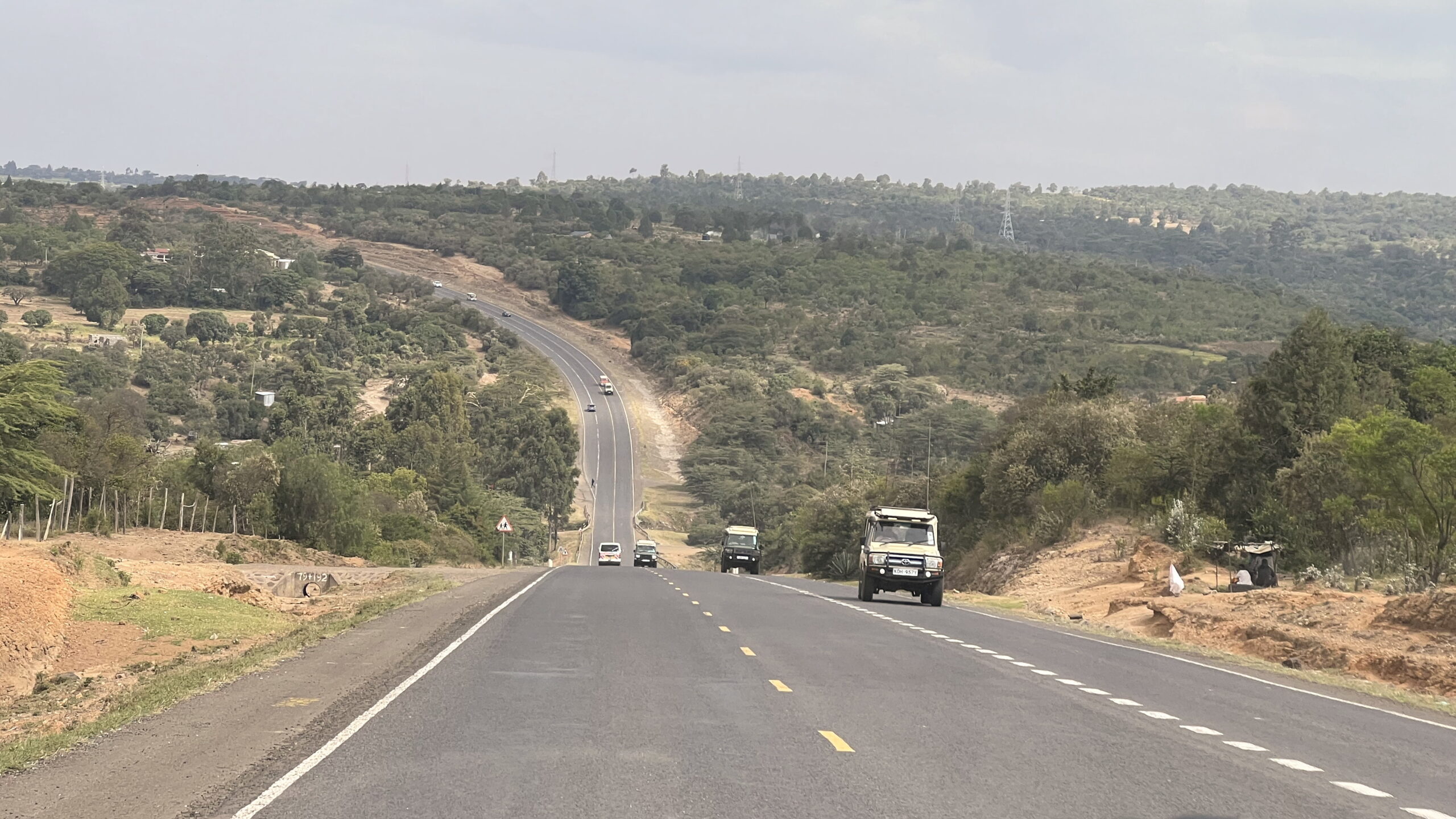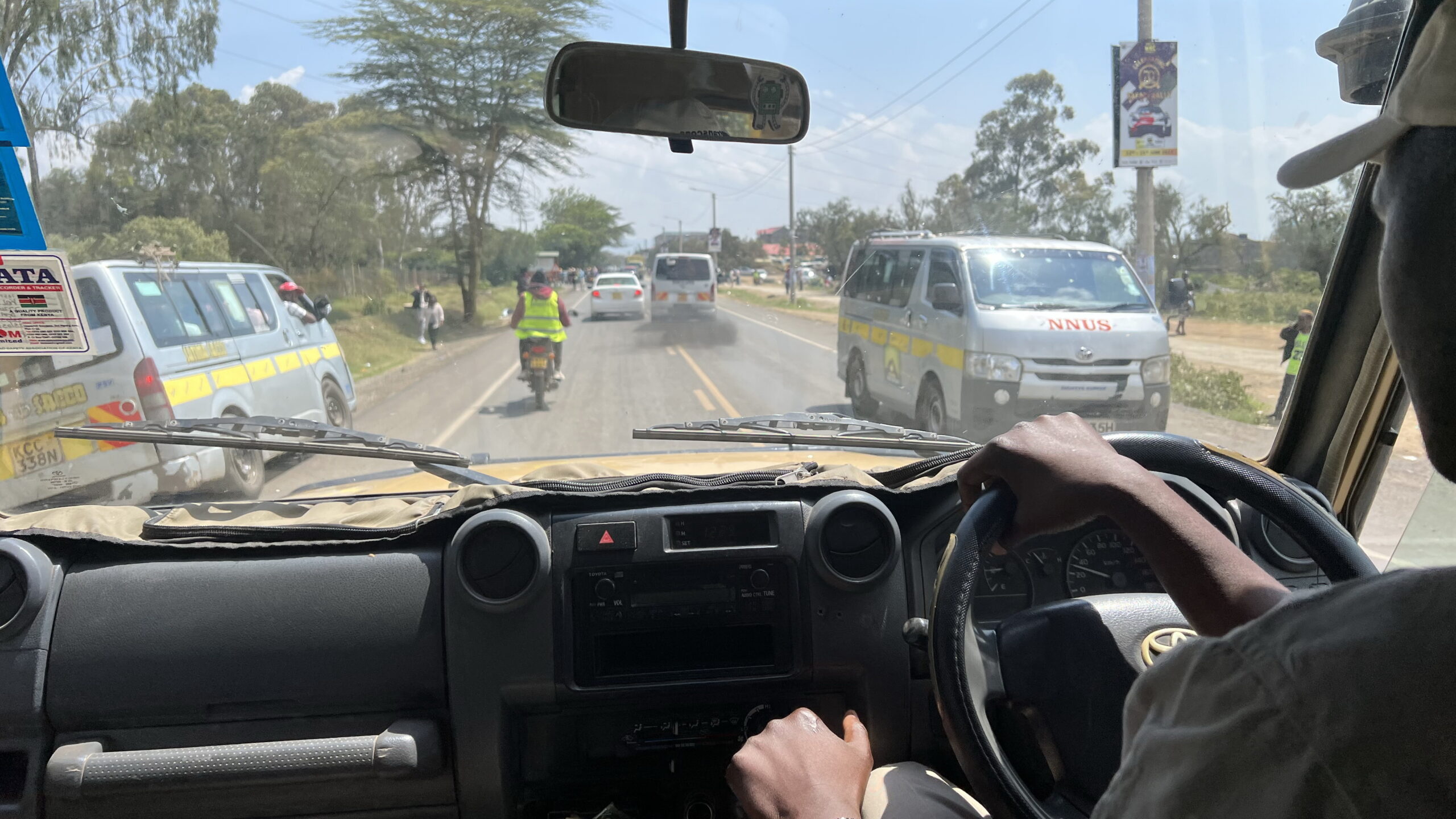 The vehicles on the roads were mainly trucks and other safari vehicles. Only in Nairobi did we see standard cars, there were none of those around the national parks. When planning we had found that there are many car rental agencies in Kenya, but we saw almost none that were driven by tourists.
There are many police check points on the highways, and when planning, we had read that they sometimes ask for bribes. Our vehicle were not stopped at any time, and it seemed George was not asked for bribes.
North of Nairobi, we passed a view point, where we could admire the Great Rift Valley.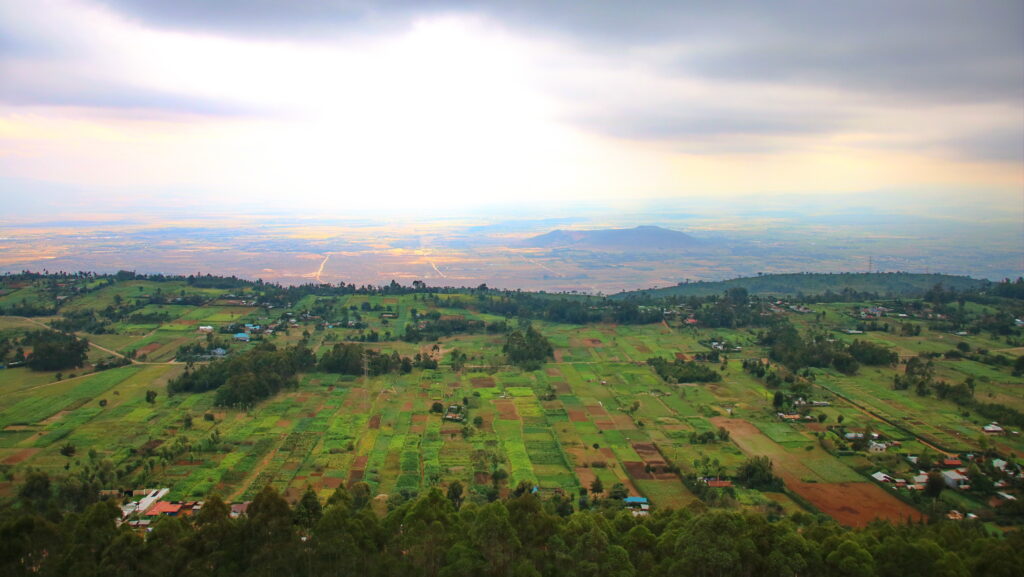 George was a very responsible driver, but did his best to get us quickly to Hells Gate NP. He talked about a rally taking place, and questioned if it was the right thing to go there. We really wanted to get out of the safari vehicle and walk, and we were not sure if what George really wanted was a more leisurely day for himself.
As we approached the town of Naivasha, it was clear what George had been talking about. The Kenya Safari Rally had its final stage set in Hells Gate National Park right at the day and time that we were planning to go for a hike there. The town was crowded with spectators and cars, and the traffic was dense. We were not moving. George made phone calls to colleagues in the National Park itself, and they said it would be impossible for us to reach it that day, and if we did, it was too crowded for a hike. That was poor planning by the agency, they should have known, and advised us to take a different route.
We were going to stay at Lake Naivasha Country Club for the night, and we were very close. But with traffic moving very slow, it would take a long while to get there. George's suggestion was to take a small road to a nearby Naivasha lake resort, and from there around a boat tour to where we should stay. We argued to simply drive there, and accept the delay, but it seemed George wanted to spare us from the slow driving. So in the end we had to pay a rather stiff price for a Naivasha boat tour, that was not exactly what we were looking for at that moment.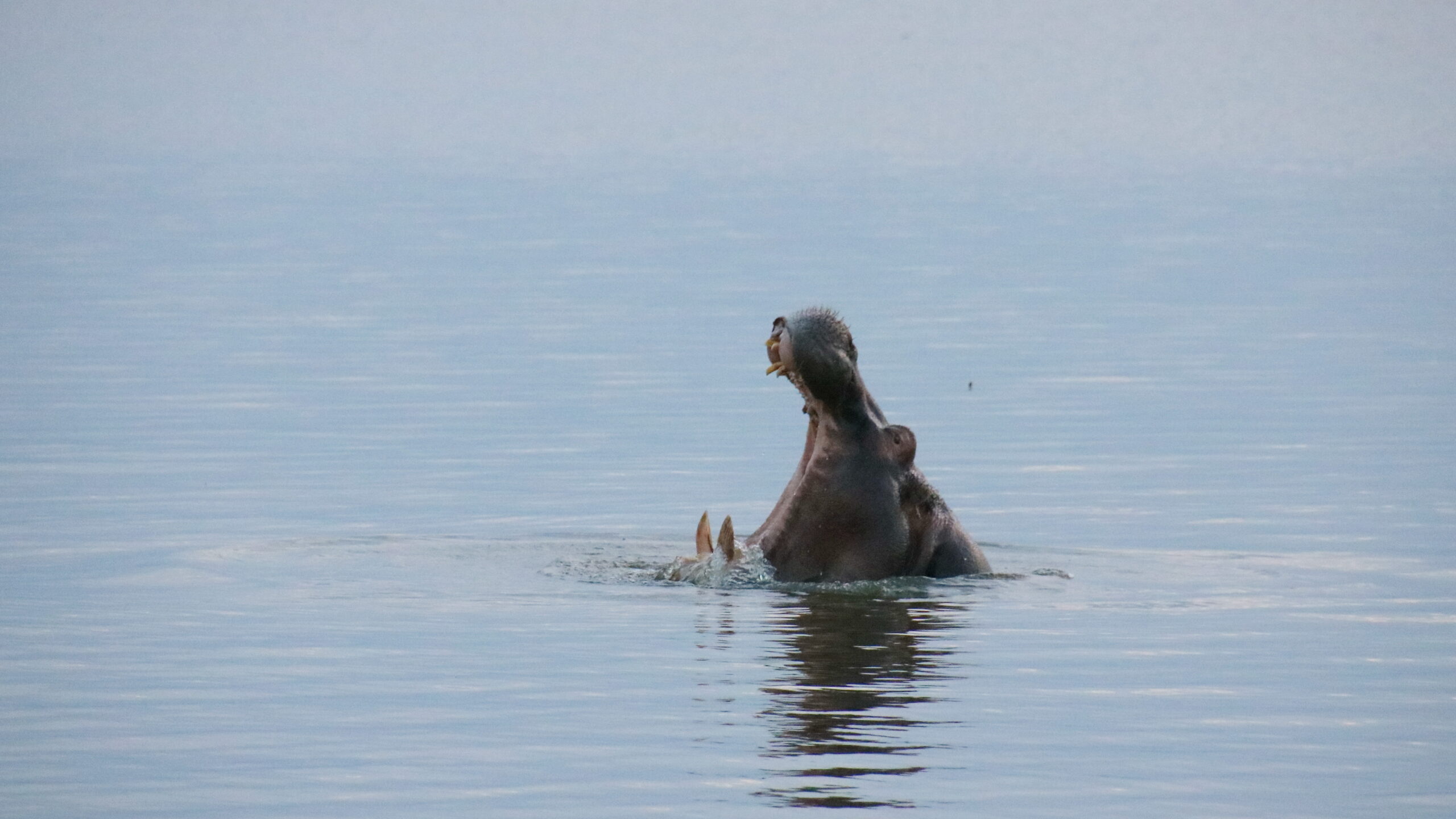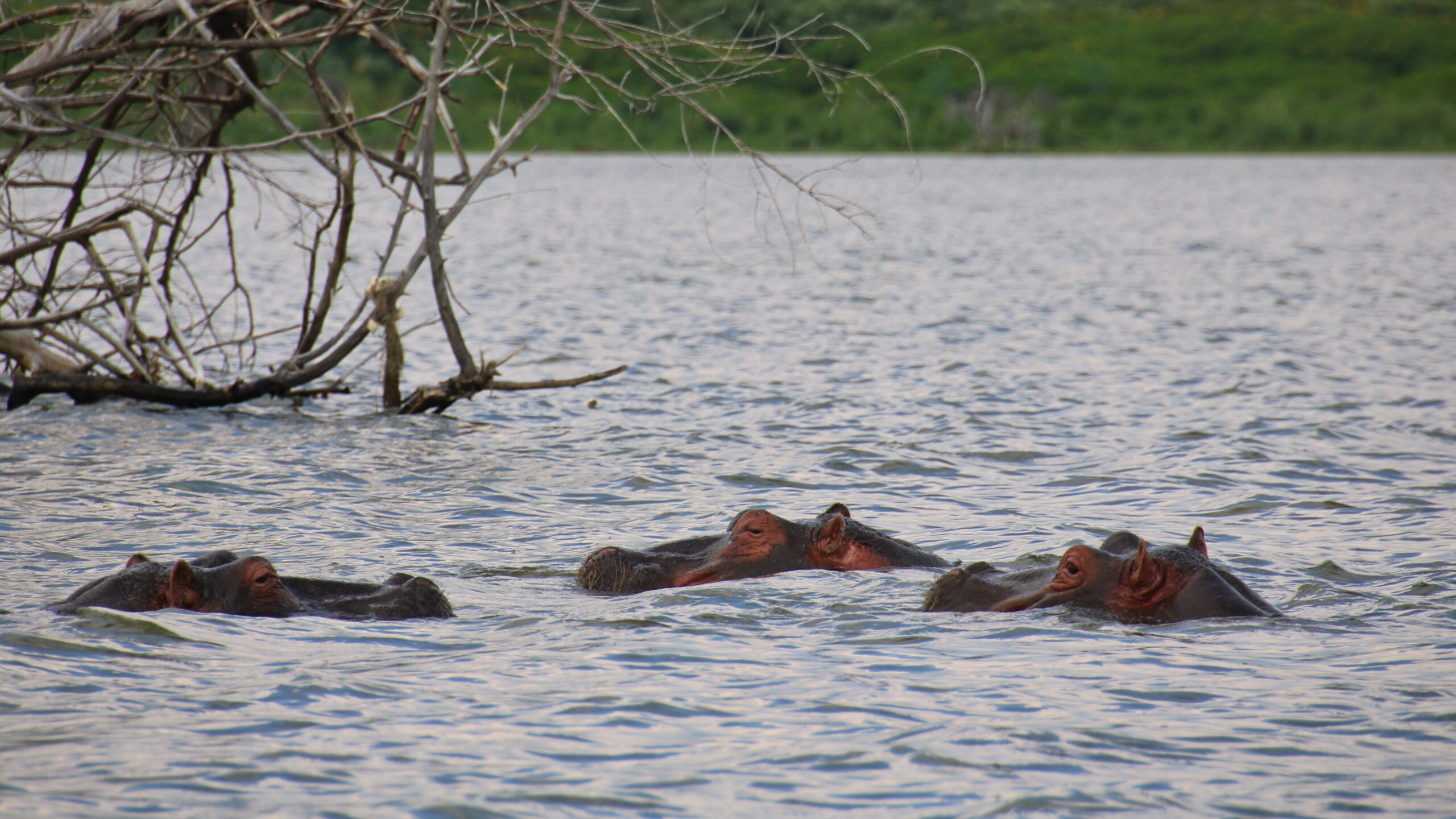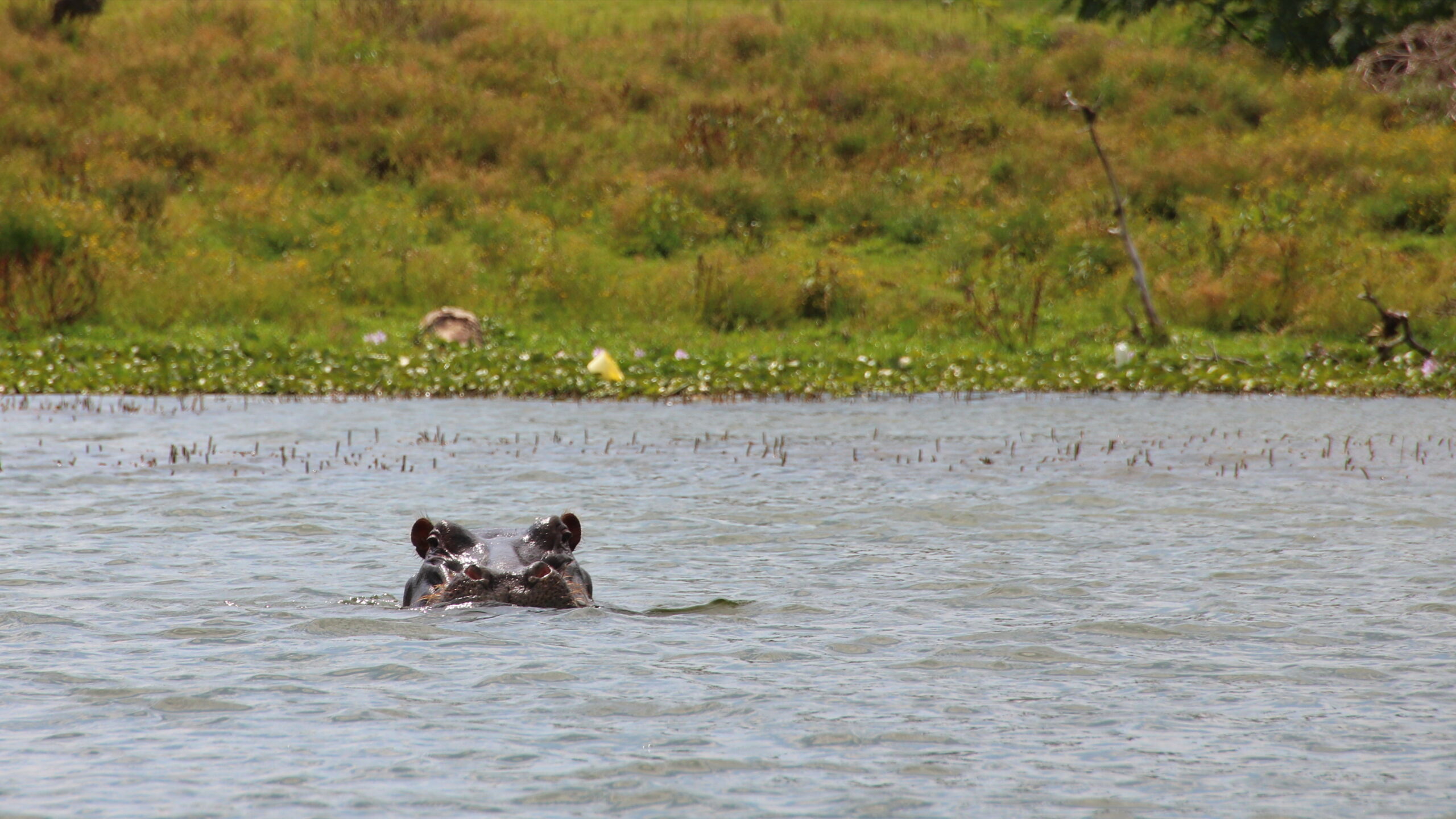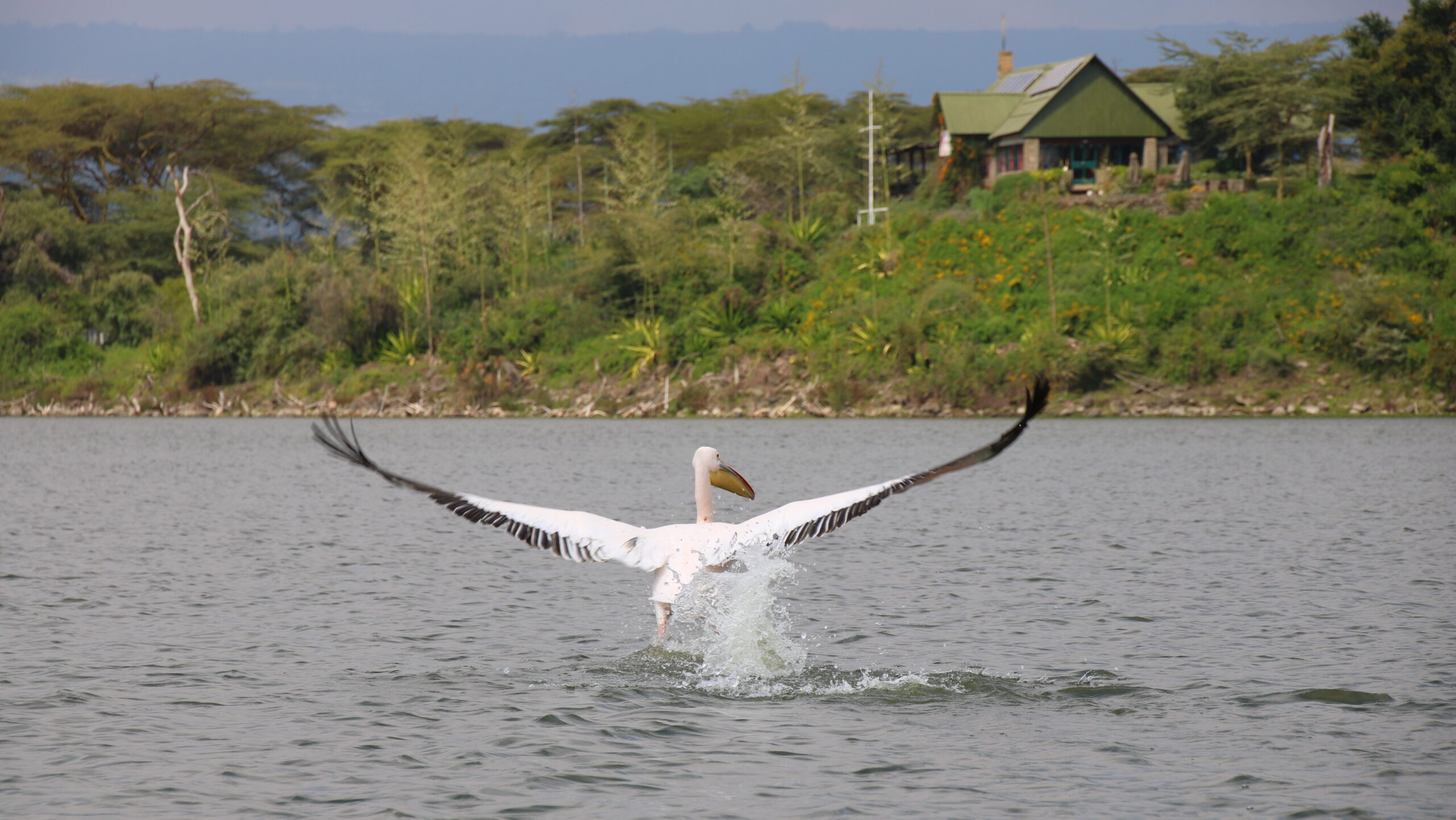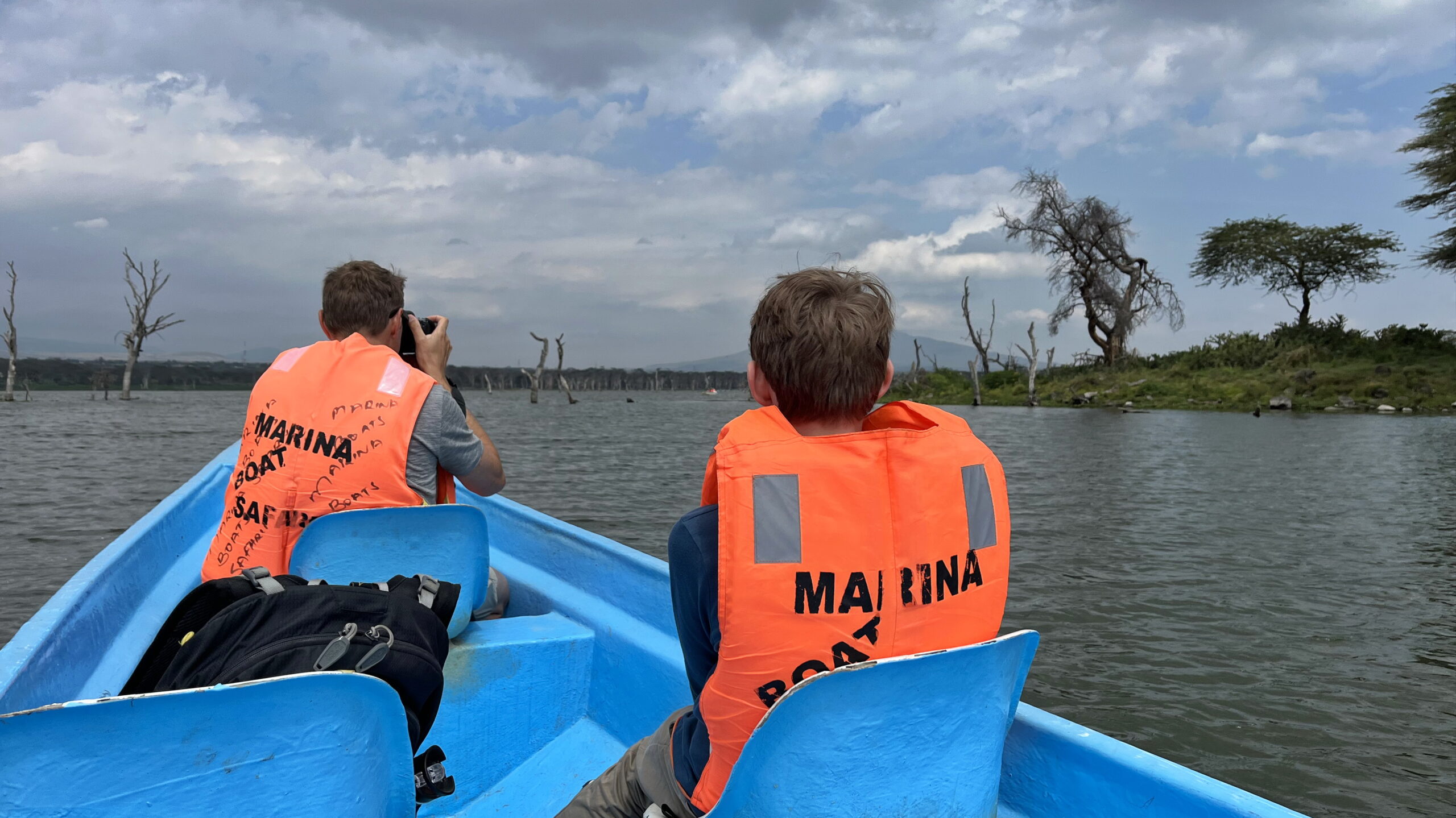 Lake Naivasha is famous for hippos, and we saw a few.
Lake Naivasha Country Club has seen its better days, but because of the rally, it was the accommodation that had been available.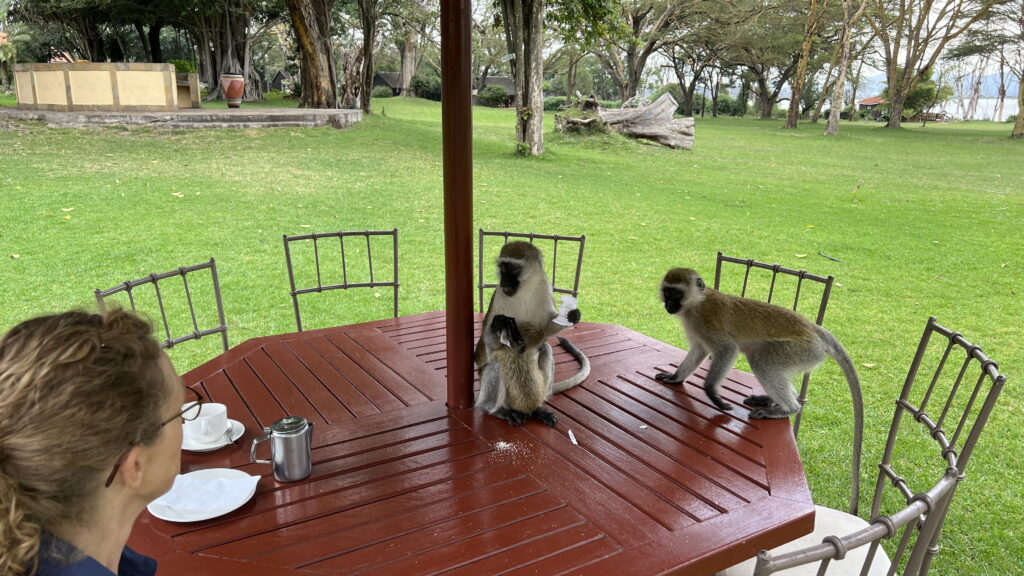 Monkeys roam the garden and terraces, and they are experienced foragers. Peter had a coffee that came with two sugar packets. When we looked away for a moment, two monkeys landed on the table, tore open the bag and took mouthfulls of sugar, before returning to the safety of the tree above. One of the monkeys was a mother carrying her baby. It looked like it had practised the operation to perfection.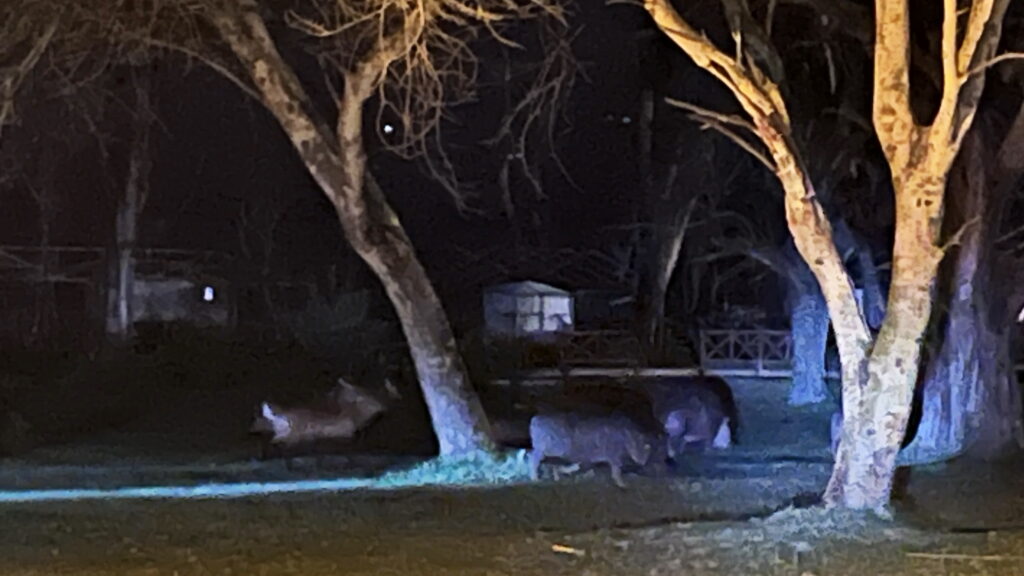 We met more animals in the garden when we returned to our bungalow after dinner. In the evening, hippos came up from the lake, and strolled the garden. Staff kept us at a safe distance, but we were close enough to admire the large animals.
Day 4 – Masai Mara
Another four-hour drive took us to Masai Mara national park, where we checked in at Mara Leisure camp. It is a tented camp located at the Talek river, and almost on the border of the park. The staff was friendly and welcoming, and it was a good place to stay, but not at the same level of comfort and luxury as the camps located at the centre of the park and at the Mara river, where the Great Migration is experienced the best.
We had been looking forward to Masai Mara. It was the childhood vision of the African savannah, with herds of animals in every direction. And as we arrived in late June, the Great Migration should be underway, according to guidebooks and our travel agency.
We had morning and afternoon game drives, and also a full day game drive, to allow us to drive deeper into the park. All the guides were in radio contact, so George had real-time information on where animals were located.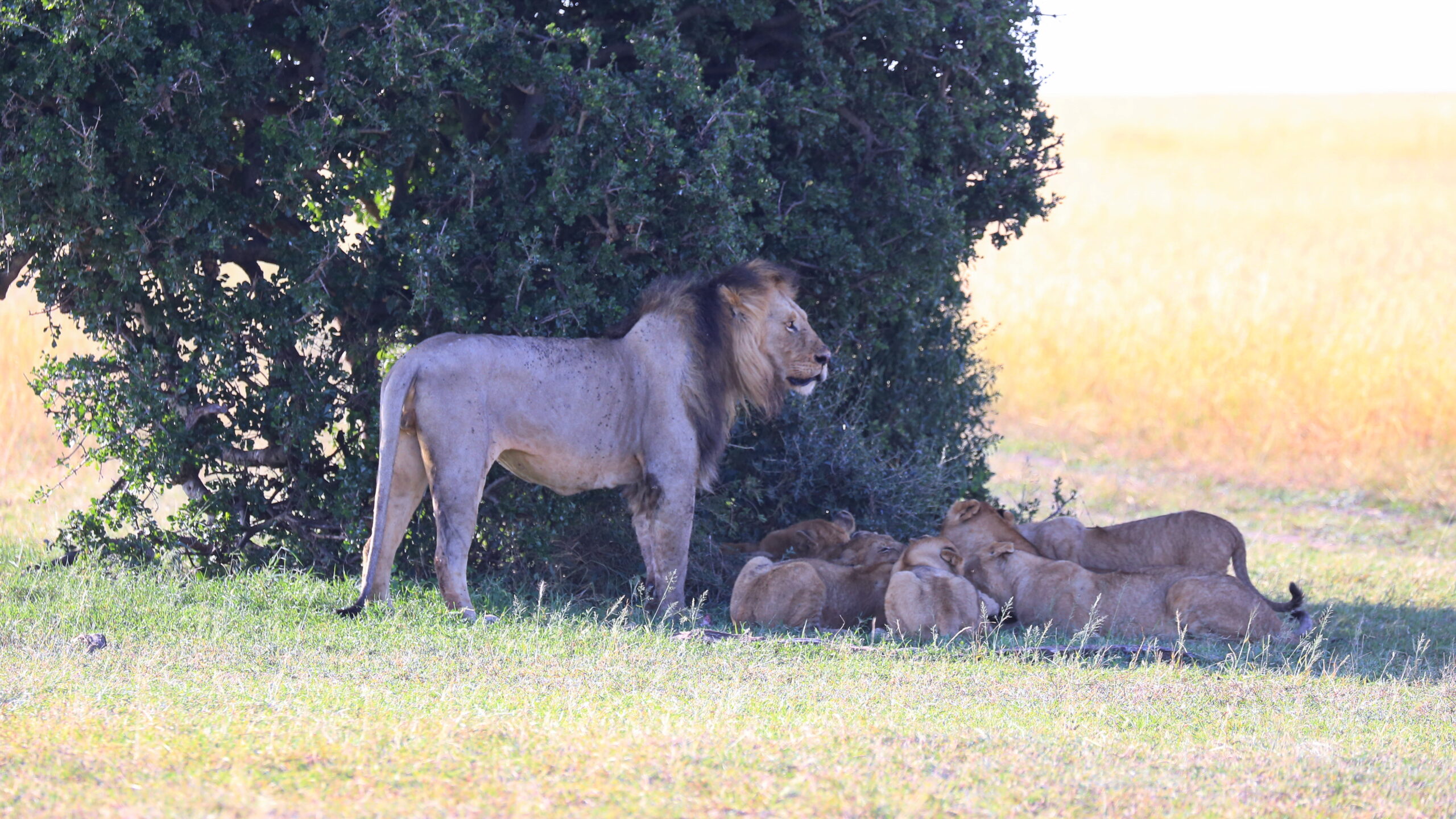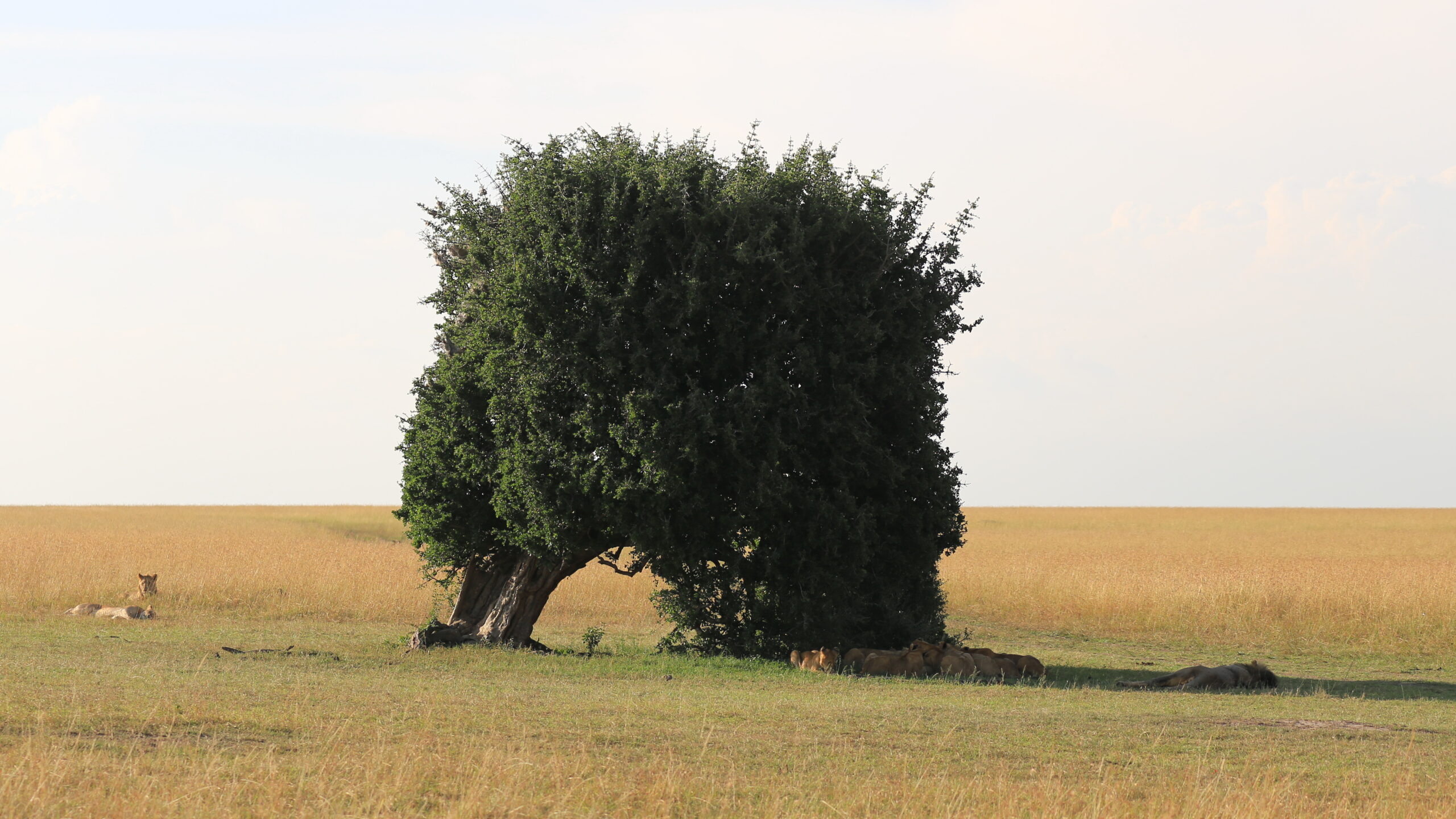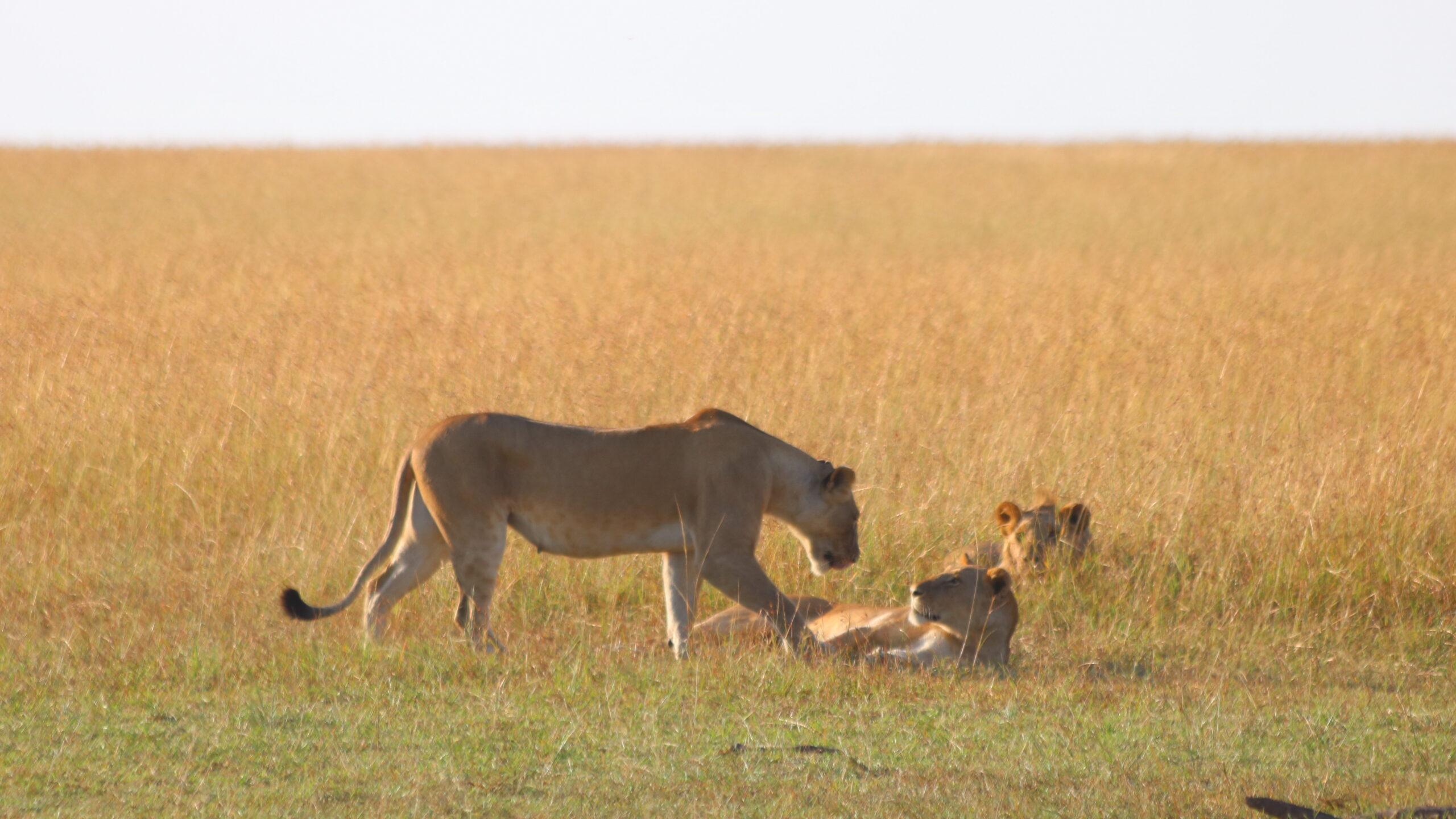 On our first afternoon drive, we saw a pride of lions with a male, several females and ten cubs. They took shade from the sun while they ate a recent kill.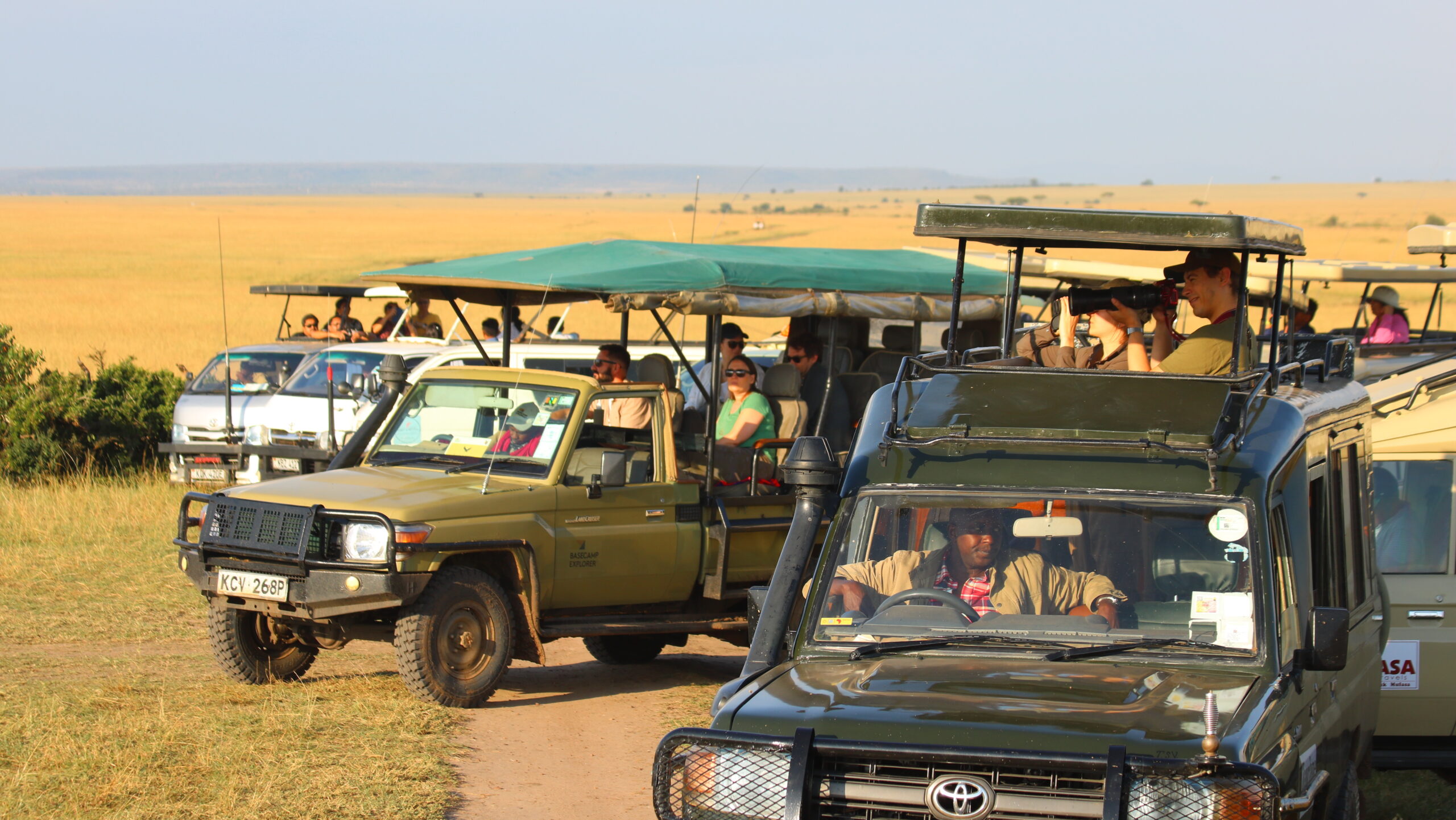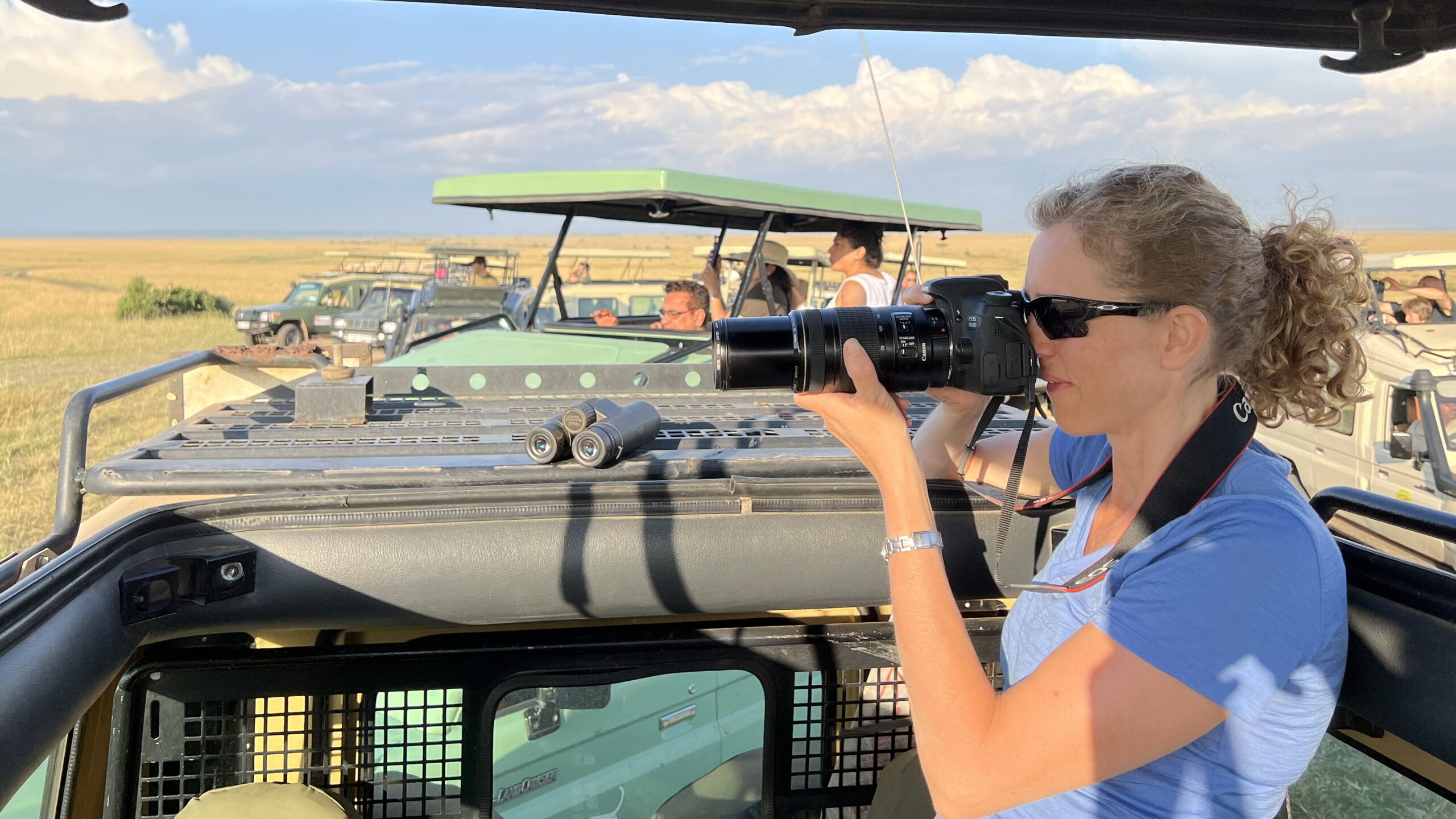 We also witnessed the consequence of the interest in visiting Masai Mara. There must have been at least 30 safari vehicles, many competing for the best photo spots.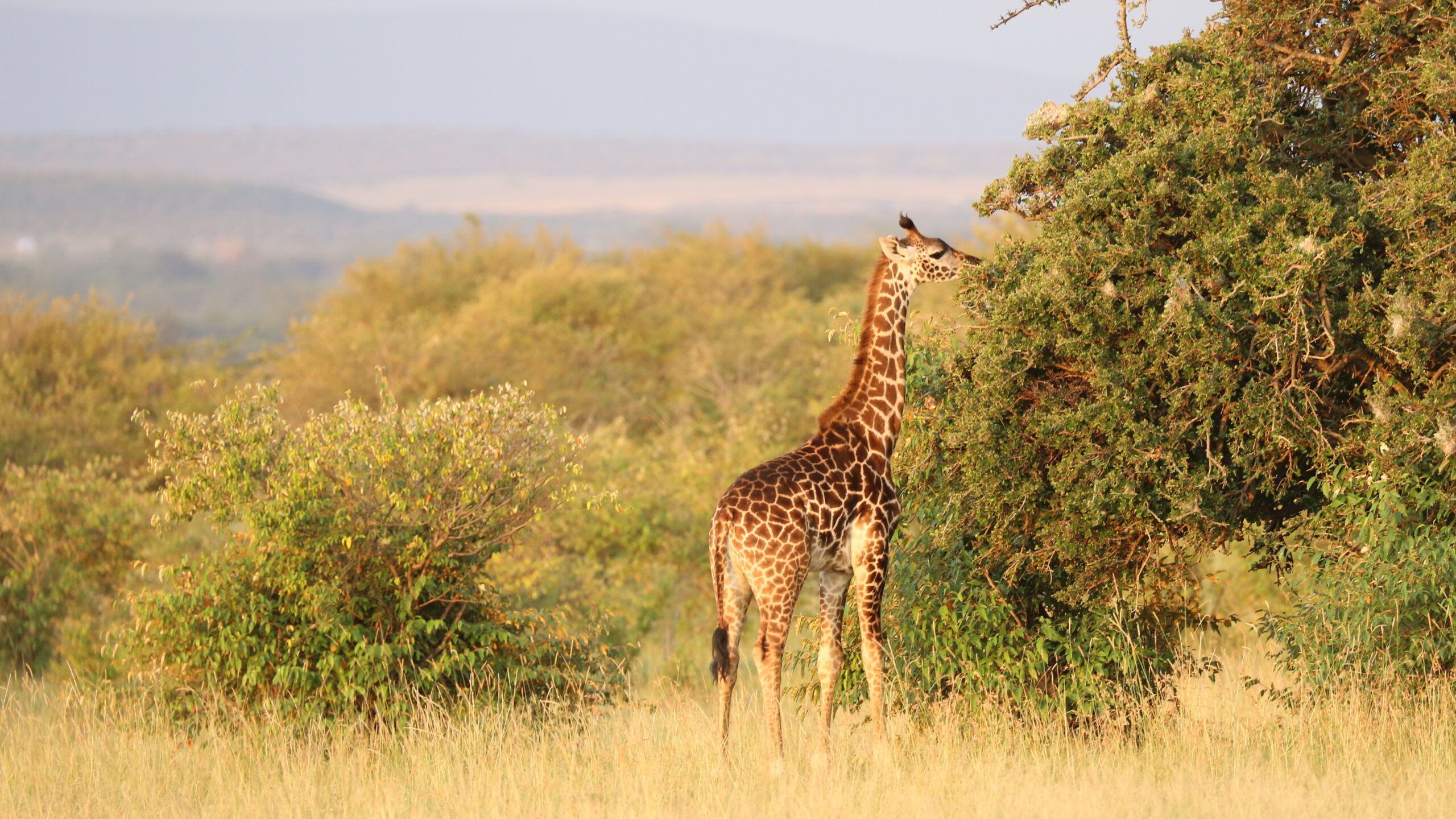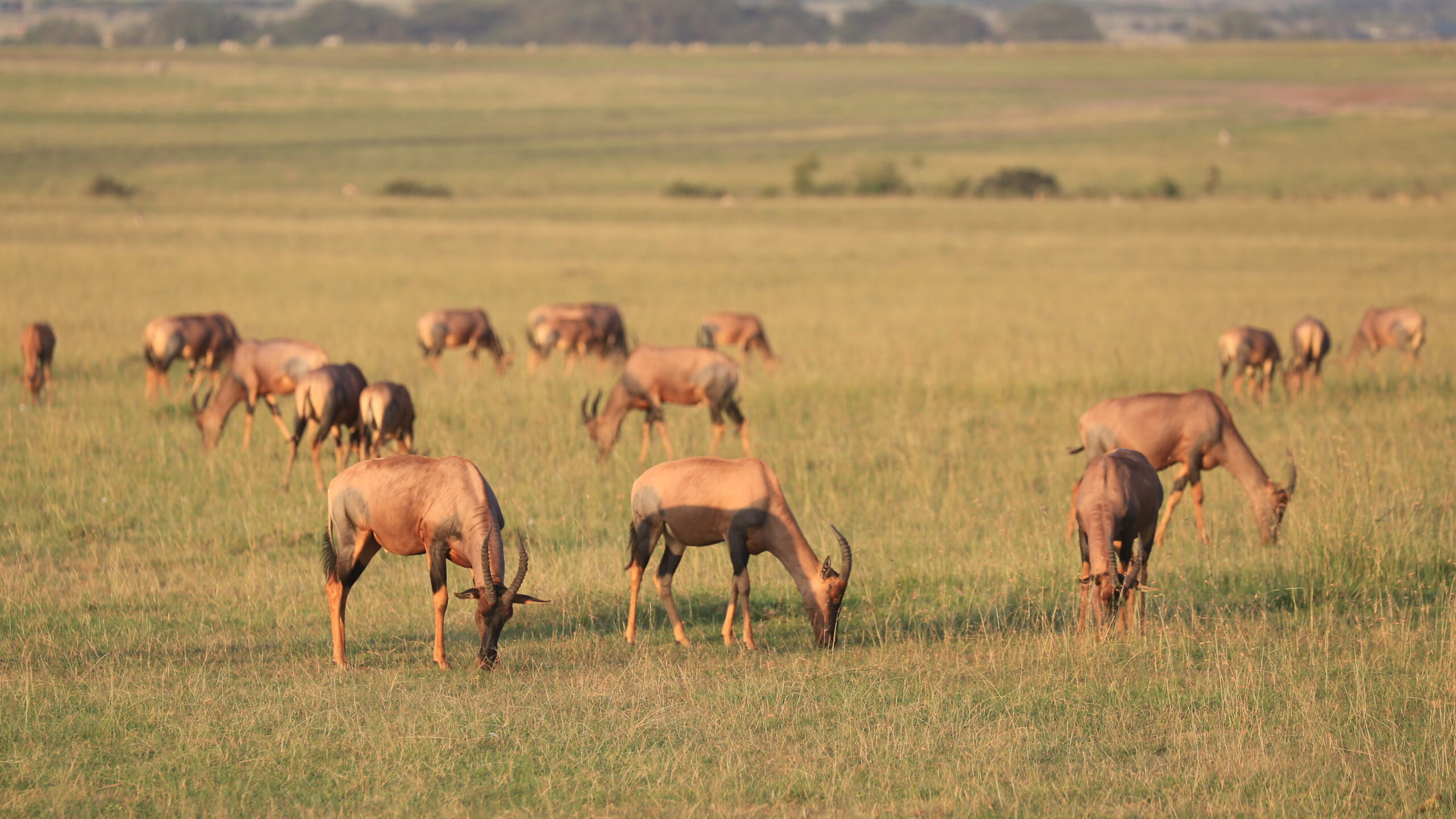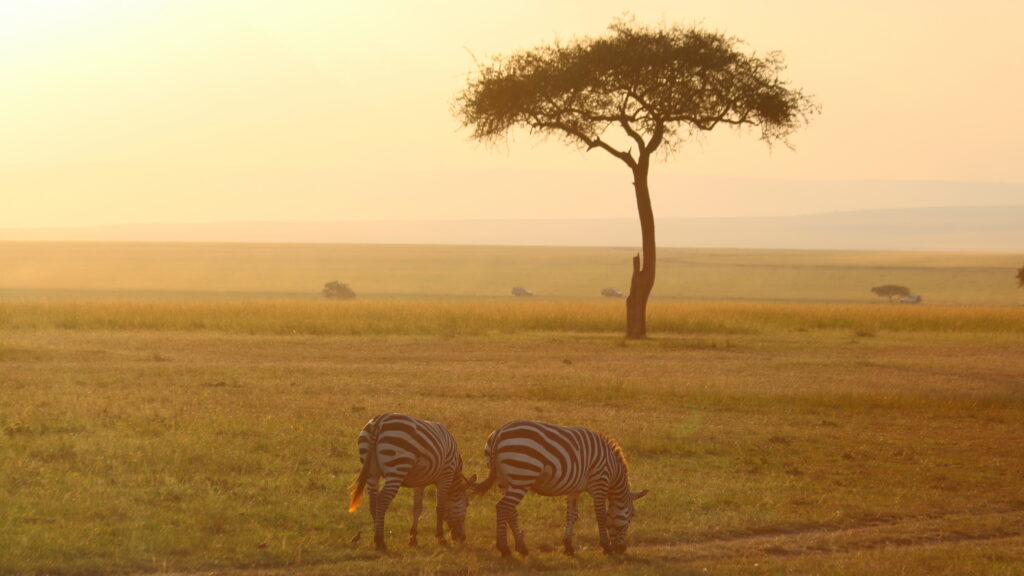 Day 5 – full day Masai Mara game drive
Today we had a full day game drive, and could go deeper into the park. We talked to George about the great migration, and he explained that it had not started. The wildebeest was still in Tanzania. He would take us towards the border.
We saw many animals in small groups.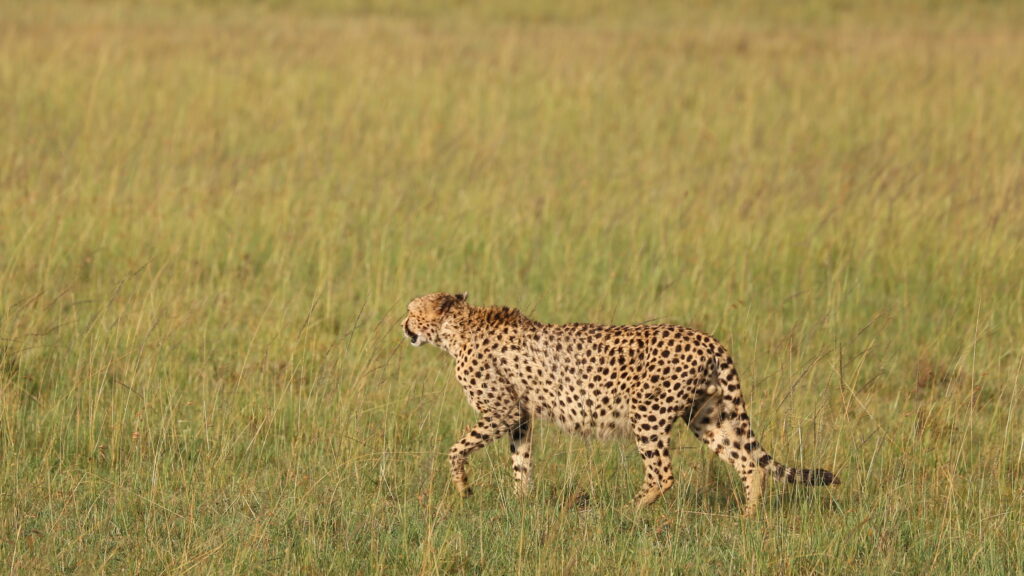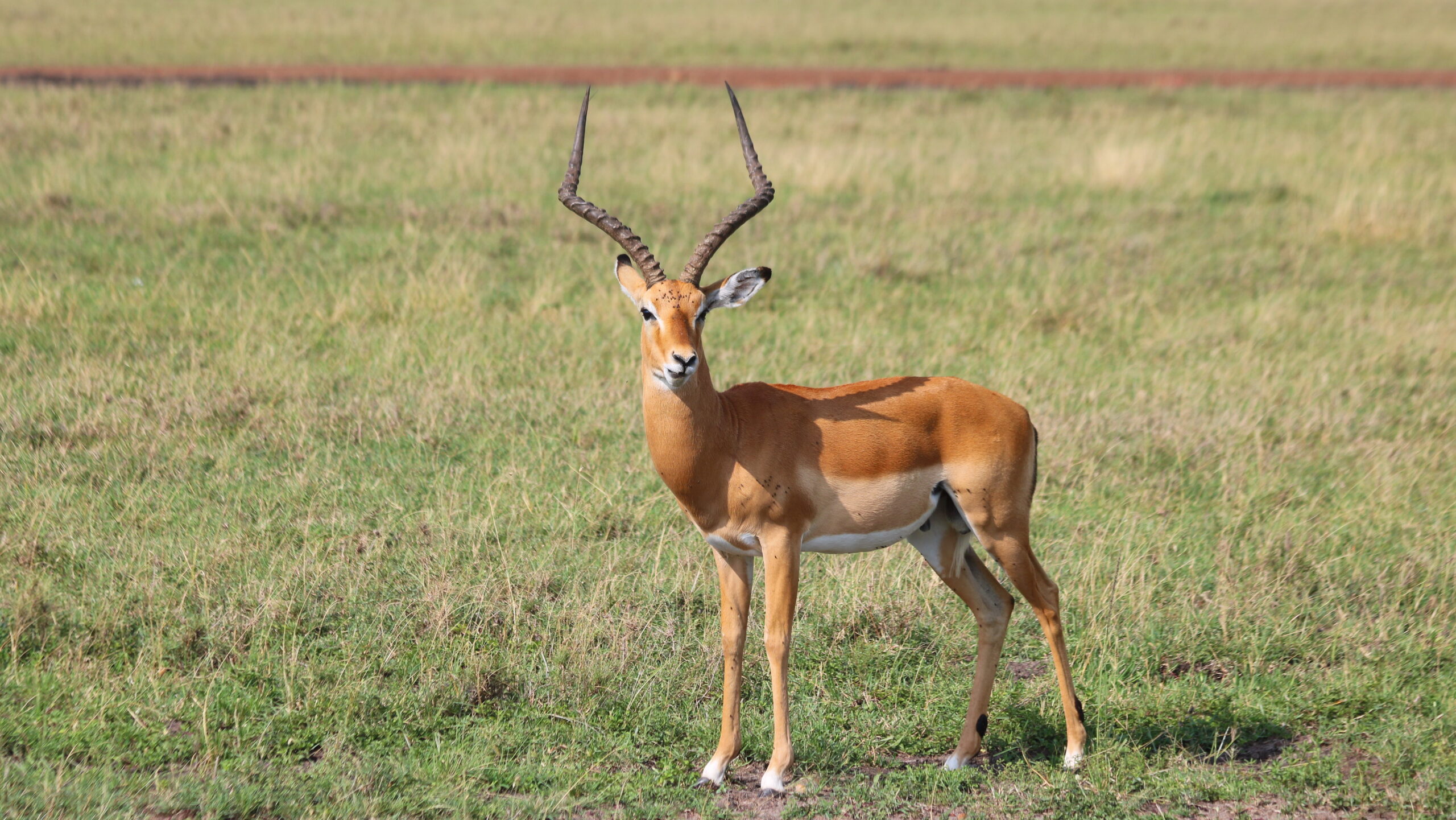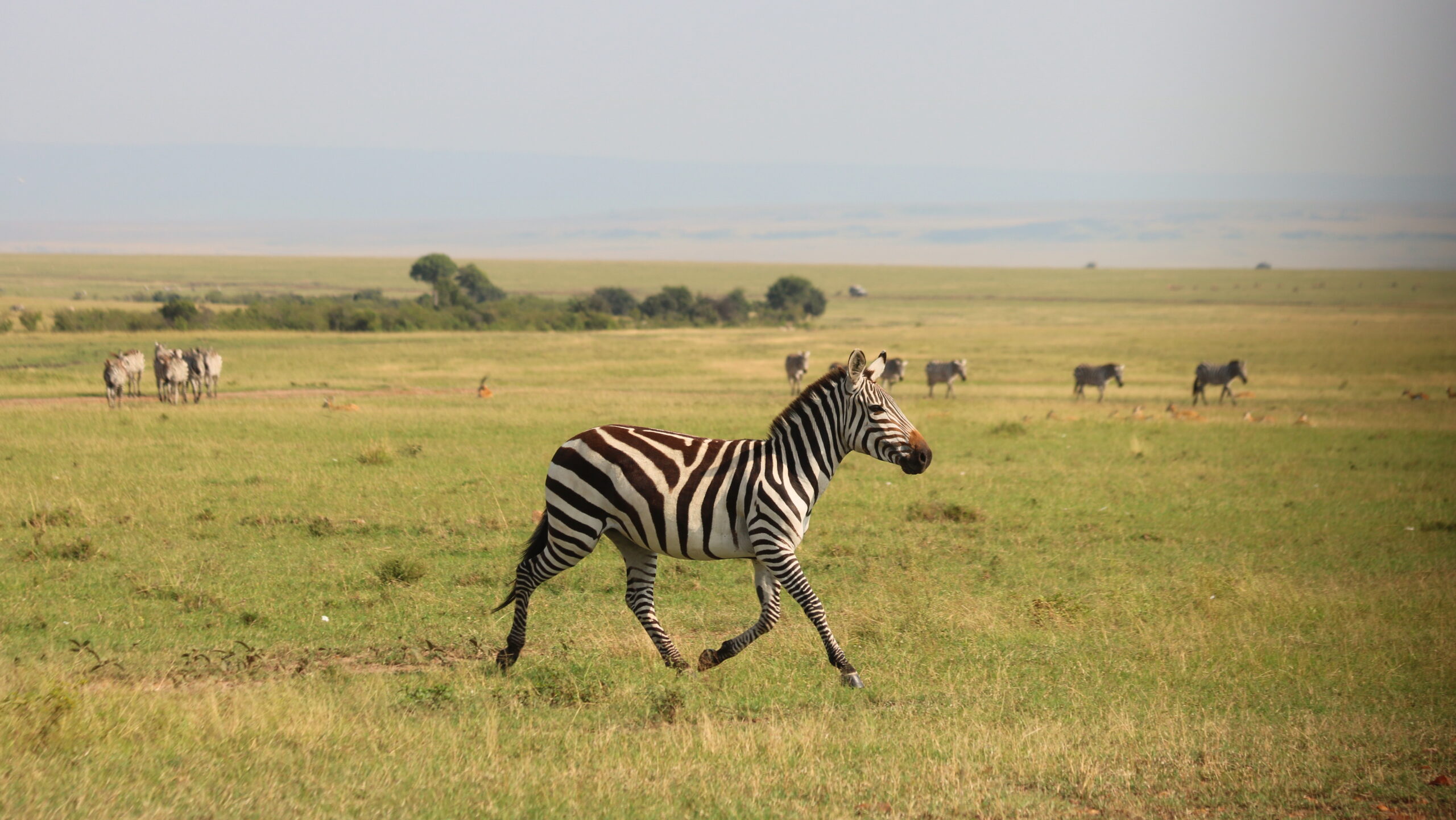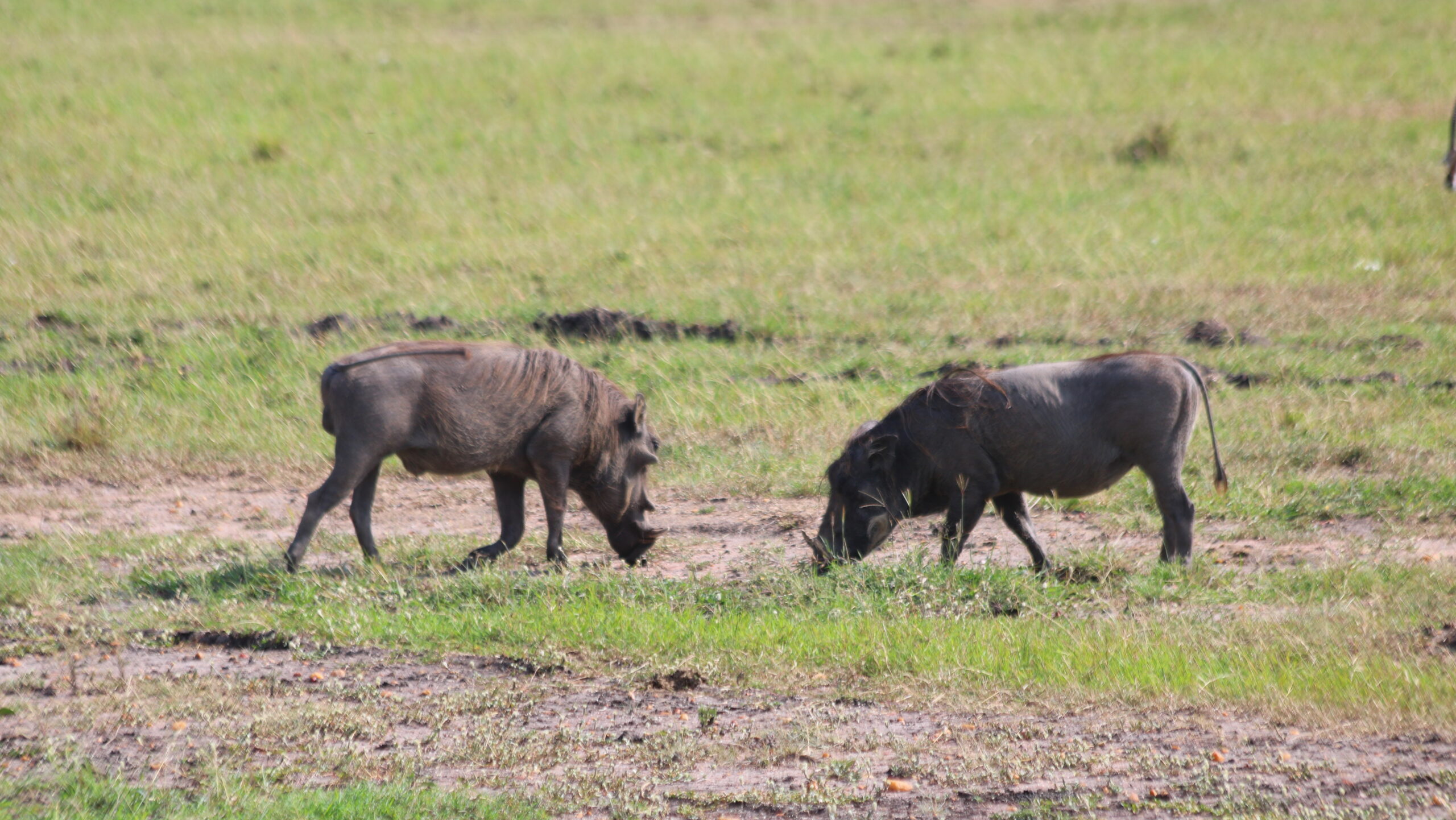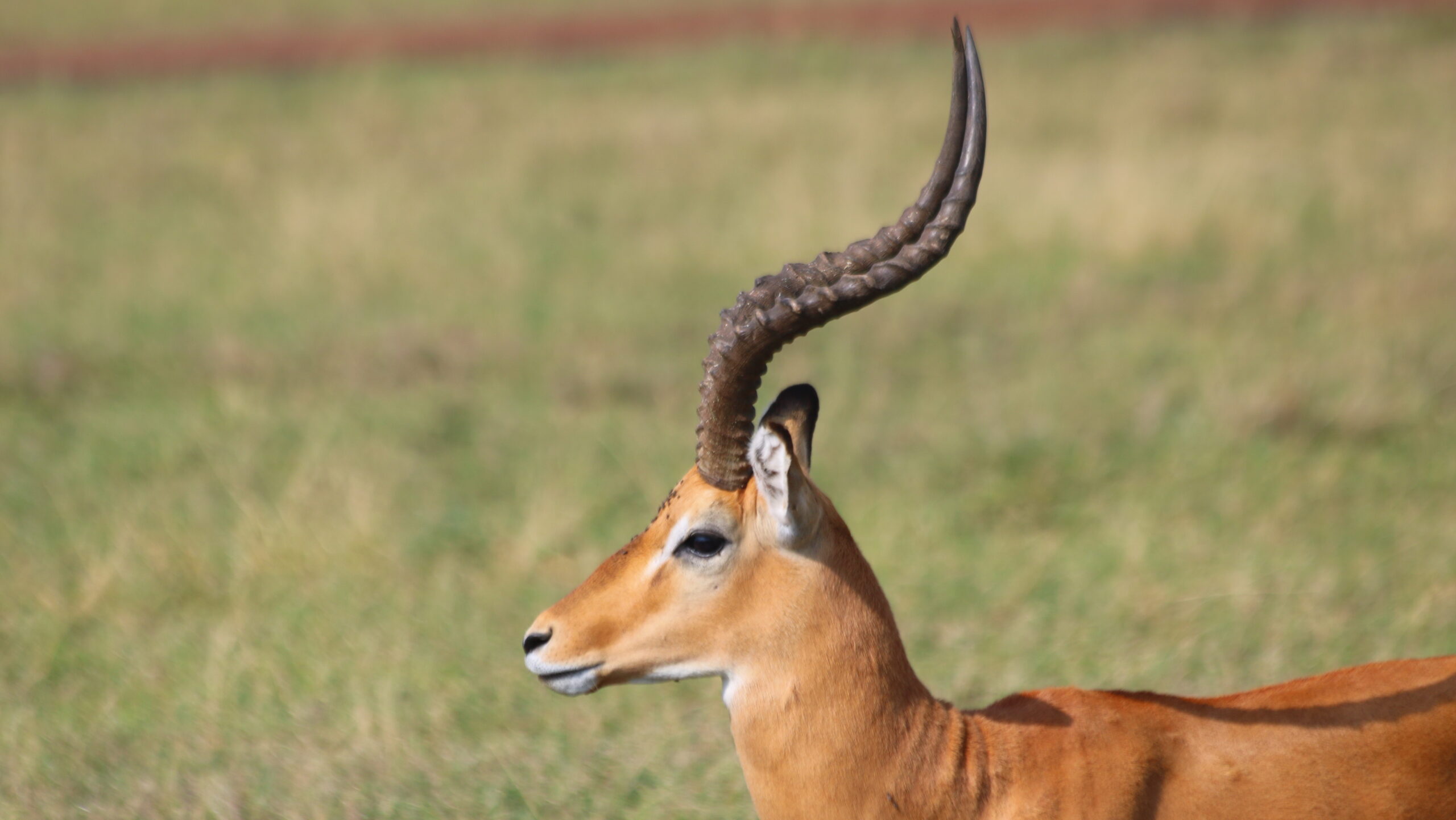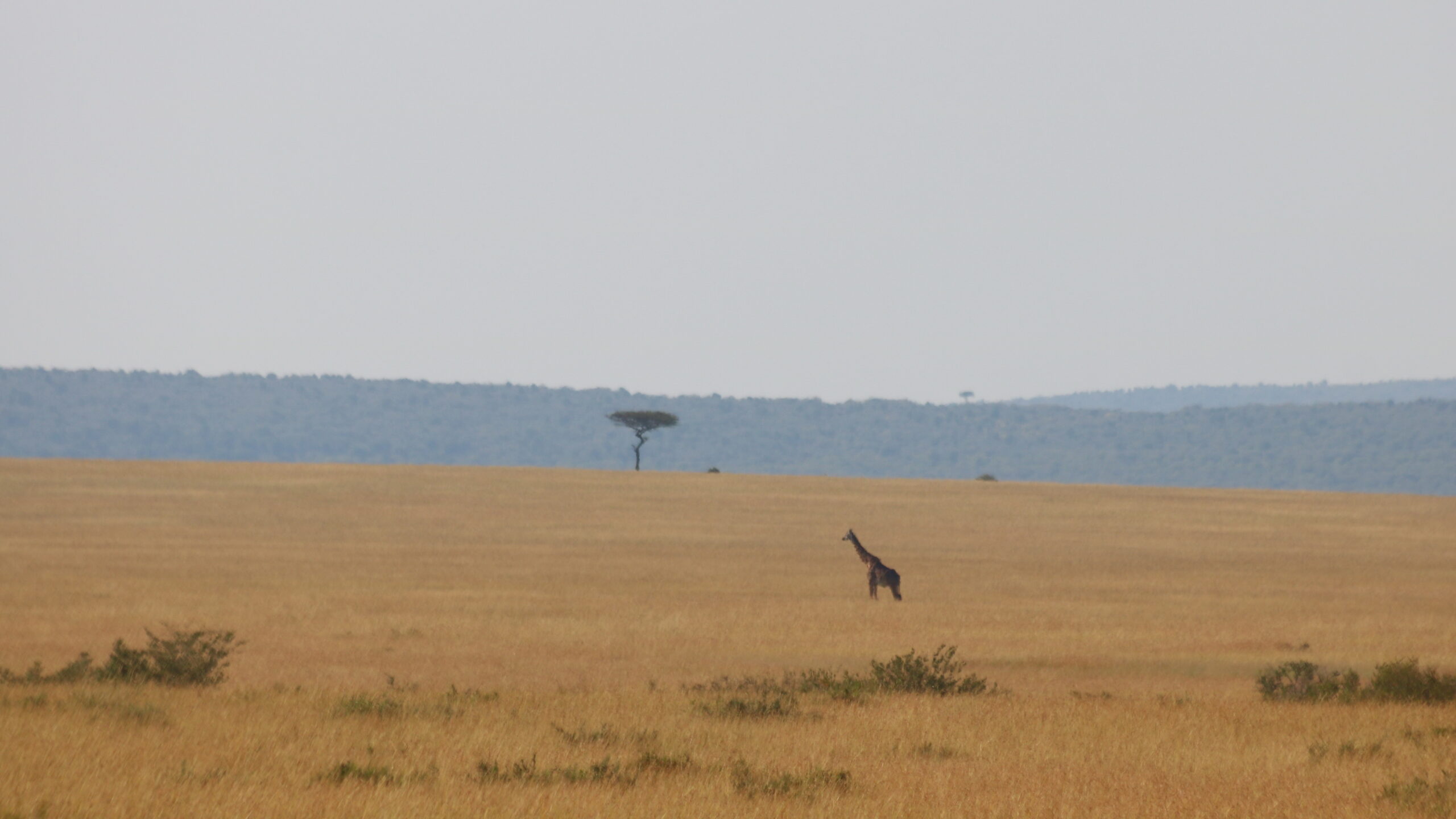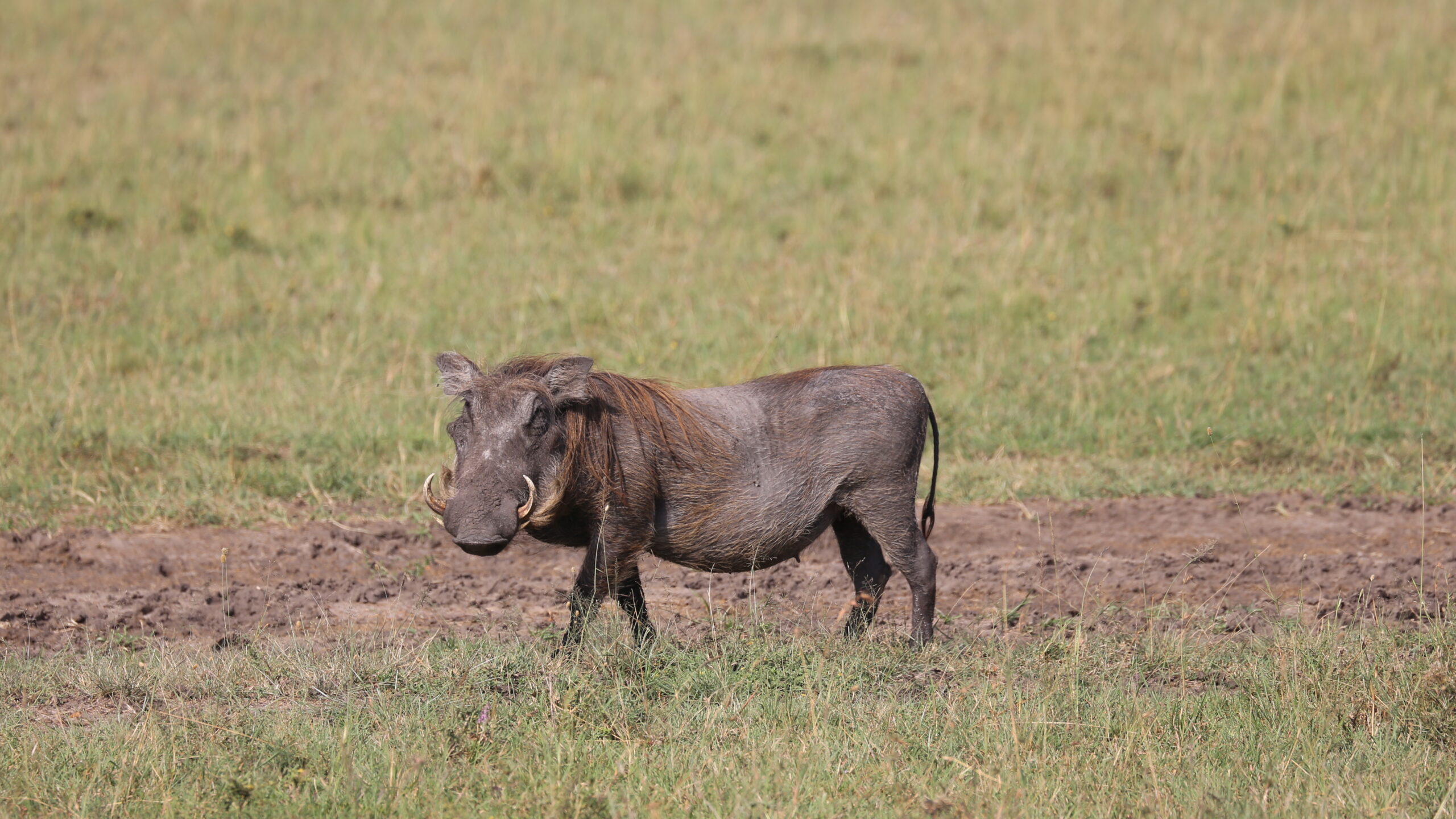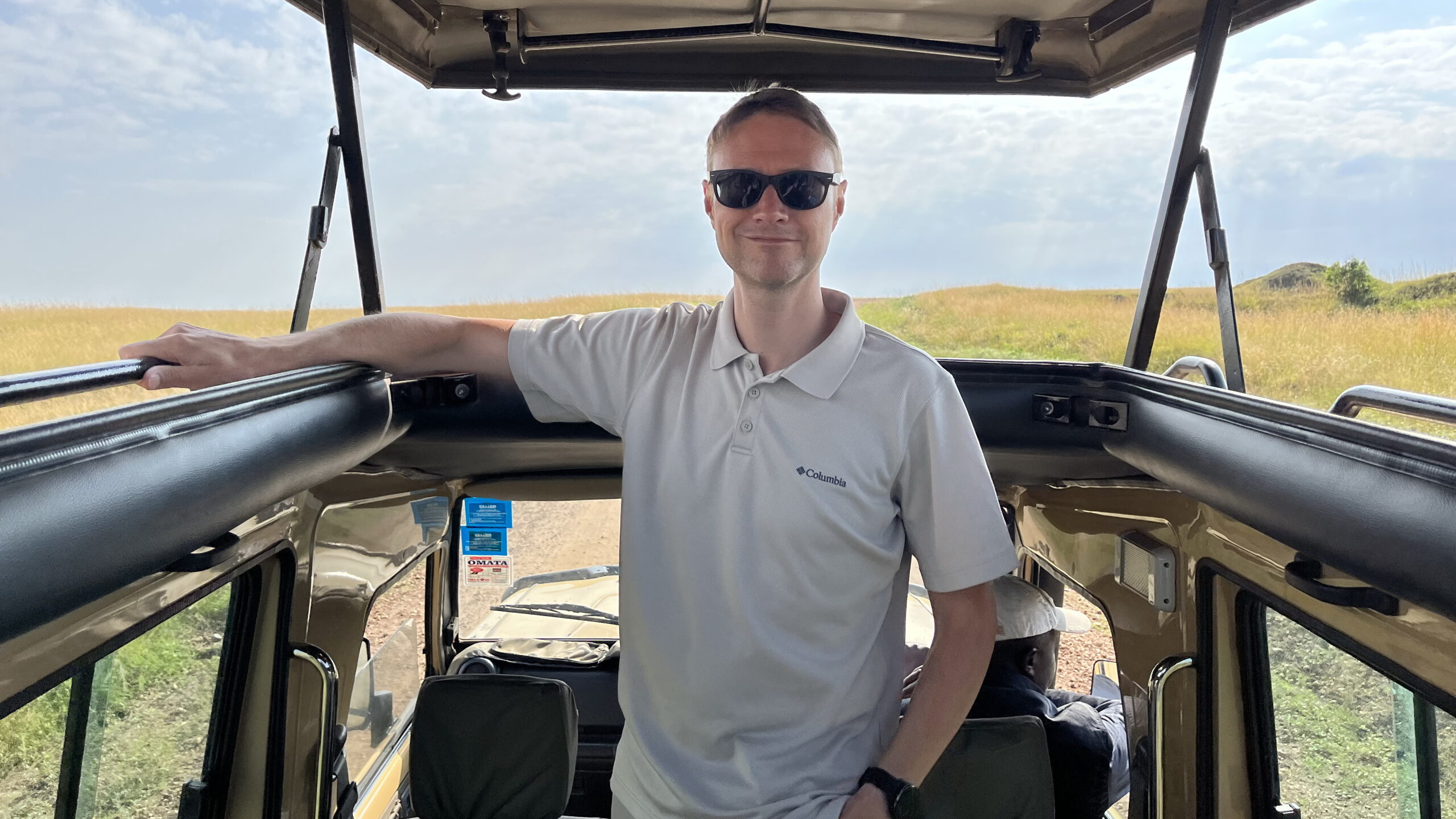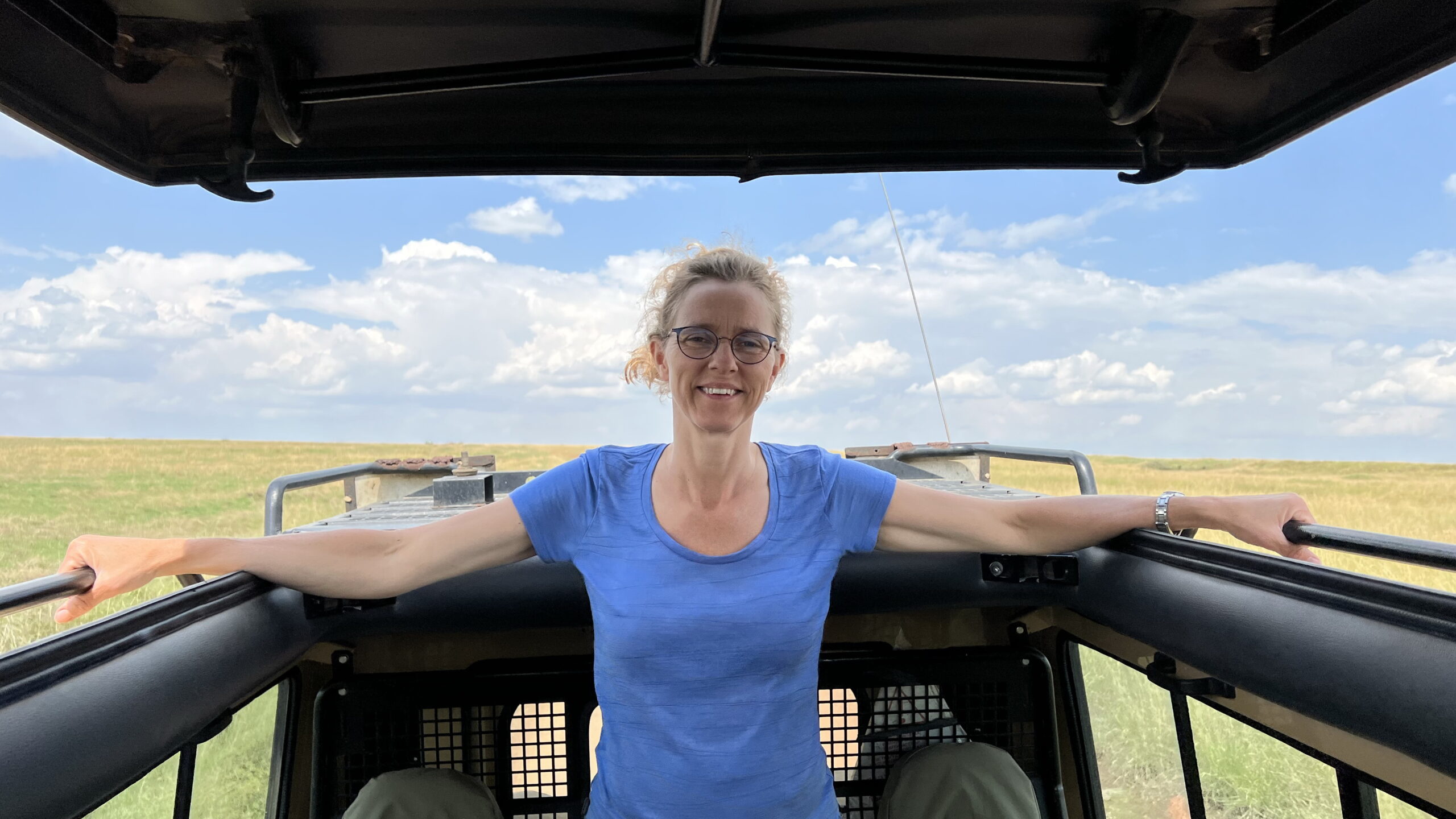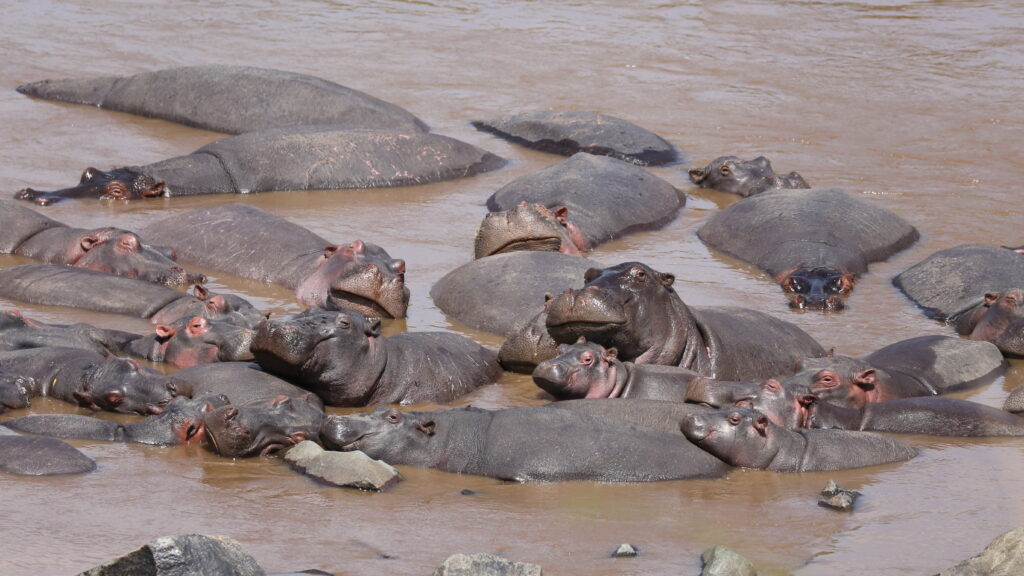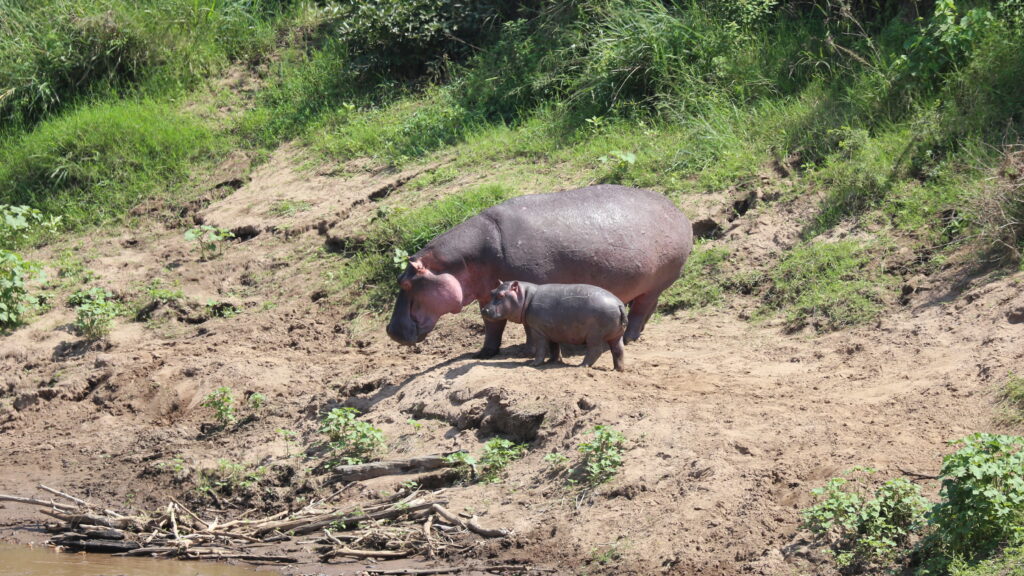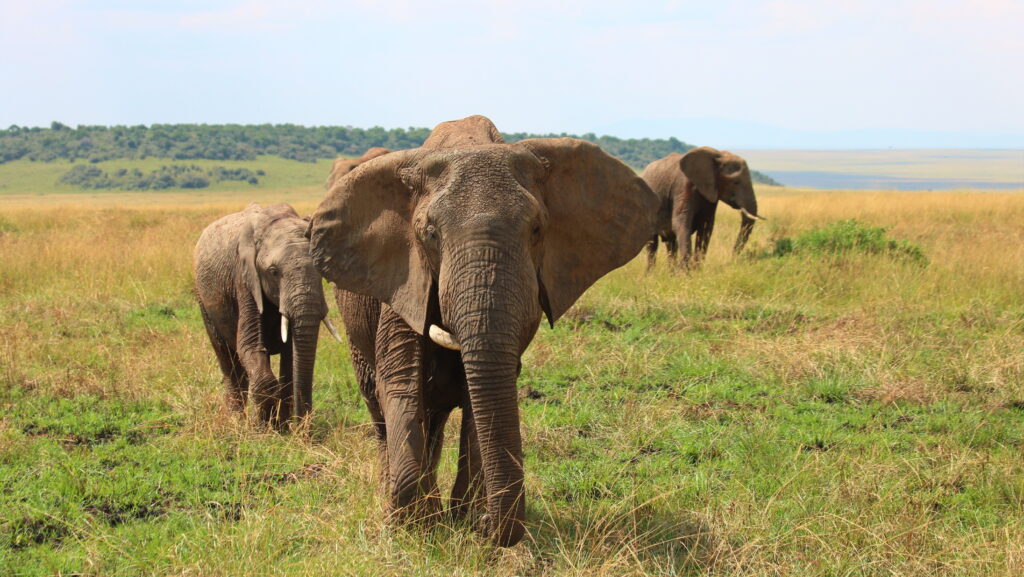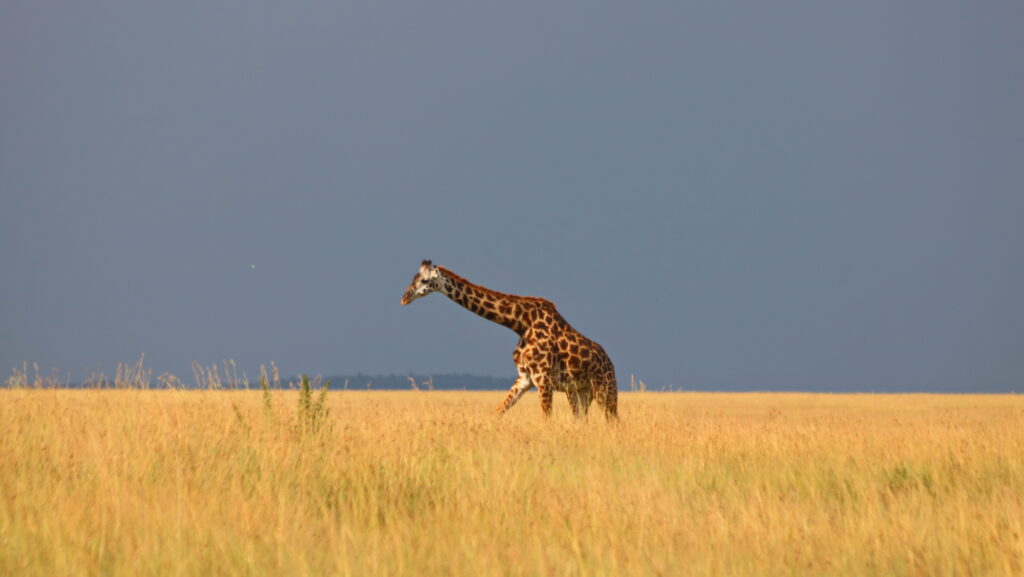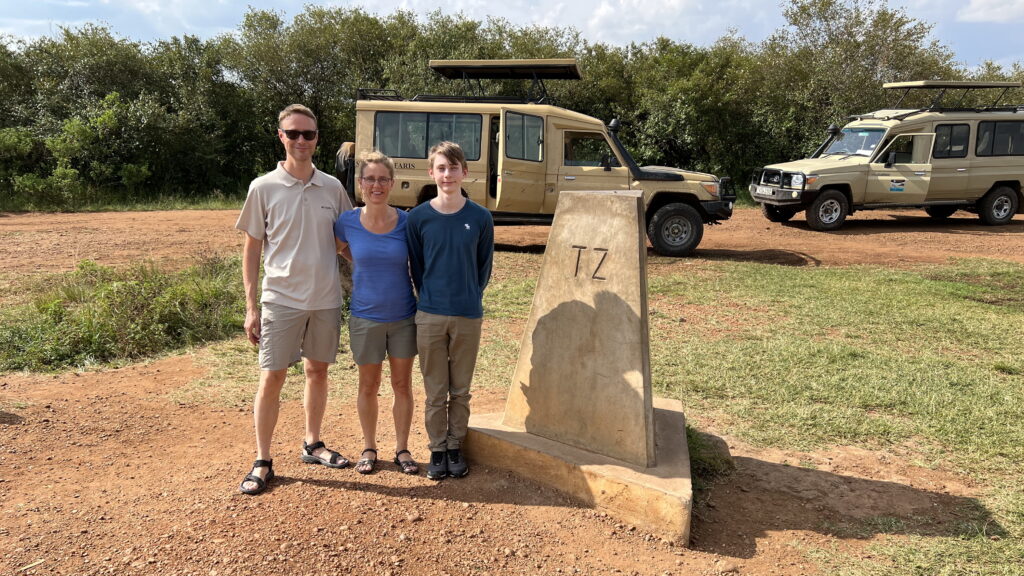 Day 6 – Masai Mara
Today we had a morning an afternoon game drive. In the morning we were lucky to get close to lions again.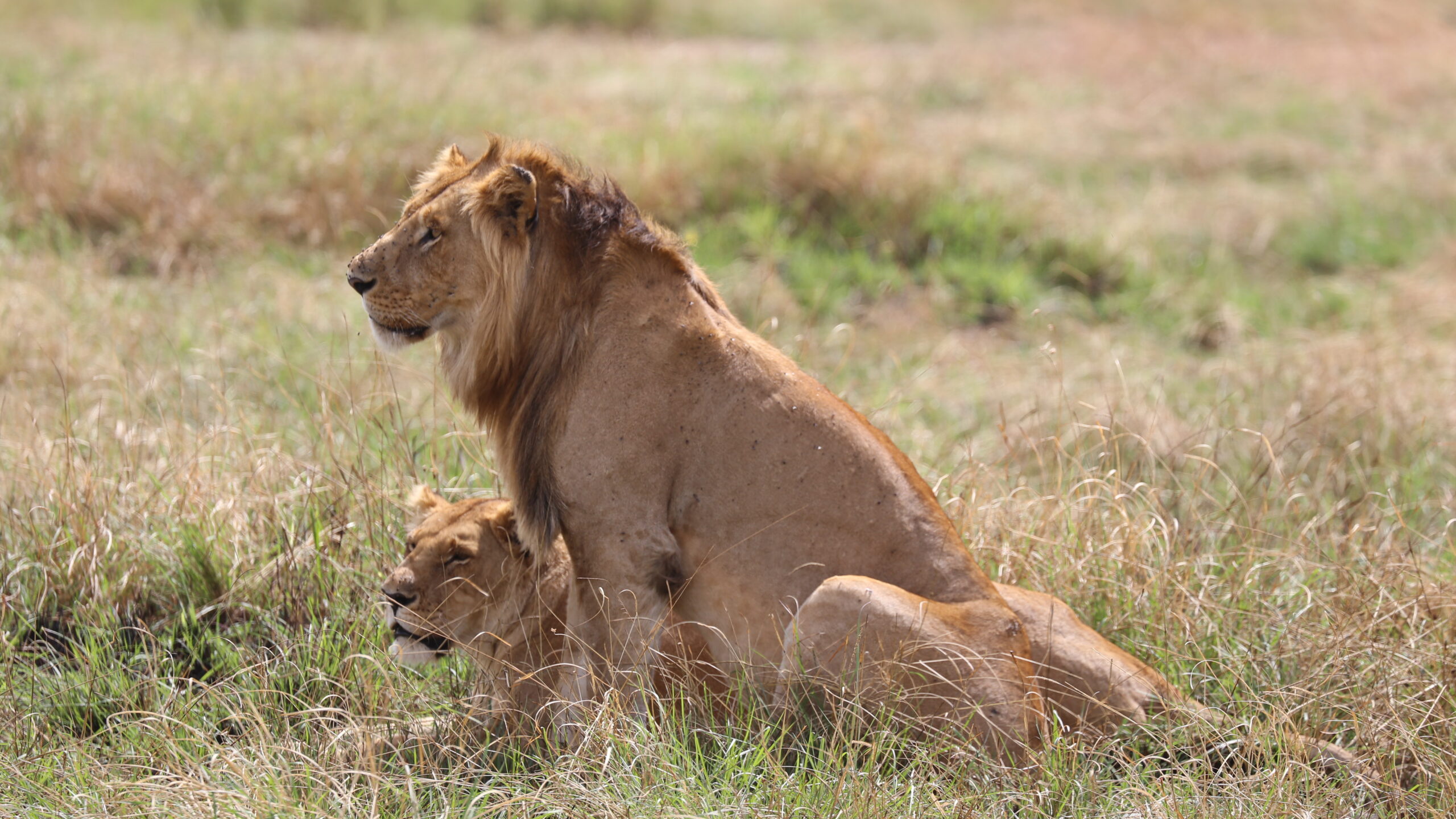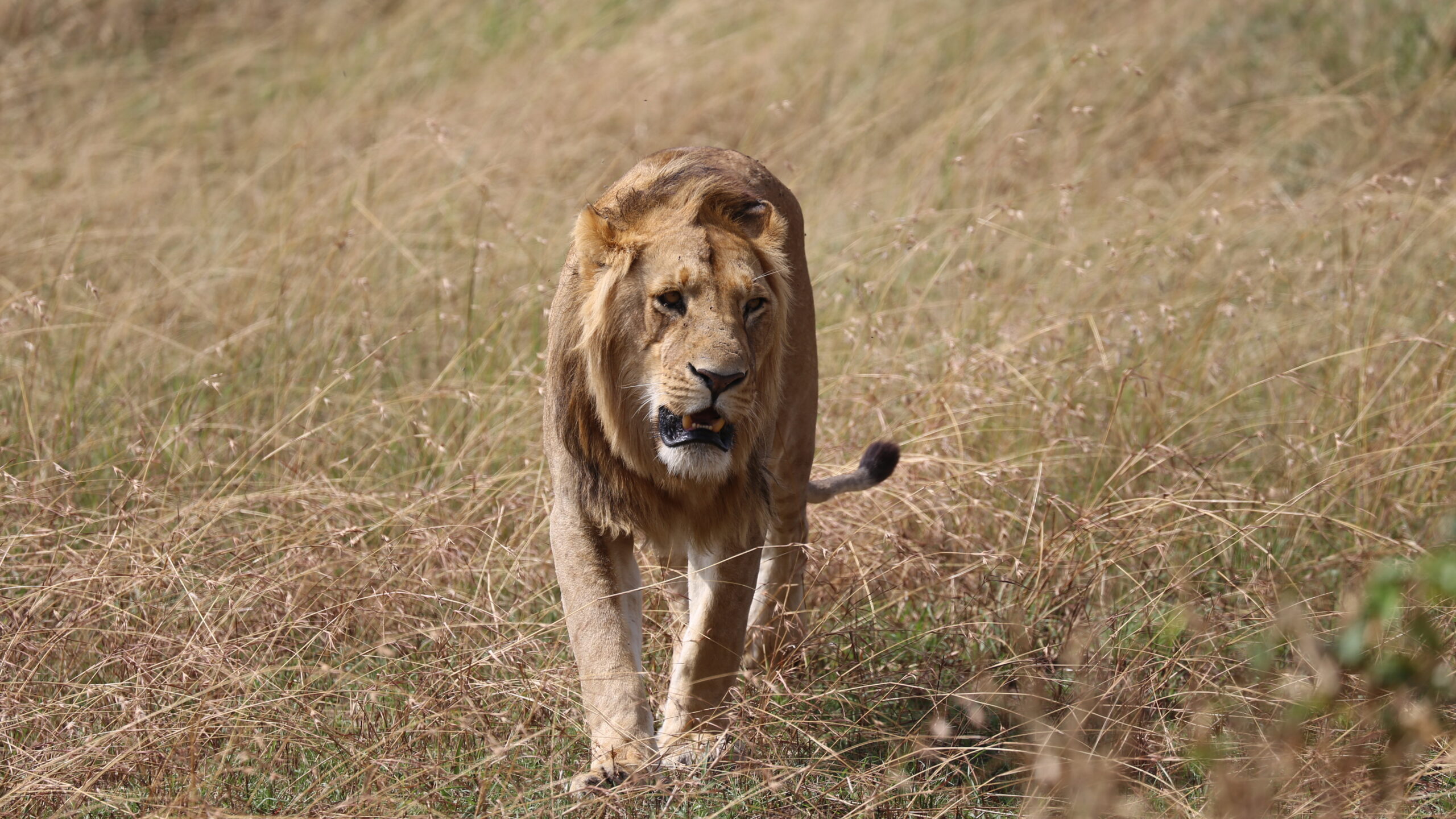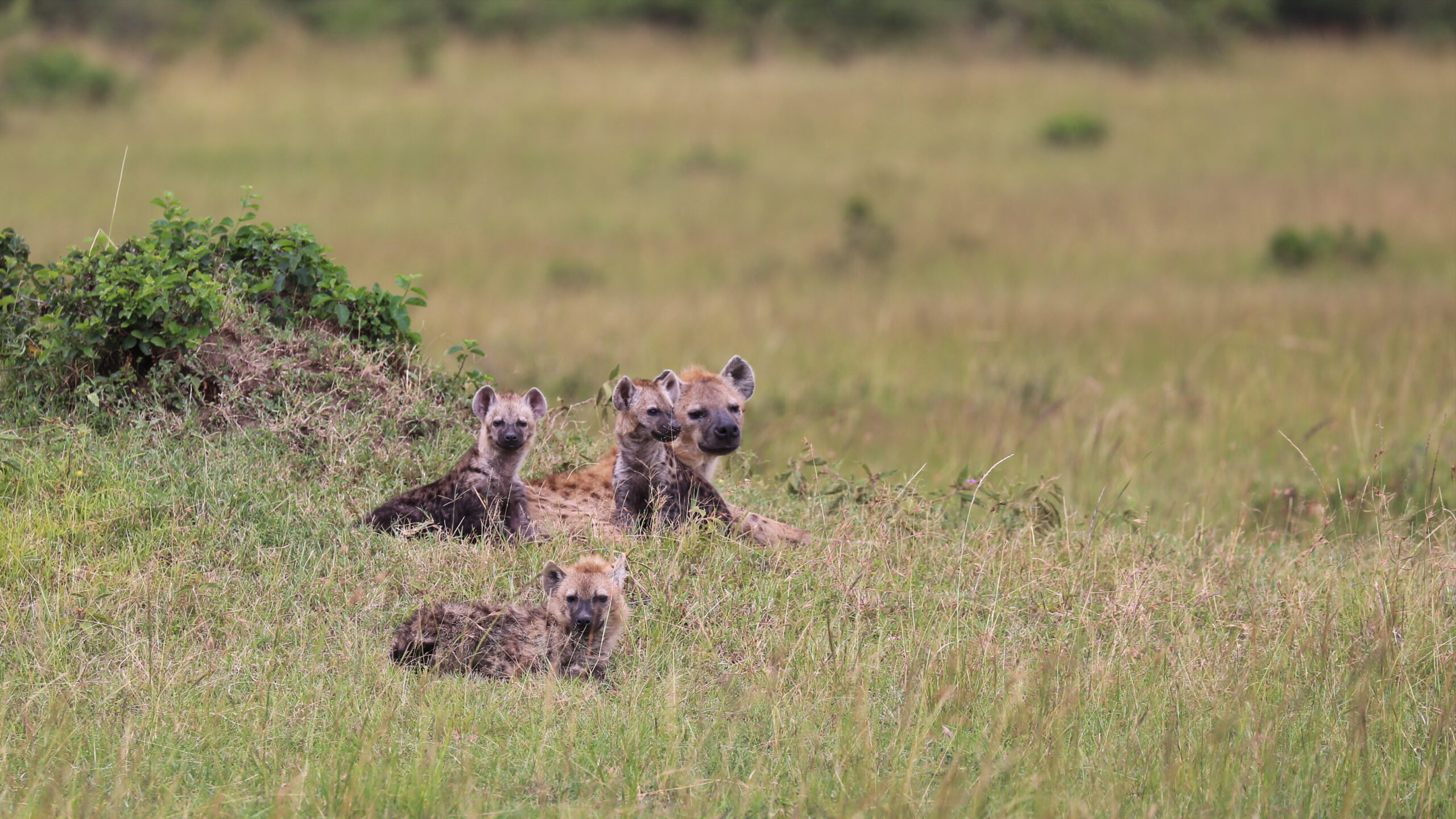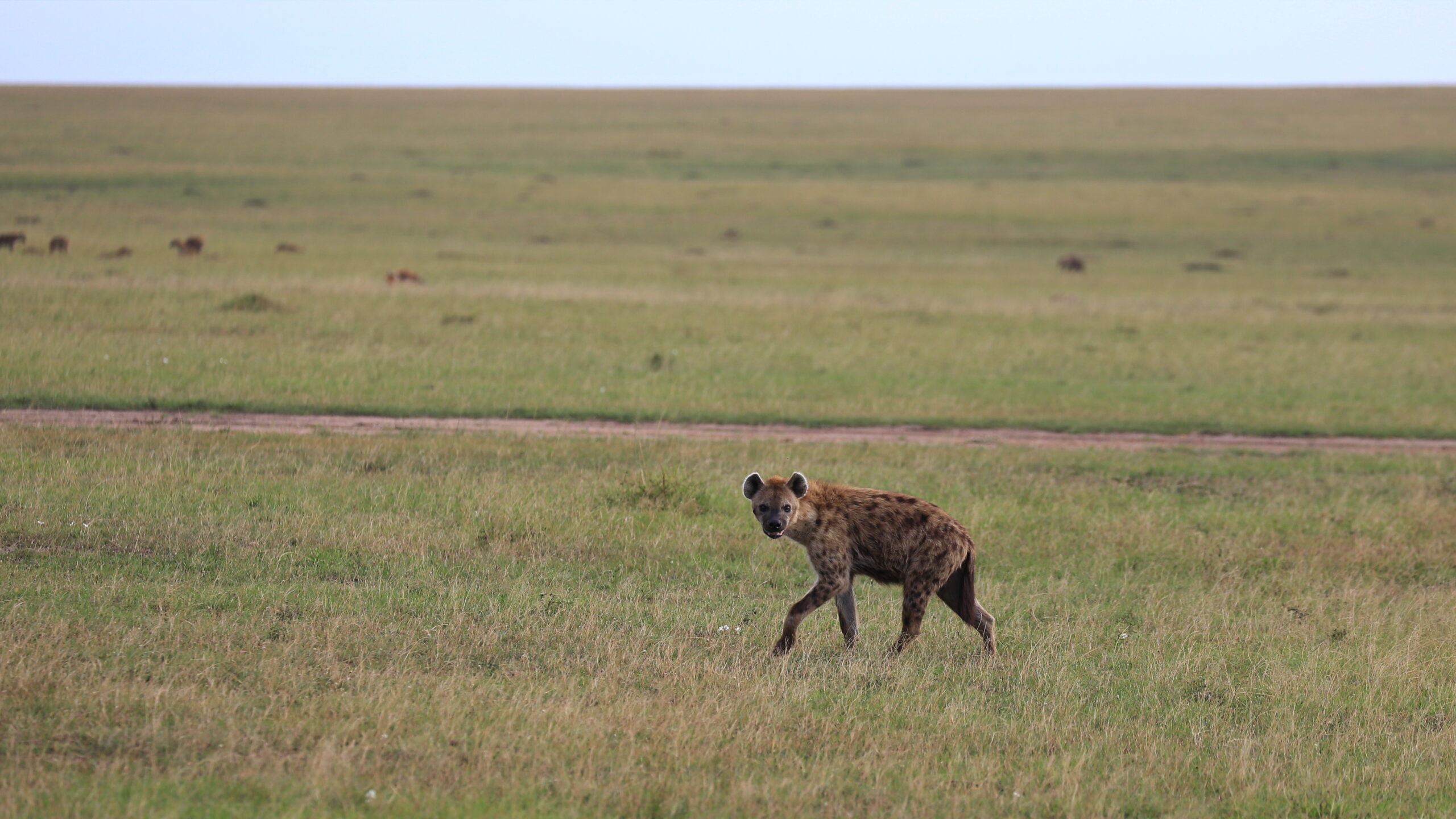 Day 7 – Hells Gate and Karen Blixen museum
This was our last day. Because we could not go to Hells Gate National Park on day 3, we made that park our goal for the day. The consequence was a lot of driving and an early start.
Hells Gate was attractive to us for two reasons. It is possible to hike it on foot, and it is one of the places where you can really see the rift of the Great Rift Valley. It was great to get out and walked. We had spent many hours in the car in the previous days. Game drives are a sedentary activity.
It is not possible to walk on your own, so George arranged a local guide for us, who introduced himself as Gadaffi.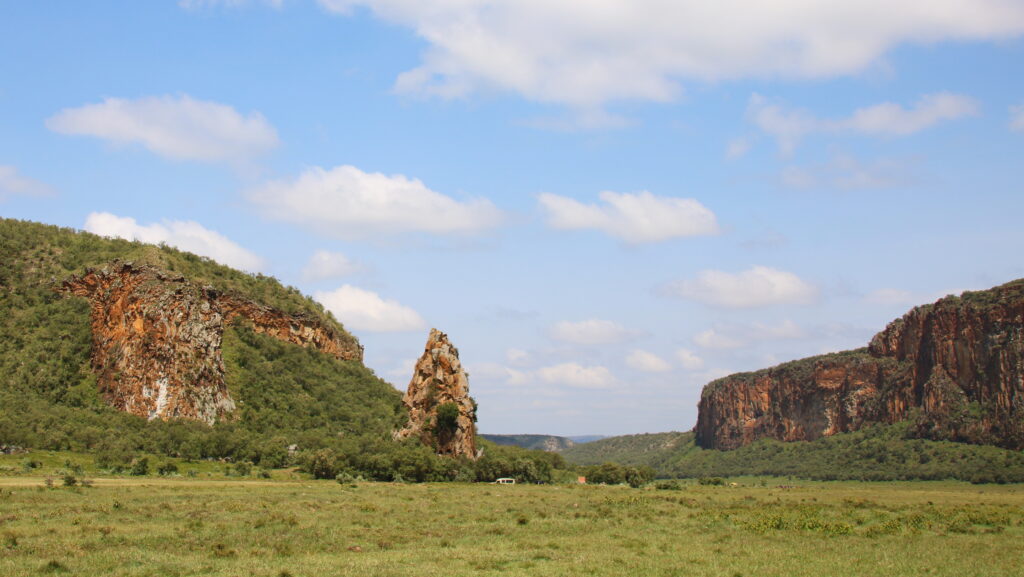 The park is beautiful and tranquil, and it seemed very out-of-place to have rally cars speed the gravel roads with thousands of spectators around.
Hells Gate inspired the Disney movie Lion King, and Gadaffi went on to sing the theme song, when we stood on the first of several view points overlooking the canyon of Hells Gate.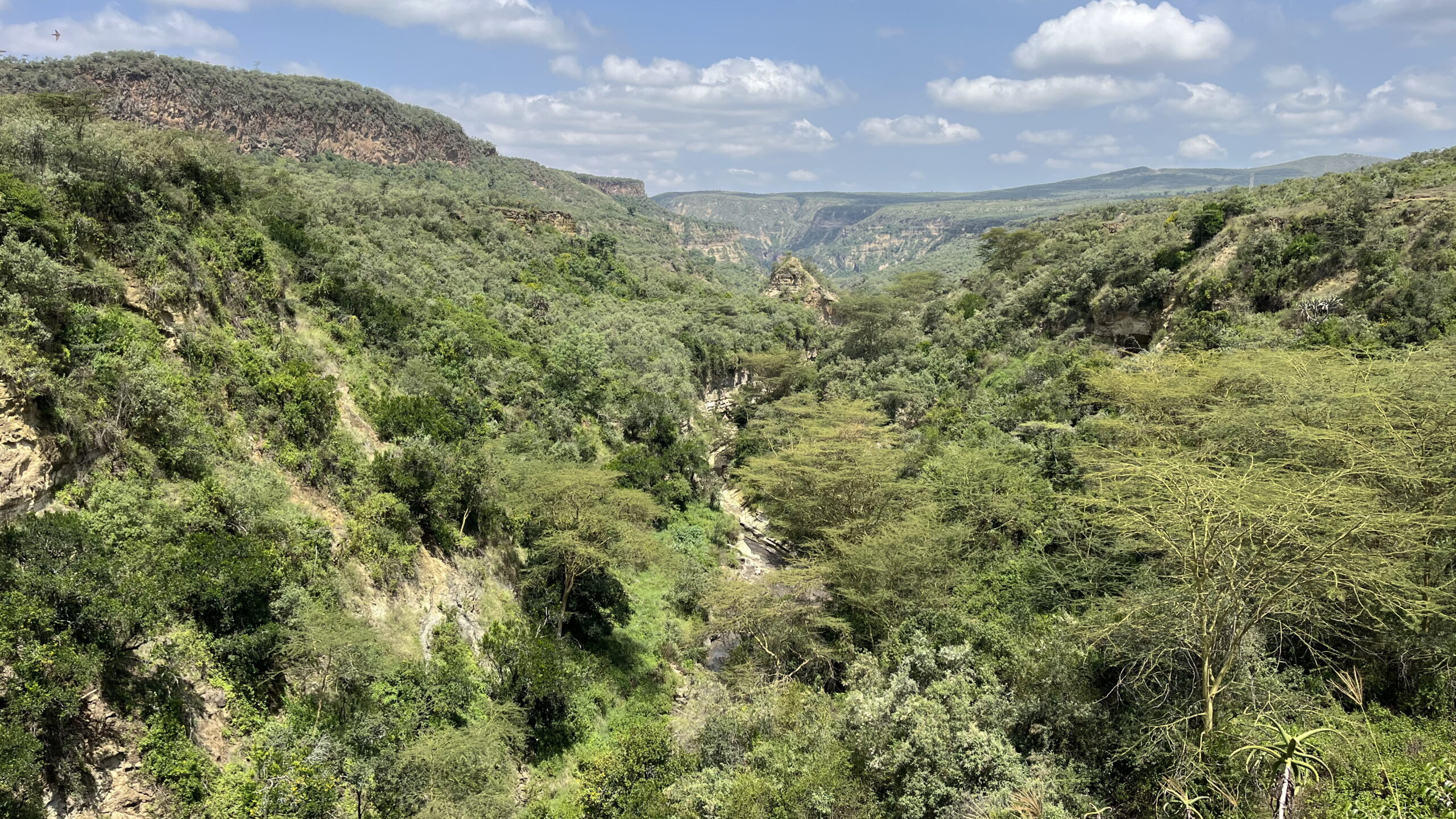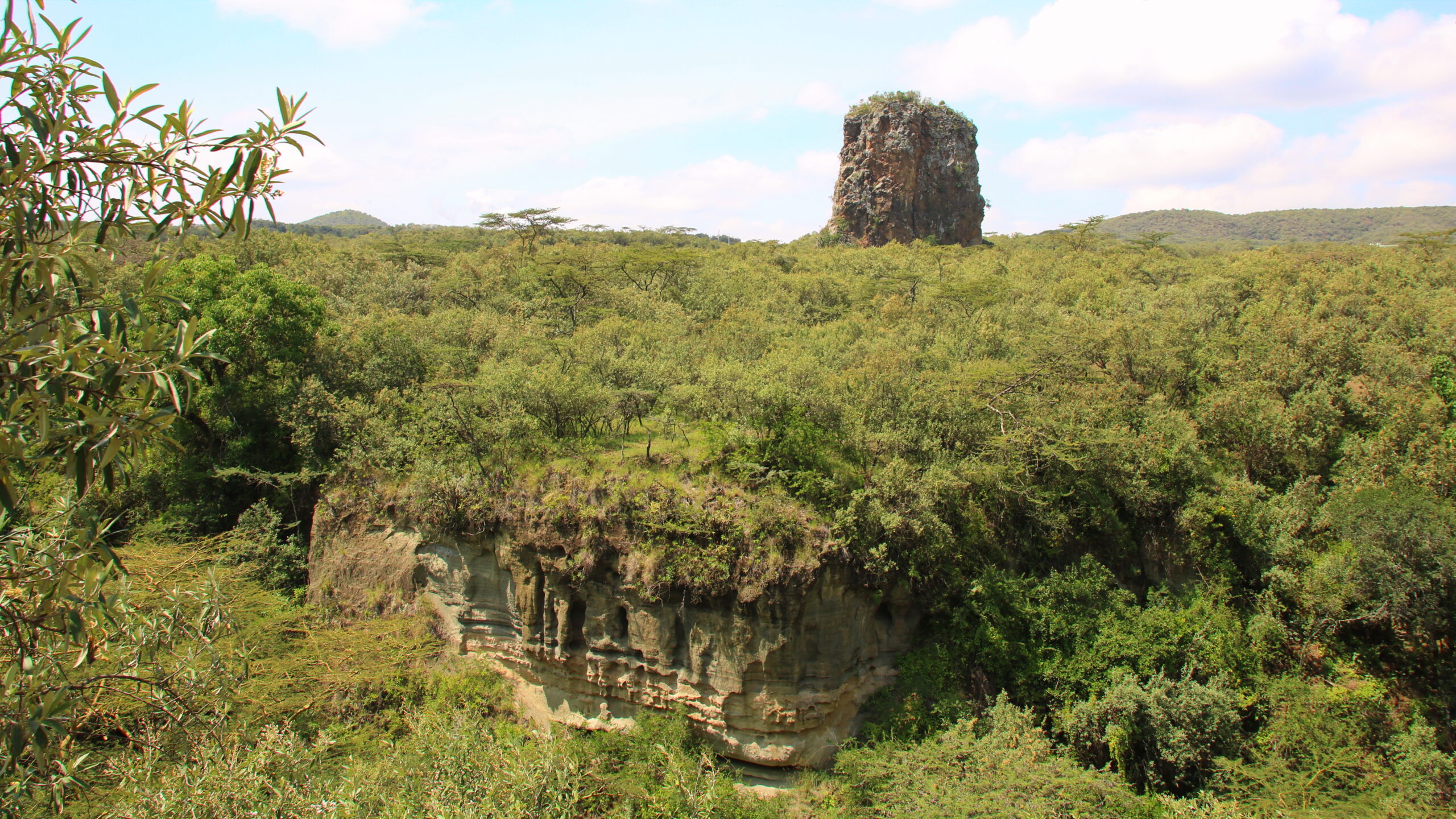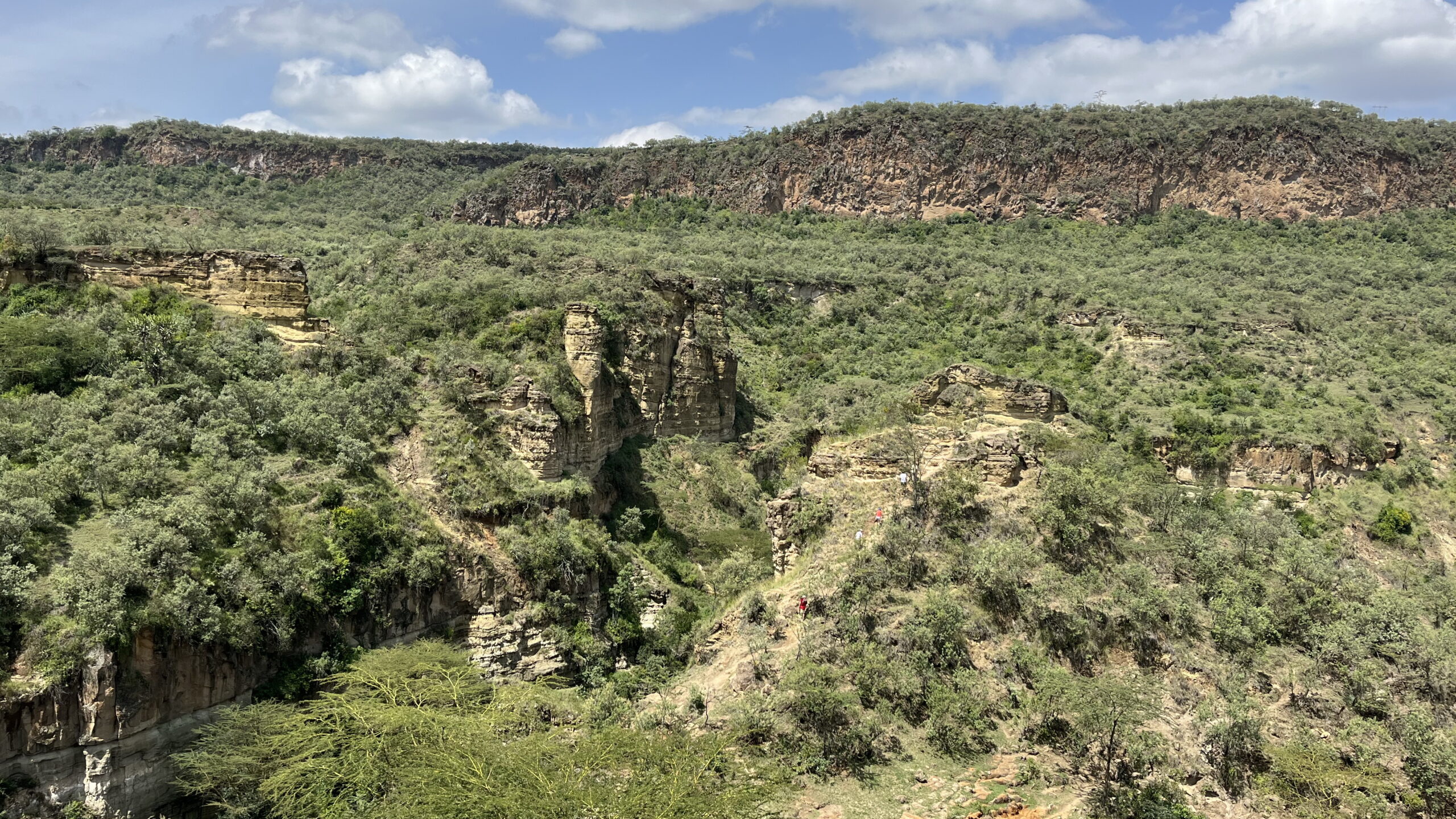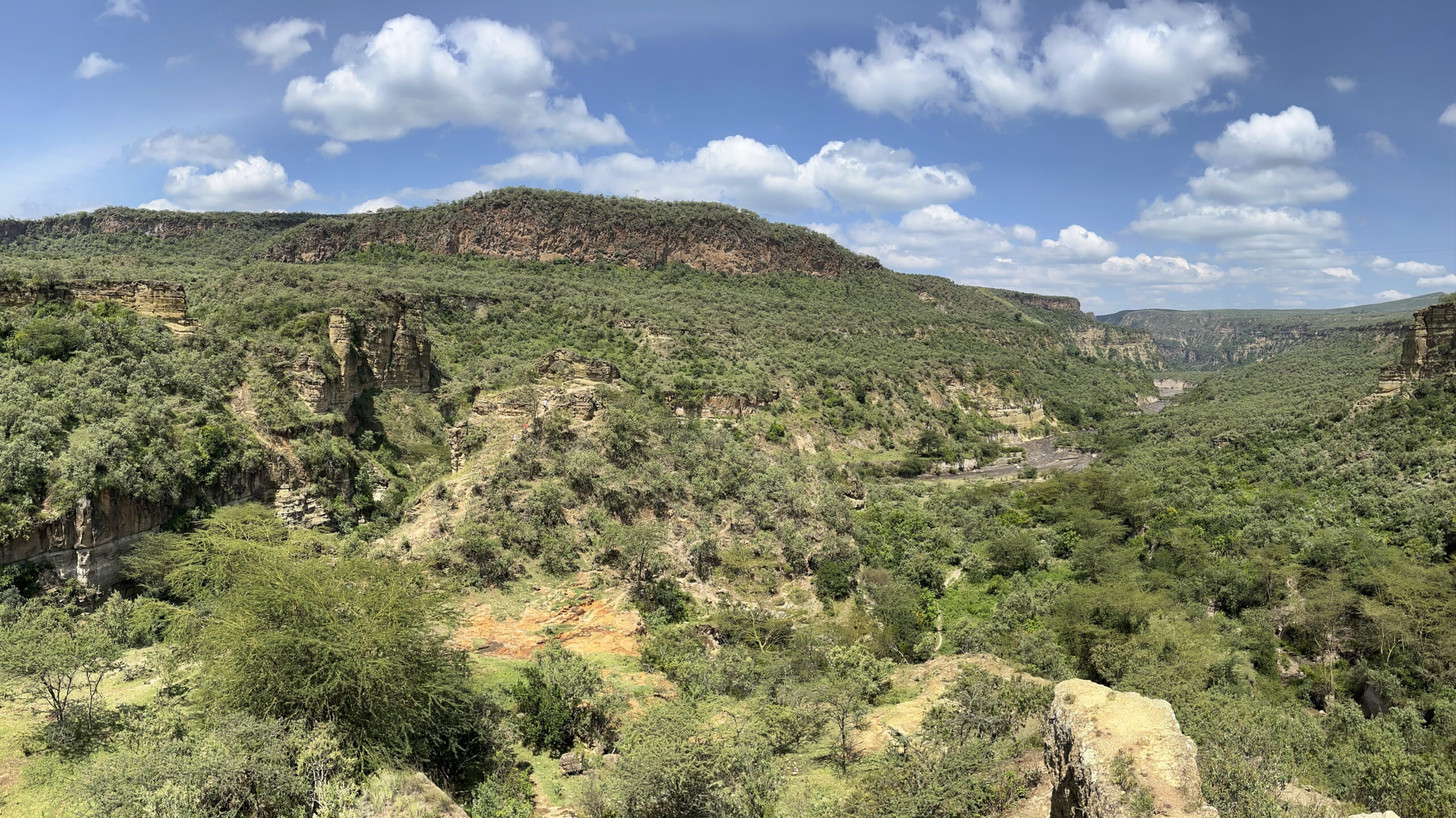 We hiked the upper trail, which had great panoramas. It is also possible to hike the canyon itself, but that trail was closed while we were there, because of risk of flash floods. Find a longer account of the hike here, including a map of where we walked.
Back in the car, we talked to George about life in Kenya. His grandfather was from Uganda, but settled in Kenya. George's family name is Ugandan, and despite being born and raised in Kenya, he is considered Ugandan by many of the tribes in Kenya. Ugandans in Kenya have access to less jobs than locals.
From Hells Gate, we drove towards Nairobi and had a very fast guided tour of the Karen Blixen museum, just before it closed. From the Museum we were taken to an airport hotel, where we parted with George. It was a short night before the early morning flight home. A one-week safari tour in Kenya had come to its end.
In 2018 we visited Kruger National Park in South Africa.