We enjoyed a one-week road trip in Lebanon with hiking on Lebanon Mountain Trail in the late summer of 2023. We rented a car in Beirut, and drove straight to the Shouf Cedar Reserve, where we stayed in Barouk, hiked and tasted Lebanese wine. From there we continued north through the Bekaa valley to the Roman temples in Baalbek, before turning back to the mountains where we parked the car as a base for hiking three days on the Lebanon Mountain Trail. The last days took as to Batroun and Byblos, before heading home. Helle and Peter travelled, while T and N stayed home.
Preparation
Beyond the nature, history, culture and food that Lebanon is known for, it is also a country associated with the civil war from 1975-1990, Hezbollah, conflicts with Israel, the 2020 Beirut port explosion and a severe economic crisis. We wanted to know more about the country and see for ourselves.
We brought all the money we needed for the week in cash US dollars. We were not comfortable walking with that much cash. Would we be targets of theft? All tourists had to carry large amounts of cash, so we would be easy targets. But we never felt unsafe in any way, we did not receive uncomfortable attention. On the contrary, everyone we met were friendly and helpful.
Cash was indeed the default method of payments, but some hotels took credit cards and could charge in USD, with a 5% fee.
Helle and Peter travelled while the boys stayed home.
Using the map: Use the mouse to zoom and pan. Click the button in the top-left corner to open a navigation menu. There you can select or de-select specific types of content we have added to the map.
First experience on Lebanese roads
Here are our experiences from renting and driving in Lebanon.
We arrived at Beirut airport at 04:30 on a Saturday morning. Immigration was quick, and we were stamped in with our Danish passports, we did not need visa.
It was also did not take long to collect luggage, and we continued to the shop selling SIM cards in the arrivals hall. But the shop had a technical problem, and could not sell SIM cards that day.
We had booked a car with Sixt. Sixt do not have a counter at the airport, instead we were met by a Sixt employee, Ossama. Before departing for Beirut, Ossama texted us on WhatsApp with a confirmation of the rental and instructions on where to find him. When we met in the arrivals hall, he took us to the rental car park, where our Nissan Micra was ready for us.
Ossama noted all scratches on the car, made a video of the car, and immediately sent it to us on WhatsApp. We felt in good hands, and didn't take video or photos ourselves.
It was 5:30 when we were ready to leave. We had debated what to do at that time of day? Some reports we had read, advised not to drive during the night. Due to the electricity crisis, there is no street lighting on the roads, and some areas south of Beirut are said to be dangerous. In addition, driving in Lebanon is chaotic and even dangerous, according to some reports.
We could not find airport hotels on our favorite booking sites, so that was not an option. We had looked into the many beach clubs on the coast south of the airport, but they didn't open until 9:00.
So we had decided to make it a long day with an early start. We had booked a hotel near Shouf cedar reserve in Barouk, which was an hour away from the airport. On the way to Barouk the road passes the quaint village Deir El Qamar, which could have been a place to rest until sunrise.
We had even considered resting in the car in the airport until sunrise to avoid driving in the dark. But as Ossama needed to pay for airport parking for our car, we had to leave the airport with him. So we left the airport with Maps.Me navigating us towards the hotel in Barouk.
It turned out the streets were quiet and in good condition.
There were no obvious places to stop for a rest, and we continued to our hotel, which we reached as the day dawned. Driving at night had been completely uneventful and had felt safe all the way.
Day 1 – Early arrival at Nassamat Boutique hotel
We woke up the night portier at Nassamat Boutique hotel. The check in terms said that we could not check in until 14:00, but rooms were available, so we were offered our room from the morning, and had a room upgrade in addition. This set the tone for the days we had at the hotel, where the staff did what they could to make us feel at home. And in the following days, we were met again with high levels of hospitality.
After catching up on sleep, we were treated with a very tasty breakfast of Lebanese delicacies and Lebanese (turkish) coffee for Peter. Helle had tea.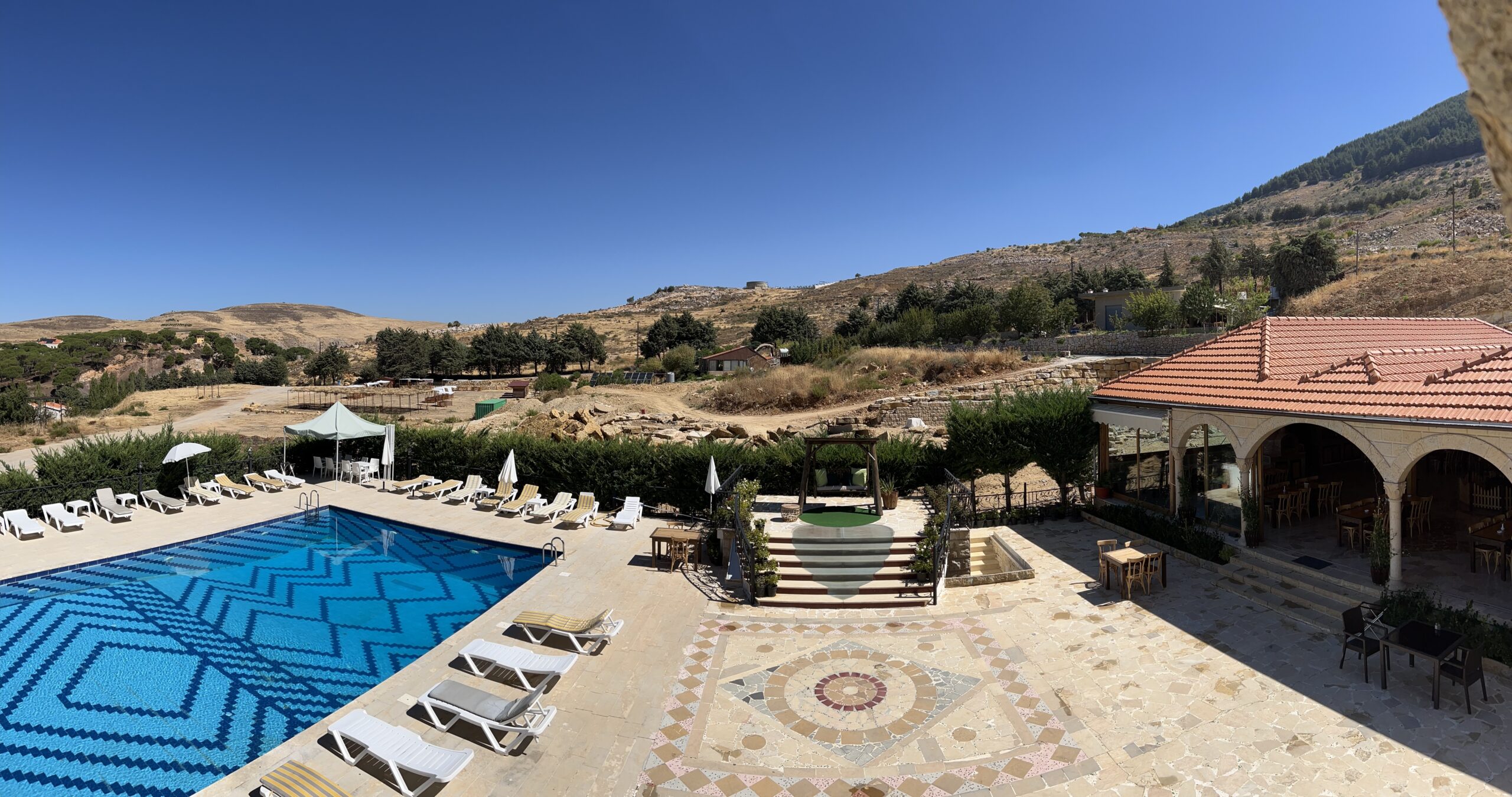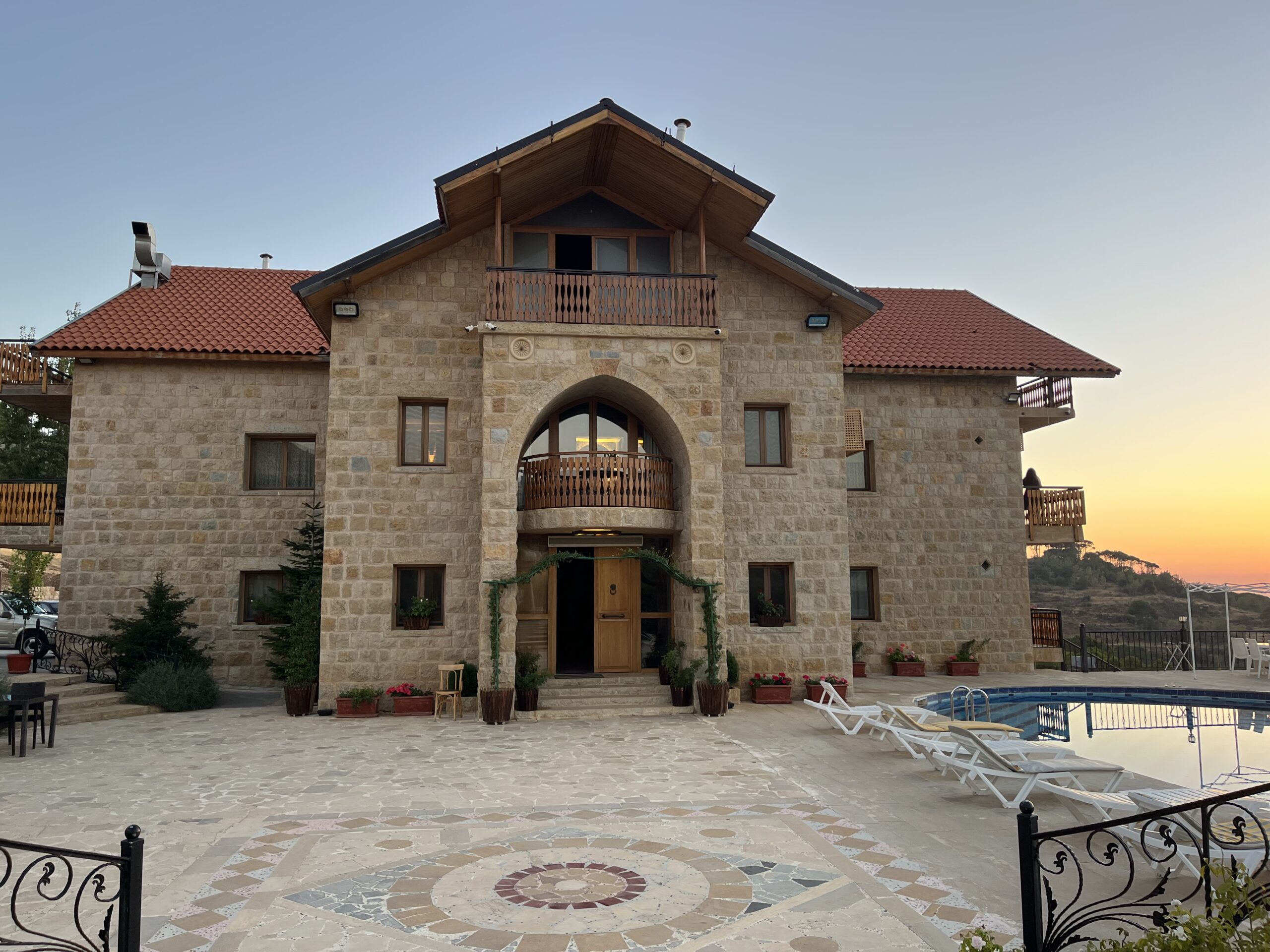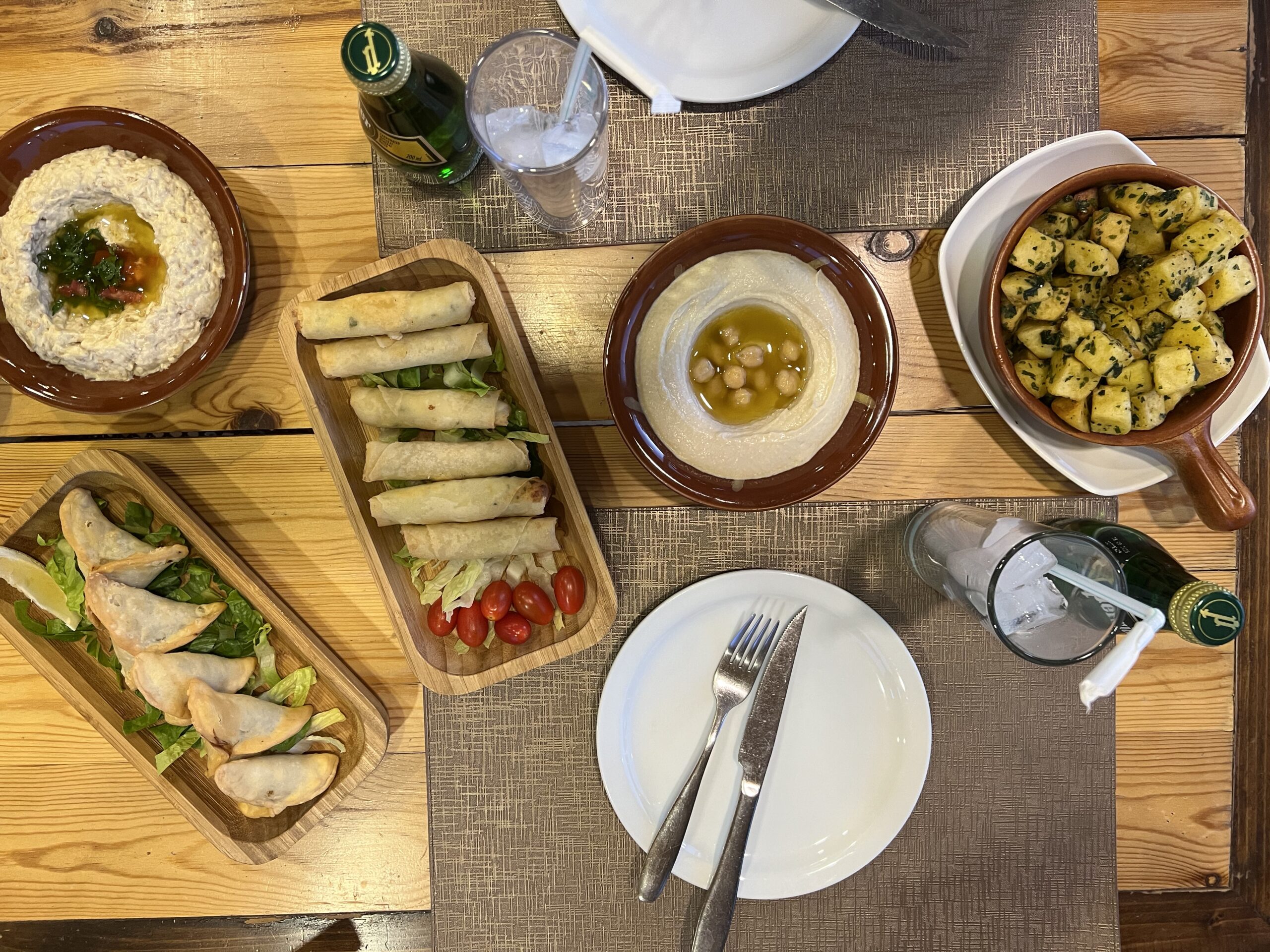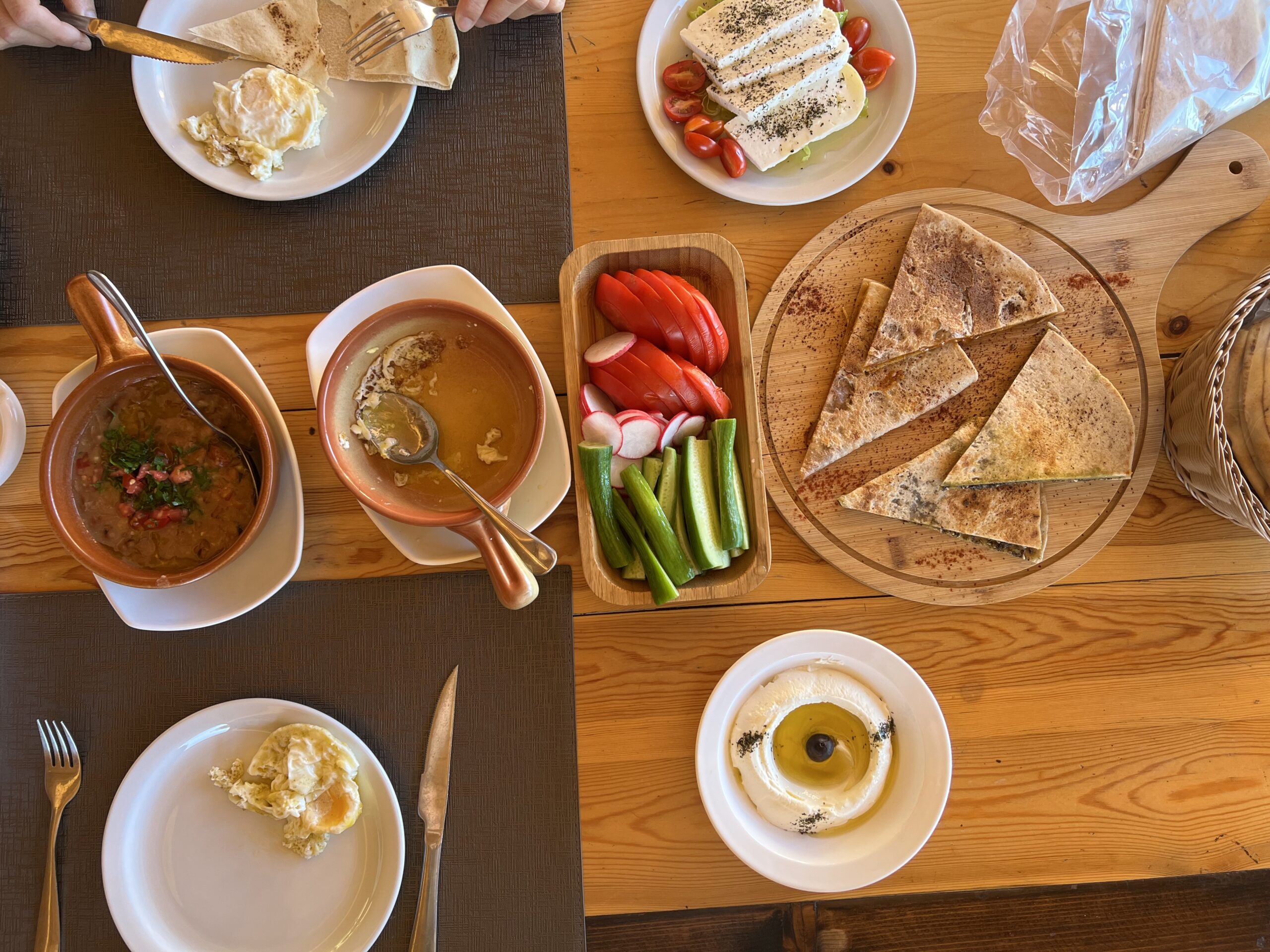 Day 1 – Ottoman grandeur at Beiteddine Palace
Still a bit tired, we wanted an easy first day where we could get a feel for the atmosphere on the streets, how people drive and so on. We went to visit the curious Moussa castle and the beautiful Ottoman Beiteddine Palace. Few other people were at the castle, and with calm courtyards and carefully arranged gardens, it was a pleasant visit.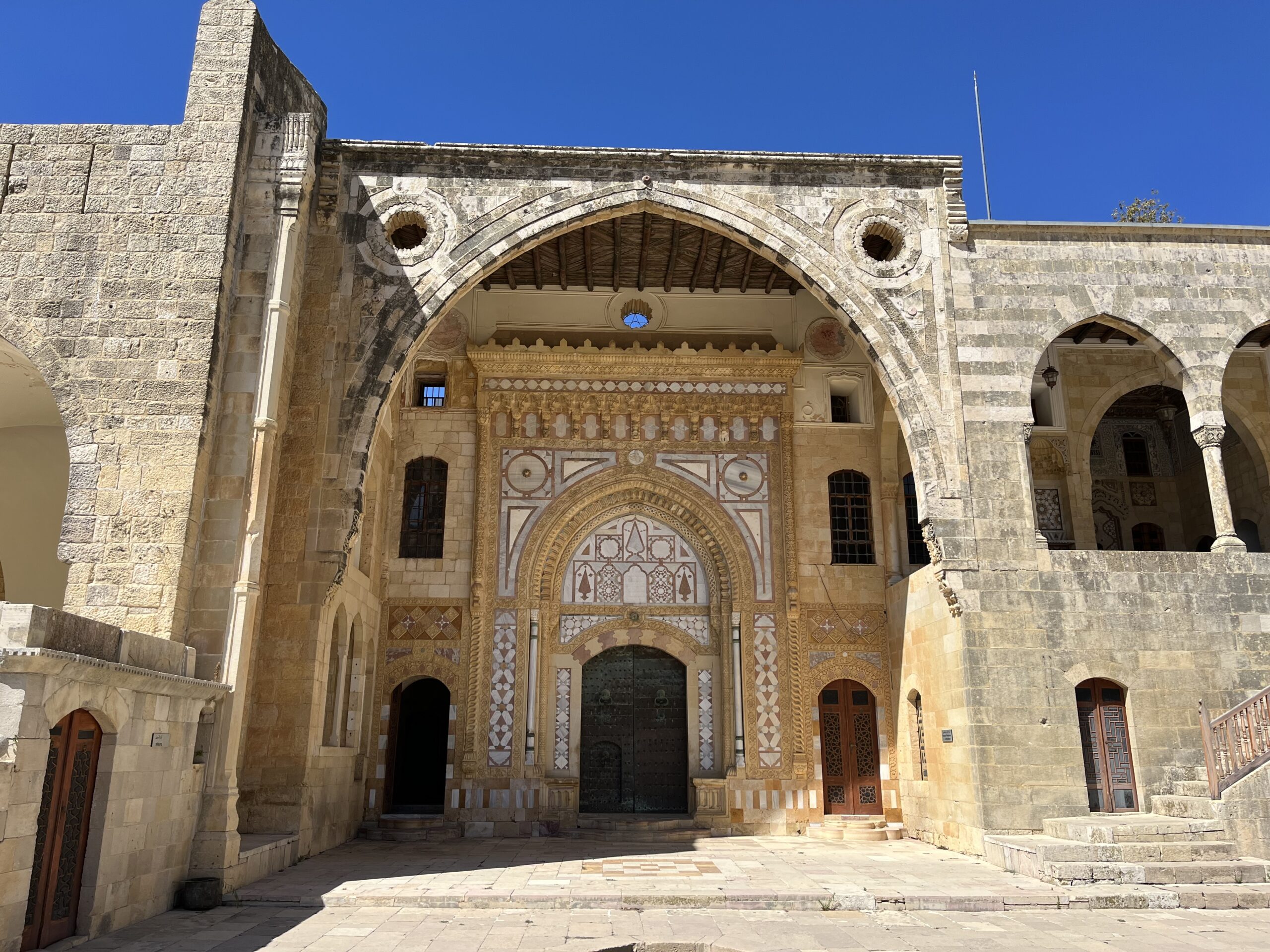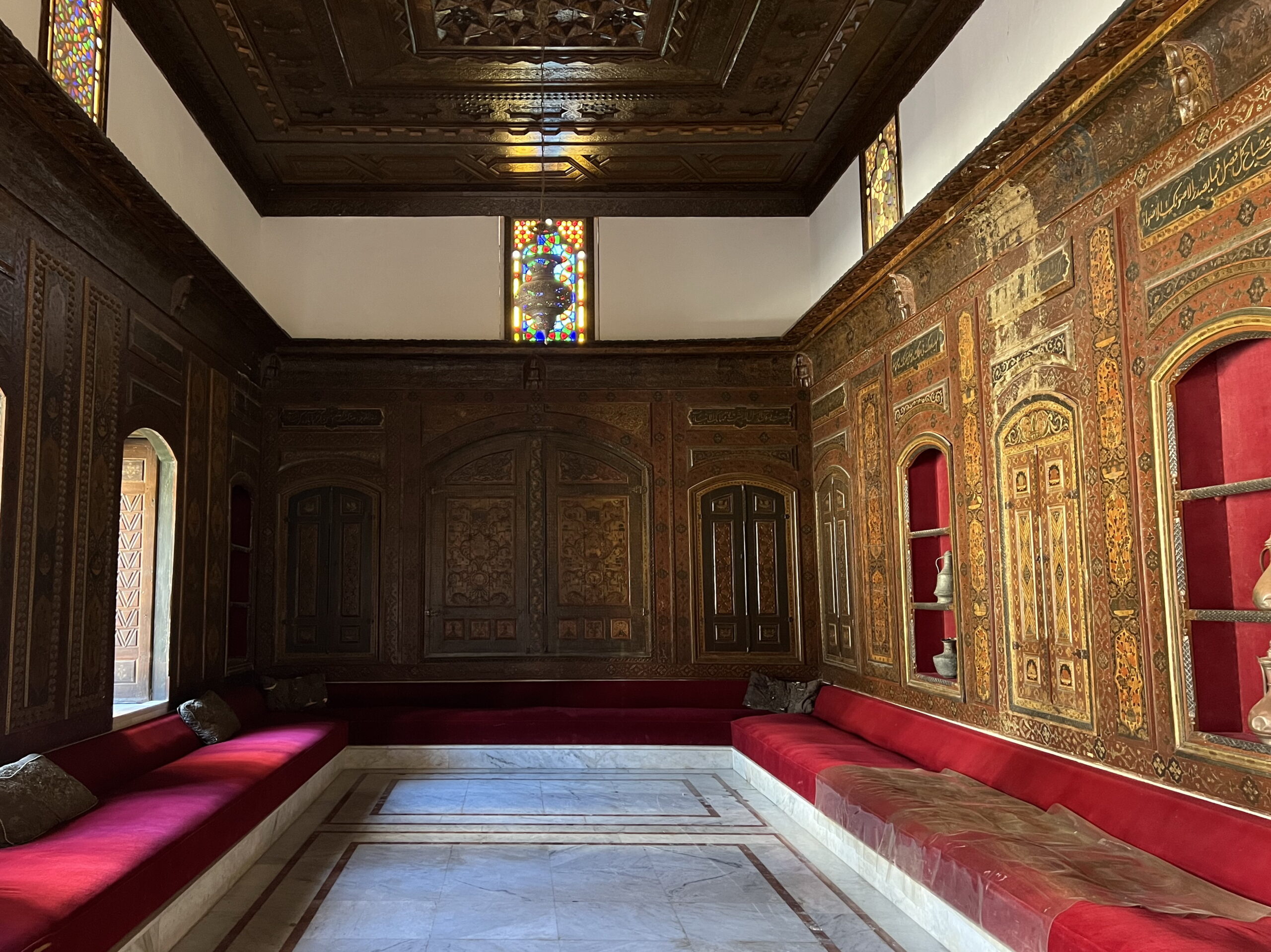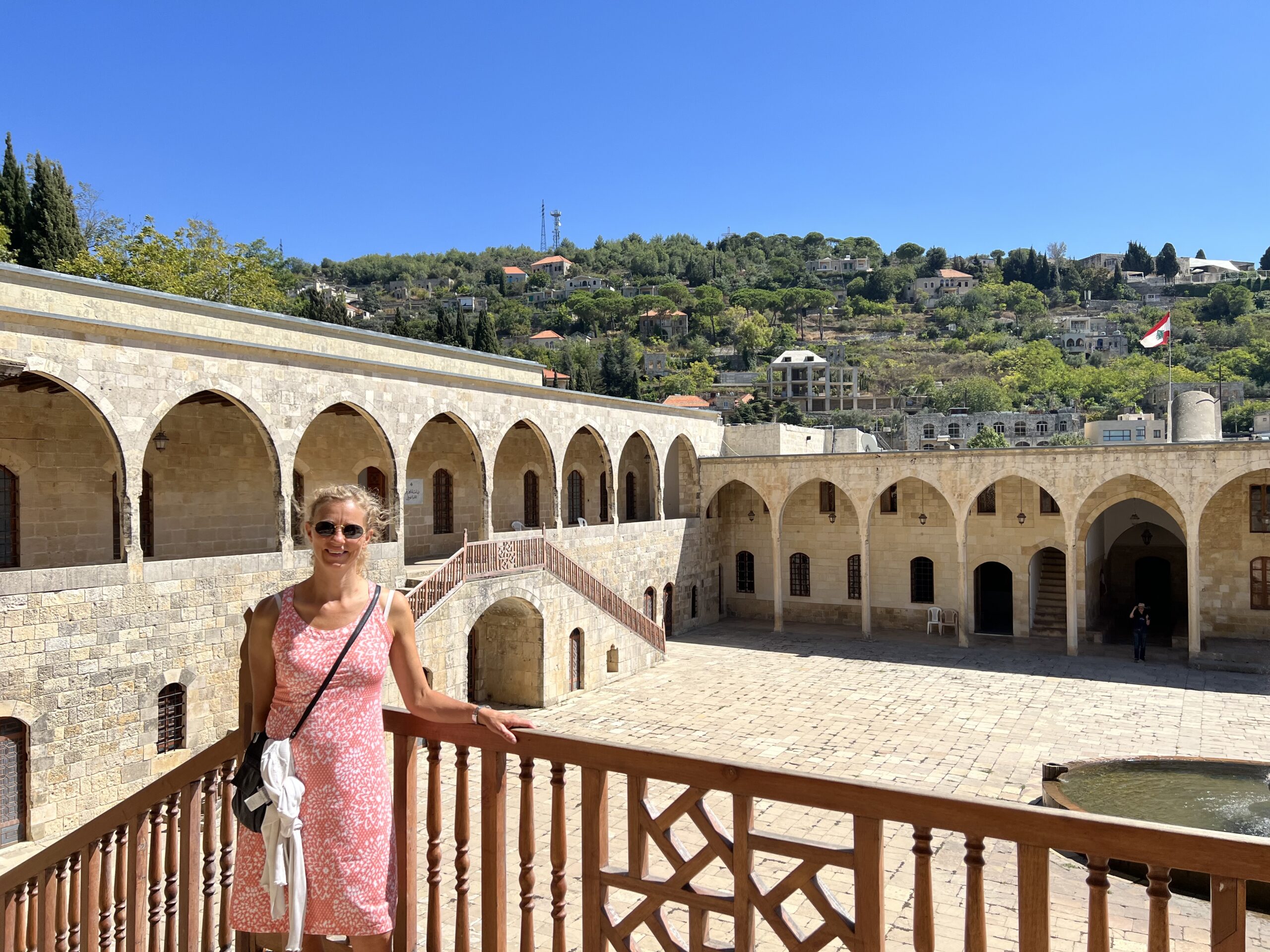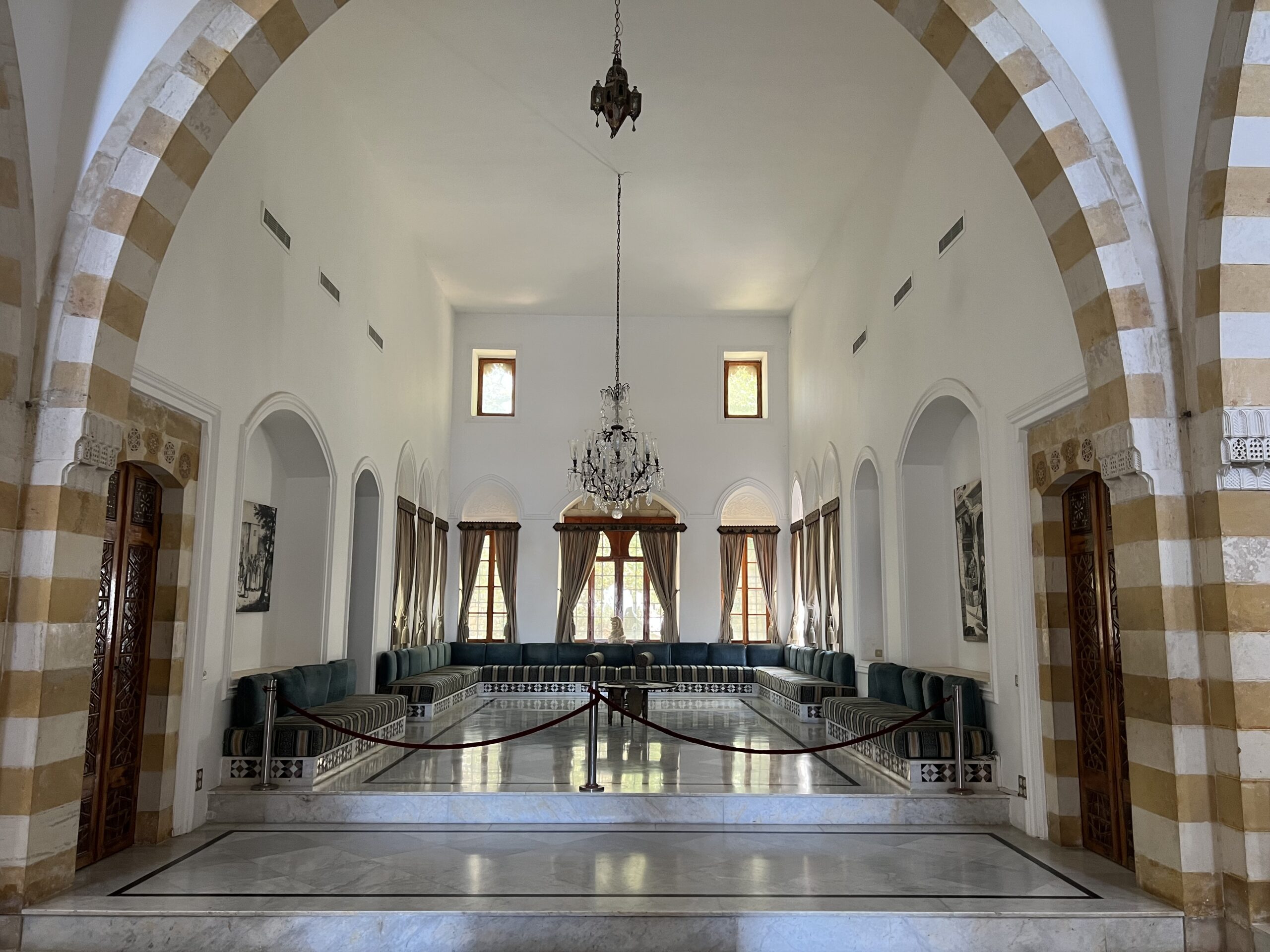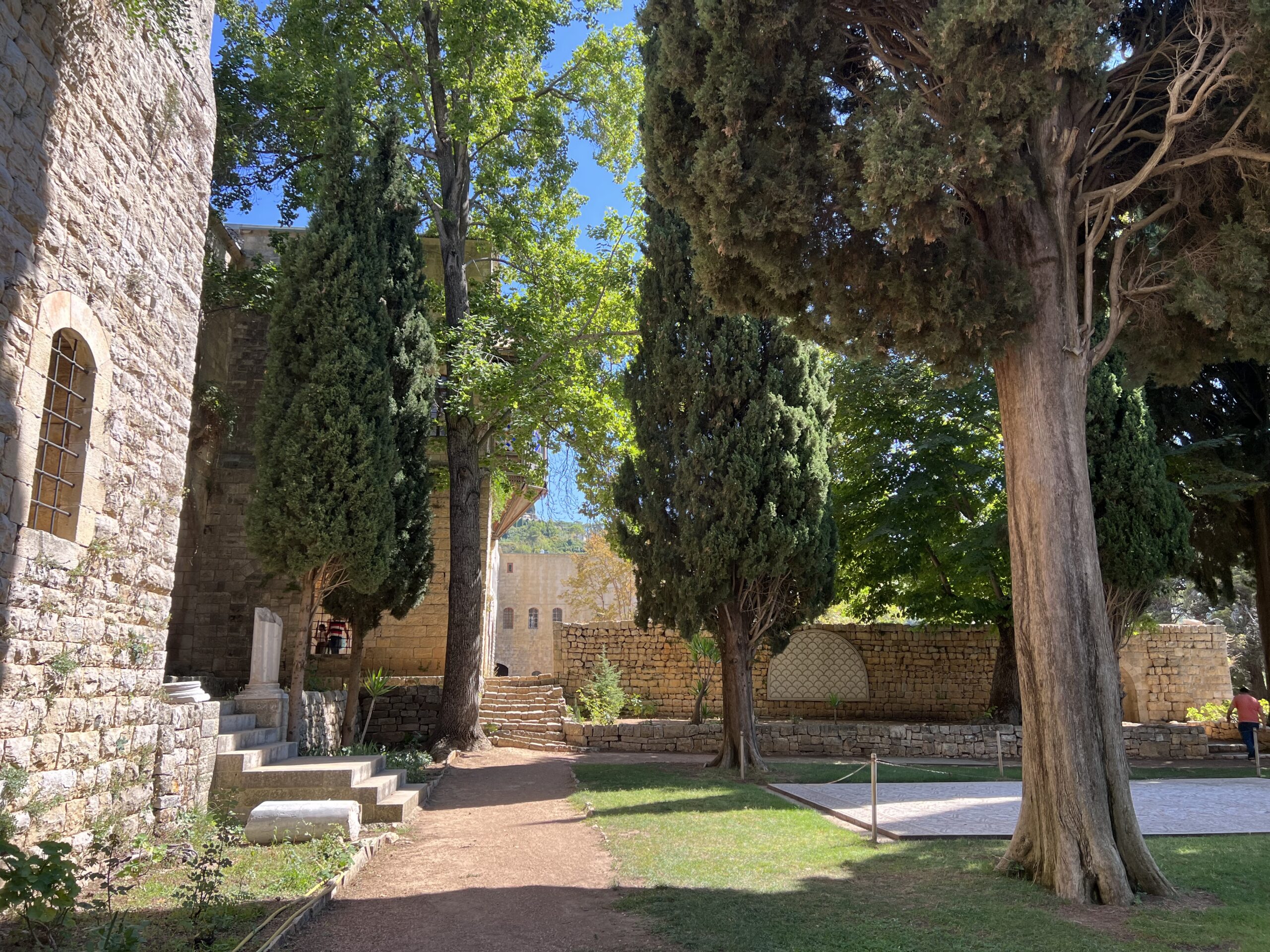 We stopped at several small shops that had signs advertising SIM cards from the main carriers Touch and Alpha. Several times we were told that SIM was only to be found in Beirut or other larges towns. But in a last attempt in the small town Baqleen we were lucky, and bought a Touch SIM with 2 GB data at 25 USD. We were very happy with that, without a SIM we could not be in contact with the boys during the day. And when traveling, being able to search and find information on the road is a great advantage.
We had dinner at Nassamat Boutique hotel, and chose a selection of Lebanese mezze. It was delicious, with many options for vegetarians.
Day 2 – Tranquil trails in Shouf Cedar Reserve
We wanted to explore the Shouf Cedar Reserve, which had an entrance very close to Nassamat Boutique hotel. Our plan was to continue through the reserve to the main visitor centre at Maasser. Before going that far, we reached a parking lot and the end of the tarred road. A gravel road continued to Maasser, but it was closed. Many cars were at the parking lot, and there were many trailsheads. We decided to walk some of the trails, and saw our first majestic Lebanese Cedar trees.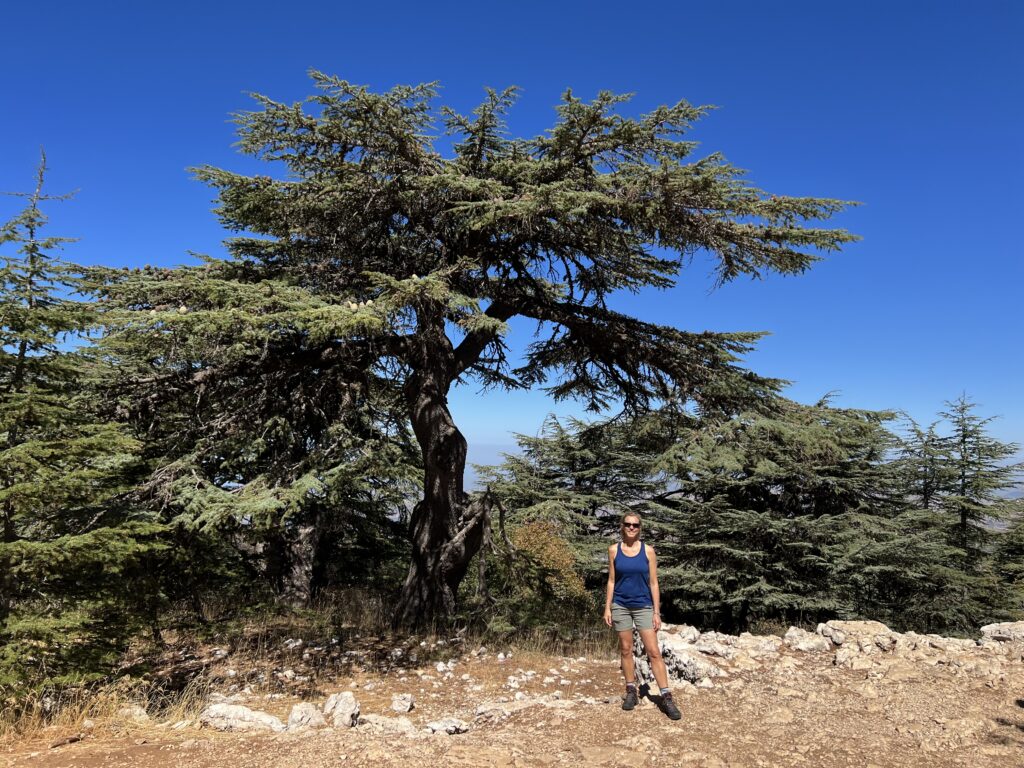 One trail was named "panoramic", clearly the one for us. It was a 6 km loop on a very well-made trail, with views towards the Mediterranean coast. There was very little wind and no insects, and the reserve was quiet in a way that made us realise how much we longed for the absence of noise. The temperature was approximately 25 degrees Celsius, fresh but not warm. We were in our happy place.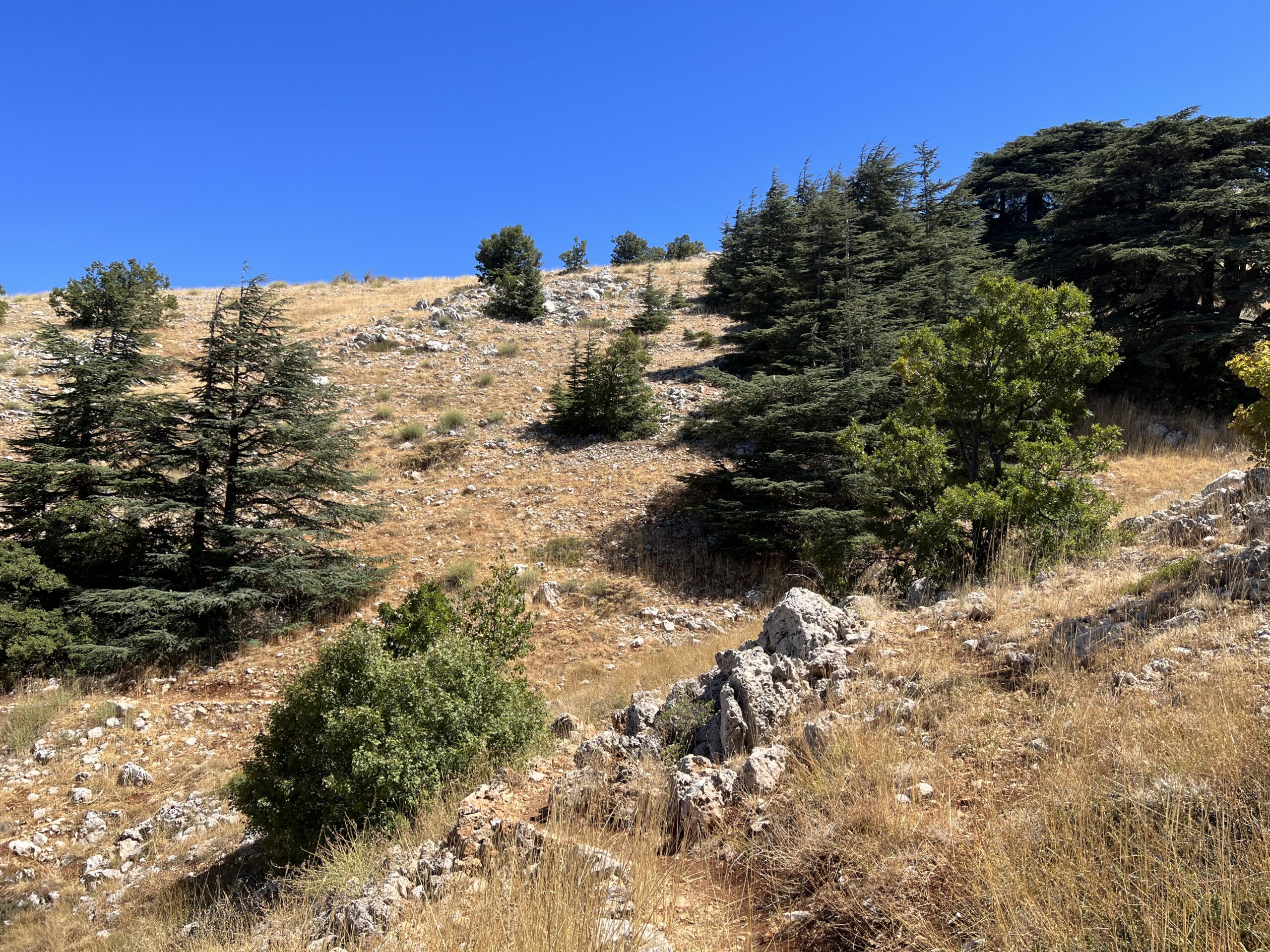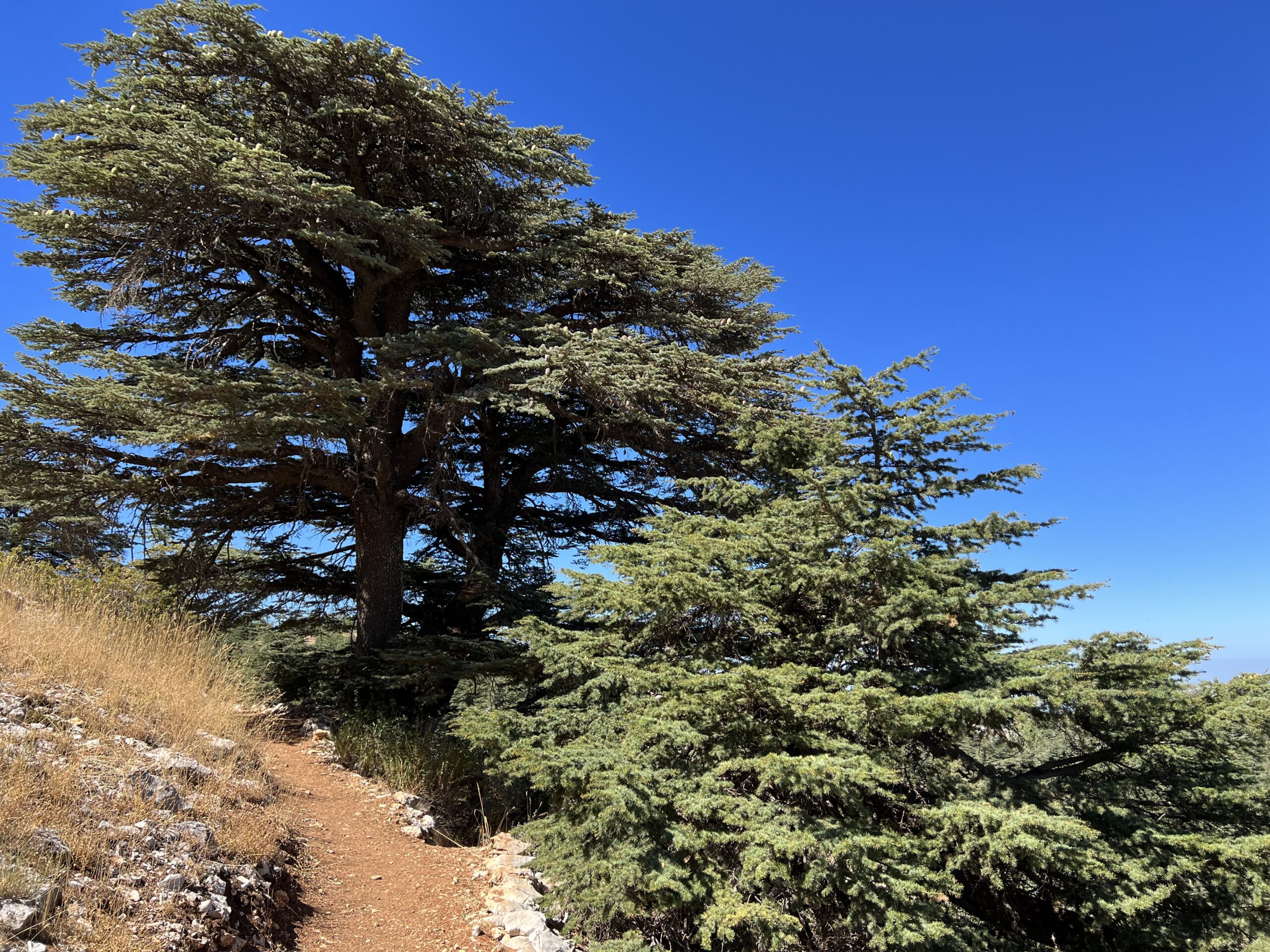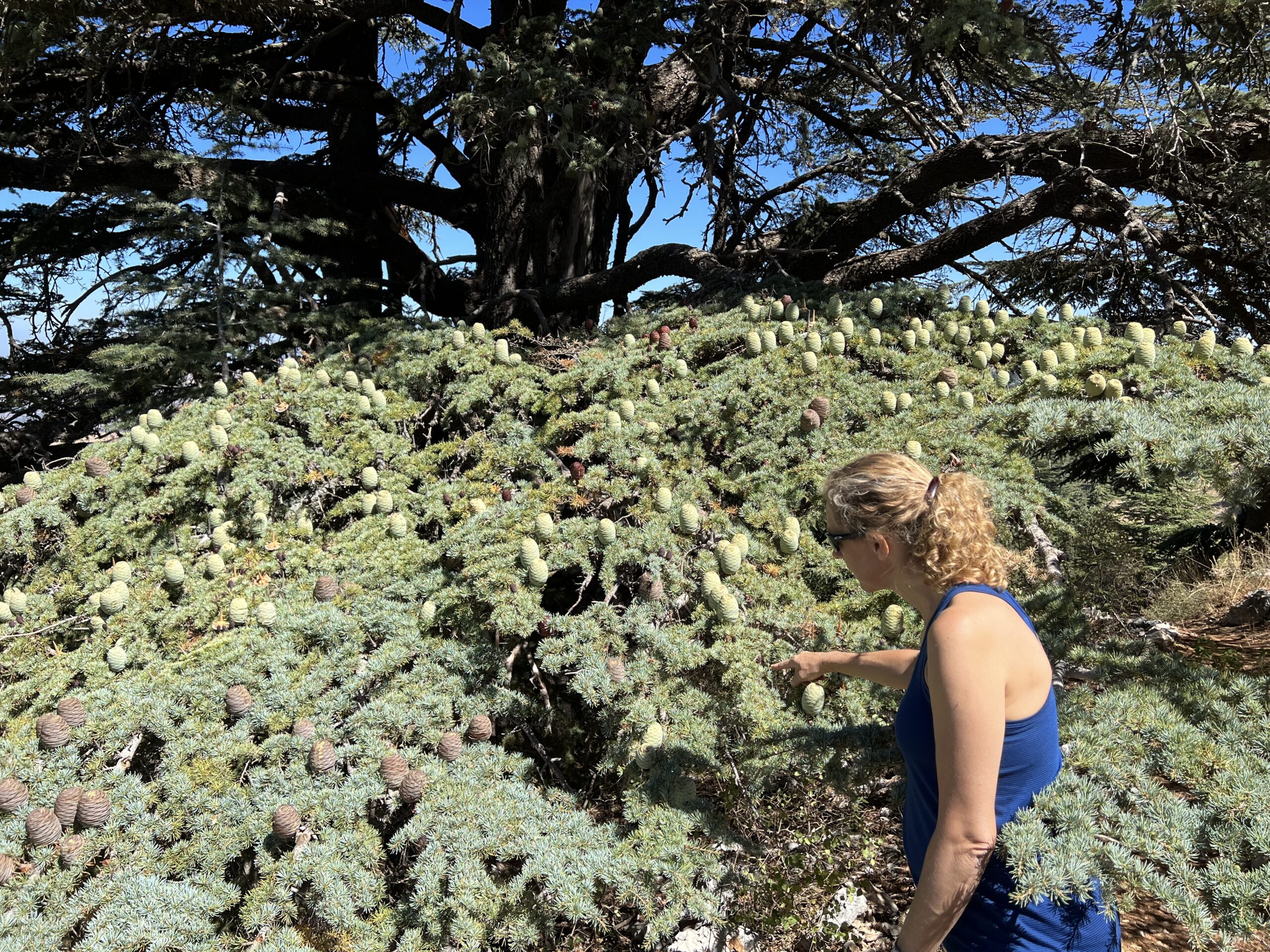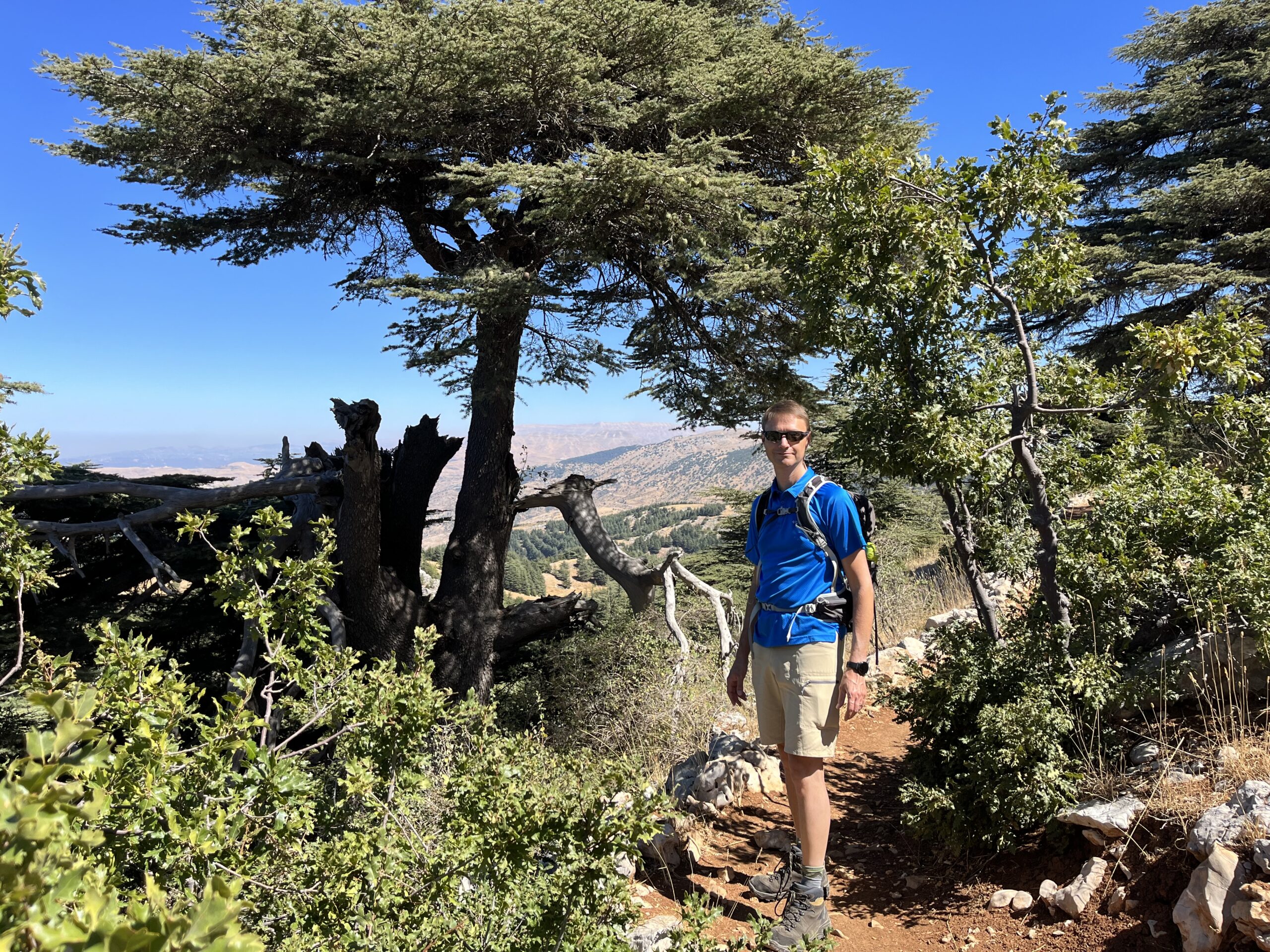 Day 2 – A taste of Lebanese wine
We left Shouf Cedar reserve with enough time for a different experience. Lebanon has a long history of wine-making, and we were curious to learn more. Most wineries are in the Bekaa valley, and we headed to the largest, Chateau Ksara.
The winery was established by Jesuits in 1857, and at that time the area was farmland. Now the land surrounding the winery has been absorbed by the expanding city of Zahlé, so the tranquil winery and vineyards have industrial and residential areas as neighbors. In front of the winery is a large terrasse, where wine is served and enjoyed with views to the urban sprawl.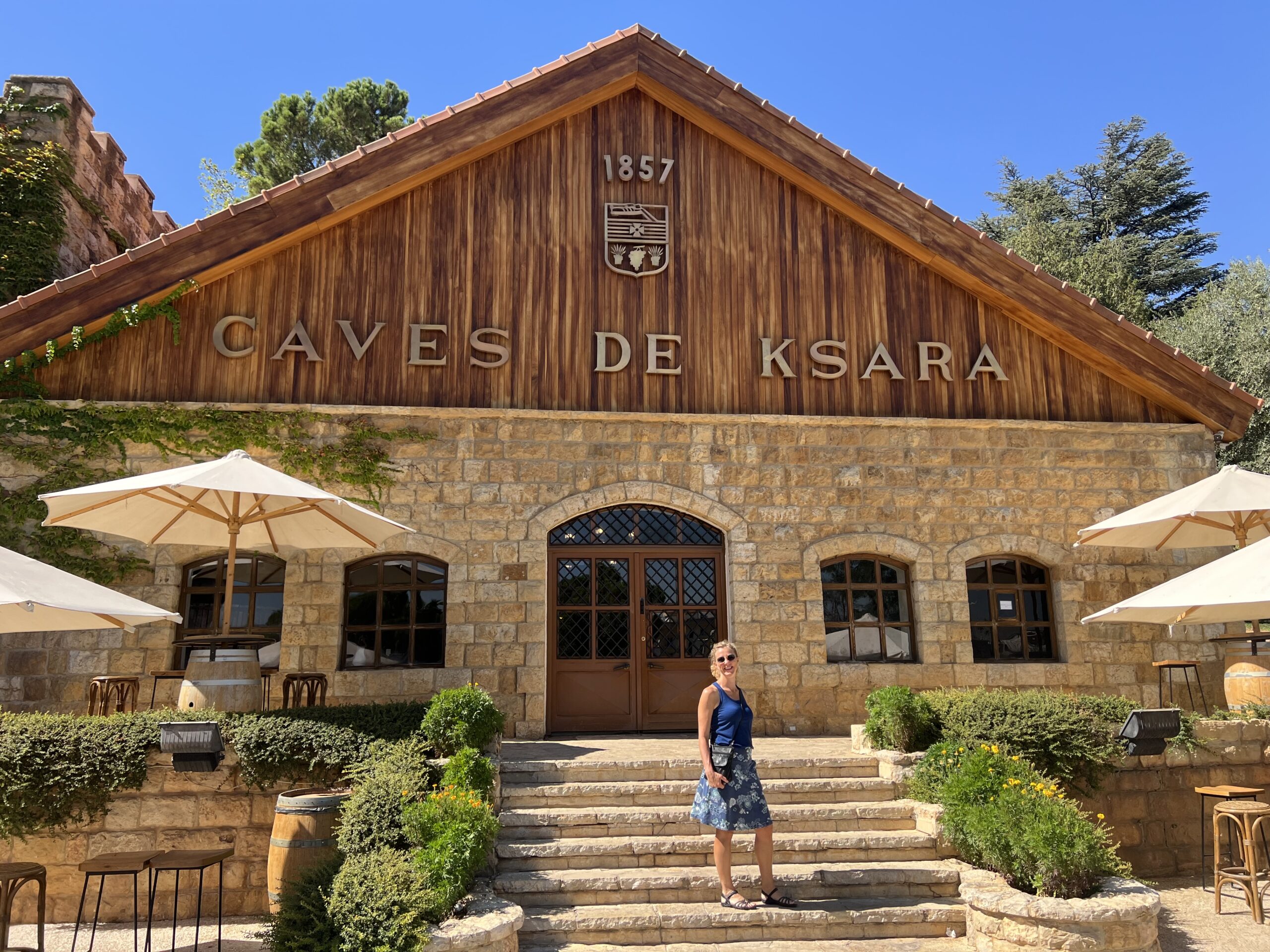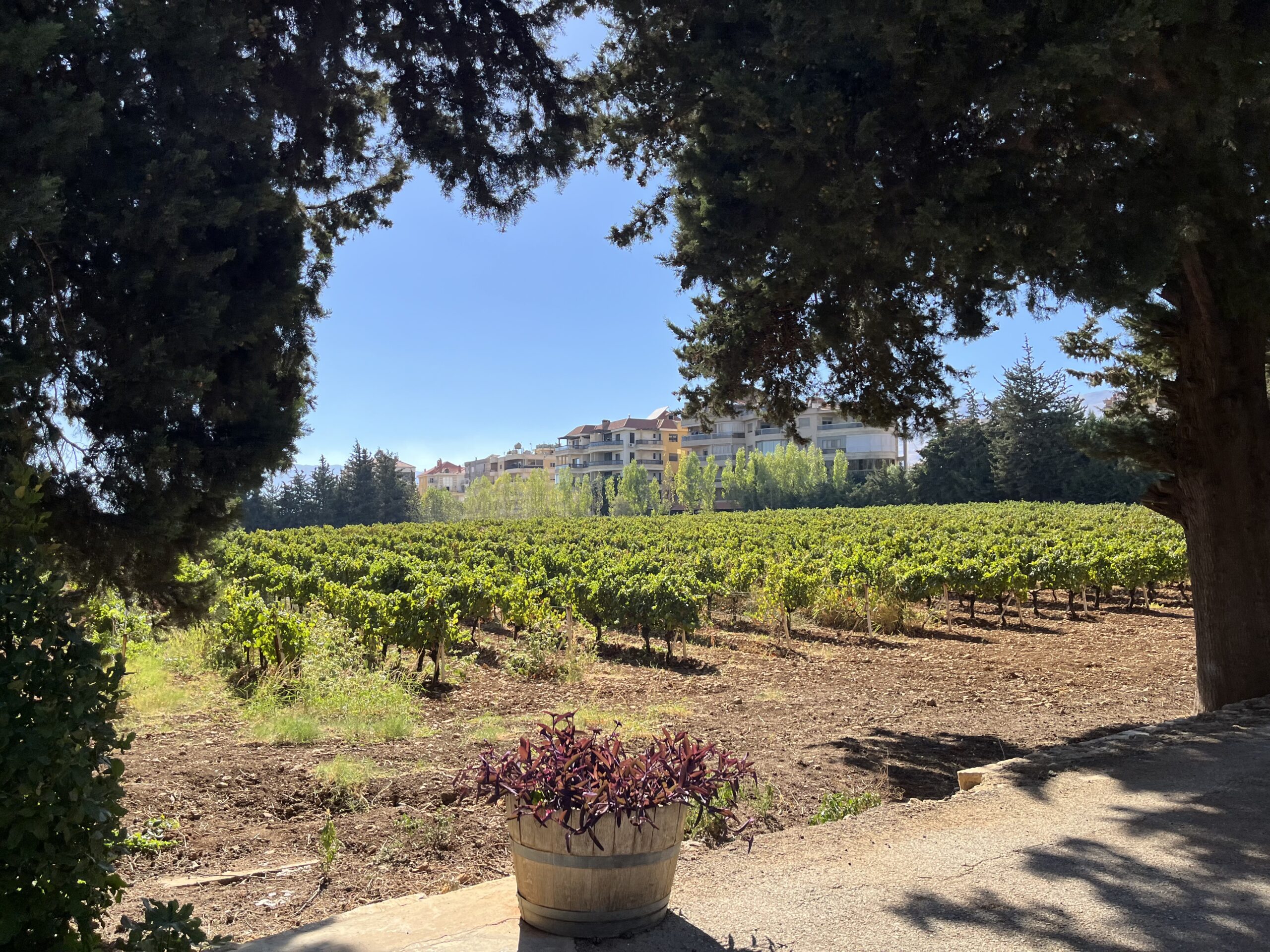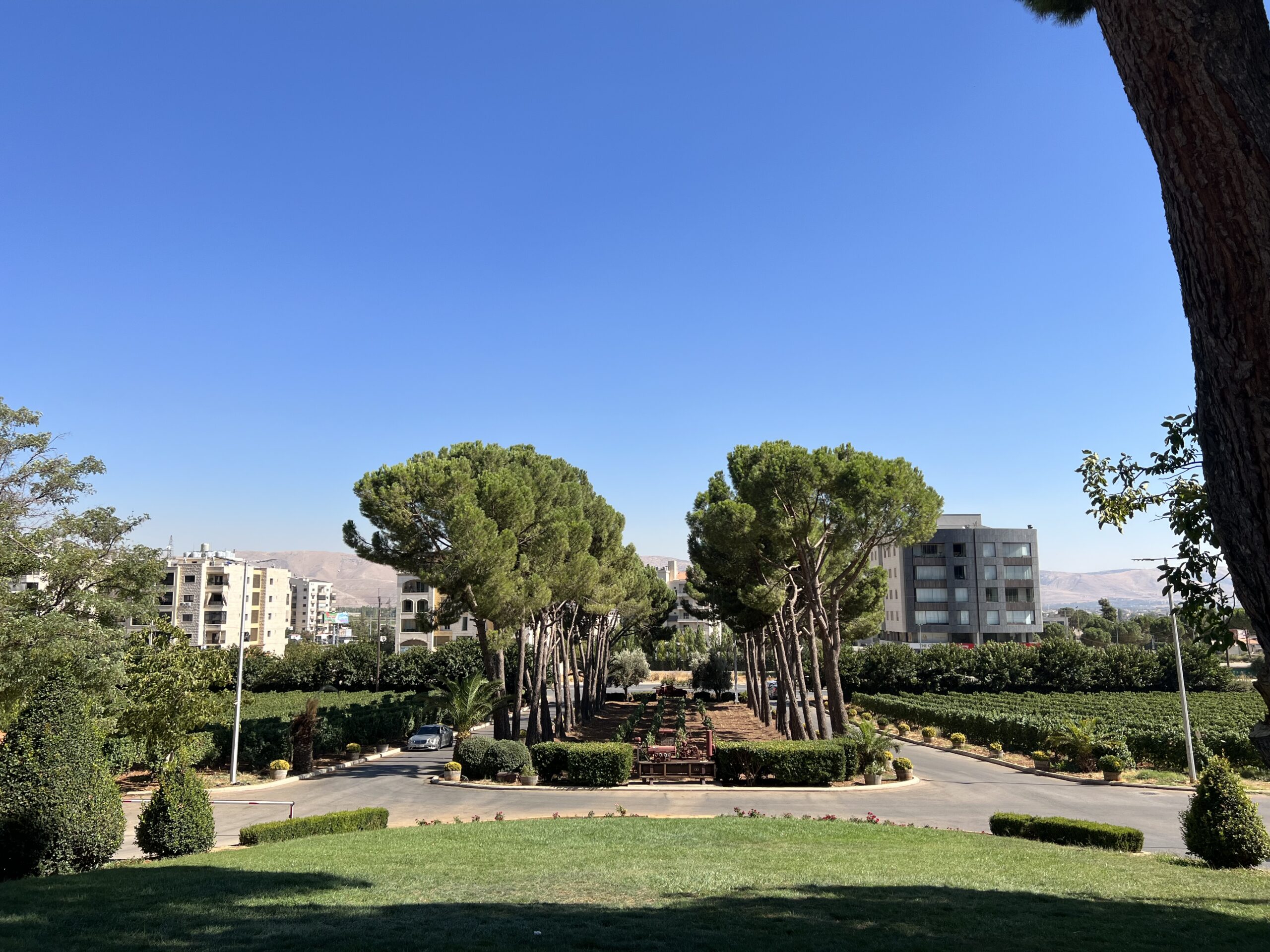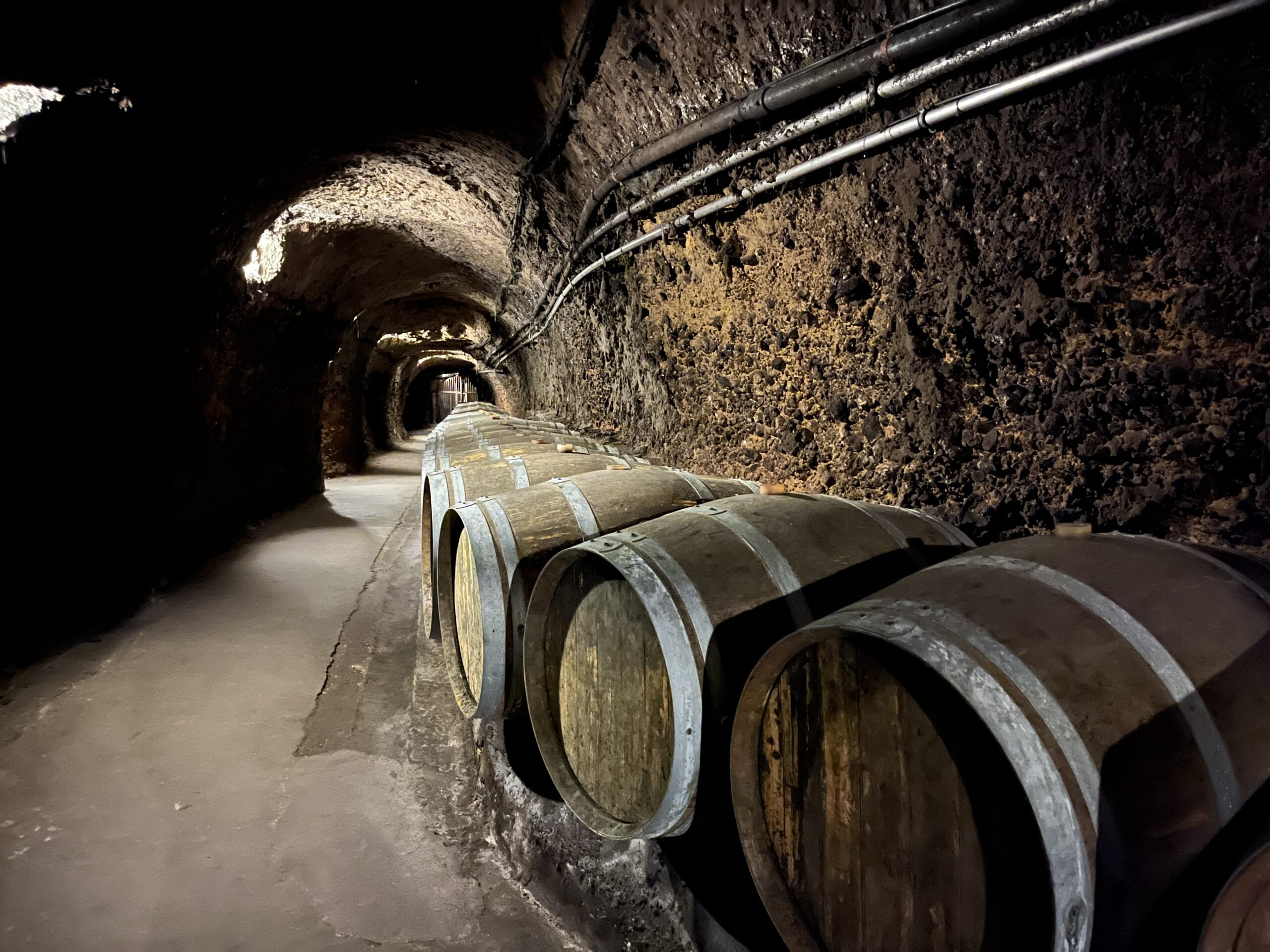 We went on the "Extended tour" with the enthusiastic guide Cyrinne, a tour that included their vineyards, the cellars and a tasting. The cellars are special, they were built by Romans and re-discovered by the jesuit. Their original purpose is unknown, but it turned out they are great for storing wine. It was a sober tasting as we had to drive afterwards, but the impression was good, and we brought bottles home.
Day 3 – Roman ruins in Baalbek
It was time to leave Barouk and Nassamat Boutique hotel. We continued our one-week road trip in Lebanon, and headed into the Bekaa Valley again, towards the Roman temples at Baalbek. The Danish and British government travel advice warn against going east of the Bekaa vallay highway, as well as travelling north of Baalbek, and also of Baalbek city itself. These areas are Hezbollah strongholds. The temple complex was specifically mentioned as safe.
With that on our minds, we headed north towards Baalbek. Most of the part of the highway we drove went through urban sprawl, with people everywhere, going about their daily business. People were dressed as we had seen elsewhere, most in jeans, t-shirts and dresses, a few women with head scarfs. The road was lined with posters of what looked like political leaders, as we recognised Hassan Nasrallah, the leader of Hezbollah.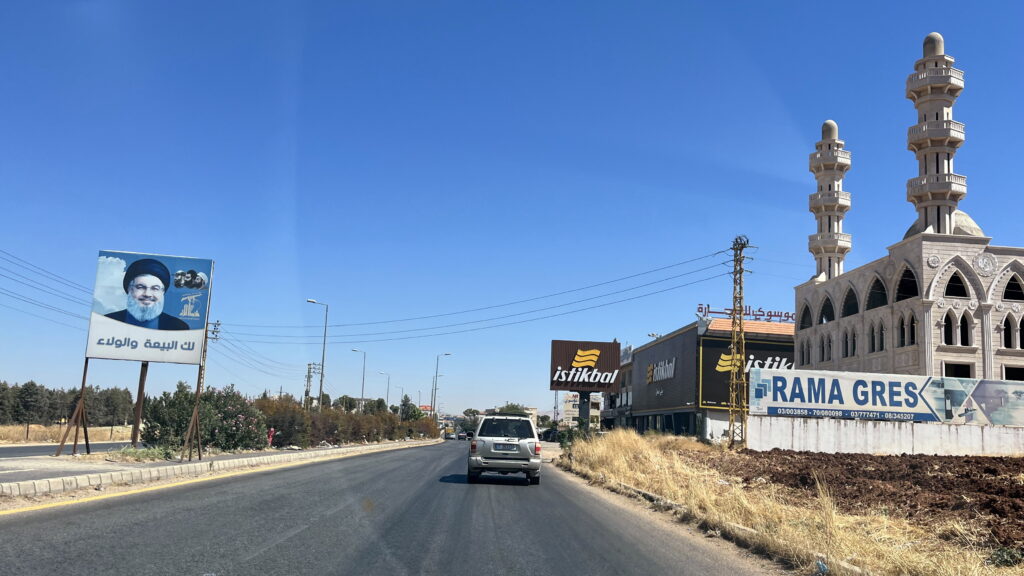 The Bekaa valley was known as the bread-basket of the Roman empire and as the agricultural hub of Lebanon. That must have been beyond the urban developments, and we did not see many glimpses of farmland.
The drive to Baalbek was completely uneventful. The Lebanese army had several check points on the road, as they also have in other parts of the country. The soldiers at guard always simply waved us past, we were not asked to show papers at any point, and corruption seemed very unlikely.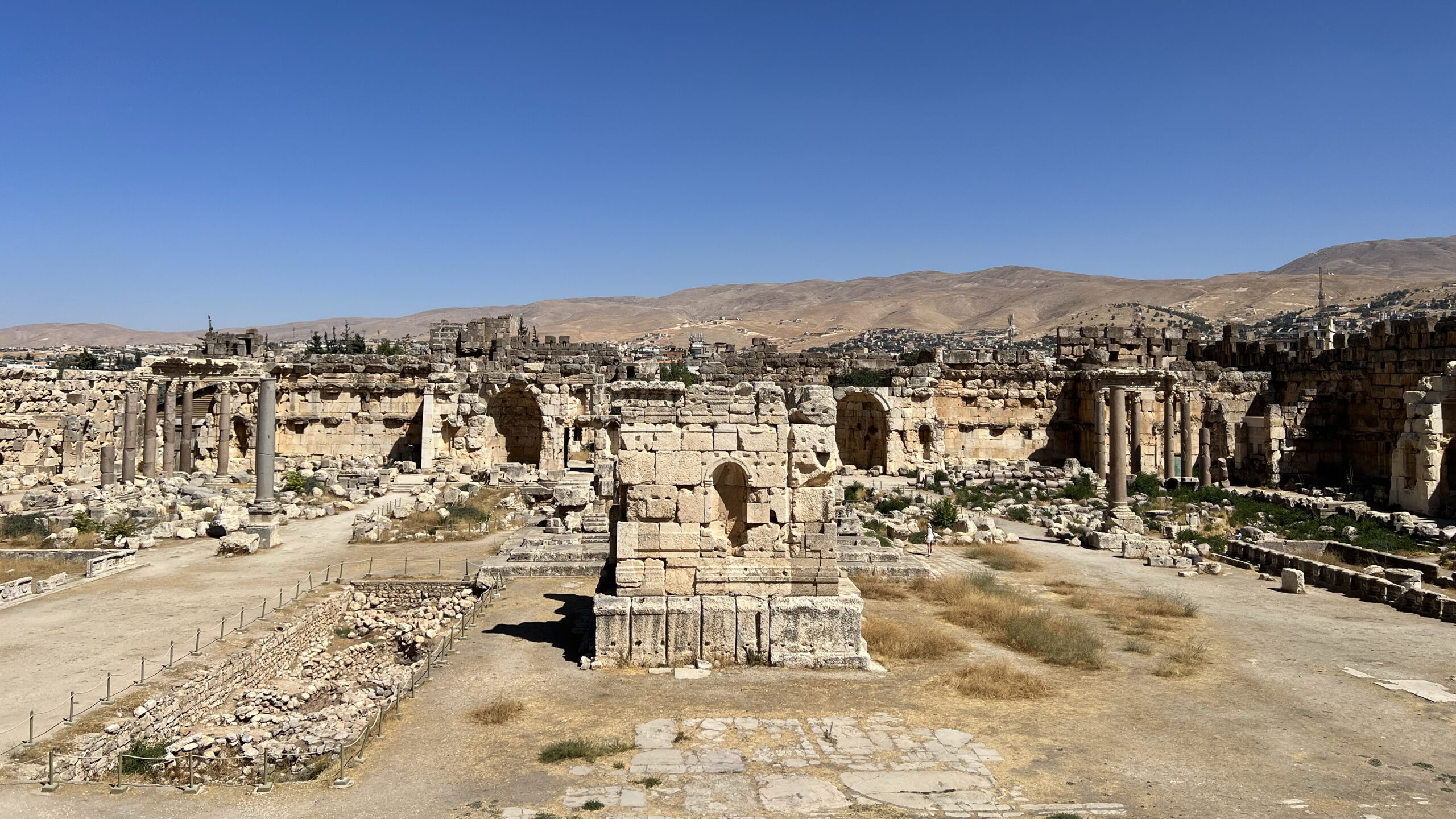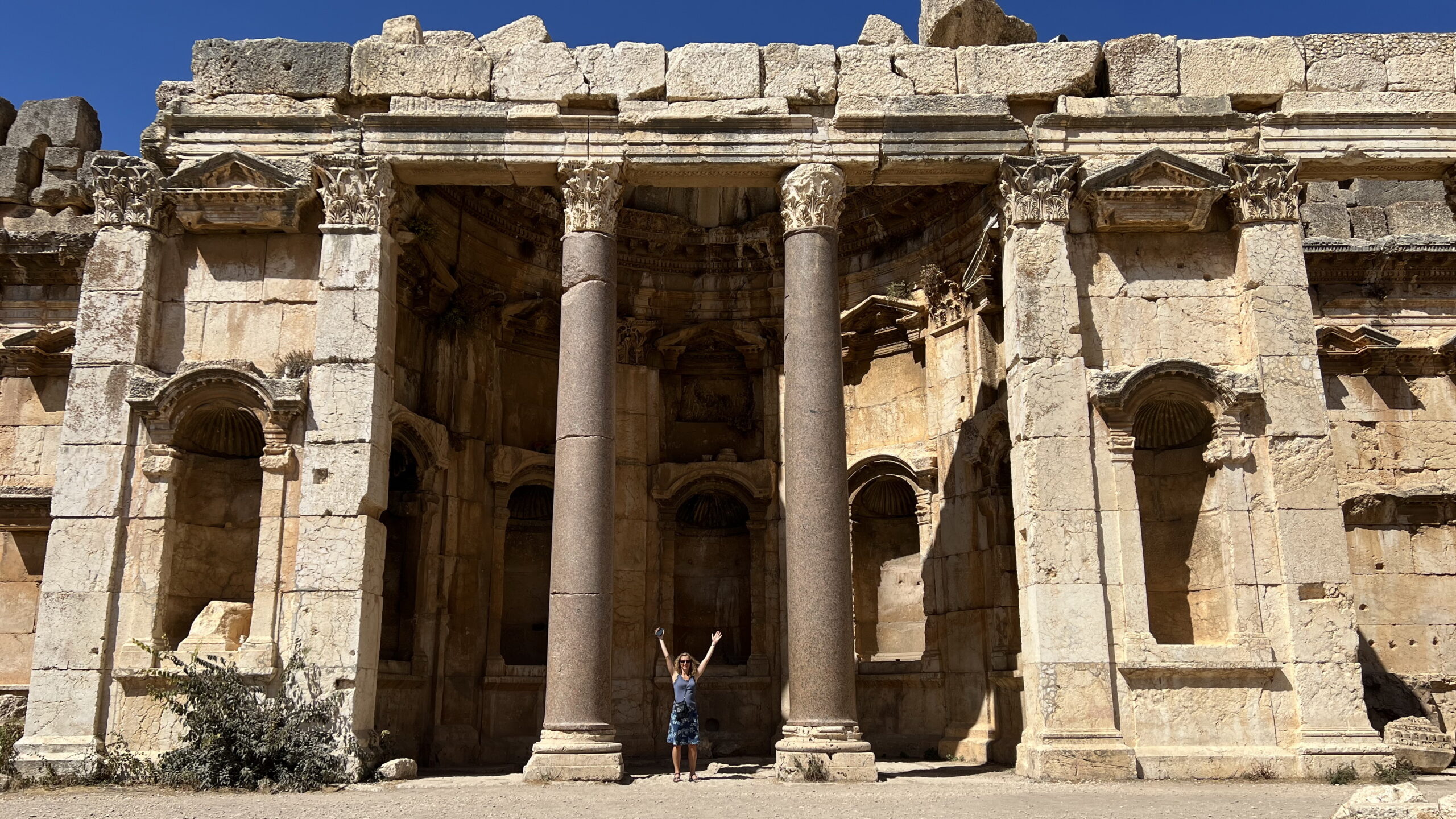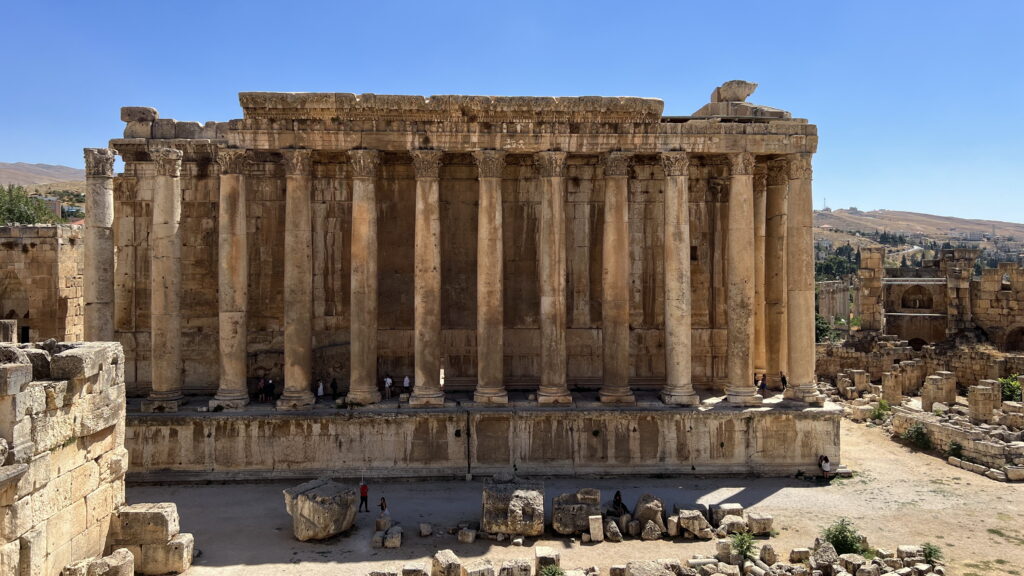 Guides offer their services at the entrance to the Baalbek temple complex, and we decided to accept the service of Mehder, who turned out to be an entertaining guide as well as an adept photographer. In 45 minutes he speed-talked us through the complex while also taking photos at us at just the perfect spots. We were happy to have a guide that could help us navigate the large area. We had brought a guidebook, but having a guide was more efficient. After Mehder's choreographed tour, we walked around on our own, took more photos, and tried to absorb the meaning and history of the place.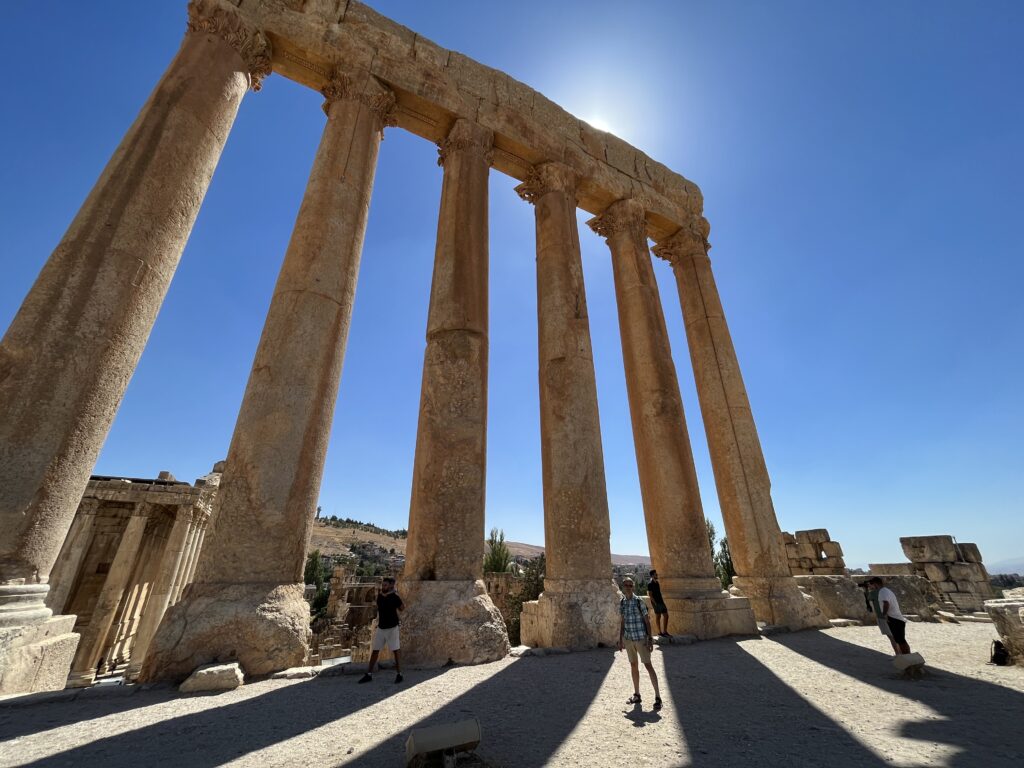 The UNESCO site Baalbek was probably first populated 8000-9000 years ago, and Phoenicians created the first temples. The most dominant features today are the Roman temples to Jupiter and Bacchus built on top of earlier structures. The temple to the wine god Bacchus is said to be the best preserved Roman temple on Earth today, and is completely stunning in the ornamental detail, the size and the resources it must have taken to built it.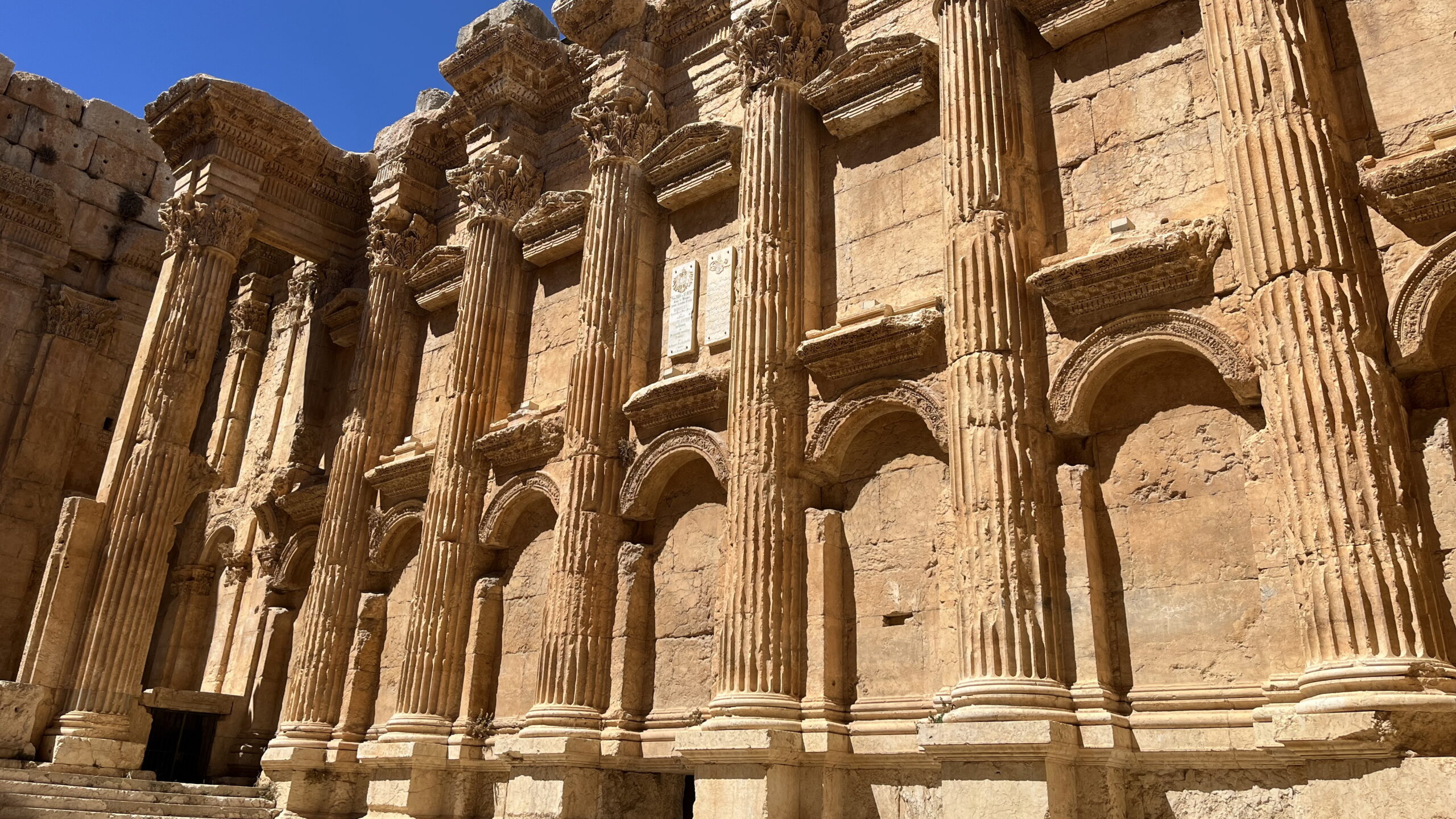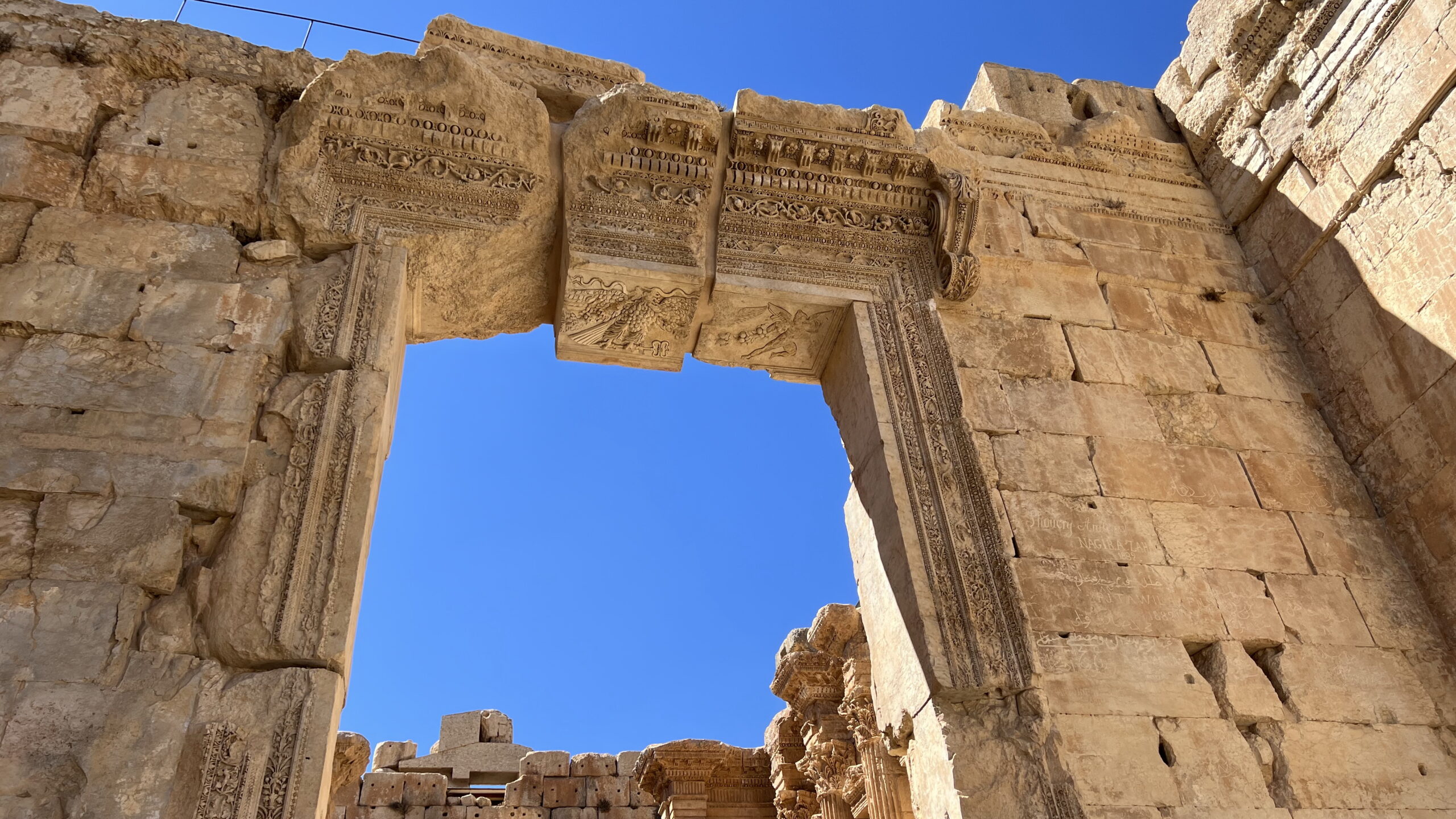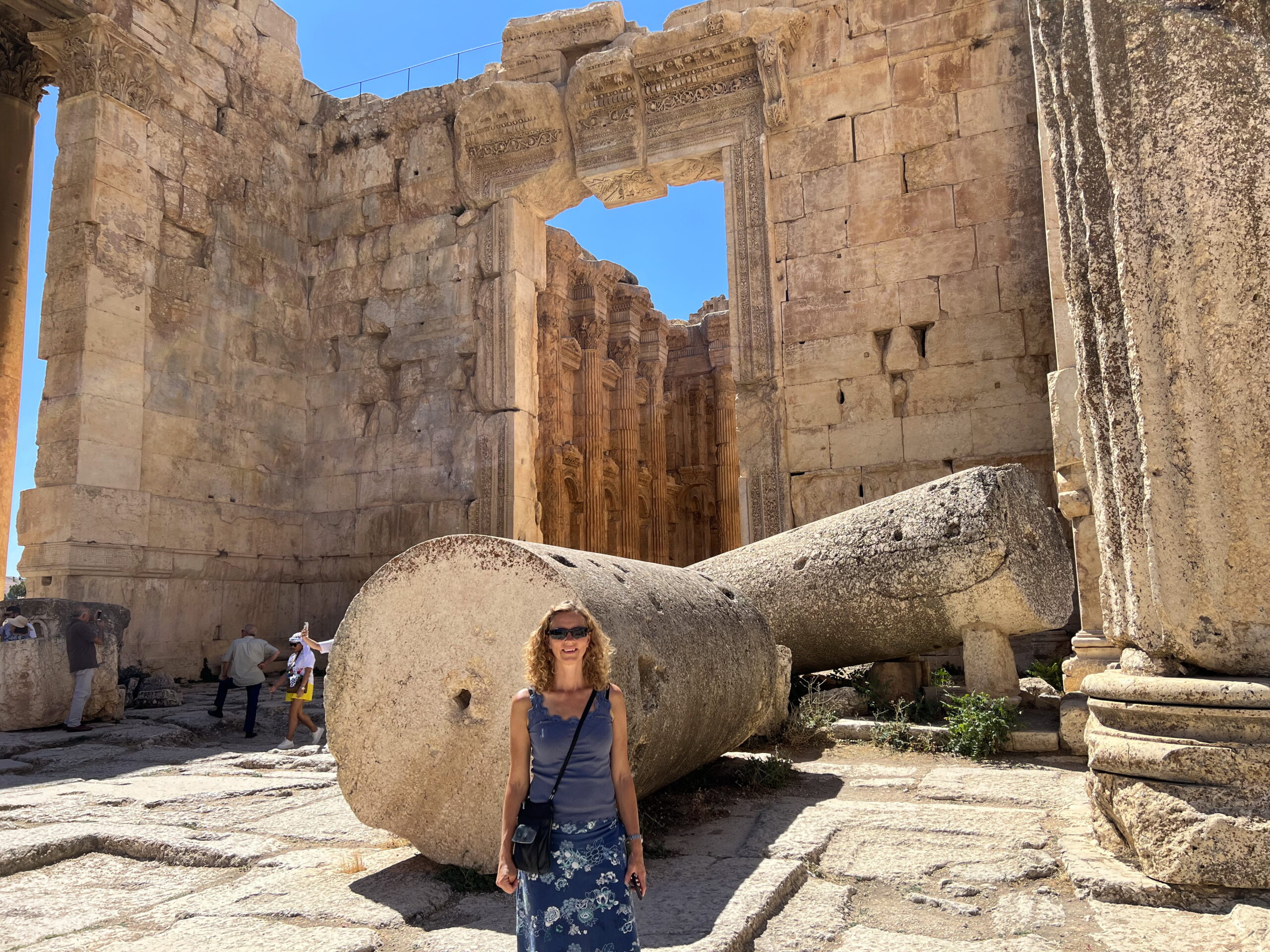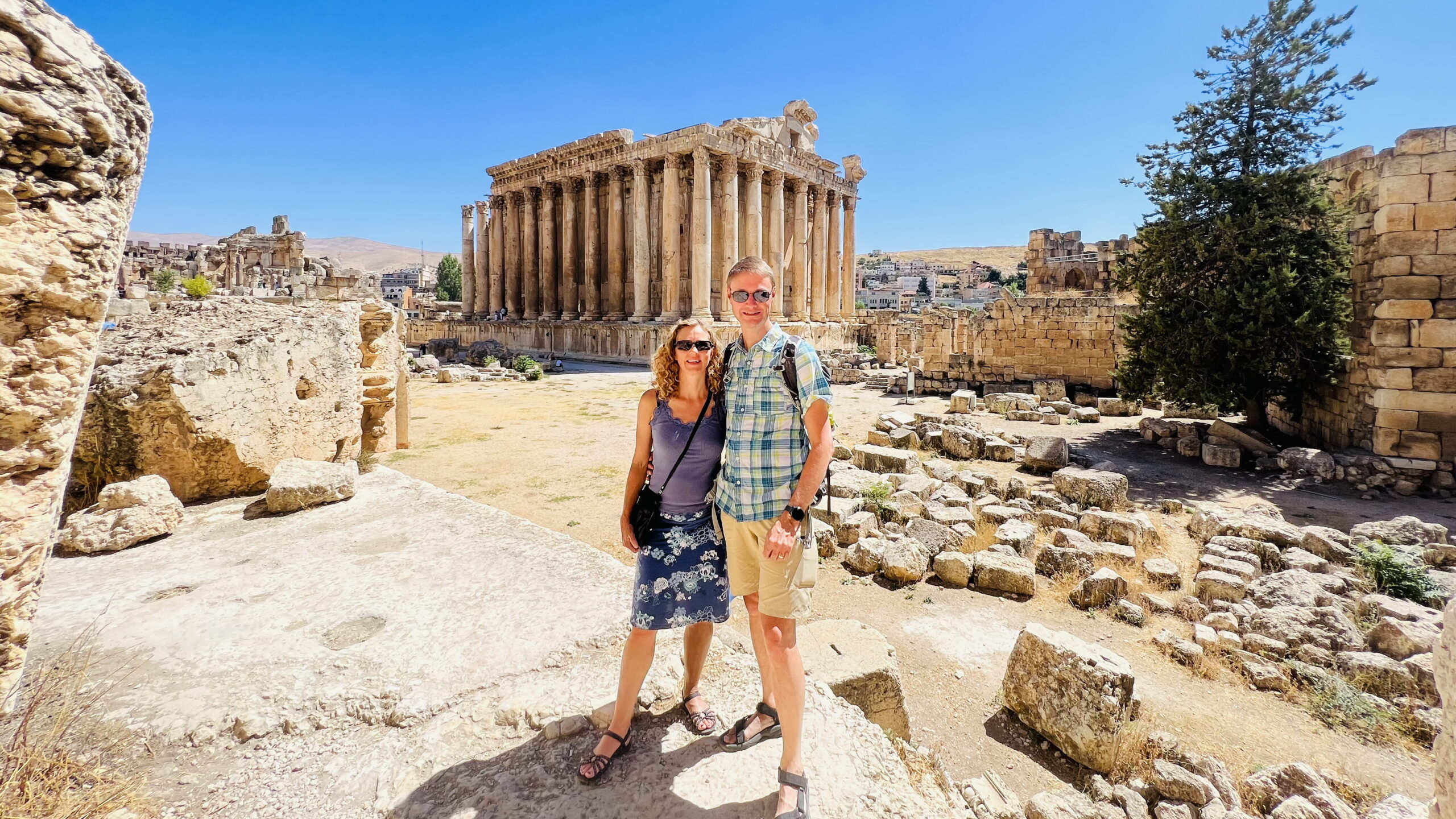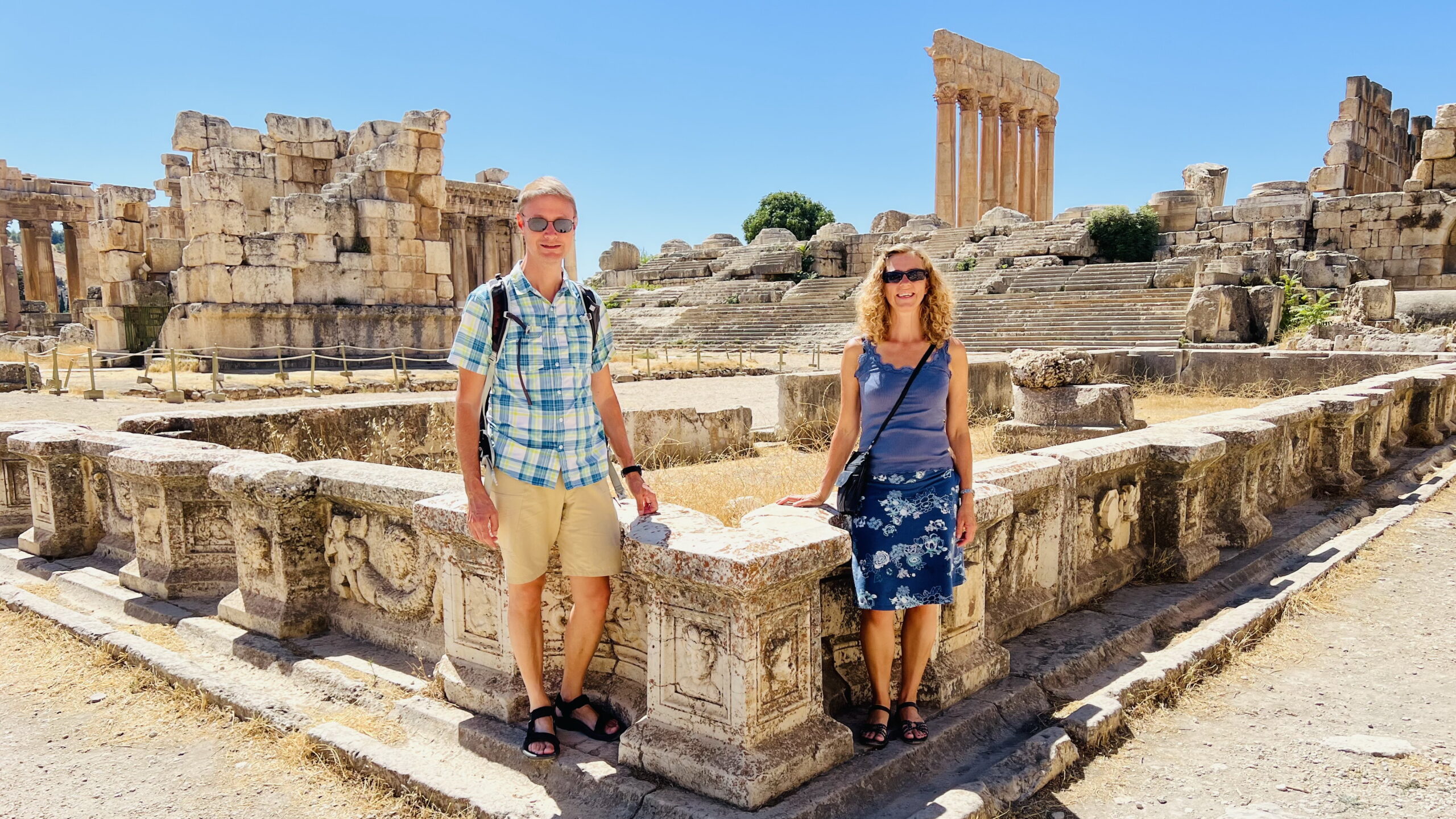 Day 3 – Towards Ehden across the mountains
Saturated with history and ancient stones, we left Baalbek, and headed west towards the mountain town Ehden. We passed several military check points and what looked like a fenced-in refugee camp. Millions of Syrians have fled to Lebanon, in addition to the many generations of Palestinians that fled Israel in the 1960's. It was a relief when we were certain we were no longer in Hezbollah-controlled territory, we don't know if there was a need to worry in the first place.
The road into the mountains was wide and of high quality, but with hardly any traffic. Driving on a completely empty highway gives the feeling of something being wrong, and we were happy when we passed a truck, and when another car passed us. The views as the road serpentines its way up are amazing, from here you see the Bekaa valley and the mountains in the distance that mark the border to Syria.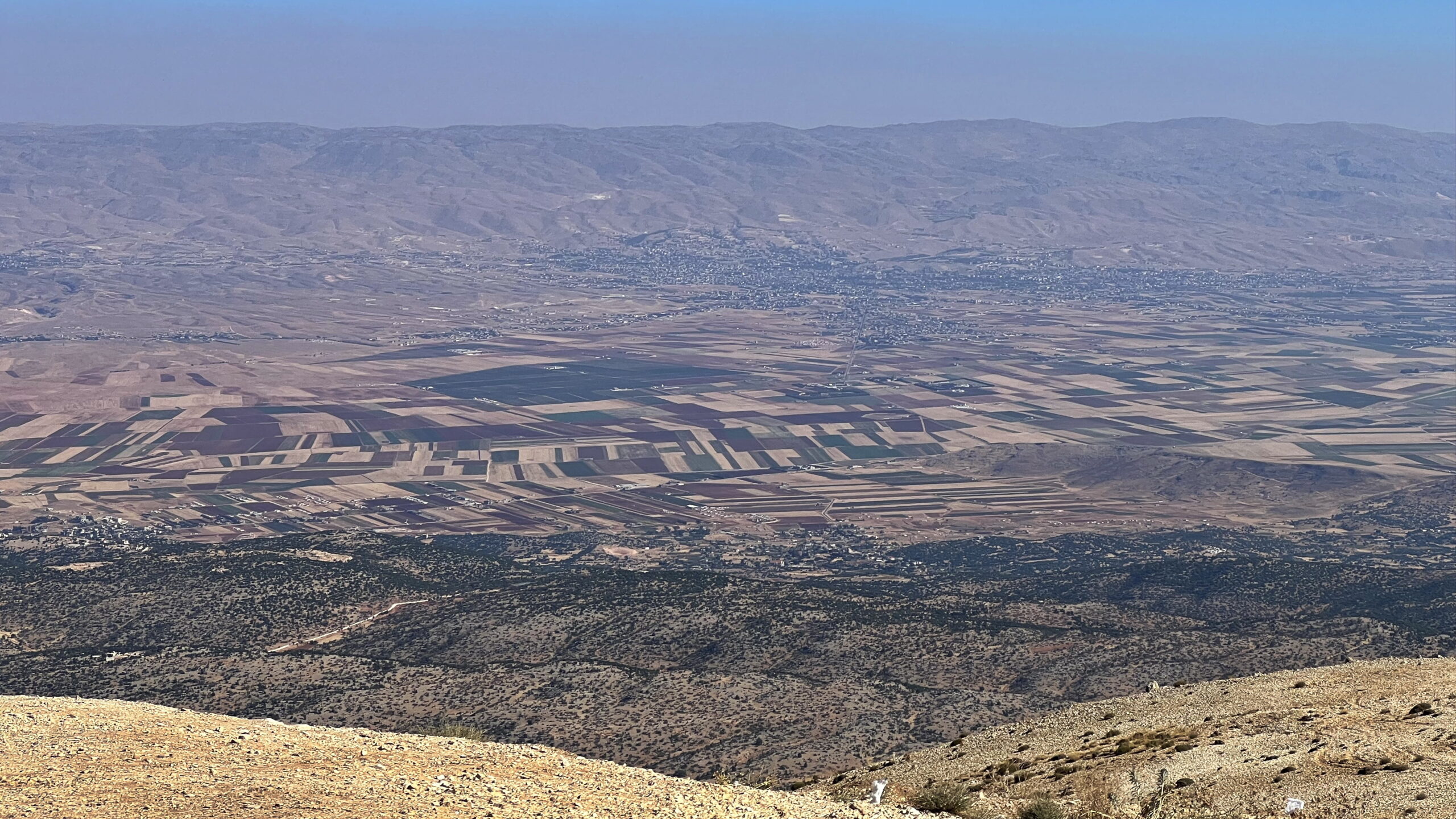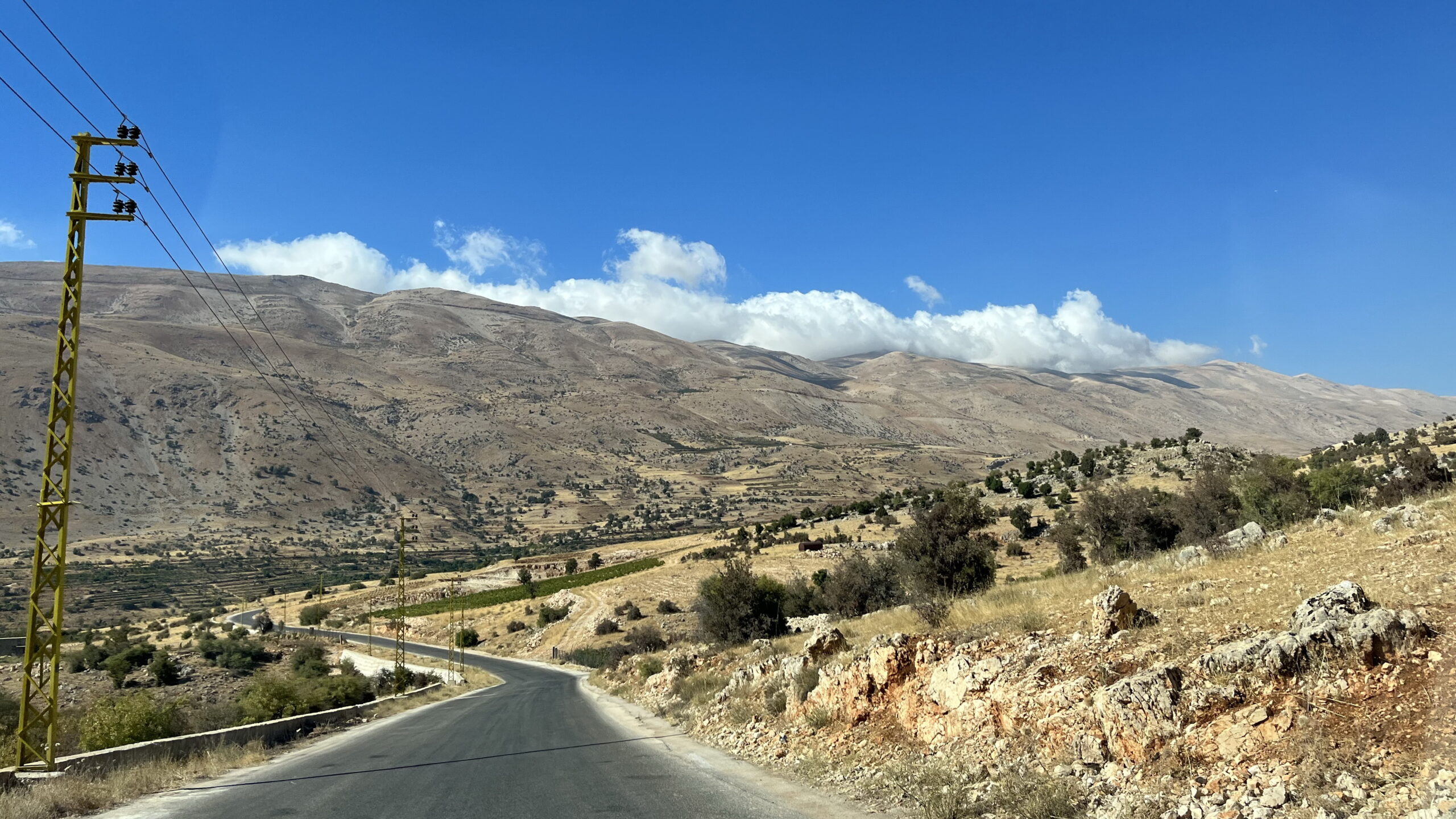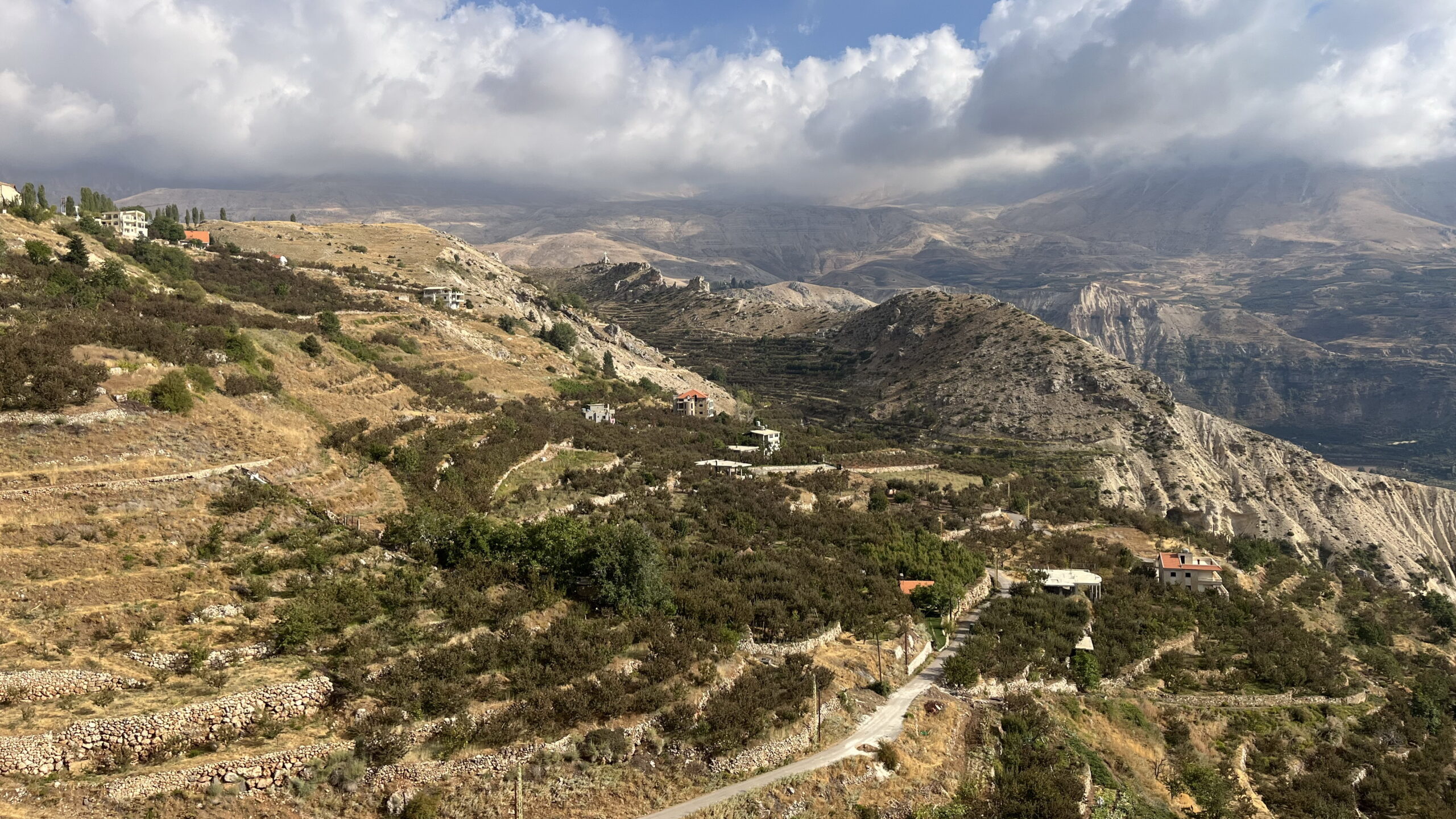 It was a great drive on a beautiful sunny day, but eventually we reached Ehden and Karaz guesthouse. We were welcomed by the owner Najaz who made us feel at home from the moment we entered the door, and we chatted with her about all things Lebanon, before going out for dinner in Ehden.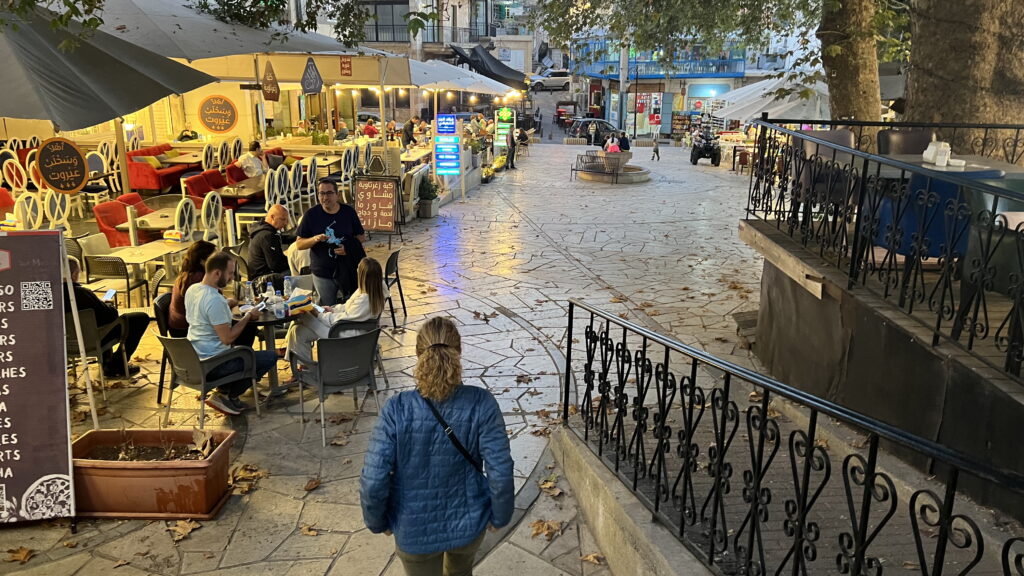 Day 4 – At the hospital in Ehden
We should have started a three-day hike on Lebanon Mountain Trail, but Helle was ill all night with fever and diarrhea. She was not in a condition to go anywhere, and we stayed in Karaz guesthouse instead. We decided to err on the side of caution, and to have her examined by a doctor. Peter asked Najaz of the possibilities for medical assistance in the small, remote town. It was simpler and faster than expected. Five minutes later two capable nurses from Red Crescent arrived, and checked Helle for infections, took her temperature and blood pressure. They concluded it was most likely food poisoning.
The nurses also asked if we would like Helle to be taken to an emergency room for further checks, and to rule out the possibility of a broken appendix or other unlikely conditions, we said yes. An ambulance was already waiting outside the guesthouse, and we were taken to the public hospital in town. Najaz from the guesthouse went along, it seemed she took a lot of responsibility for the well-being of her guests. Translation was not necessary, everybody at the hospital spoke English and clearly new what they were doing.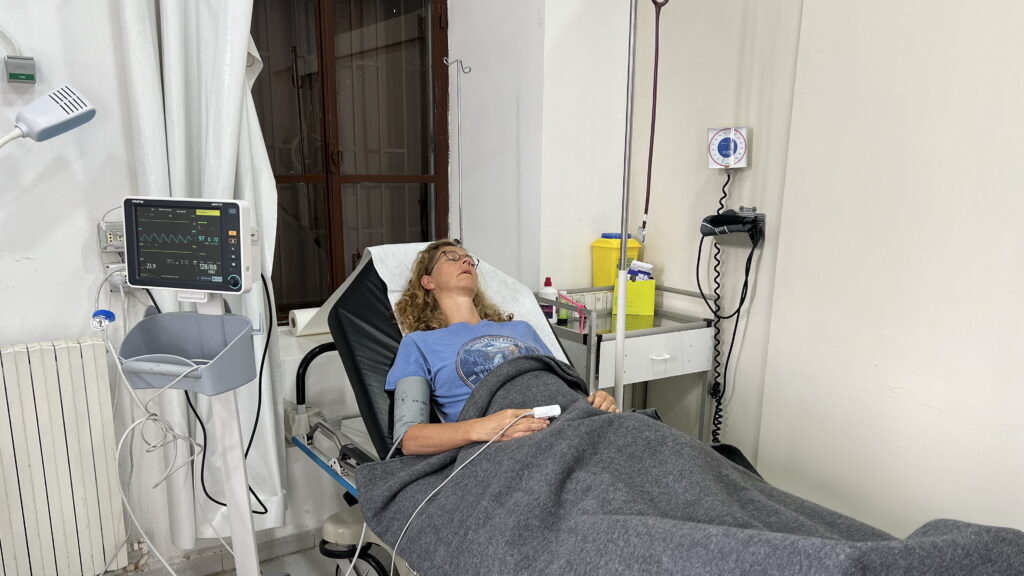 Helle had IV fluids and medicine to reduce stomach cramps. The competent doctor prescribed medicine to reduce nausea and stomach cramps, and antibiotics, and after an hour we were ready to leave. We wanted to pay, but Najaz from the guesthouse had already paid. We walked the 500 metres back to the guesthouse. The ambulance now seemed like almost comical overkill, but Helle had not been in a position to walk even that short distance.
While Helle rested, Peter tried to make Najaz tell what she had paid at the hospital, as we would obviously like to take that bill. She was secretive at first, but then said that she had paid 60 USD, but that she could not accept that we would pay more than 30 USD at most. The rest was on the guesthouse. We discussed how to approach that, as it would be unpolite to insist. We decided to give Najaz 60 USD, of which she could take half for the hospital bill and then use the other half for a purpose she found worthy, which she accepted.
Najaz and her colleagues made sure Helle had everything she could possibly need. Najaz brought a special herb tea from her home, and one from the staff bought potatoes, when Helle said that boiled potatoes was exactly what she would like as the first solid food.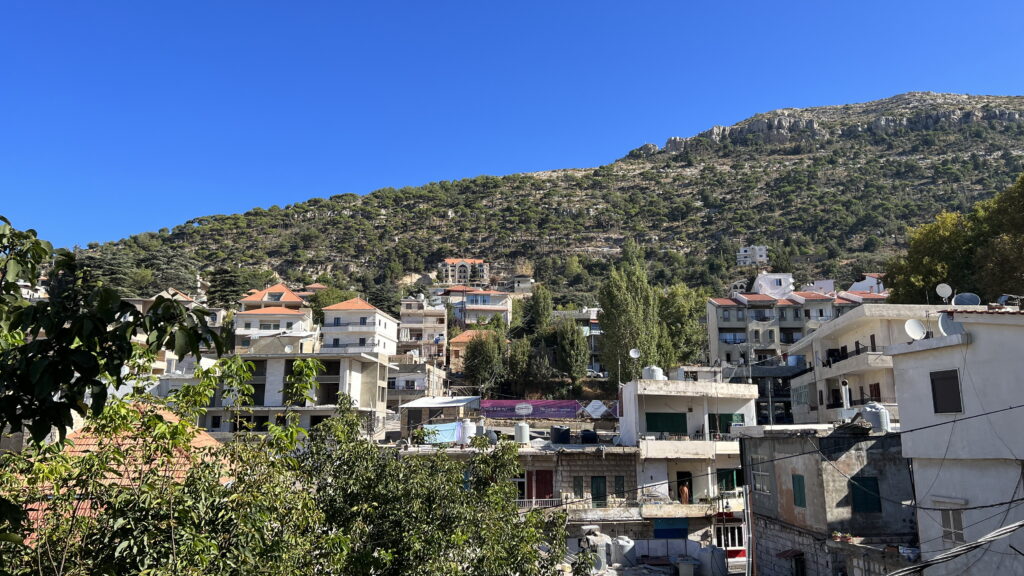 Day 5 – Horsh Ehden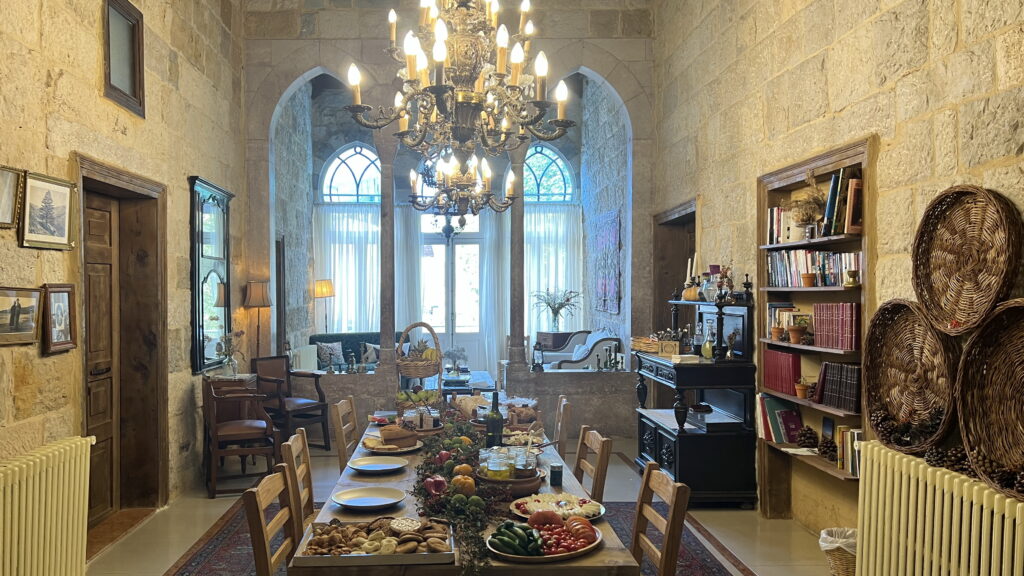 Helle was better the next day, and we were both itching to get into the mountains. We decided to do two small excursions, first driving to the nature reserve Horsh Ehden, just outside Ehden. It is a small reserve with nice trails, with Lebanon Mountain Trail among them. It was great to set foot on the trail we had fantasized about for half a year. It was a foggy day with low visibility. We enjoyed the forest, but we will have to come back for the panoramic views you can appreciate on clear days.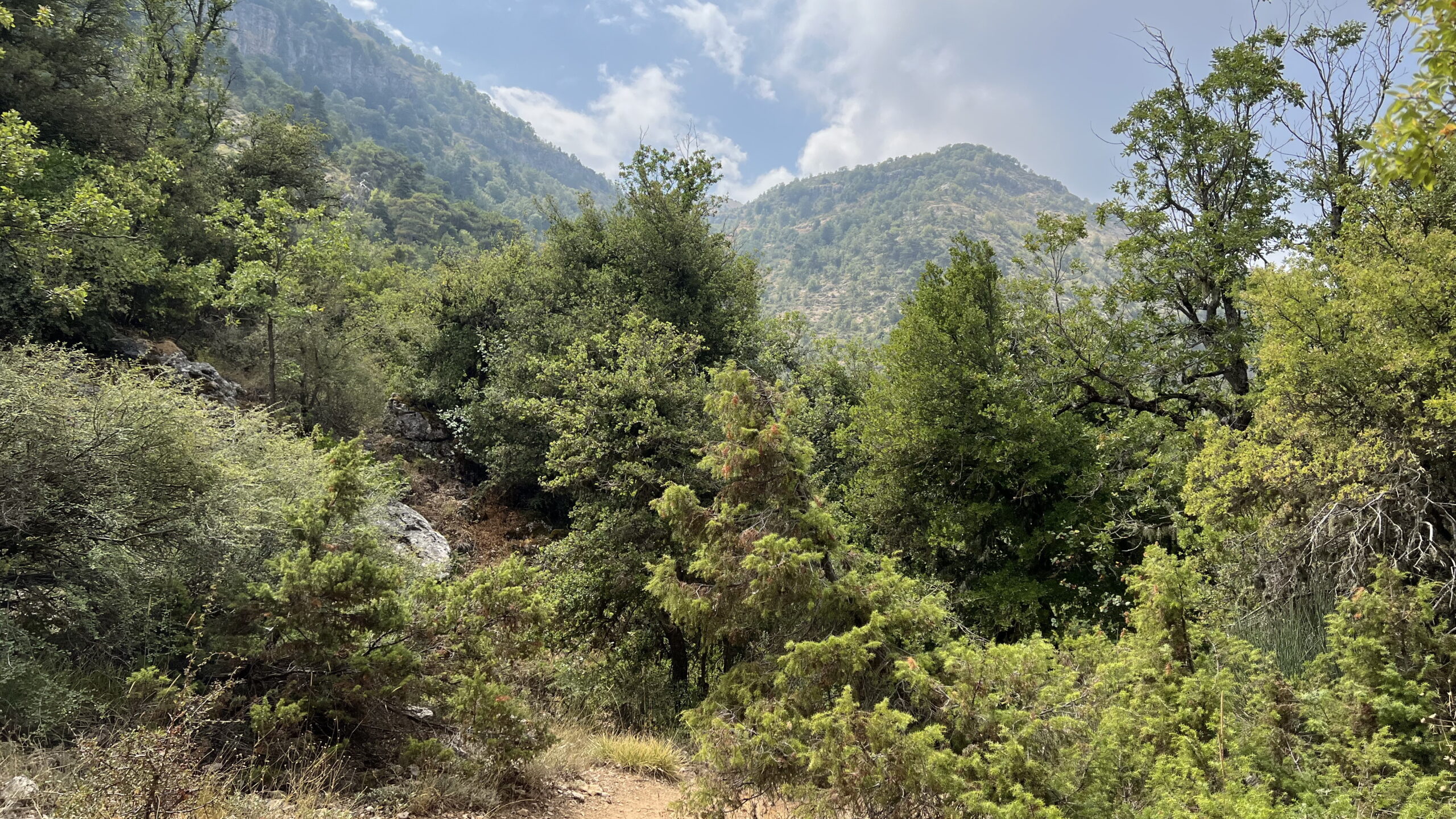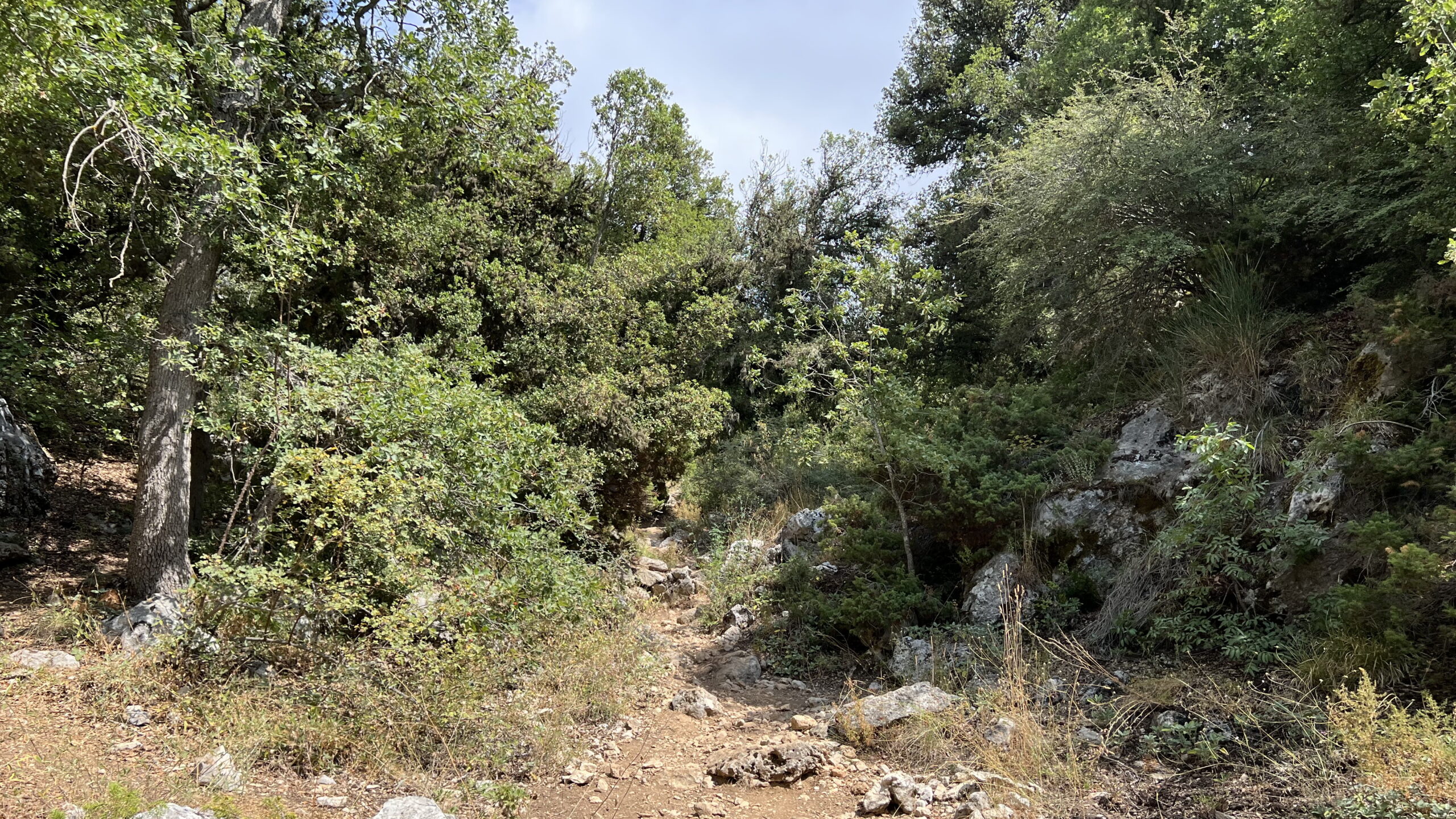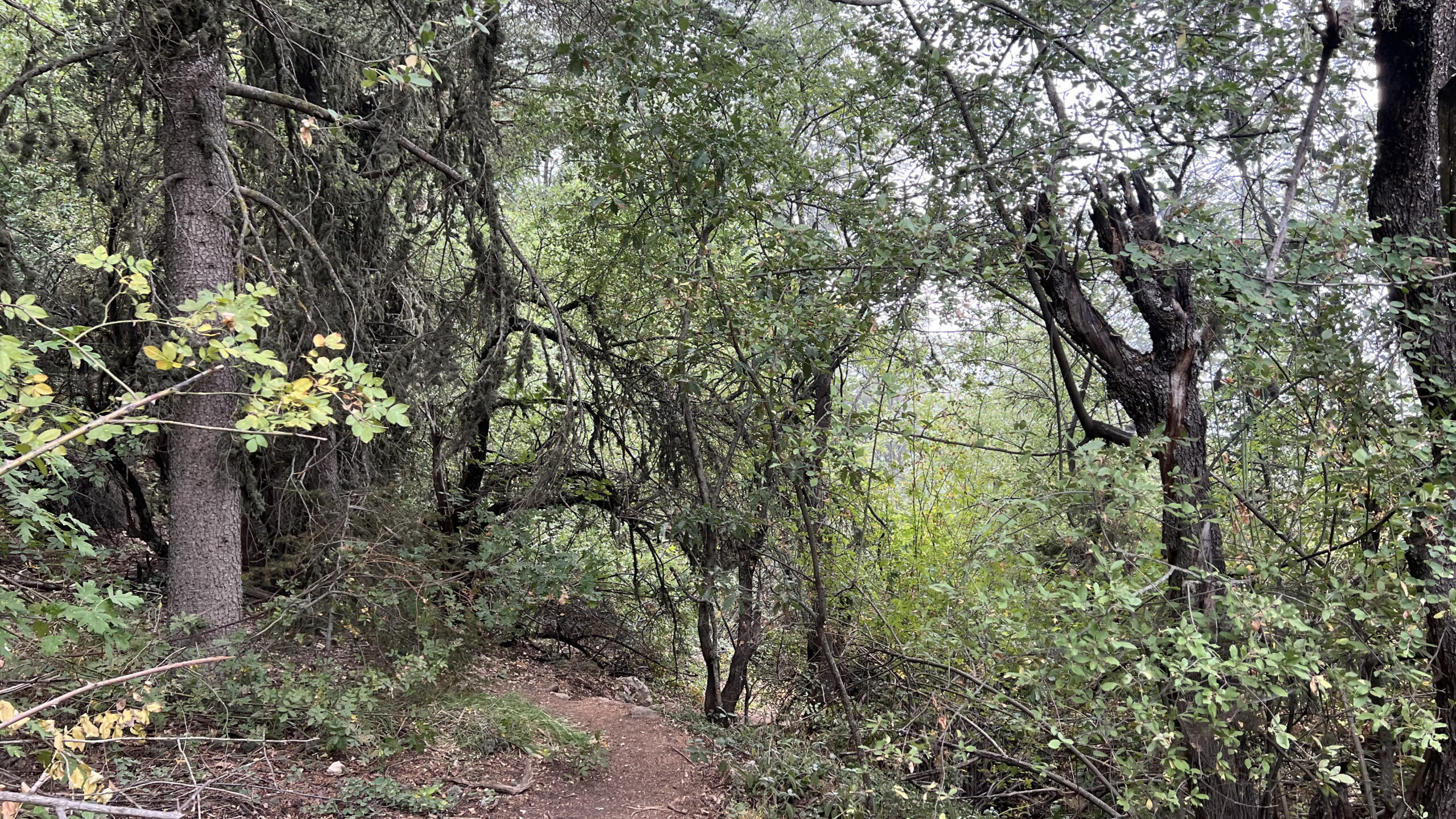 Day 5 – Ancient trees in Cedars of God
We continued to Bcharre and the small Cedars of God nature reserve. It is a small fenced-in enclosure with cedar trees several thousands of years old. It is managed by a non-profit organisation, and has beautiful trails and a tranquil atmosphere.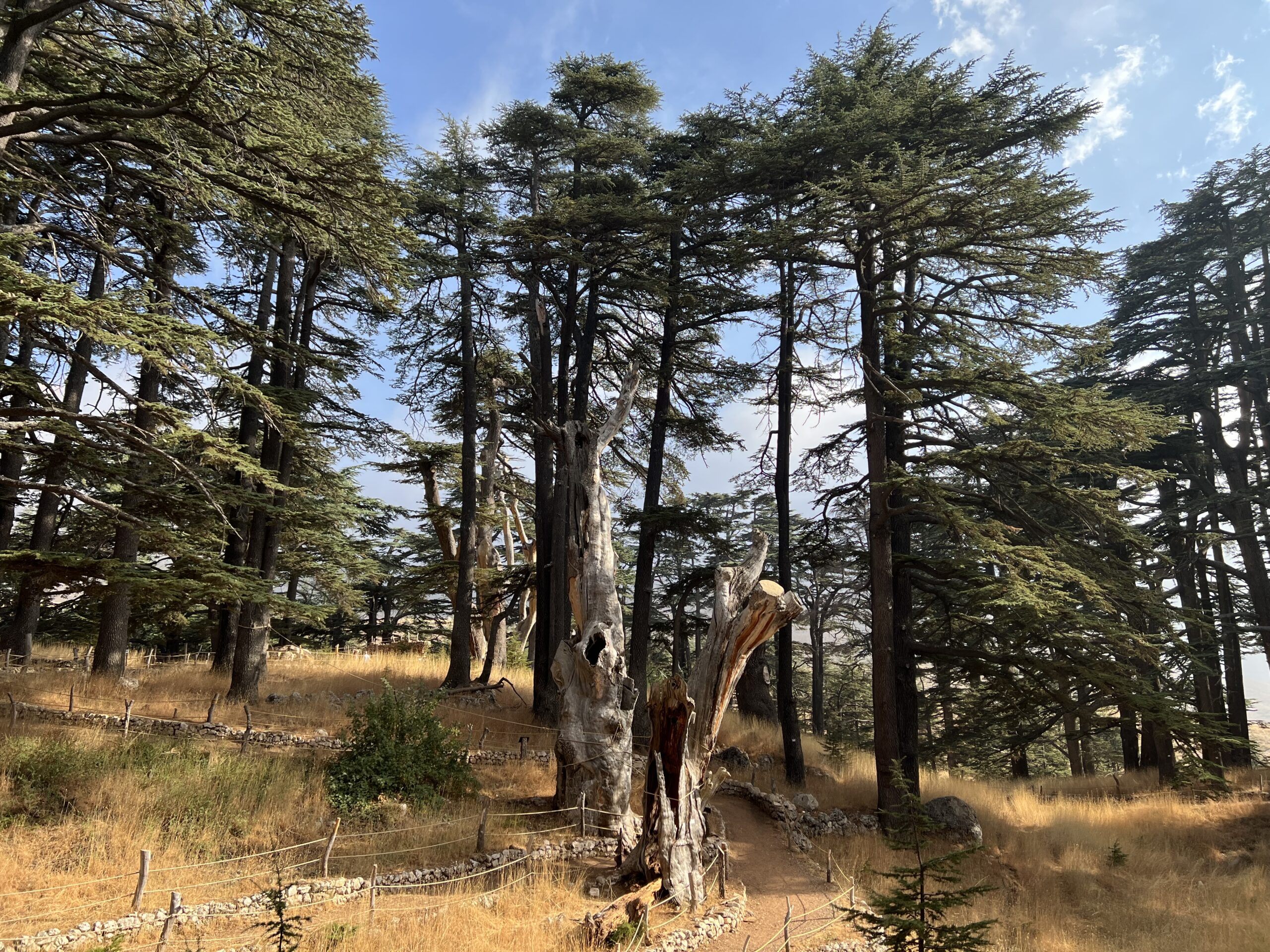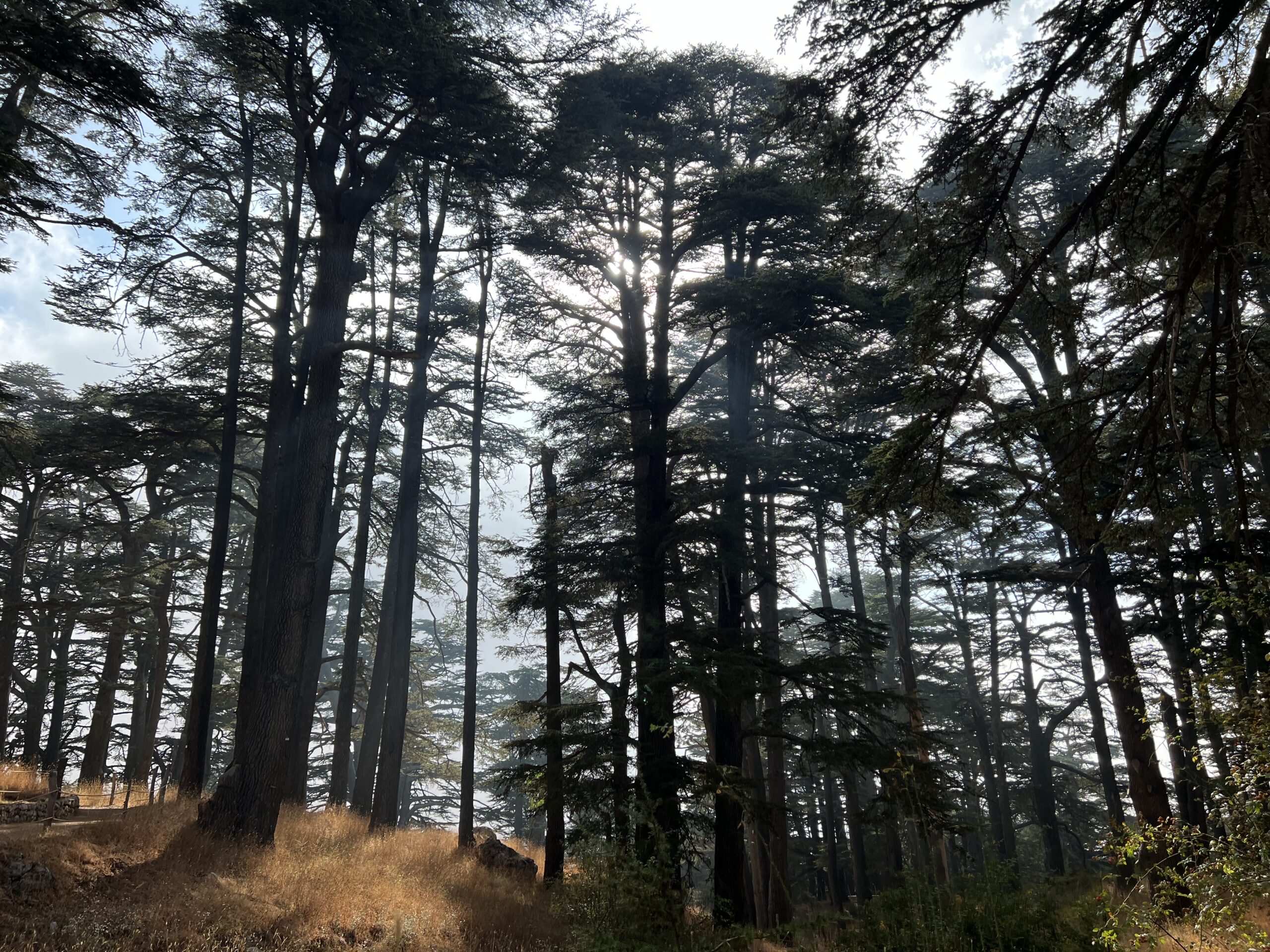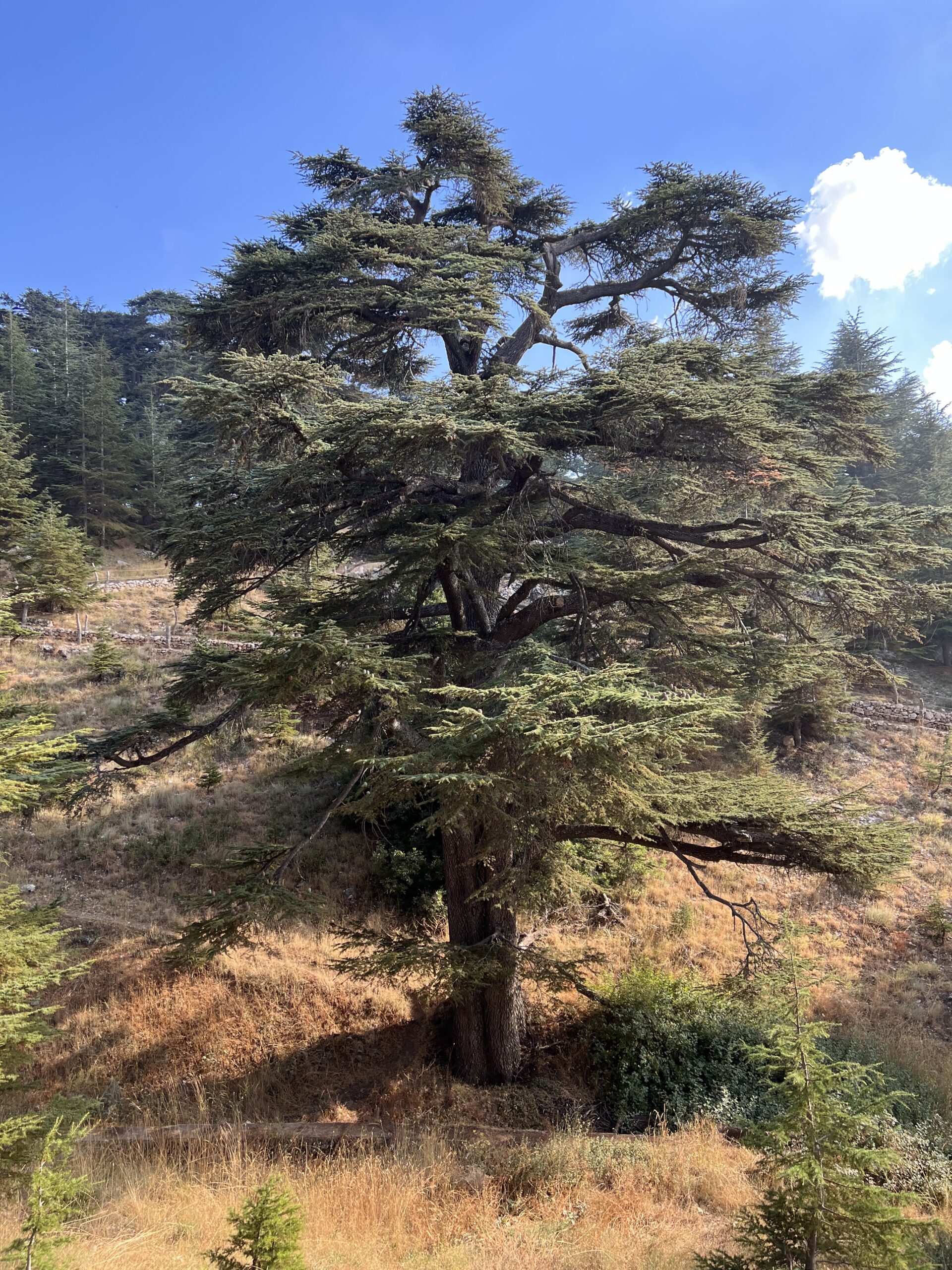 Day 6 – Qadisha valley hike on Lebanon Mountain Trail
Helle felt much better, and after three nights at Karaz guesthouse, we were ready to check out. This should have been the last of our three days on Lebanon Mountain Trail. We decided to walk section 7 as we had originally planned, through the sacred Qadisha valley, a UNESCO site. The Google map at top of the post show the three trail sections (7, 8 and 9) we had planned to hike.
On this post you can see the map of sections 6 to 9. It is the PPX file we received from LMTA.
It is a point-to-point trail, so we had to work out the logistics. Again Najaz from Karaz guesthouse helped us. We drove our car to the end of the trail at the Monestary of Saint Anthony. Here we met Najaz' uncle Abboud, who drove us to the trailhead at Bcharre, while leaving our car at the monestary.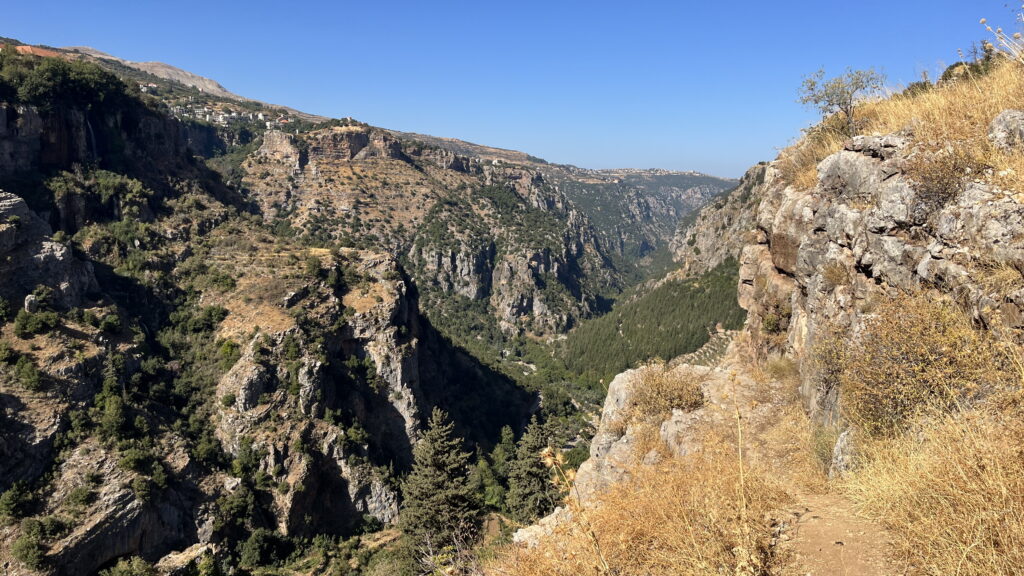 The valley has been a refuge for Christians for Millenia, and many churches and monasteries line the valley.
It was a sunny day, and we were excited. The trail first descends by steep serpentines from Bcharre, offering generous views of the Qadisha valley. As we reached the valley floor, the trail follows the Qadisha river. The first part of the trail was on gravel roads wide enough for cars, and we expected it to continue like that. Fig trees with ripe fruits grew on the side of the trail, and we savored this favorite snack.
After the first kilometres, the trail became single-track, a carefully and well-crafted trail that followed the natural lines of the canyon, and offered one magnificent panorama after the next. Hiking at its best!
The trail is well-marked and easy to follow. It was created by a non-profit organisation that is now responsible for maintenance, trail markings and cooperation with the local communities on the trail. A GPX file withe the trail is available by contacting the LMT association through their website. The trail is clean and we noticed how tranquil it was, as we had also experienced Shouf Cedar Reserve. We met a handful of other hikers that day.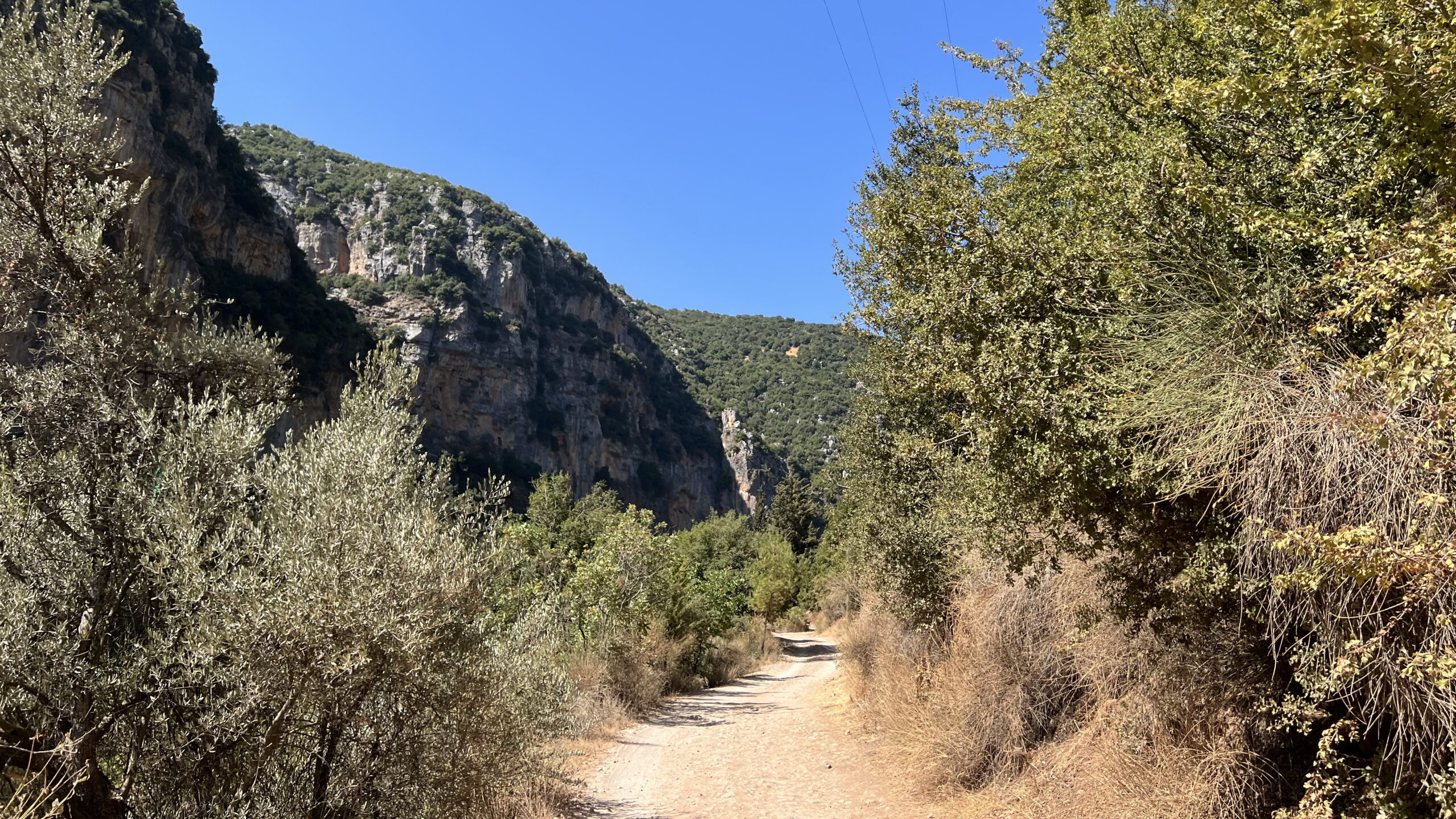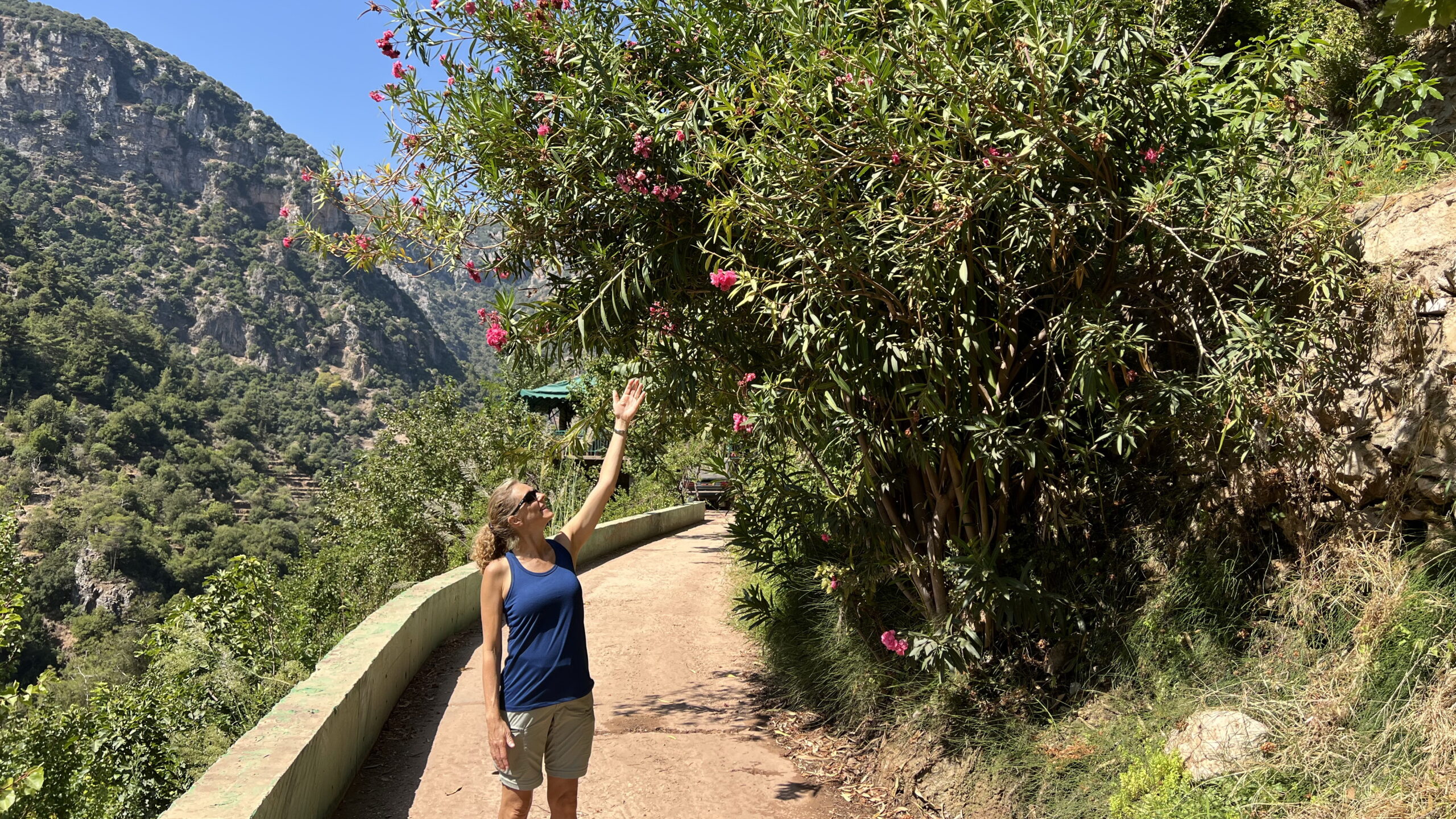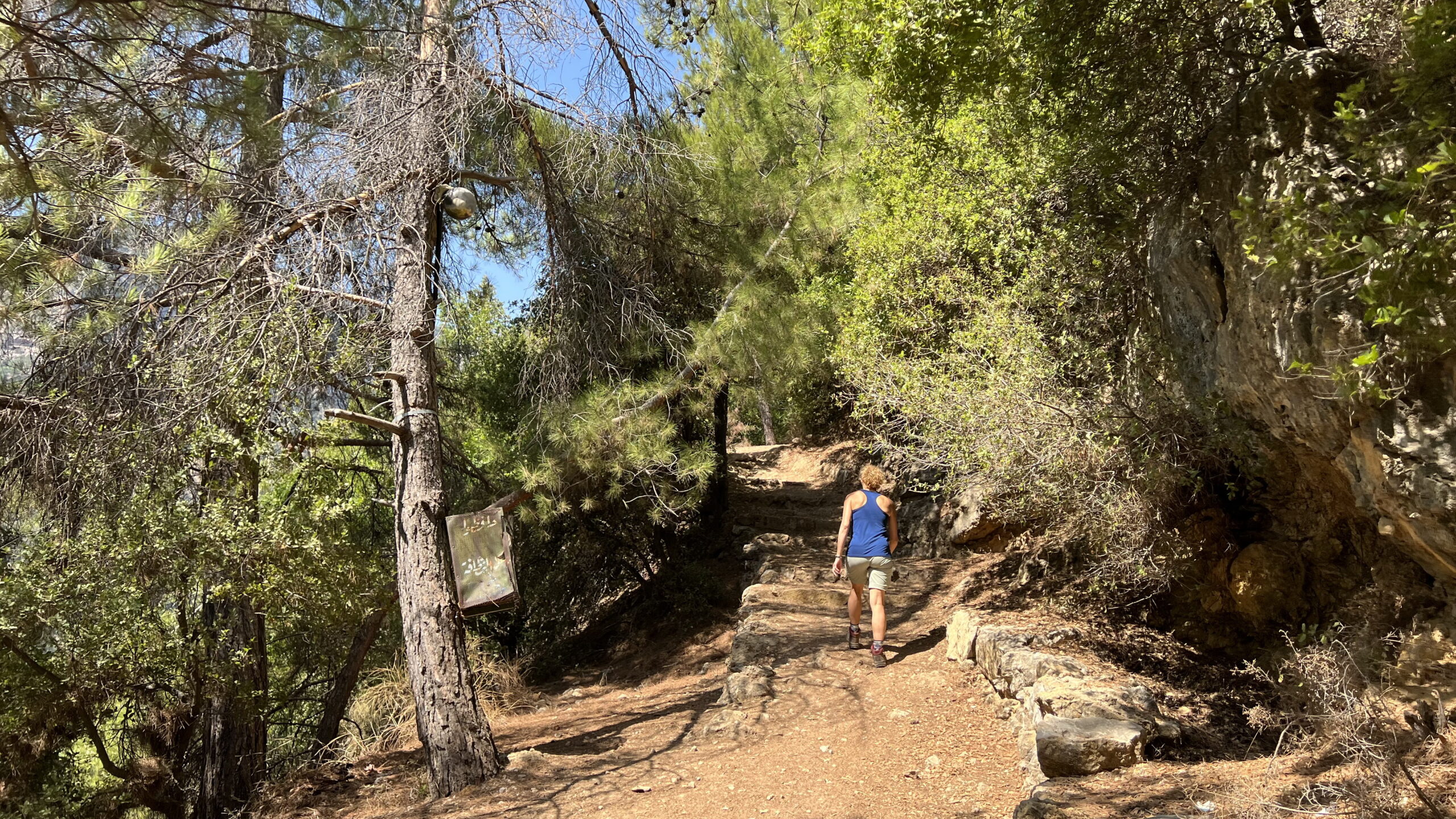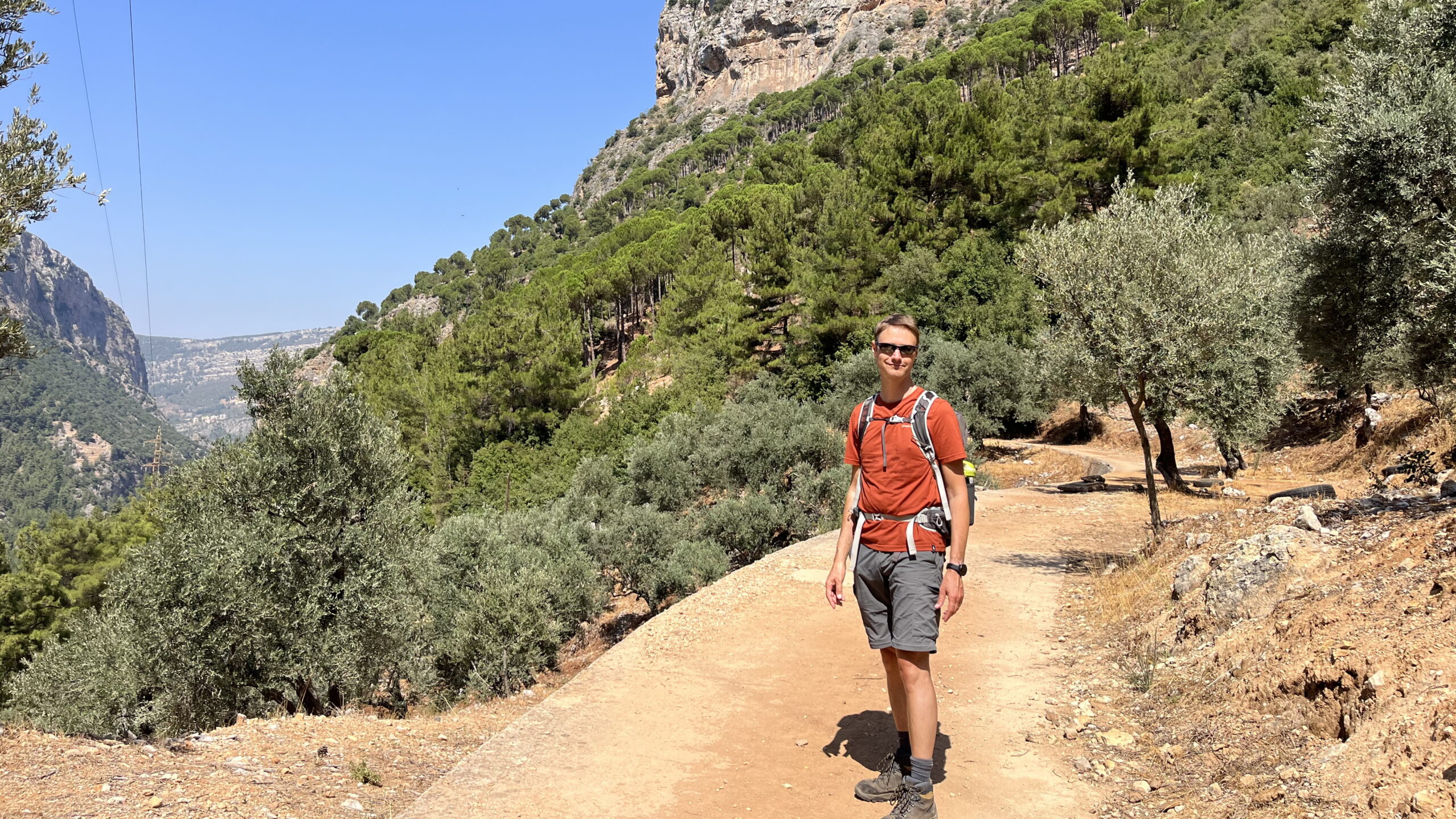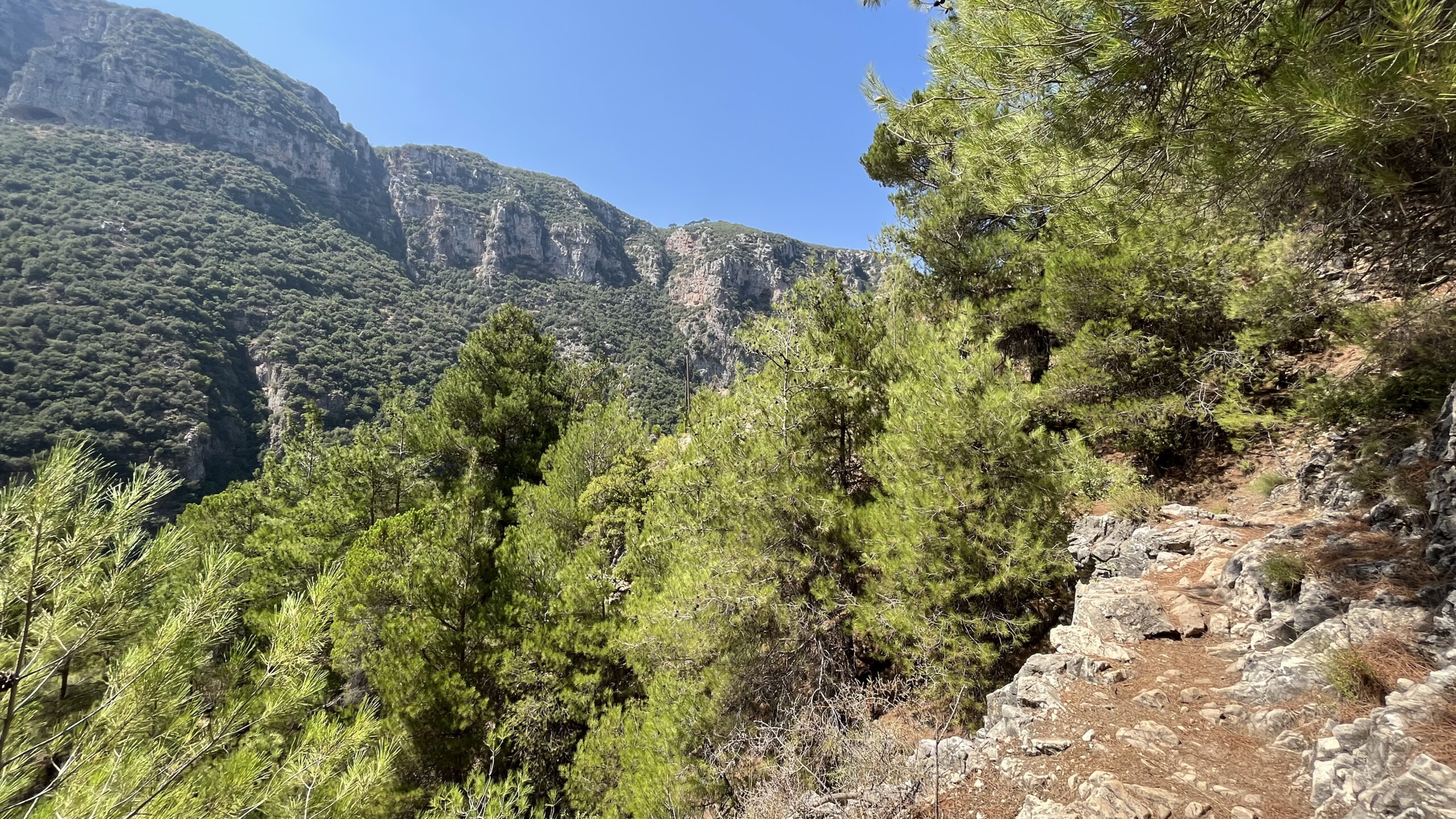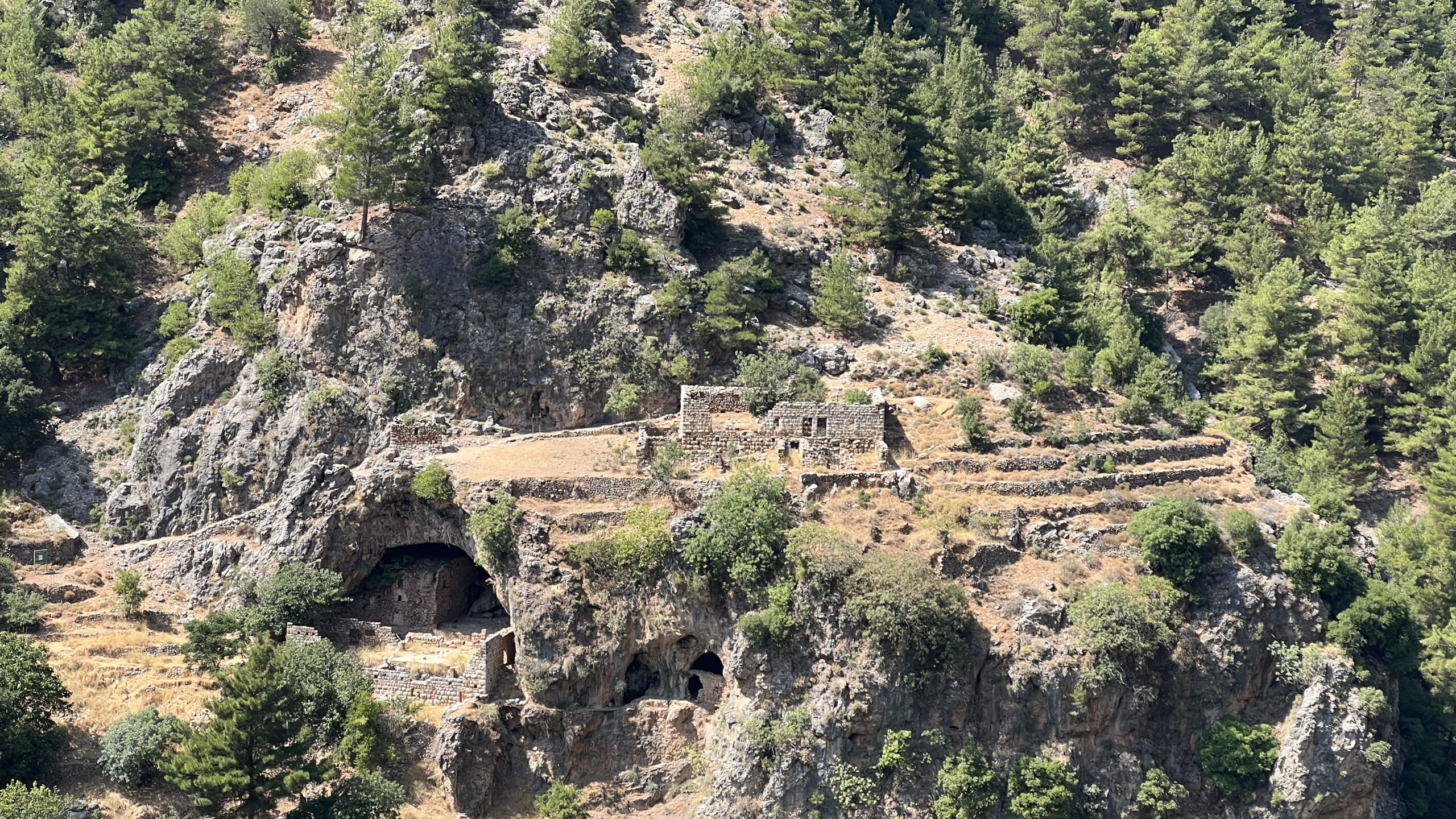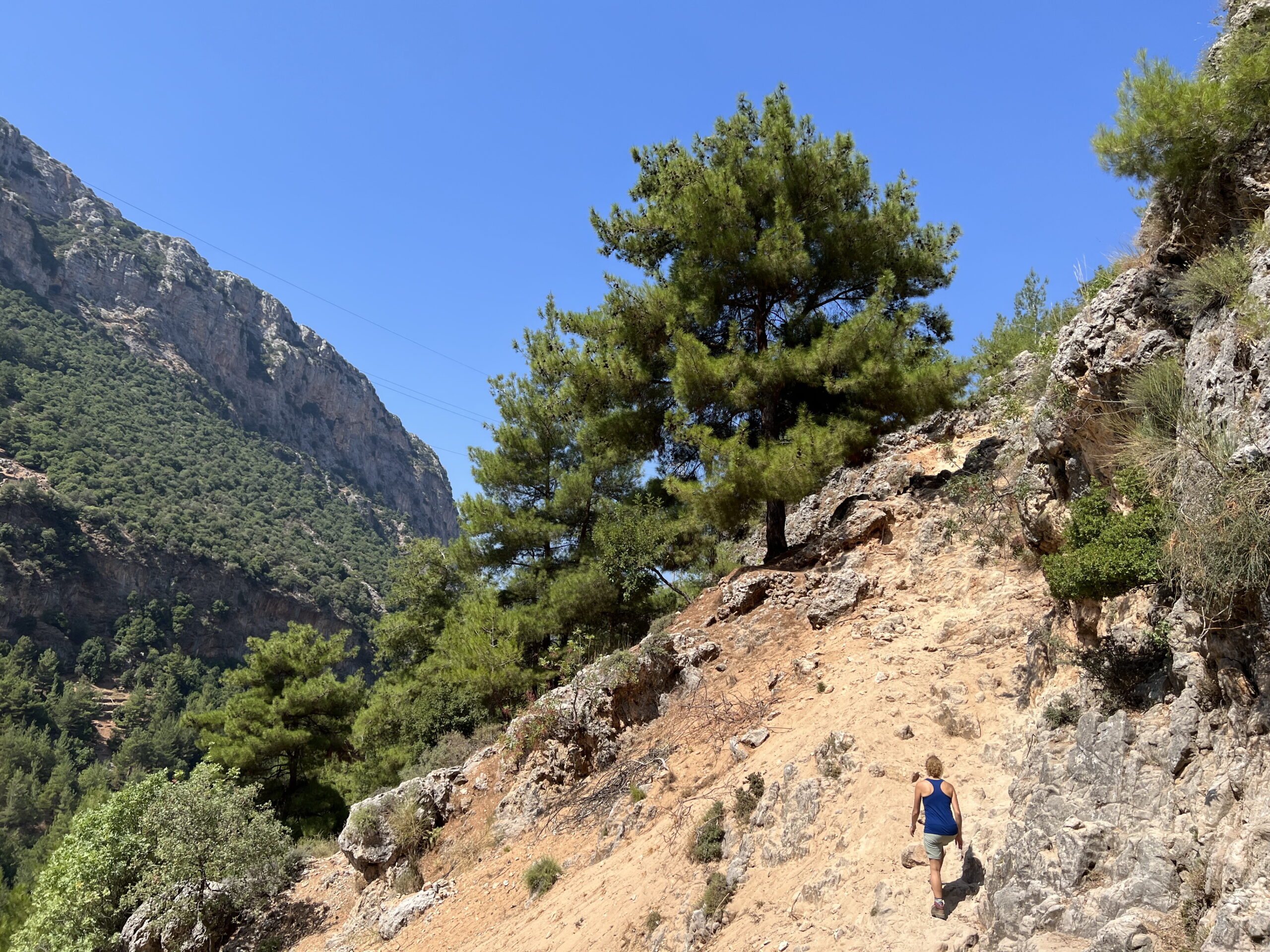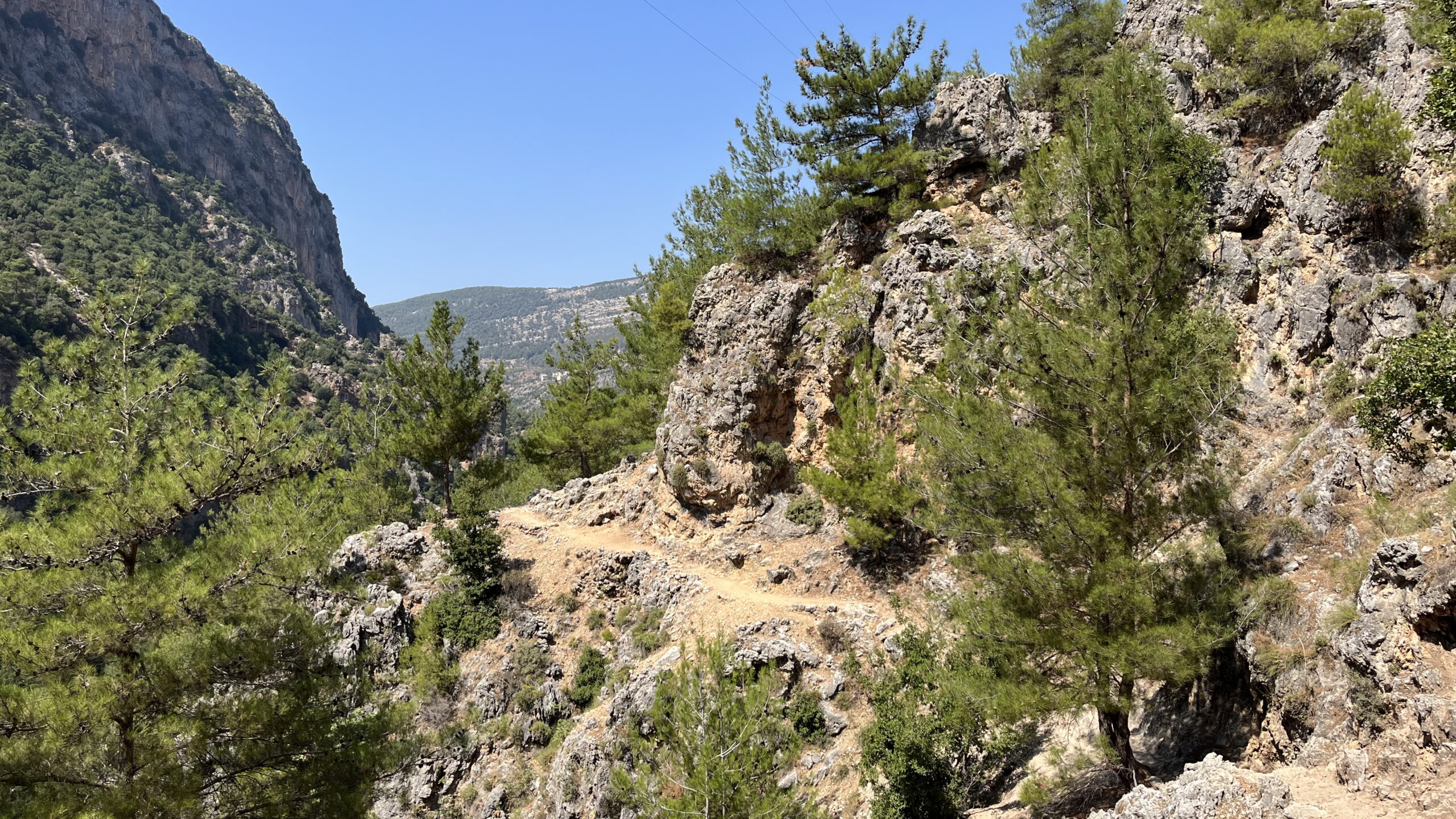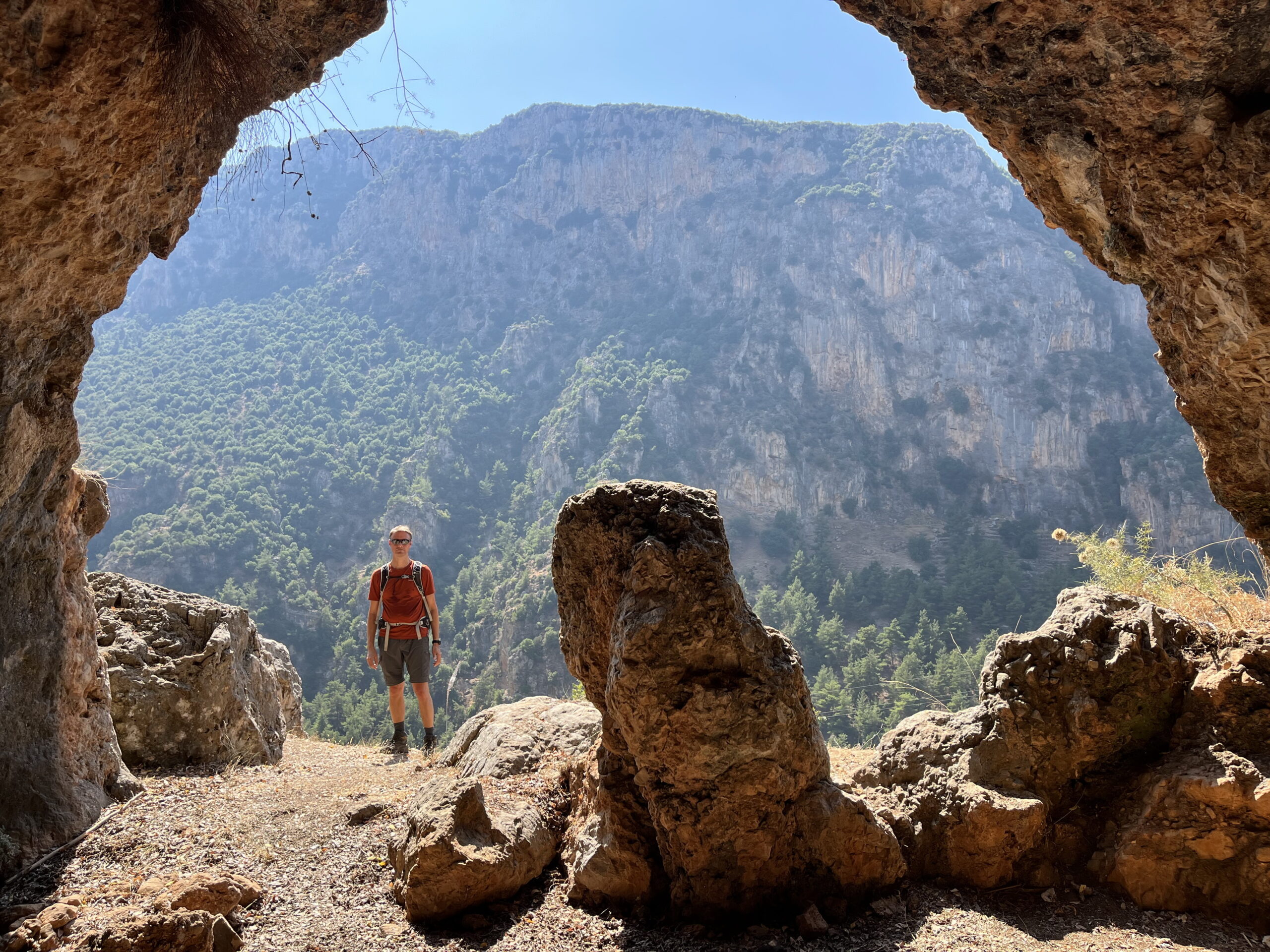 We were not sure if water was available on the trail, so we brought water and food for the day. We found that one of the monestaries had a shop that sold snacks and water. At the middle point of the trail section there is a restaurant, where we bought water and coffee.
Hiking can be a way of letting go of stress and be meditative. While walking in the sacred valley, our thoughts often revolved around the period T had been ill, what it had meant for our family, and his recovery. There was space for the sorrow, and a deep feeling of gratitude that we again had a healthy family.
We ended the hike at the Monestary of Saint Anthony that is beautifully perched on a hillside with magnificent views of the Qadisha valley. It was sunny and fresh. Helle had managed the hike without set backs from her illness, but was tired. It had been a very good day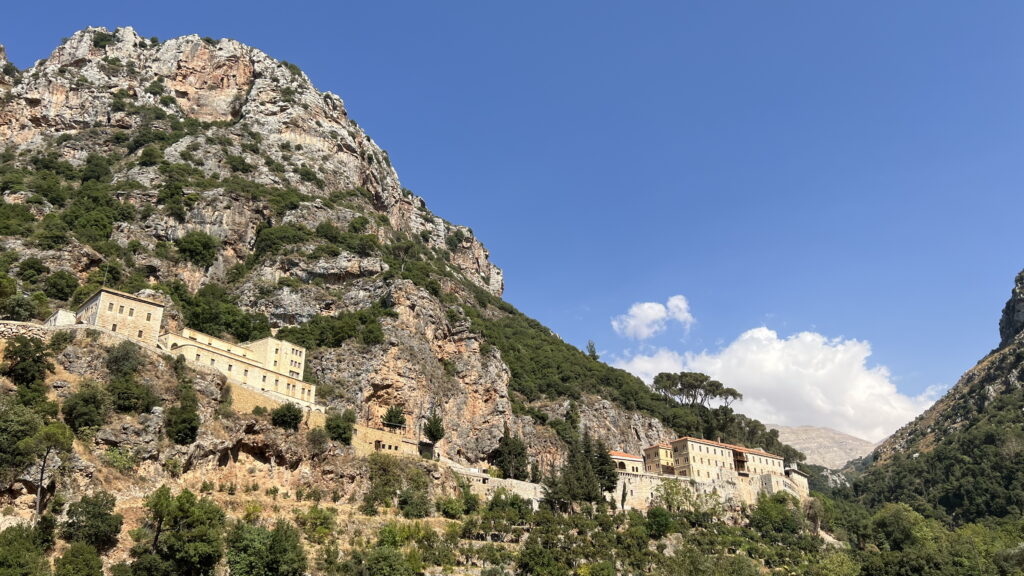 Day 6 – Sunset in Batroun on the Mediterranean coast
Our one-week road trip in Lebanon was coming to and end. The following evening we were flying home. We also wanted to set foot at the shore of the Mediterranean Sea, and had booked a beach hotel in Batroun.
We got in the car, and drove to Be Batroun, where we checked in. The friendly receptionist told us she had family in Denmark, and had tried to get a visa. But she was rejected. Once again we were reminded how privileged we are to be able to travel with Danish passports.
It was early afternoon. We walked to the beach, which is rocky around Batroun. There were waves and it looked like significant current. We dipped in the water, but did not swim. We enjoyed the sun at the beach, and also at the rooftop pool at the hotel.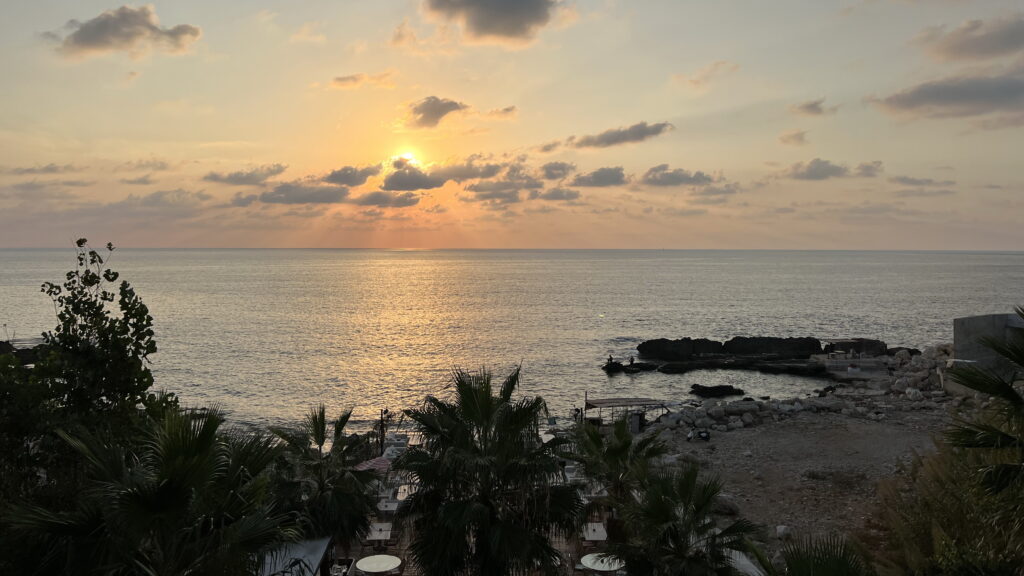 In the evening we walked to the old souk of Batroun. The souk area was now a very pleasantly renovated area of small pedestrian streets, oriented towards tourists. It was full of cafes, restaurants and small shops. The atmosphere was welcoming, and we enjoyed the walk before having dinner at the Armenian-Lebanese restaurant O'Hannes. We had a selection of mezze, that were as delicious as we had tried them in the previous days at other restaurants.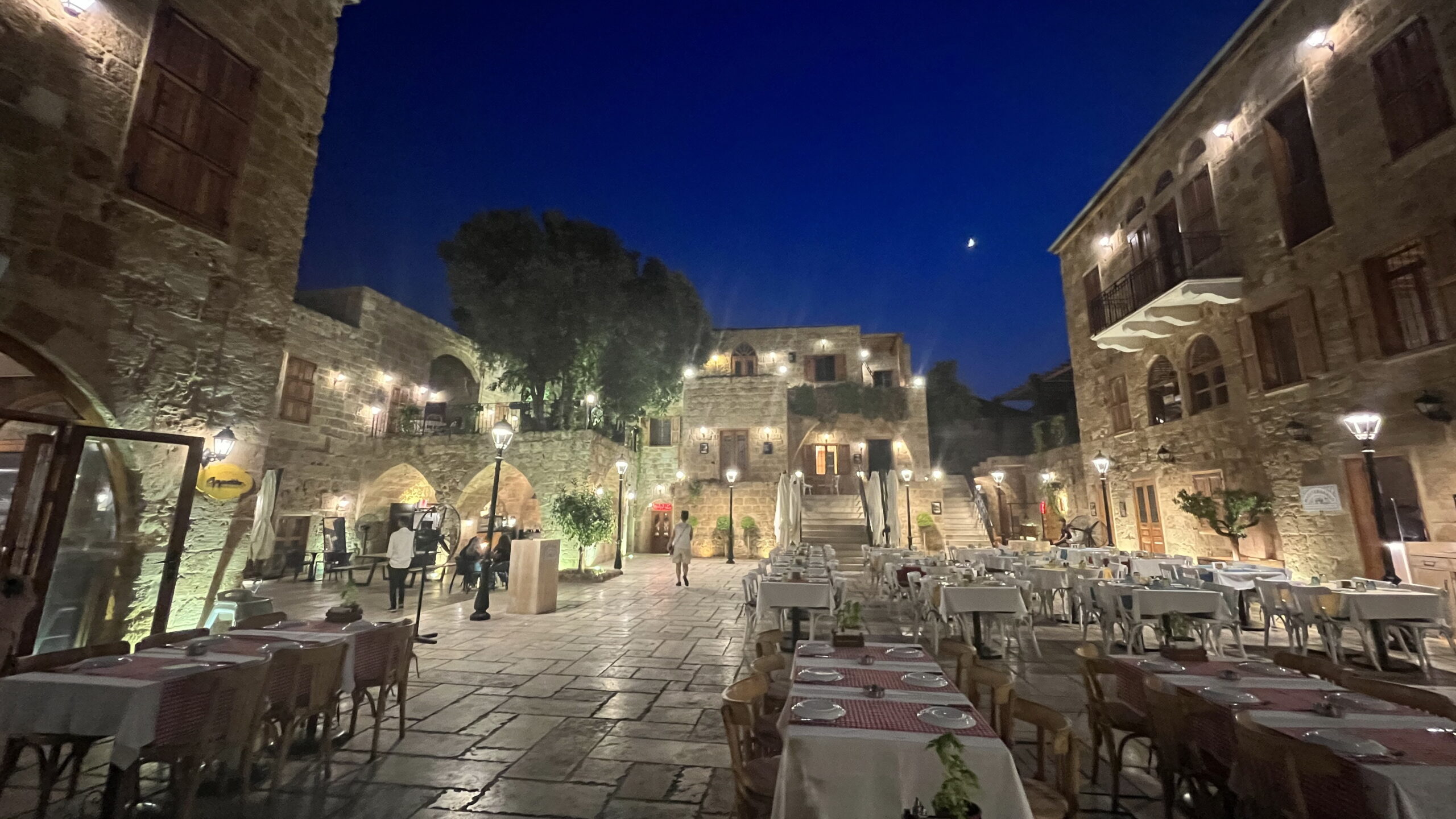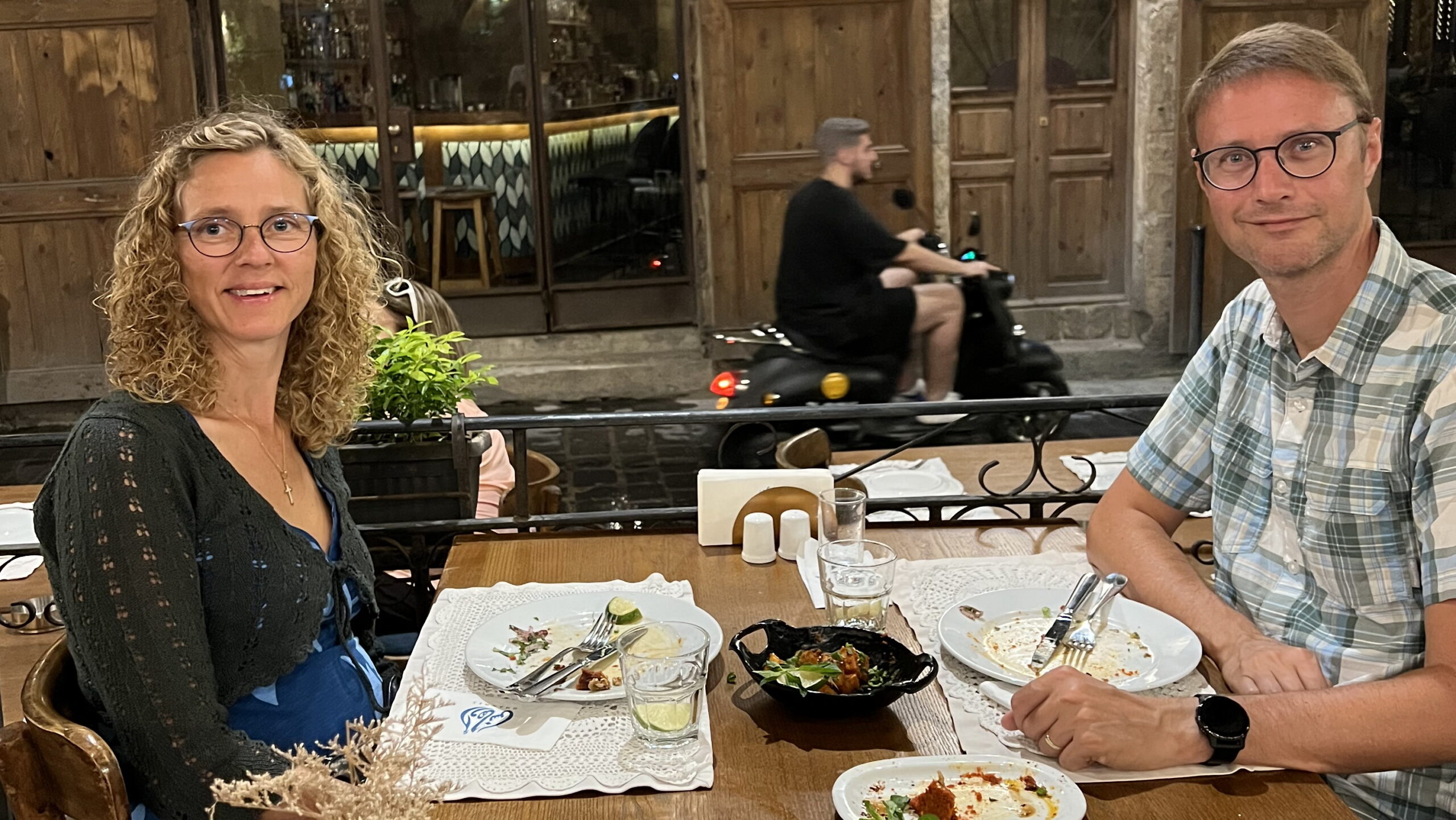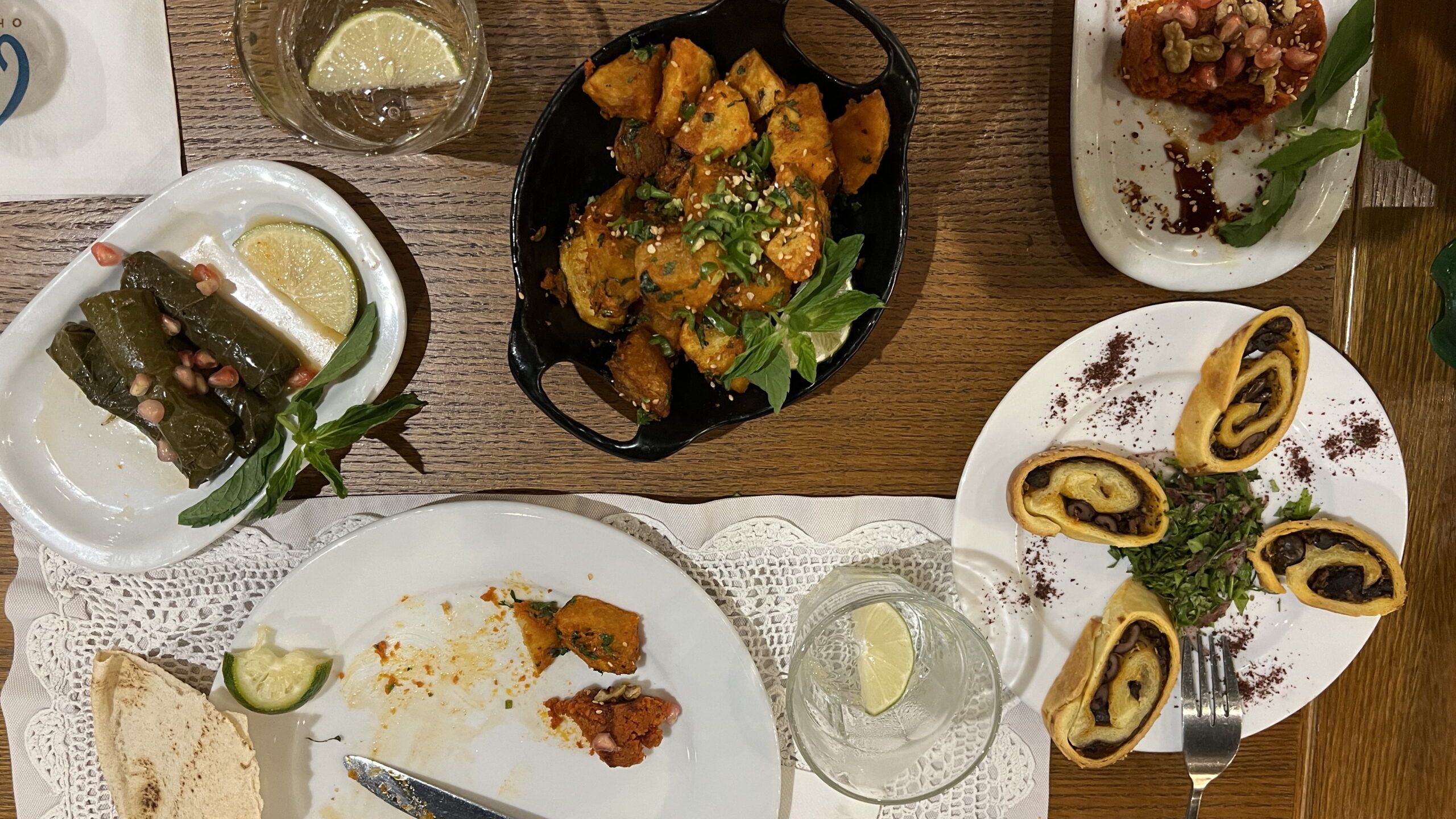 Day 7 – The Crusader castle in Byblos
On the final day of our one-week road trip in Lebanon we left Batroun and headed to Byblos. Byblos best-known attraction is the archaeological complex, with a Crusader castle at the Centre of attention. Byblos has been populated for 7000-8000 years, and many empires have left their marks on the city. The archaeological complex has remains from all these periods. The Roman and Crusader structures are the most prominent today.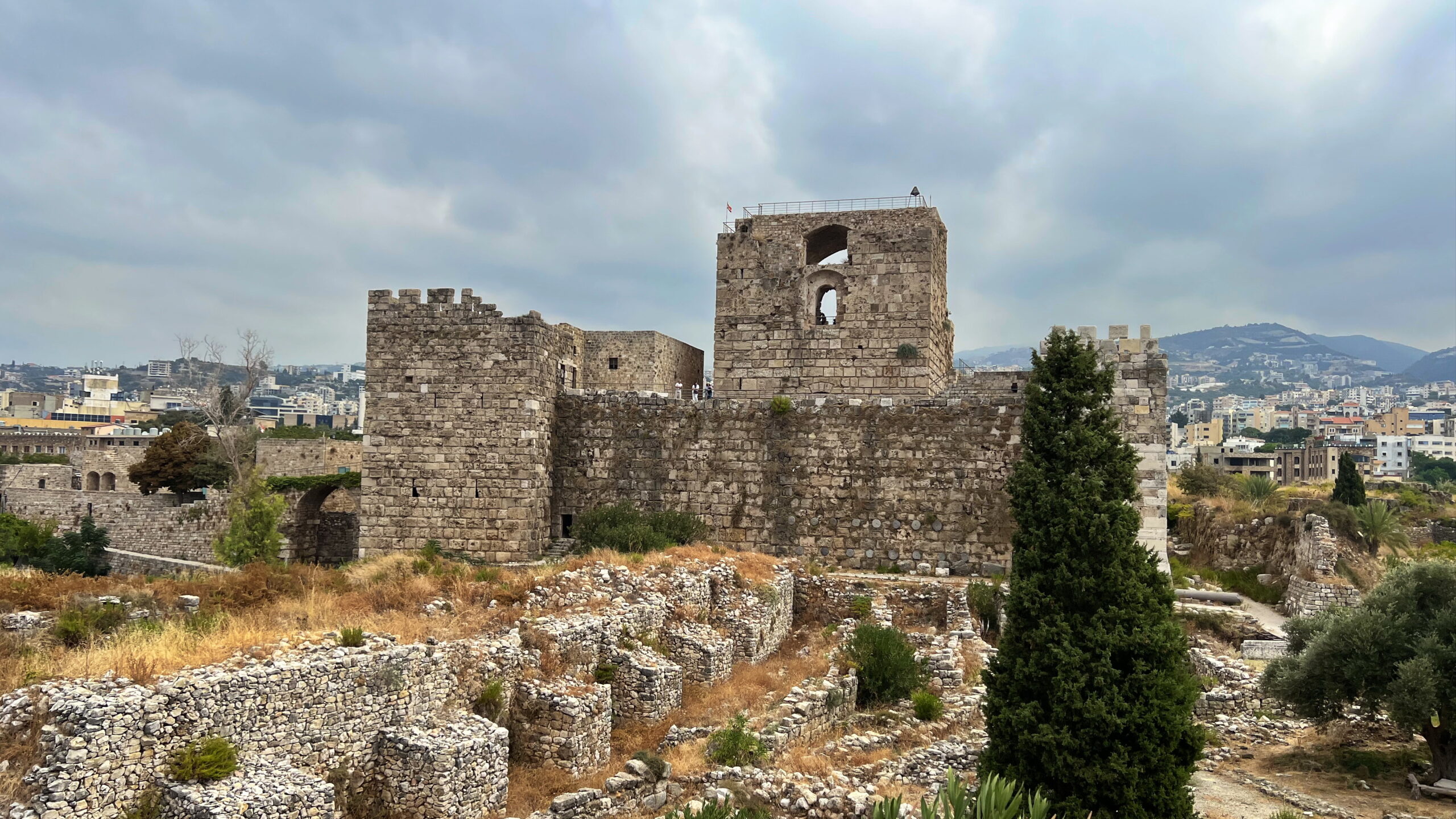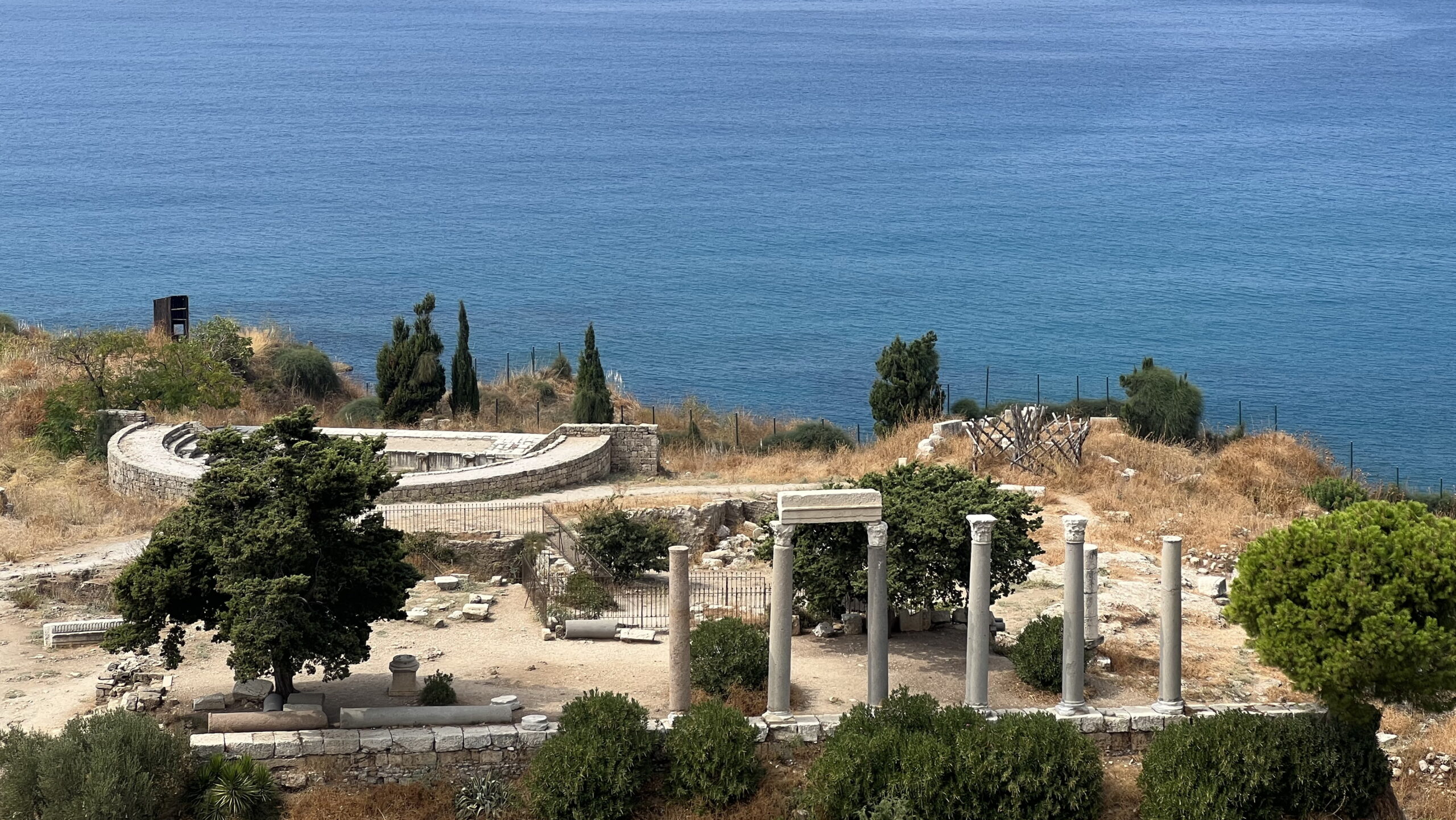 Byblos also has an old souk that has been renovated and converted to cater for tourists. It is a pleasant area to stroll around. We bought remakes of Phoenician bronze figures and other souvenirs. As in Batroun, none of the staff in restaurants or souvenir shops approached us in the street, and we could walk in our own pace.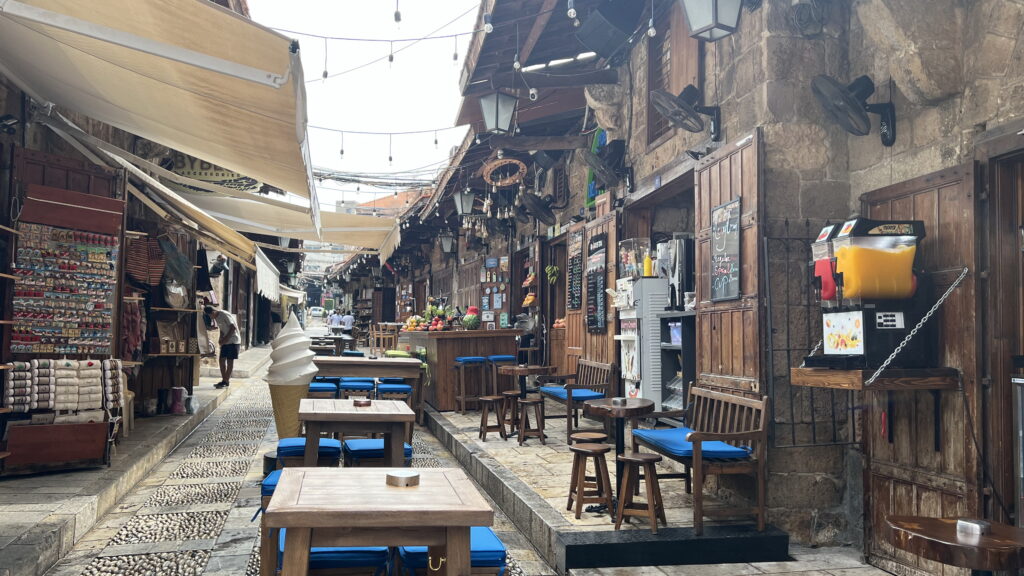 As a last stop, we made a visit to the statue Our Lady of Lebanon. It is more than a statue, it is small and tranquil complex of Christian worship. It has great views of Beirut and the coast, and we were happy to make this stop.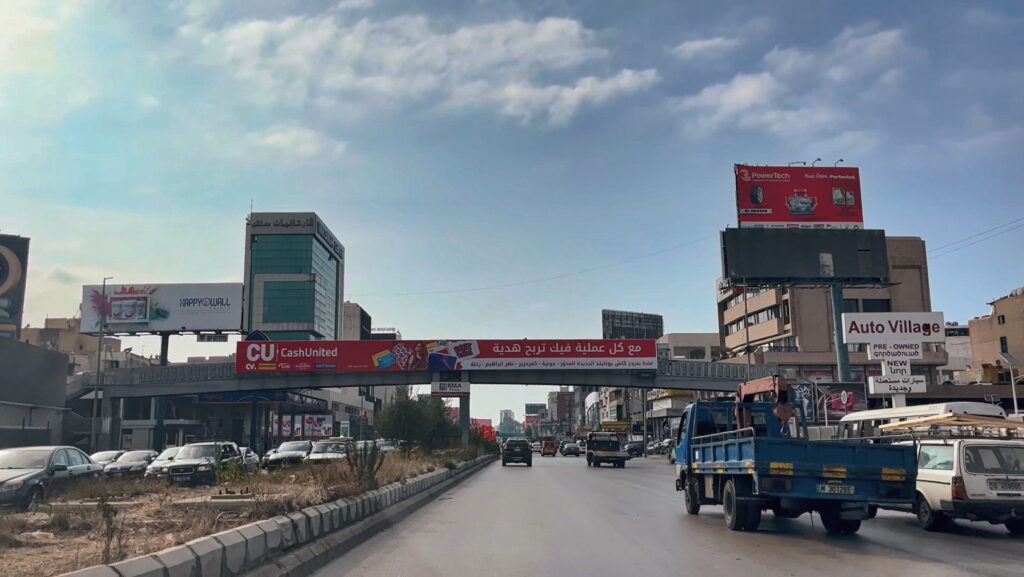 We headed south on the coastal highway to Beirut. The traffic in Beirut was dense, and at a few places it was not evident which was the direct route to the airport. We managed, and were met by a Sixt representative at the rental car park. He received our Nissan Micra, which had been a good companion. Check in and security was seamless. We waited some 20 minutes in the line through immigration, before buying an extra bottle of Lebanese wine and flying home.
After thoughts
The questions we were asked the most before traveling were about safety. And we care a lot about safety when traveling. Upon returning, we have talked about this and other reflections on visiting Lebanon.
Our experiences are exactly that, subjective experiences. The situation may change, and others can have different experiences.
Everywhere we went, we felt safe. We did not observe anything that gave the impression of street crimes or theft required our vigilance. We carried well over 1000 USD in cash at the start of the trip, but that did not make us feel as targets. We walked in many of the places we visited. We were not approached in the streets, except once when we were looking for a trailhead, and got the directions we needed from a construction worker walking by.
Hezbollah is said to take foreigners as hostages. We can not judge if that is a real risk. While in Hezbollah-controlled areas, we did not see anyone in uniform are carrying weapons, except military at the check points. The Christian Lebanese we talked to, were tired of the Western focus on Hezbollah, who in their eyes, are just Lebanese like themselves.
At no point were we in a situation where bribery was indicated.
The economic crisis is real, and inflation is high. The value of the Lebanese Lira continues to decrease, and as a consequence US dollars are used everywhere. Despite that, we did not see poverty. People went about their daily business, very few people hung about on streets. Most houses and properties were maintained – but many apartment buildings have unfinished upper storys. We saw a few beggars in Byblos and Batroun. The people we talked to focused on the fact that many people have jobs or businesses. We had rented a Nissan Micra also to avoid sticking out. But we almost did, the majority of cars were large and modern, with the 1980's Mercedes's and Peugeot's in between. We spent our money locally, often with small, family-owned businesses.
We met hospitality and friendliness everywhere. We were treated as guests by everyone we met – in shops, on the street and in hotels and restaurants. When Helle had to go to the hospital, the service was quicker than it would have been in Denmark.
One man we talked to said that he liked his country and also 90% of the people. With regards to the last 10%, he simply shook his head.
The political situation was at a stalemate, when we travelled. Lebanon had not had a president for almost a year. The situation at the border with Israel could escalate. Hezbollah was an armed militia in the country, beyond control of the government. Foreign powers aim to influence the country in different ways.
But these are facts we did not feel while traveling. We saw people living their lives, earning money to sustain their families, wishing the best for their kids. Just like us.