We did a three-day hike in the Yosemite high country in July 2018 as part of a three-week road trip in California and Oregon.
Yosemite is an absolutely fantastic place for multi-day hikes. The Sierras are known for stabile warm weather, even at high altitude. The landscapes are stunning. And since only few people are permitted to camp, there is no crowding.
Multi-day hikes in Yosemite starts with planning. When we were going, only a certain number of people were allowed to hike and camp in the national park every day. Permissions are arranged through a lottery system. We had to apply exactly six months before our planned start date of the hike. We applied for a very specific route and a specific number of days. You should check current regulations with National Park Services.
Read on, to find more about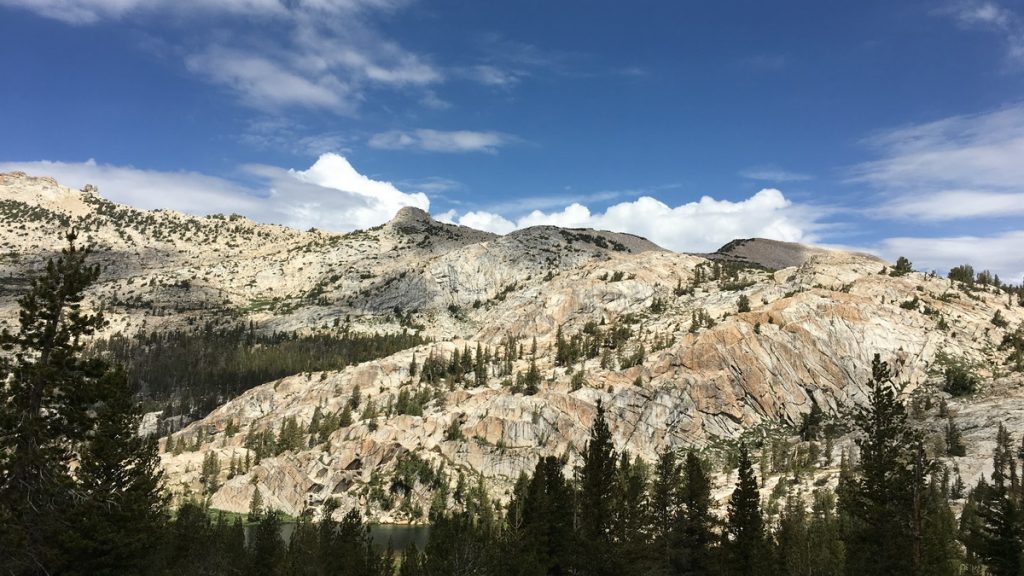 The route for our three-day hike in Yosemite
The three-day hike in Yosemite we were permitted started from Tuluomne meadows towards the Lyell canyon, then up towards Vogelsang camp, and return to Tuluomne meadows. We bought topographic maps of the route in Tuluomne meadows. Part of the route follows the iconic John Muir trail and Pacific Crest trail.
You can find a great description of it on alltrails.com. You will also find a .gpx file of the route. We uploaded the route to the PocketEarth app on our smartphone. The trail is very well-marked and easy to follow by itself, and with the .gpx support it is even easier.
We spent the first day arriving to the trailhead, reporting to the ranger station and renting bear canisters. We set out on the trail at lunch time and hiked the Lyell canyon.
The ascend from Lyell Canyon towards Vogensang at the beginning of day two is a little steep, but absolutely manageable, also for the kids. Once you are at the pass , the trail flattens and takes you through alpine country. It is above the tree line with spectacular views of mountains, meadows and lakes. This is the highlight of the hike. Before reaching the Vogelsang camp, there is plenty of places to set up camp.
We could easily have spent more days in the high country around Vogelsang.
Day three is an easy walk down to Tuluomne meadows. With a wilderness permit, you can camp at the Tuluomne campground without a specific reservation.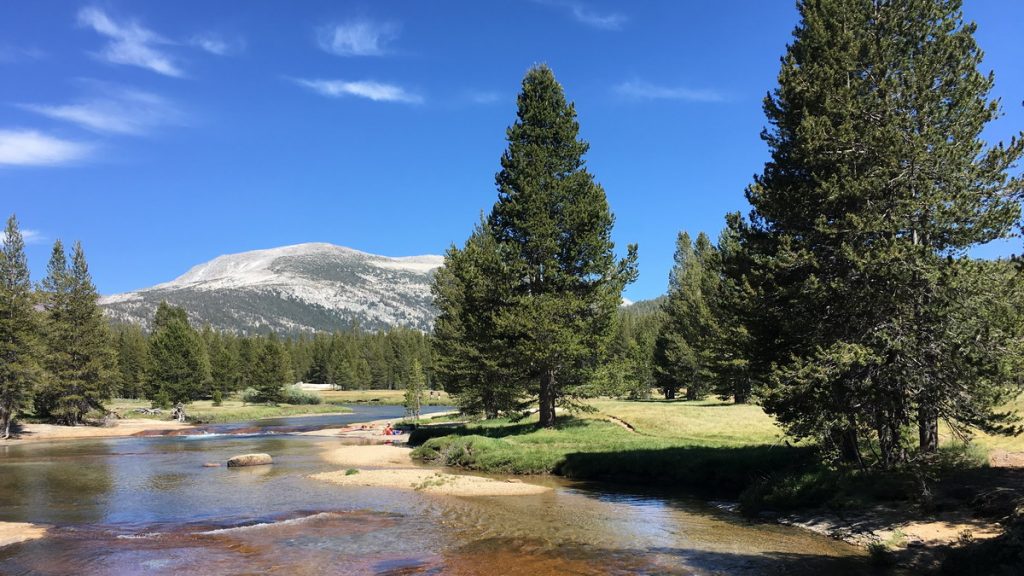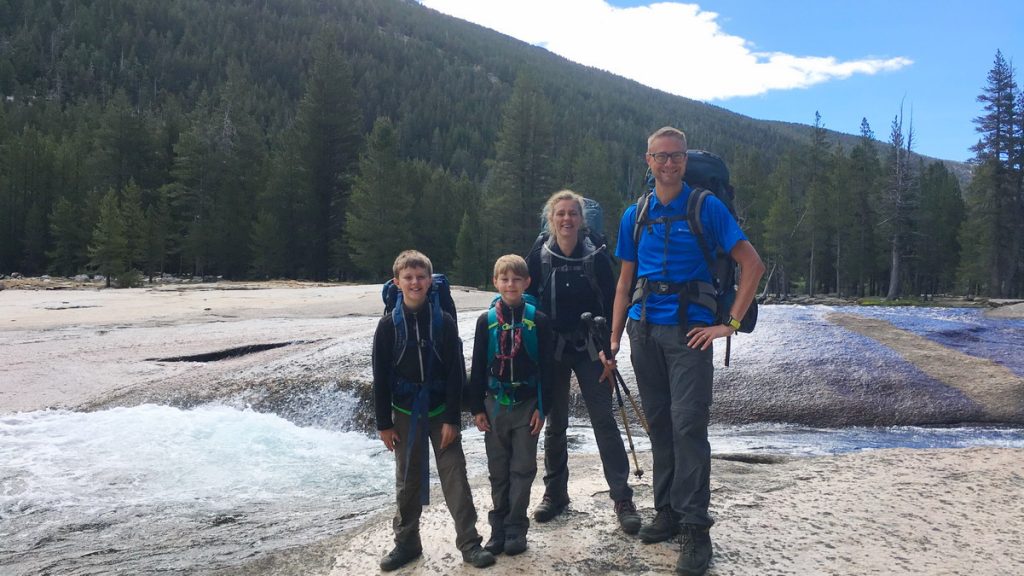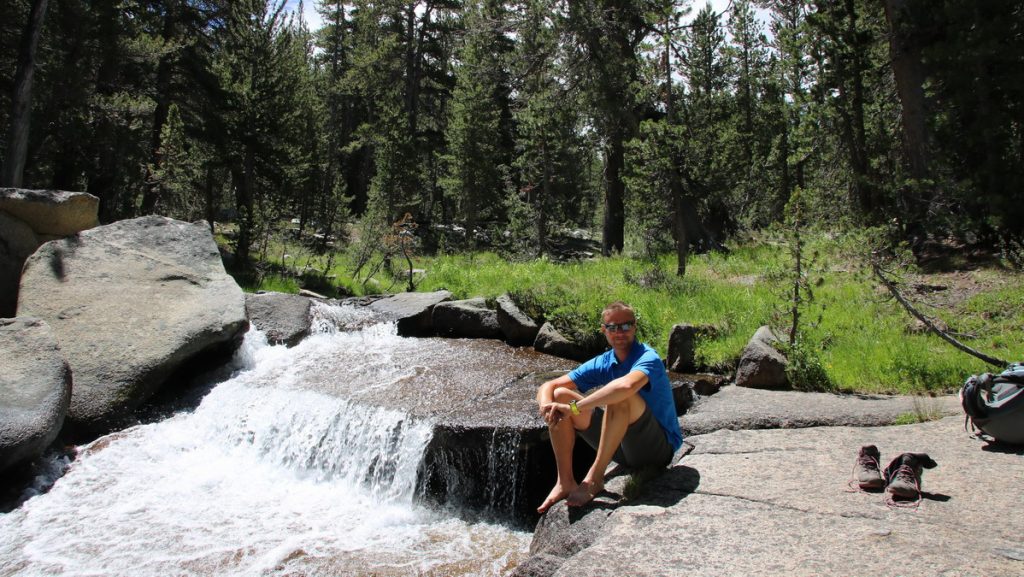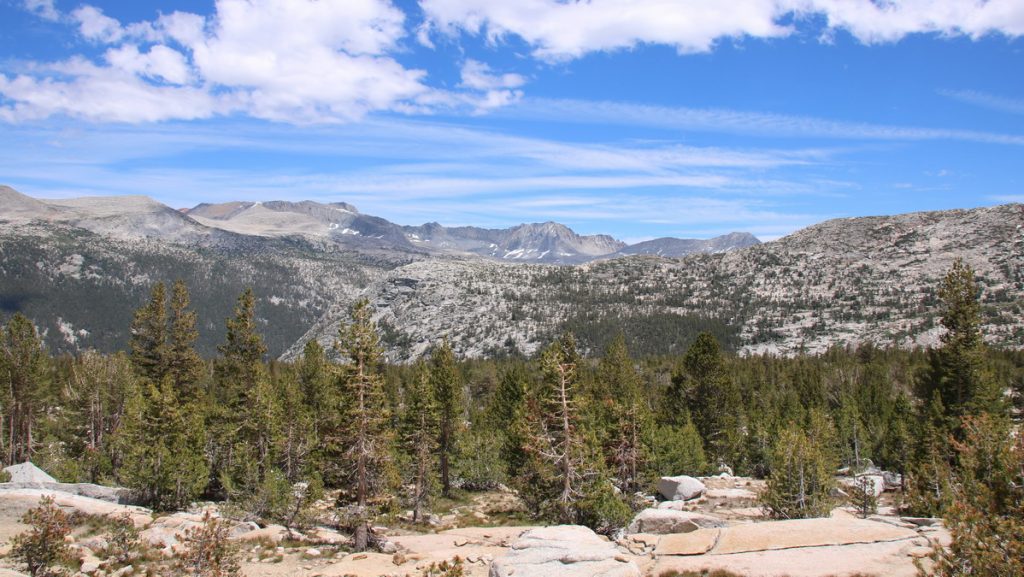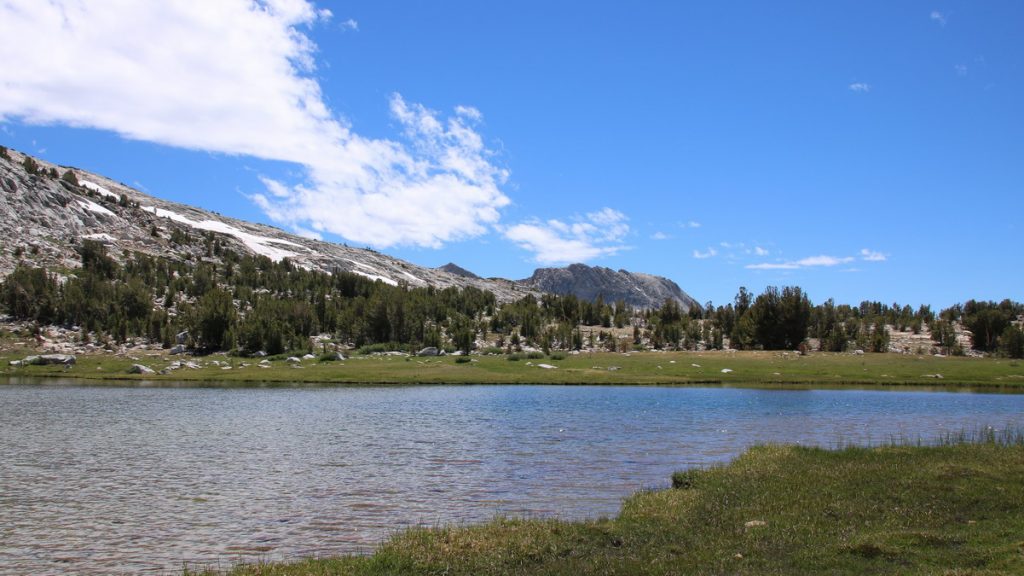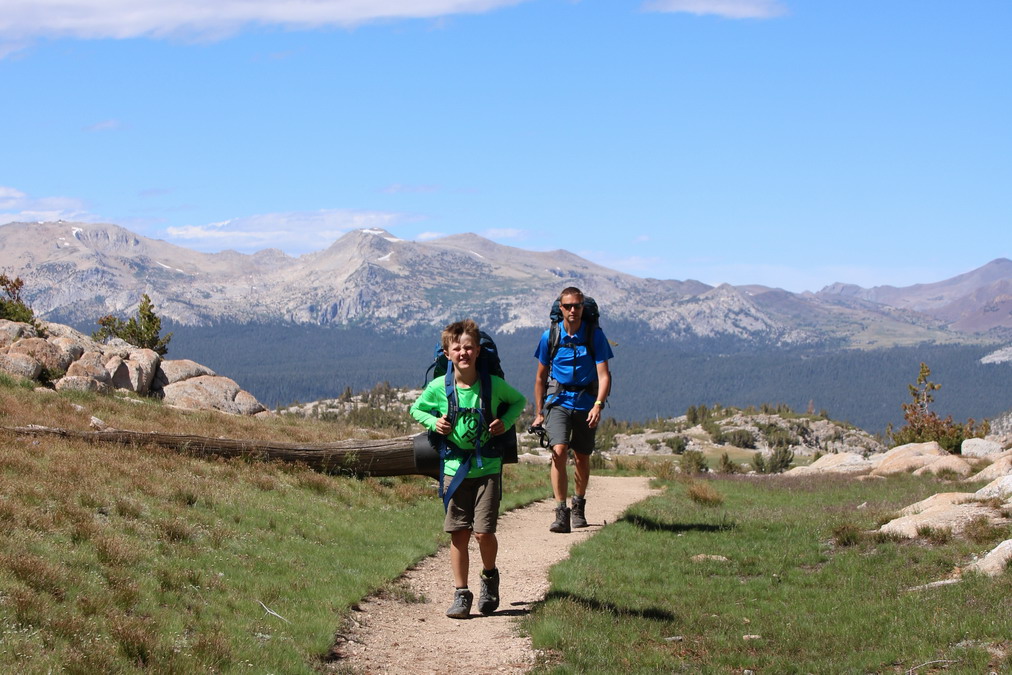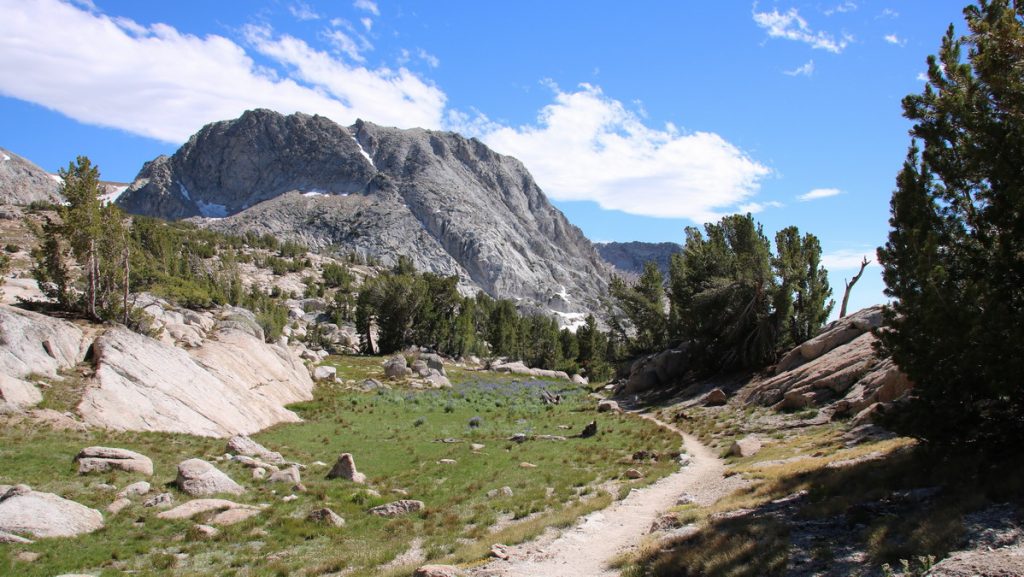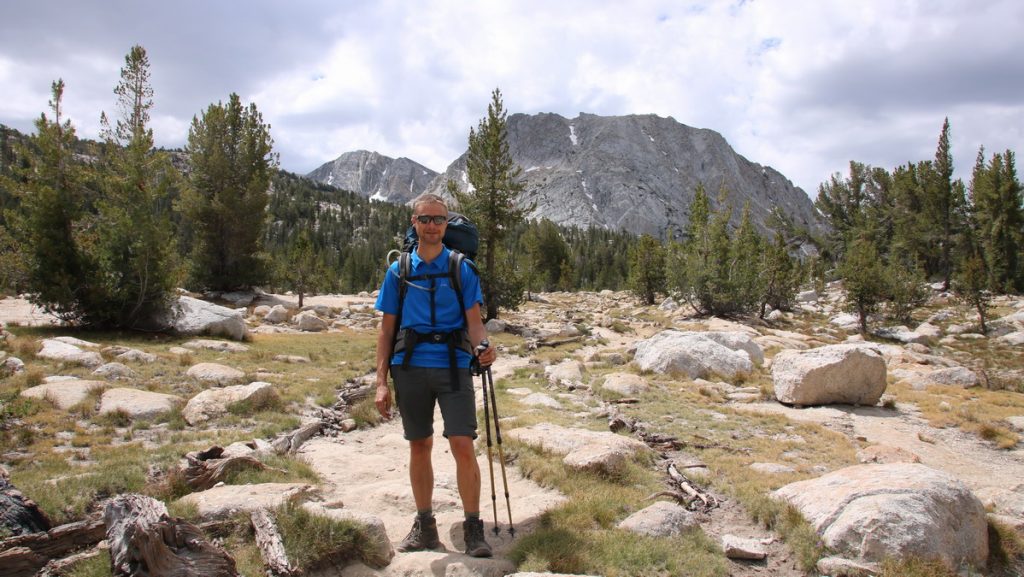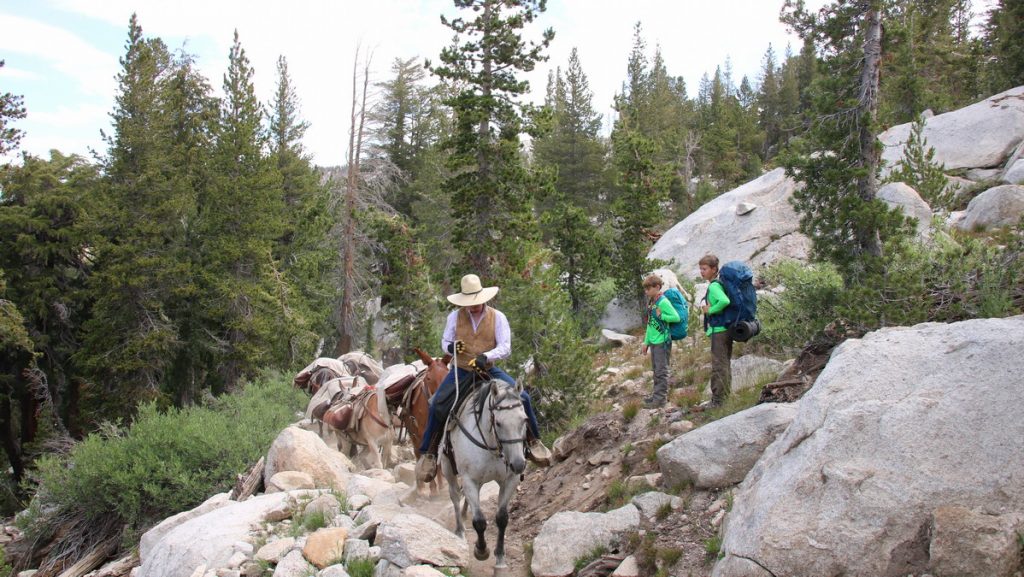 Camping
National Park Services encourage hikers to camp at spots where you can see others have camped before you. There are no fixed camp sites. It was easy to find great spots for camping. On day two we found a great spot near Fletcher lake that was the required distance from the lake, but still close enough to have a view of the lake. The weather was great, and it felt like a little piece of heaven to enjoy the sunrise on a warm evening surrounded by beautiful mountains in an altitude of more than 3.000 metres. At that point a three-day hike in Yosemite felt much too short.
In Lyell canyon you are allowed to collect firewood and build a fire where other campers have made stone circles for fires. In the high country campfires are not allowed.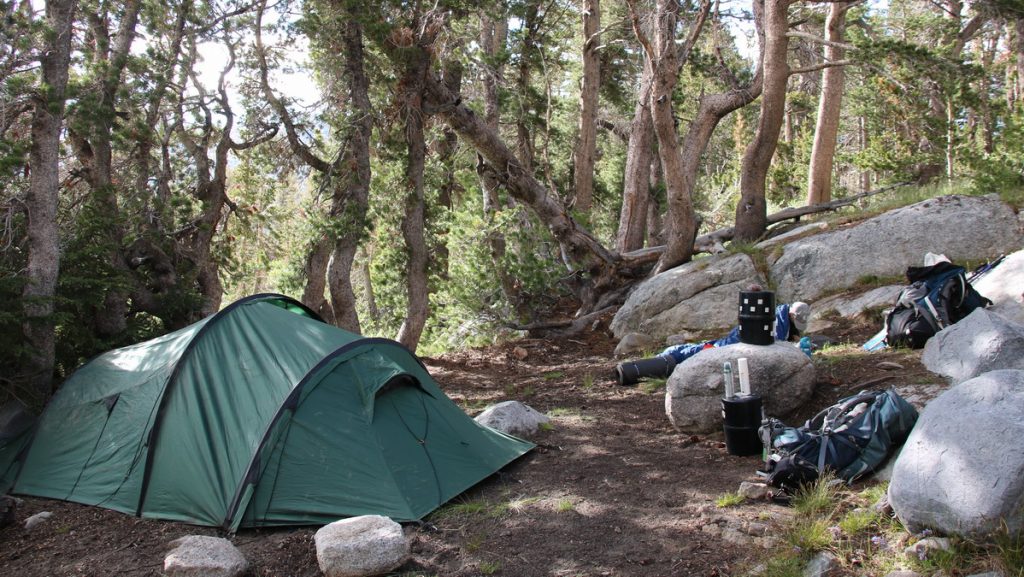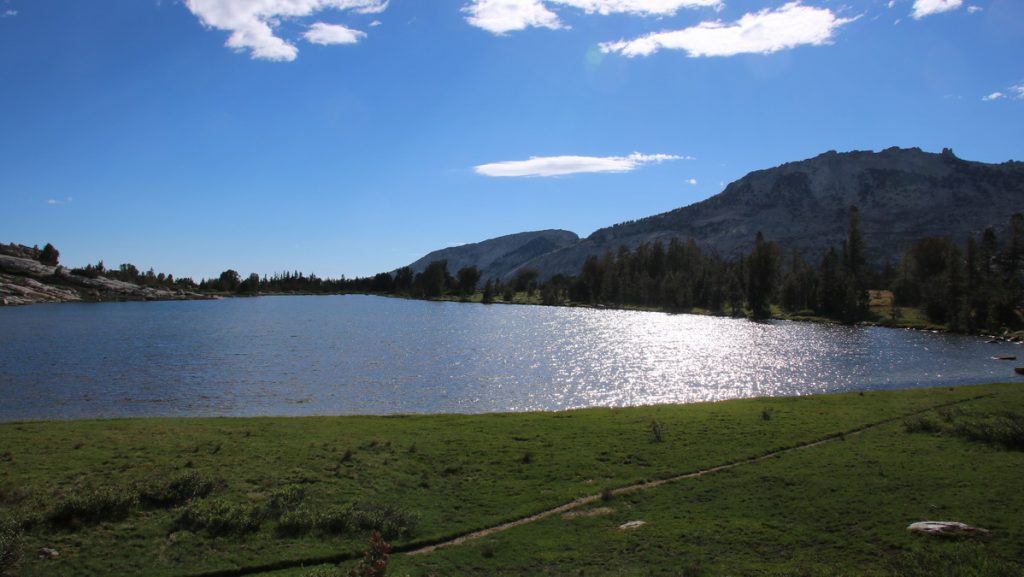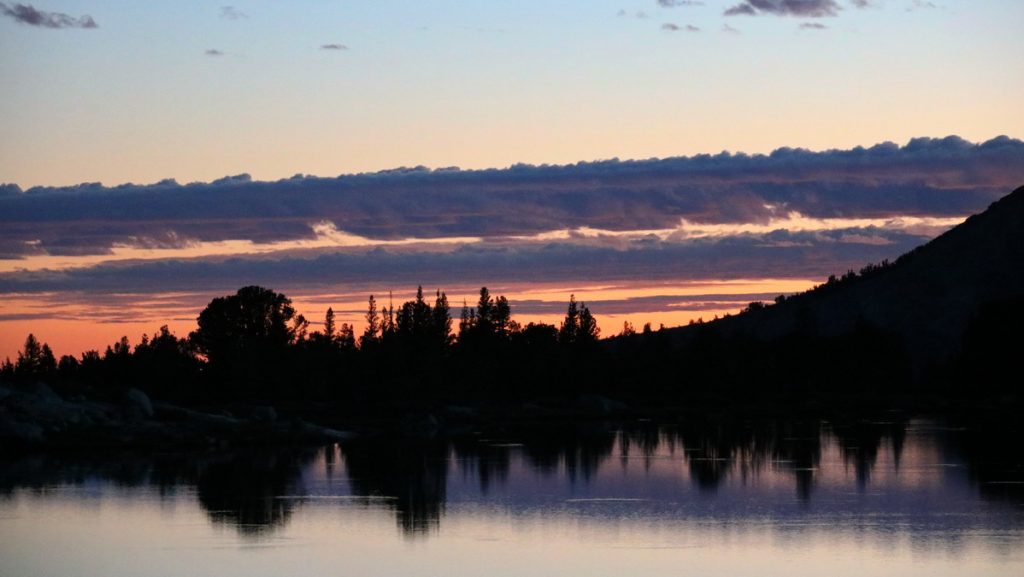 Prepare for bears and mosquitos
Bears are active in the area, so bear canisters are required. They can be rented from the ranger station. Everything with a scent has to be packed in the canisters. Everything.
We did not see any signes of bears. The bears in Yosemite are brown bears, and less aggressive as the grizzlies in e.g. Yellowstone. The rangers do not permit the use of bear spray, instead recommending to use noise to keep bears away.
We couldn't miss the mosquitos, though.They come out at evening, and around Fletcher lake they were active. We brought mosquito net head covers, which worked well. The mosquitos were not too aggressive, and it wasn't a problem.
Water for drinking
The water in the rivers and streams is clean to drink, but needs to be filtered because it may contain a parasite. We used the Sawyer Products SP129 Squeeze Water Filtration System with Two Pouches, which worked well for us.
Meals
We brought a trangia stove with gas burner, and used it for lunch and dinner with freeze-dried meals from REI. For breakfast we had gronola and oats.
We brought tea and coffee. For short multi-day hikes the coffee brewers from Brew Company produces great coffee at a very low weight.
All garbage has to be carried out. It protects the environment and keeps the trails clean.