Gluten free meals when travelling in USA with RV or tent requires planning. When we travelled with RV and tent in USA we bought groceries every four or five days, and cooked all daily meals ourselves. As T has celiac disease and needs gluten free diet we figured out how to solve this. Peter prefers not to eat meat, and we solved this as well. Read more about celiac disease and how it affects T here.
We travelled four weeks in RV in July 2017, and three weeks in tent in July 2018. We have travelled with a car and stayed in hotels, too. Click here to see all our posts about traveling in USA.
Cooking equipment
With both the RV and tent, we mostly stayed at campgrounds with a firepit, and often used it for barbecue.
With tent we had brought two Trangia cooking sets with gas burners from home. In the RV we could use the gas stove. With that we could boil rice or pasta, and warm sauces.
Buying groceries
We had researched locations and variety in different grocery stores. We concluded that Walmart had the basic gluten free products we needed, and Walmart supermarkets were located reasonably convinient for the routes we drove. An advantage of Walmart for tourists is that all Walmarts seems to be organised in the same way. So enter a Walmart you have not been to before, and you will easily find the location in the store of the products you need.
It is possible to order groceries online so that they are packed and ready to be picked up from the store, saving valuable time.
Safeway have products of higher quality and price, and more specialty products including gluten free products. Whole Foods market is at the top of the price range with lots of high quality products, but not substantially more gluten free products than Walmart.
Our favourite dishes
All meals had to be gluten free and be based on ingredients that required limited cooling. They needed to be easy to prepare on the cooking equipment we had available. And in addition, we also wanted to spend little time cooking, and for simplicity we preferred dishes composed of only a few basic ingredients. Here are typical meals that matched our criteria and taste.
Breakfast
We all have different preferences in the family, so here are what was served for breakfast
Granola with yogurt or fresh fruit
Oats with milk (both plant-based and cow milk) and sugar. Milk can be milk powder
Oatmeal (boiled oats) with cinnamon and sugar
Buns with jam or cheese
Lunch
For lunch we had sandwiches of buns with/without gluten and a mix of toppings
Guacomole, lettuce and cheese
Hummus
Olive paste
Canned tuna
Peanut butter and jam
Fresh carrots, bell peppers and tomatoes
Dinner
Burgers. Walmart has pre-shaped beef patties and vegetarian patties. They have frozen gluten free buns. With salad that made delicious burgers from the firepit grille.
Pasta with pasta sauce. We bought Pasta (including gluten free) and pre-made pasta sauce. Grated parmesan can be added. It is not a gourmet choice, but works well and does not need a firepit.
Tortillas. We bought soft tortillas and refried beans, and added quick rice, canned corn and canned peas. Mozzarella can be added.
Tomato soup with macaroni. Pre-made tomato soup with macaroni make a quick dinner.
These gluten free meals when travelling in USA with RV or tent worked for us.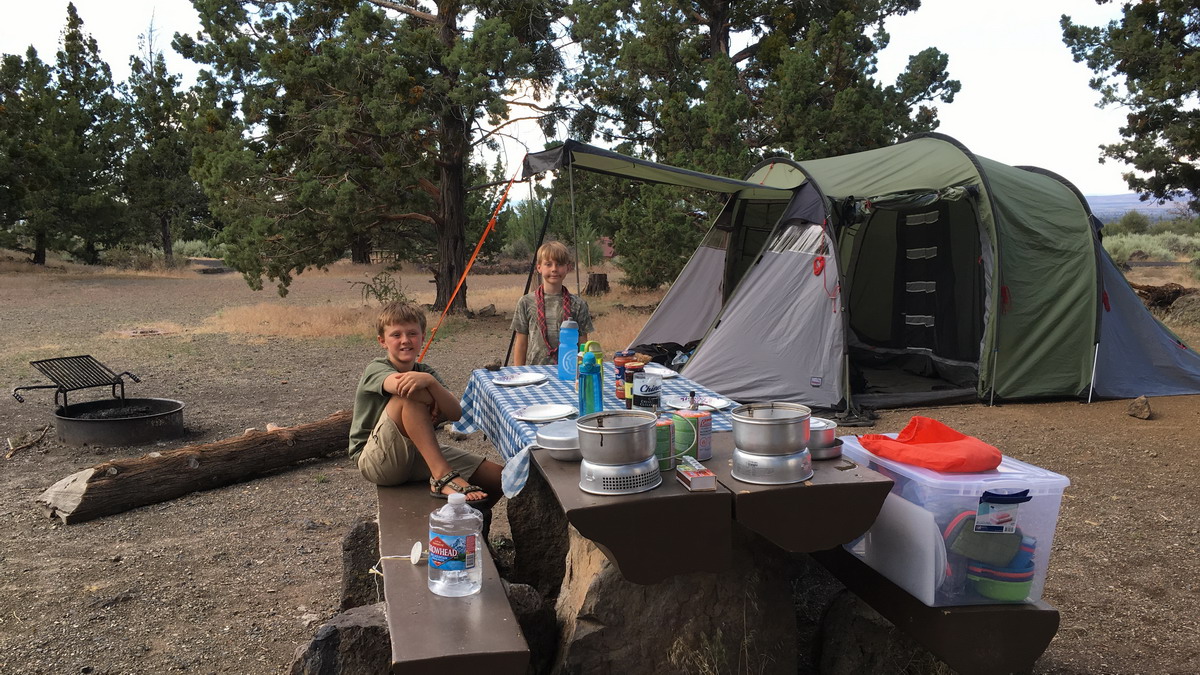 Keeping groceries cool
With an RV you have a small refrigerator. With the tent, we bought a large cooler. There was no difference in the possibilities we had with the two different setups, so what you will see here worked for us both in RV and in tent.
Before starting the tent trip, we decided that an electrical cooler that could be plugged in the 12V supply of the car was the option that would give us most cooling capacity, so we bought a rather expensive cooler as the first thing before starting the trip. We learned that this did not give us what we had expected. For one, the cooling capacity of the electric cooler is very limited. We did not notice that it was actually able to reduce the temperature of the groceries in the cooler. And secondly, it only cools when the car is turned on. There were many days when we only drove the car an hour or two per day.
What we would recommend is to buy a large cooler to be used with ice. You can buy ice in even the smallest grocery stores. This is what we ended up doing, and we found that the ice kept groceries cool.
And do not expect too much of the cooling capacity of the refrigerator in the RV.
In either case, it is best to buy groceries that are cool already instead of cooling down groceries.
Coffee
Peter enjoys a cup of coffee in the morning and midday. We brought two coffee makers:
Aeropress makes a nice cup or mug of coffee from coarsely ground beans. It requires access to boiling water.
Handpresso Auto is the electric version of the Handpresso espresso maker. The standard Handpresso requires access to boiling water. Handpresso Auto is a fully automated coffee maker that plugs into the 12V supply of the car. You only need to add water and finely ground espresso beans for a great espresso shot.