This is our experiences from an extended weekend in Romania – Brasov and Transylvania.
We had the opportunity to extend a business trip to Romania in May 2019 to give us four days in Bucharest and the mountains around Brasov in Transylvania. Transylvania had been a place we'd like to visit for some time, so we didn't hesitate when the opportunity came. We expected that the Carpathian mountains were beautiful, but were unprepared for just how much we liked Romania as a travel destination. On this trip we enjoyed the company of Helle's parents who made excursions with the boys in Bucharest while we were working, and joined us in Brasov. They extended the trip with some days in Constanza on the Black Sea coast, and had some good days there.
Read about our experiences traveling gluten free in Romania here.
Using the map: Use the mouse to zoom and pan. Click the button in the top-left corner to open a navigation menu. There you can select or de-select specific types of content we have added to the map.
What we did
We flew in and out to Bucharest where we rented a car, and drove to Brasov, the main hub for excursions into the Transylvanian alps. We travel with children and travel slower than you could without children.
Read about our experiences with renting a car and driving in Romania.
Bucharest and the drive to Brasov
Bucharest is known for the palace of parliament, one of the largest buildings in the world, but there is much more to the city. Romanians are southern Europeans by heart, and the small streets of the old city has an Italian feel. The atmosphere is friendly and welcoming, and nice restaurants line the streets. We enjoyed strolling around in the warm weather. You can not miss the huge avenue that former president Ceaușescu initiated, as it runs through central Bucharest towards the huge palace of parliament. Both have their charms, but cannot be disconnected from the brutal regime during which they were built.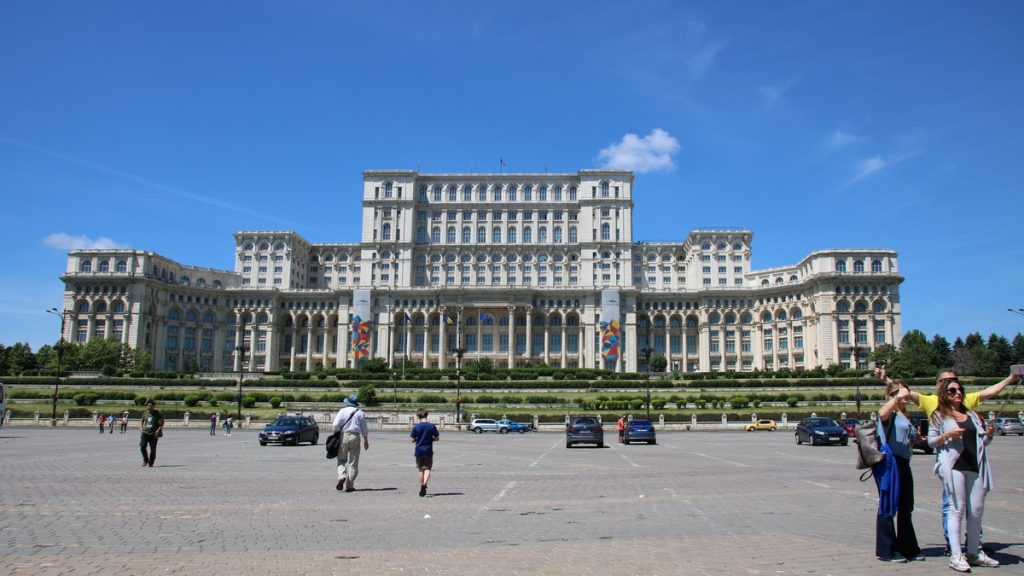 Leaving Bucharest, we picked up the VW Golf we had rented from Avis via Rentalcars.com. We used the Avis office at Hotel Intercontinental and had a smooth experience picking up the car. The roads are in good condition both in and outside the cities we passed.
There are several places you could stop on the road to Brasov, and we decided to make a stop to see Peles castle, built by the former royal family for king Carol I. It's a young castle, completed in 1914, but takes you back to the time when royal dynasties ruled Europe.
Peles castle is in the village Sinaia, with restaurants and a nice atmosphere. The castle itself sits on the hillside and looks impressive and picturesque. It is more a ceremonial palace than a military structure. You can only visit on guided tours, and there is an increased ticket price if you want to take photos from inside the castle. There was a lot of people in the group we joined, and it was not possible to stay close enough to the guide to her what he was saying. The surrounding park is beautifully maintained, and we liked the stop before moving on the Brasov.
In Brasov we had booked a room in the old city at Casa Albert. It is in a pedestrian street without on-site parking. We circled a bit before we found a place to park the car at the nearby park. The parking meters only accept coins, so remember to bring change.
Casa Albert is a really nice boutique hotel. It is a historical building with individually renovated rooms. There is a restarant in the basement with a wine cellar vibe, and an outdoor restaurant as well. The food and local wine was very nice.
Bran castle
Bran castle is a short drive south-west from Brasov, and many tourists go there. It embodies Transylvania in its style, and has a history with Prince Vlad, the historical figure that Dracula was modeled from. It has a dramatic location on a steep, tree-clad mountain side with a view over the valley. You can walk the castle at your own pace. Inside, there is a lot of information on the history of castle, Prince Vlad, Transylvania and Romania. There was a lot we didn't know about the history of this part of the world, which lay at the frontier between Christian Europe and the Osman Empire for many years. It was a very interesting place to visit.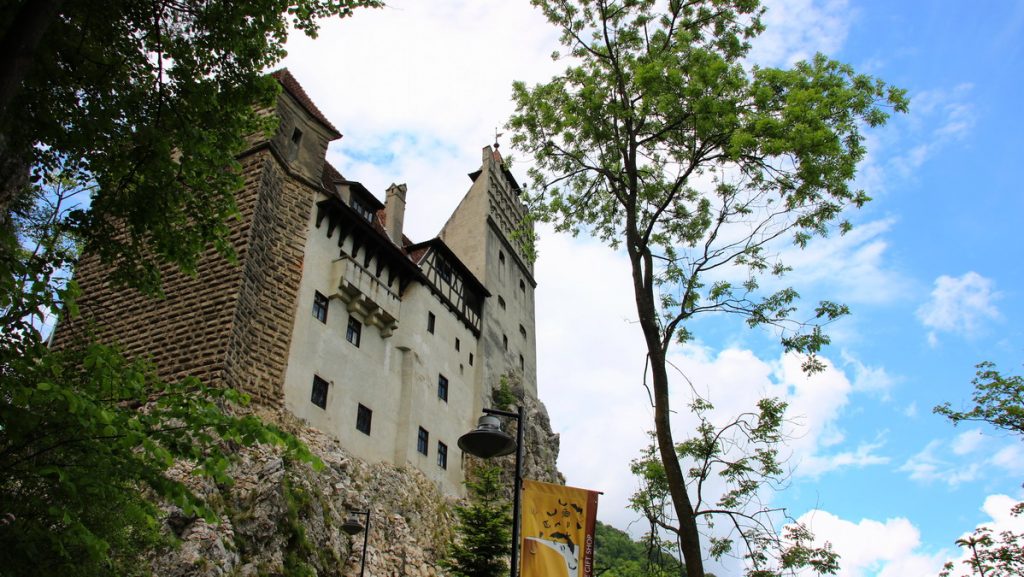 On the way back to Brasov, we made a stop at a ski resort to go for a short walk in the mountains. It is soft, rolling hills with pine trees. There are well-marked hiking trails, marked as a red "plus" sign with four white squares.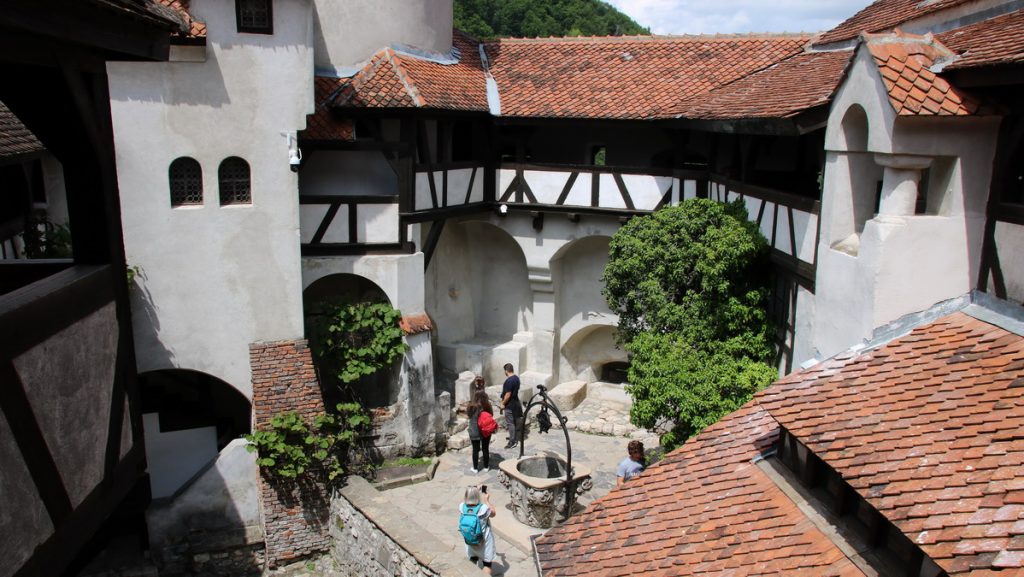 Fortified church in Prejmer and bison sanctuary in Valea Zimbrilor
To the east of Brasov is the Fortified church in the village of Prejmer. It has an interesting history, being build by German Teutonic Knights, and later inhabited by the Saxon community that lived in Transsylvania until the late 1800's. It has been under siege by Osman armies several times, while the village Prejmer was destroyed and rebuilt. It is a dramatic history that was unknown to us, and exciting for us and the kids to discover.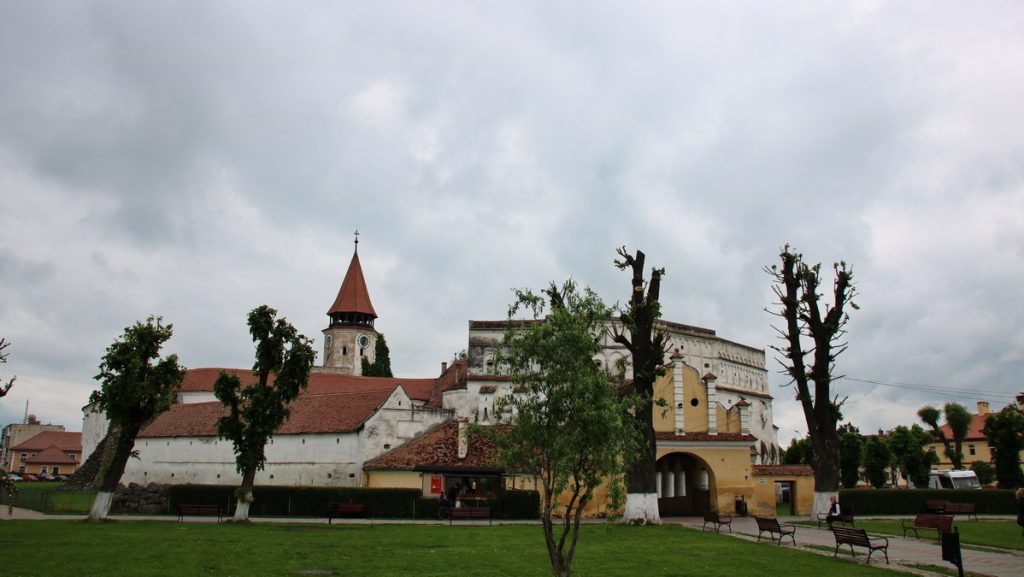 The fortified church is a large complex with the church at the centre. The church is surrounded by the thick walls in three-storey height. On the inner side of the fortified walls, there is small apartments, workshops and classrooms used for the people living there. Apparently a few families still live inside the walls, but most are unused and have been preserved to tell the story of the complex.
The complex is well-maintained and well-built and is well worth the visit.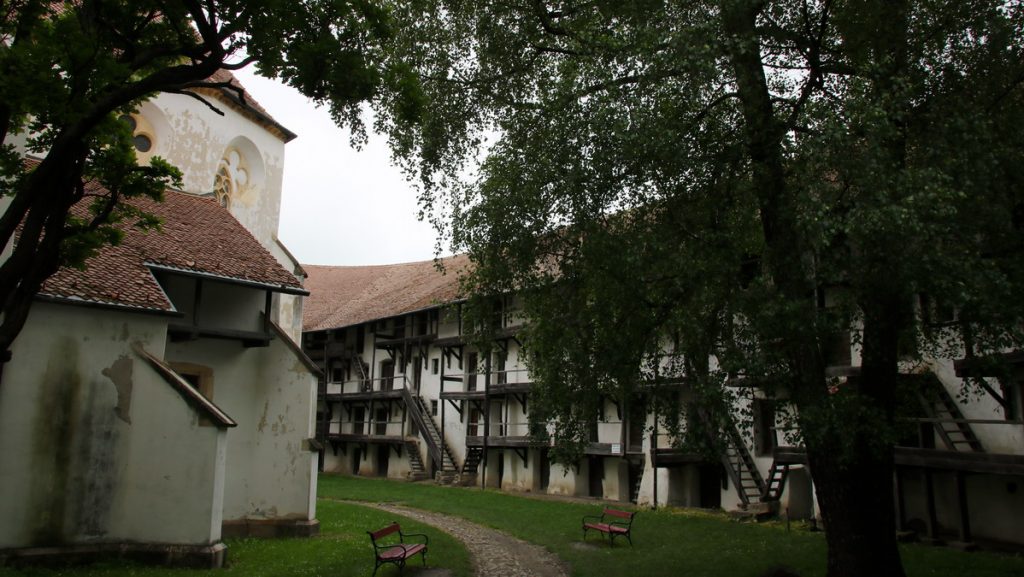 Outside in the central square of Prejmer we saw several stork nests in the chimneys, a rare sight for us coming from a country where storks almost are extinct. It reminds us that Romania has more wilderness and more diverse wildlife than many other European countries.
Bison sanctuary in Valea Zimbrilor
From Prejmer we drove further east to the Bison sanctuary of Valea Zimbrilor. It is home to a herd of European bison. The area is relatively small. It is fenced, and you can easily walk around it to spot the large and impressive animals. We had only seen bison before in USA, and didn't know there were bison in Europe as well. There is a small ticket office with a few brochures and very friendly staff. They probably usually don't have many visitors, but it is interesting and recommended.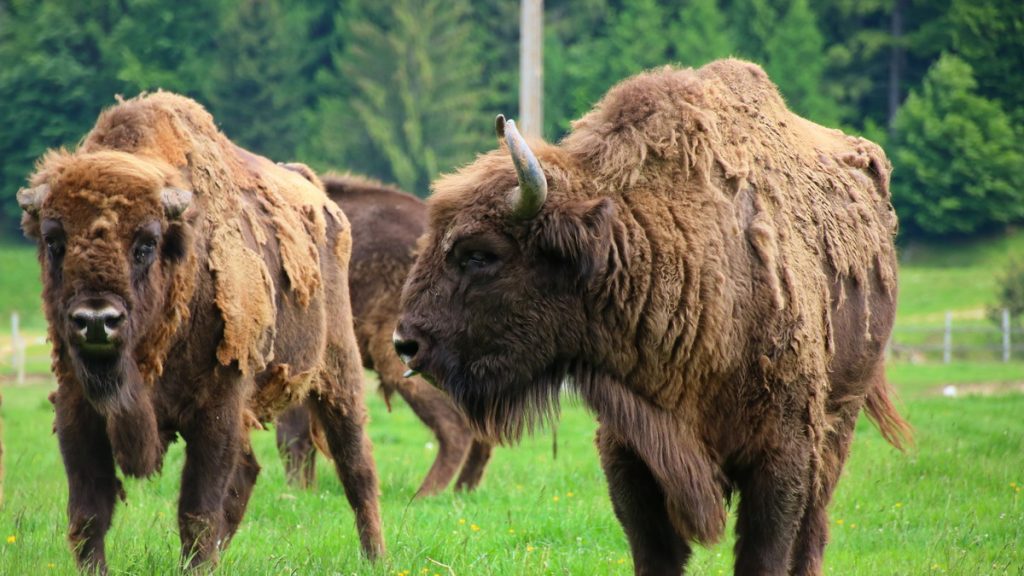 From Valea Zimbrilor we drove south across a small mountain range with views to either side of the pass. Our destination were the Cascada Urlătoarea waterfalls. There are several waterfalls. The first waterfall you meet is not steep, it is rather water flowing down across some remarkable mineral-coloured cliffs. It is beautiful, and we made a stop there. The main waterfalls are further down an easy trail. The waterfalls are 12 meters and quite impressive.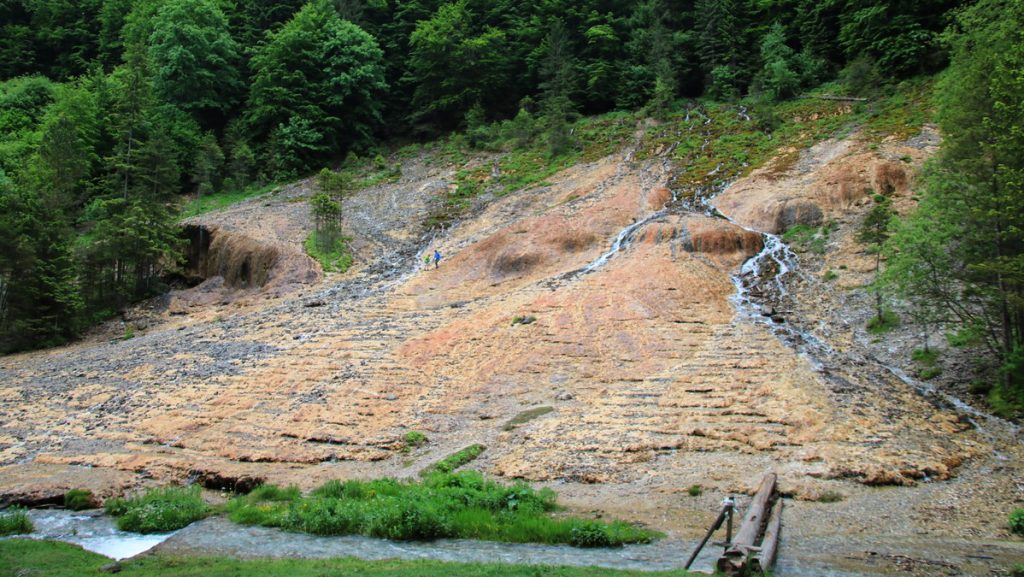 At this point it had started to rain hard, and we rushed back to the car. We drove back to Brasov, and on the way we saw several horse-carriages that appeared to be used by local farmers to transport good and produce. The horse carriages were a common sight in rural Romania and a big contrast to the mainly modern car fleet.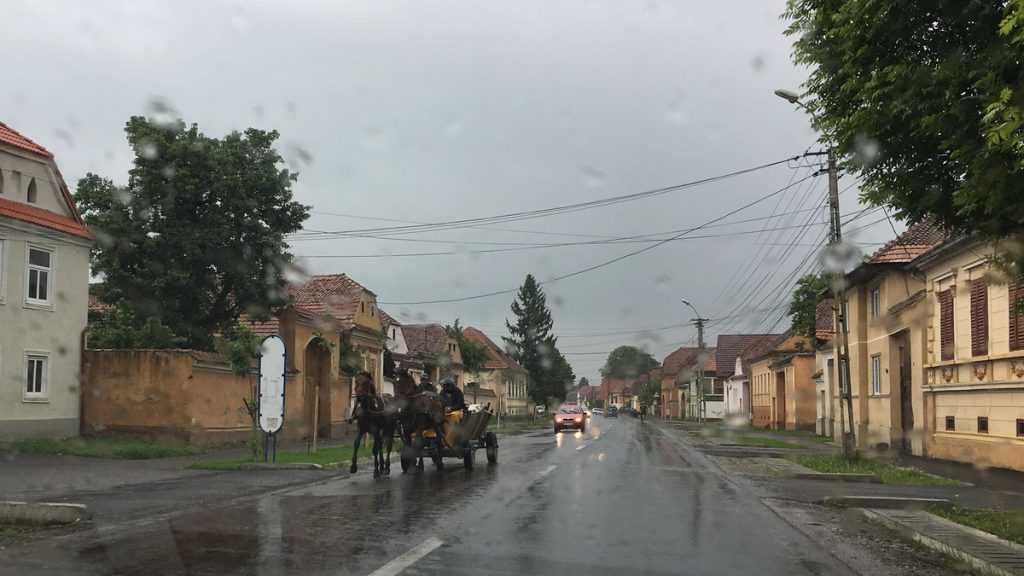 We had dinner at Mediterra in Brasov, a new and modern restaurant with friendly staff and tasty salmon.
Libearty bear sanctuary
West of Brasov is Libearty bear sanctuary. Bears used to be kept in captivity and used for entertainment. Libearty and other organisations work towards stopping this tradition and offer a sanctuary for bears that have been rescued. The bears would not be able to manage on their own in the wild, and are kept in the fenced sanctuary. It is heart-breaking to hear the stories of how bears have been treated, and good to see that the younger generations take an active stand against this.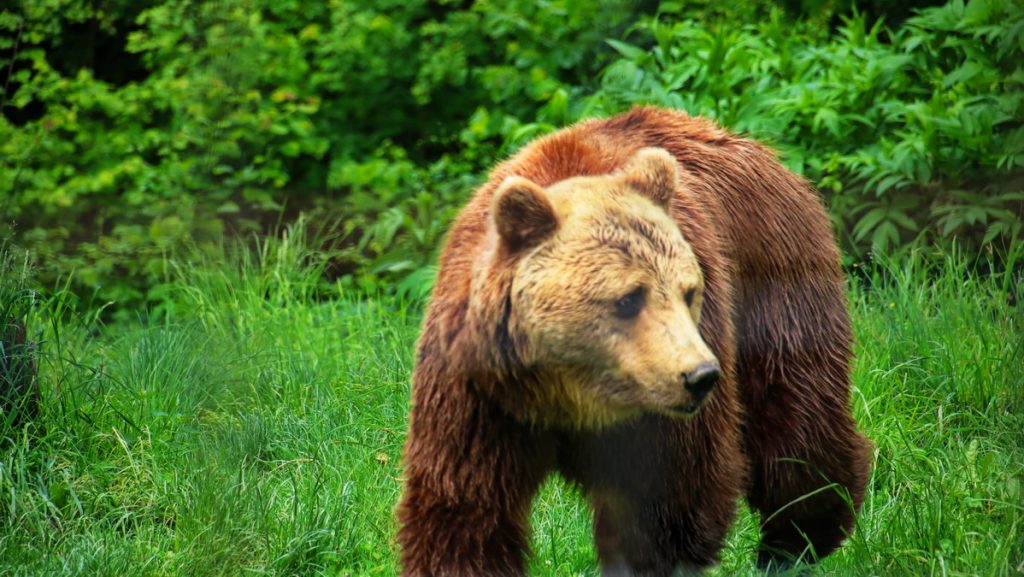 A small area of the sanctuary is reserved for wolfs recovered from captivity.
You go in groups with a guide. Tickets need to be bought online in advance to ensure a ticket at your time of choice. The guides are knowledgeable of the sanctuary.
The sanctuary is large and situated in a hilly pine forest. The area itself is nice for a walk, and it is a nice place to visit.
Piatra Craiului national park
The Piatra Craiului national park was a hidden gem in the Carpathian mountains. At the entrance road to the park there is a beautiful visitor centre, with well-presented information about the park. The visitor centre is also the place you pay the entrance ticket to the park.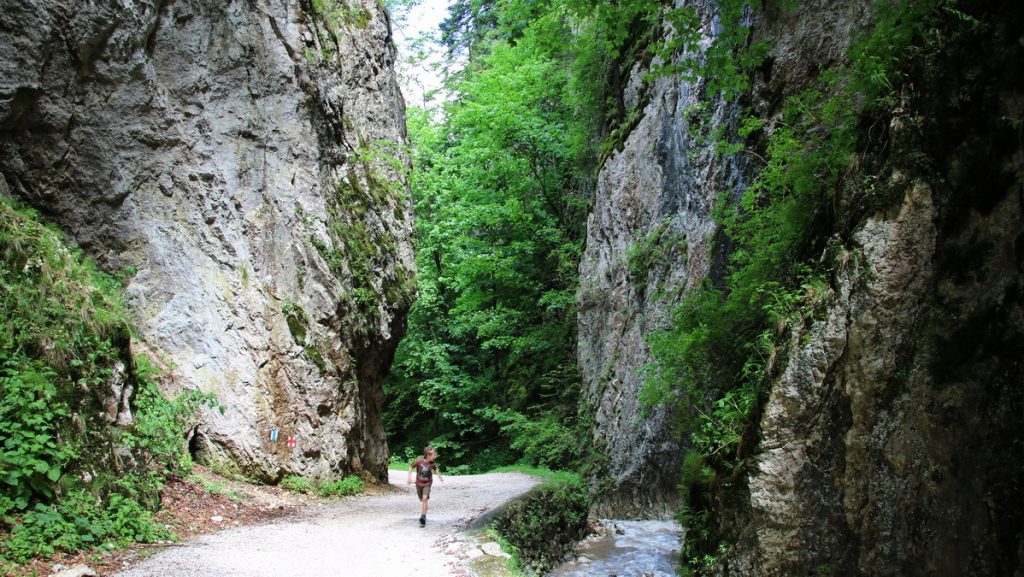 We drove as far into the park as we were allowed by car. The trail through this part of the park follows a deep gorge with steep granite cliffs on both sides of the trail. The trail is lined by a 3 meter wide stream, that is fed with water from the mountains above. The trail is very easy to walk, but as it follows the turns of the gorge, there is plenty of variation.
We stopped at several places where the boys build small dams in small side streams, that is always a lot of fun. It is a very picturesque walk, and we could easily have spent much longer here.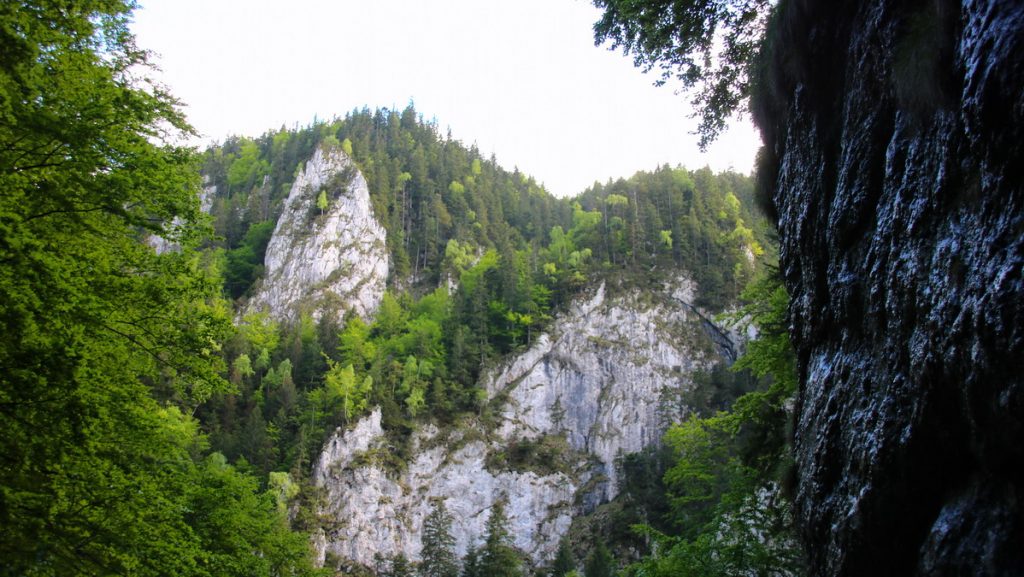 It was our last afternoon in Romania, but it felt as we had only started. There are many other designated national parks in the Carpathian mountains, and many great hikes. We left with a certainty that we needed to return with more time to spend in the Carpathian mountains.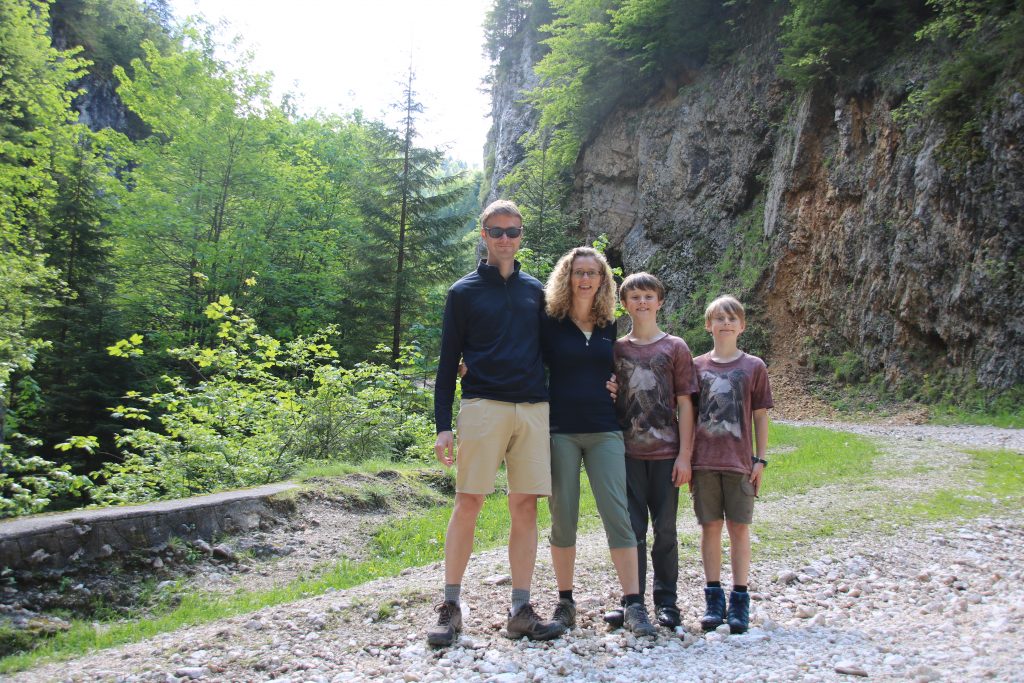 We returned to Bucharest on the following day, and just had time to take a gondola up in the ski area outside Peles, to Bucegi national park. There we made a small walk, before returning to Bucharest where we returned the car and boarded the flight back to Denmark.
We loved the wild beauty of the Carpathian mountains, and hope you find our ititerary for an extended weekend in Romania – Transylvania useful. Please leave your comments below.
Renting a car and driving in Romania
Driving in Romania is not different from driving in other European countries. We experienced very little congestion in the countryside. On the main road between Bucharest and Brasov there were road works on a section of the road which caused a delay.
The roads we drove were in good condition.
We used Google maps for navigation. We have EU SIM cards, which means roaming is included in other EU countries. There was good coverage everywhere we went.
We had no problems or bad experiences renting a car with Avis, which we picked it up at the Avis office at Hotel Intercontinental in Bucharest, and returned in the airport.
Renting a car and driving in Romania was trouble-free. It's a great way to explore the country. The roads are in good condition, with little congestion. We would do it again!